Located just past mile marker 420 on the Blue Ridge Parkway, Waterrock Knob is a popular hiking and picnic destination that balances delicately on the line between Haywood and Jackson County.
On a clear day, Waterrock Knob Trial offers 40-mile views from the 16th highest peak in the Eastern U.S. The elevation gain is a reasonable 412 feet, with gradual inclines and switchbacks along this 1.2 mile round trip.
That's just about perfect, elevating the heart rate just enough, while affording an interesting view from on high, as you look towards Maggie Valley and points southeast.
En-route, you'll get several progressive views looking back down at the roomy, welcoming, family-friendly Waterrock Knob parking lot, complete with decent plumbed restrooms and a scattering of ridge top picnic tables upon the grassy bluffs.
The trail begins here with the first ¼ mile of it paved, leading to a mid-way stone wall overlook plateau. Along the way, you'll see glimpses of the serpentine portions of the Parkway get smaller, as you track your ascent.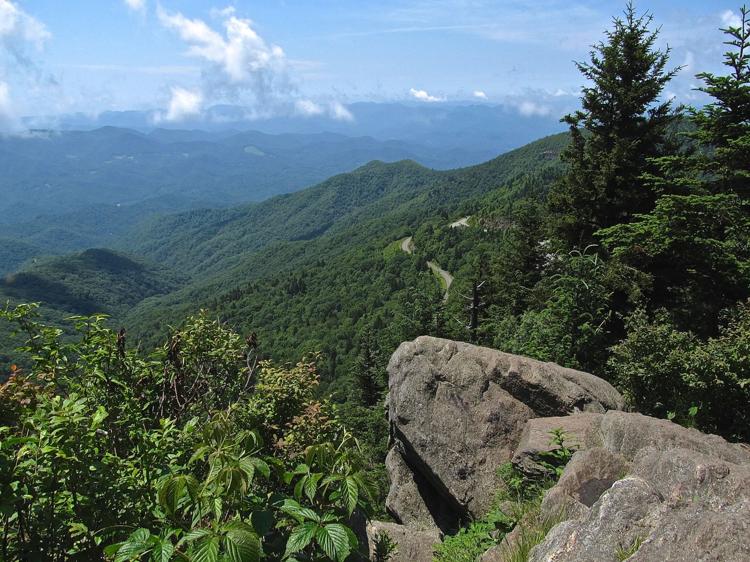 This very old trail uses clever drainage and anti-erosion designs dating back a few generations. The climb is never too demanding, yet the final .6 mile becomes more rocky, so don't find yourself up there regretting your informal choice of footwear.
From this elevation, on good days, you can expect clear sight lines of Maggie Valley, Ghost Town, plus a commanding view of part of the cleared ski slopes of Cataloochee ski area positioned far above a visible portion of Soco Road.
Bring a spotting scope or binoculars if they're available, because you'll top out at 6400' elevation on this modest, accessible hike.
In the end, you might feel it a little in your quads and calves, but the invigoration of the exercise and knowing that you are just a quick ride from Waynesville, makes this a nice, workable break in the routine (if you can work it in).