Sarah Jane Hatfield, a graphic designer at The Mountaineer, has embarked on a thru-hike of the Appalachian Trail. During her journey, she'll be sending dispatches from the forest, which we'll publish each Wednesday.
This week, we join Hatfield as she and the rest of the A.T. hiking community unite in the wake of tragedy.
"The greatness of a community is most accurately measured by the compassionate actions of its members." — Coretta Scott King.
This week was all about rebooting and getting back to my trail center, if you will.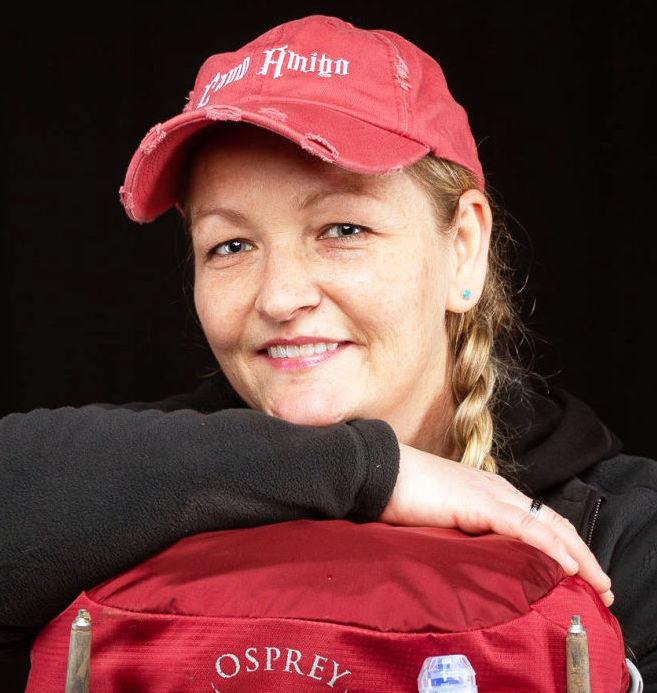 I spent just two of the seven days hiking. And what about the other five days? Well, I decided to catch a ride down to Trail Days 2019 in Damascus, Virginia. Check out The Mountaineer's Facebook page for a couple of live videos I recorded from the festival.
The week started off hiking out from Trent's Grocery, which is where I spent a zero for Mother's Day. I was a little uneasy about camping alone again, after the now-infamous stabbing attack that occurred May 12. I set out alone with hopes of having a good mileage day, shaking off an uneasy feeling that seemed to be eating away at my confidence. I put in one earbud, set my music to shuffle and stepped off, determined to regain control of my thru-hike.
The weather that day was cold and windy. As night approached, I kept an eye out for a perfect campsite. There were no official campsites in the guidebook for miles, so I knew I'd be camping alone that night.
There's a safety rule us hikers usually go by, and it's to not camp close to roads, or near popular or easily accessible trailheads. Right when I thought I'd found an acceptable site, I looked up and saw a dirt road.
So I did what most solo female hikers would do in that situation: I hiked on, squeezing at least another three miles out of the day, and reaching a safer spot. I set up camp, finished my camp chores and went to sleep.
The next morning, I had to hike only 12 miles to Pearisburg, Virginia, where I had a food box waiting at the post office. My feet were feeling rock solid as I hammered out those miles in no time. When I hit the trailhead in Pearisburg, a small sense of security washed over me. Why was I feeling so uneasy? I was having a really hard time overcoming this fear, and I was sure I wasn't the only one feeling that way.
I hiked 1.3 miles into town, swung into the town's post office to retrieve my box and then made my way to Angels Rest Hiker's Haven. I was looking forward to my stay there. Three friends I had hung out with at Trent's Grocery arrived shortly after me, and we all camped together. After everyone finished their chores, people made their way down to a huge heart-shaped fire pit.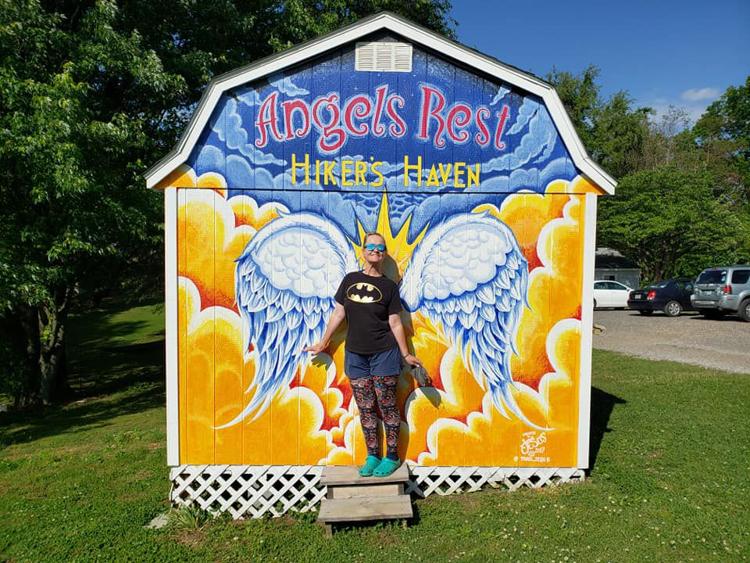 All was well until a hiker started talking about the recent murder. As he openly approved of the attack, and empathized with the attacker, the 10 other hikers around the fire grew noticeably uncomfortable. We all went silent. How could this hiker be so insensitive?
As he continued to talk, his true nature was apparent. Three employees who were trying to enjoy the fire started picking up on this guy's dangerous energy. I noticed the employees station themselves around him, as if they were ready to pounce should he make any sudden moves. Another employee quietly removed two axes from the woodpile, securing them in a nearby shed. Everyone was on high alert. Shortly after that, they raked out the fire in hopes of breaking up a gathering that had gone south after this guy started mouthing off.
I was riddled with fear, and this time it was making me sick to my stomach. I was able to slip back, unnoticed, to where we were tenting. I really didn't want this creepy guy knowing where we were sleeping
The next day, I learned that two of the employees took shifts watching the troublemaker, making sure he didn't wander around the property. I thanked all three employees standing guard, and told them I was grateful for their presence. The hiker was asked to leave the next morning.
We later learned that this creeper was what we call "yellow blazing." This is basically someone who isn't here to hike, but to get free shuttles from trailheads or hostels. He was taking advantage of free food and trail magic that are reserved for actual hikers. This guy was, indeed, a homeless person who's exploiting the hiking community. It wasn't a safe situation.
I snapped a photo of him, making sure the hostel manager got it. A.T. hostels have a network, and he was quickly added to a blacklist. He won't have an easy time checking into hostels further up the trail.
As Trail Days in Damascus, Virginia, was approaching, the manager at Angels Rest Hiker's Haven, Dylan Clark (trail name: Tramp), was checking to see if anyone wanted a ride to the festival. He asked if I was interested. He has a pretty sweet vintage camper van that he was hoping to fill it with hikers. Tramp also volunteers with HIKE for Mental Health, which is a non-profit organization that organizes charity hikes and collaborates with hikers looking to do the same. Eighty percent of donations collected go to the Brain and Behavior Research Institute in New York, and 20 percent goes to trail conservancy on the A.T. and Pacific Crest Trail.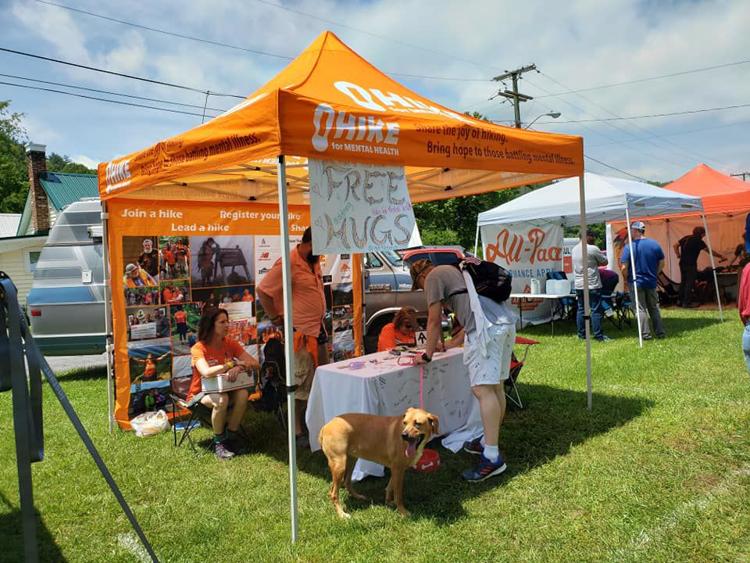 I hadn't planned on attending Trail Days this year. Plus, I had already hiked about 170 miles past the small town that hosts the annual event. After reconsidering the offer, and thinking about how I've been feeling mentally, I decided to take Tramp up on his offer. I felt like I needed to reconnect with the trail and be around a new movement the hiking community had started called "A.T. Strong."
Another hiker I've been seeing a lot of since Erwin, Tennessee — Gunnar (trail name, Gunnar, of The Wet Dream Team), — and I loaded our packs up into the van (a 1989 Dodge Ram Chinook), and hopped in like gypsies. Gunnar is a pretty cool cat. He's from Cincinnati, Ohio, and we became a solid unit on the trip. We jokingly referred to ourselves as the "Minions."
Tramp, meanwhile, is deeply involved in the hiker community, and seems to be doing amazing things at the hostel he manages, as well as with the dedicated work complees with HIKE for Mental Health. You can check out what this organization does at hikeformentalhealth.org
Tramp arranged for Gunnar and I to stay at the AirBnB that the non-profit rents every year for Trail Days. We helped with the booth, wore orange for awareness and I assisted a lot with Tramp's two adorable dogs, Charlie and Bandit, while he did his thing. I'm a pet sitter, after all, and was more than willing to help out.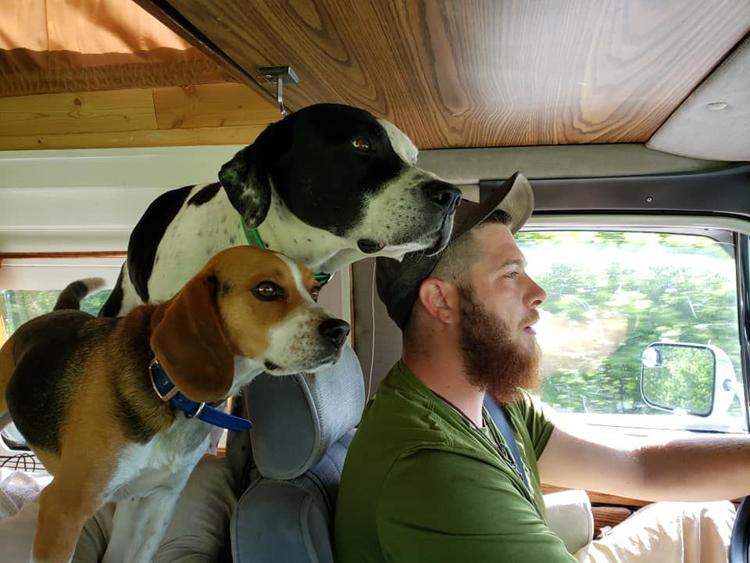 Trail Days was exactly what I needed. Almost every face I saw, I've seen before out on the trail. I was surrounded with so much positive energy, it was hard not to smile. I got an overall sense of the A.T. Strong movement when I walked through town looking at all of the faces. Non-hikers seemed to have a compassionate undertone to their greetings, and I could feel my soul restoring itself.
I visited all of the vendors, and even got my Big Agnes sleeping air pad exchanged, since it hasn't been holding air for weeks now.
One of the events at Trail Days is the hiker parade. This is where past thru-hikers assemble, in order of hiking year, with current hikers leading the parade through town. Spectators are known to hit stinky hikers with water cannons, hoses, buckets of water and whatever else they can load with H2O. The energy was fun-loving, and I knew I had made the right decision to attend.
As the weekend came to a close, we helped breakdown the HIKE for Mental Health booth, and made one last vendor run.
I'm glad I did, because what happened next topped off my weekend.
We were walking up to a sticker-and-decal booth when I noticed some A.T. Strong stickers. We quickly dipped in to check them out. The owner, Jeff of Status Graphics, noticed me from YouTube and darted into the back to retrieve something. He emerged with a white envelope with "Pringles" written across it.
He was a huge fan of my channel. When I opened the envelope, I saw four stickers he was giving me, two of which were personalized with the A.T. logo and my trail name. I was truly moved, and began crying. This beautiful gesture warmed my heart. I knew I was exactly where I needed to be.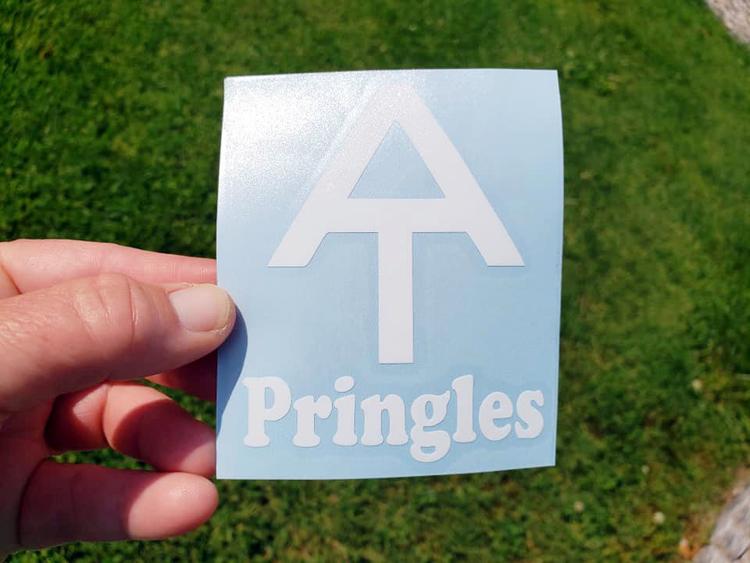 Trail Days alleviated my fears, and reminded me that we're all out here to challenge ourselves and undergo the most amazing experiences of our lives. I felt A.T. Strong.
Follow along on YouTube at Katahdin or Bust.
Total miles: 635.9 miles (644 miles with the Approach Trail).