Dalton Carter, a seventh-grader at Waynesville Middle School who has cerebral palsy, is a huge fan of his school's baseball team. He attends every game, supporting the Mountaineers from beside their dugout.
But during a recent contest at Madison, he encountered a problem. Due to excessive rain, his wheelchair wasn't able to make it up a rut-covered gravel hill leading to the field. No worries, though. His buddy, Ezra Burgess — a player on the team — was there to help out.
"Ezra carried Dalton that day, so Dalton could enjoy the game," said Phyllis Austin, Dalton's grandmother and legal guardian.
Burgess was more than happy to lend a hand.
"It was just the honor of helping a good friend in need," he said.
Carter is a diehard sports fan who'd love to compete on the school team, but can't, because his disability doesn't allow him to walk without assistance. Burgess and the rest of the Mountaineers have embraced Carter — who's able to move around on his knees — as one of their own, letting him warm up on the field with them prior to games.
The players love having Carter around. Jett Benson gives him pitching tips. Zackery Cabe and Jacob Ward offer hitting pointers. And Ezra, of course, carries him wherever he needs to go. Said Austin: "Dalton [has] felt included and appreciated by the boys and the coaches."
When the game starts, Carter assumes his signature spot near the dugout, dishing out advice and words of encouragement to the players on the field — everything from "keep your eye on the ball" to, if a player strikes out, "you'll get 'em next time."
Burgess and his teammates love it.
"It's very nice to have him there supporting us," Burgess said. "It puts a drive in our minds. And anytime you're mad, he'll calm you down with just a smile."
"He's the heart and soul of this team…" he added.
Carter's unwavering support seems to have translated into success. The Mountaineers lost only one game during the regular season, finishing first in the Blue Ridge Conference. In the regular season finale, they defeated Franklin — which gave them their only loss — in comeback fashion. Waynesville defeated Polk, 12-2, in its first playoff game Monday, and will play Rugby Thursday.
"All of these boys deserve to be recognized for their accomplishments," Austin said. "But [also] because they're a great team of friends who care about others."
With that wish in mind, here their names: Benson, Cabe, Burgess, Ward, Noah Stepp, Kolt Nelson, Evan Connor, Leyton McMahon, Abe Ghaussy, Carson Allison, Mason Rathbone and Brayden Cockrell.
The coaches are Mitchell Whitner, Jody Ward and David McKay.
Not long ago, two of Carter's teachers, Casey Roberts and Casey Hooper, talked Carter into participating in Unified Sports, which allows disabled and non-disabled individuals to compete together. Carter takes part — in flag football, basketball, kickball and soccer — and enjoys the experience, Austin said. But what he really wanted was to become involved with the school's athletic teams.
So for the past two fall seasons, Dalton has been side-by-side with the Waynesville football squad. Recently, however, his buddies, Ward and Nic Wagner, encouraged him to support the baseball team, too — which, of course, he did, and now enjoys just as much. Said Austin: "He hasn't missed a game since."
Carter's favorite professional team is the Atlanta Braves, and his favorite living player is Freddie Freeman. He's also somewhat of a Babe Ruth aficionado. He can rattle off countless facts about the timeless baseball icon — including the fact that Ruth called one of his bats "Wonder Boy," and that the legendary slugger used to put cabbage leaves under his hat to stay cool.
"[Dalton] dreams of going to the National Baseball Museum in Cooperstown, New York, and watching the Yankees play," Austin said.
When Carter isn't at a Waynesville sporting event, doing his thing, he can be found immersed in sports video games on his XBox, or in his yard — dressed in full uniform for whatever sport is in season — playing a game of his own.
He completes full contests, and always uses the actual rules. Said Austin: "[Cerebral palsy may] limit his physical abilities, but his imagination and determination have no limits."
"It doesn't matter if it's raining or snowing, hot or cold," she said. "He loves his sports."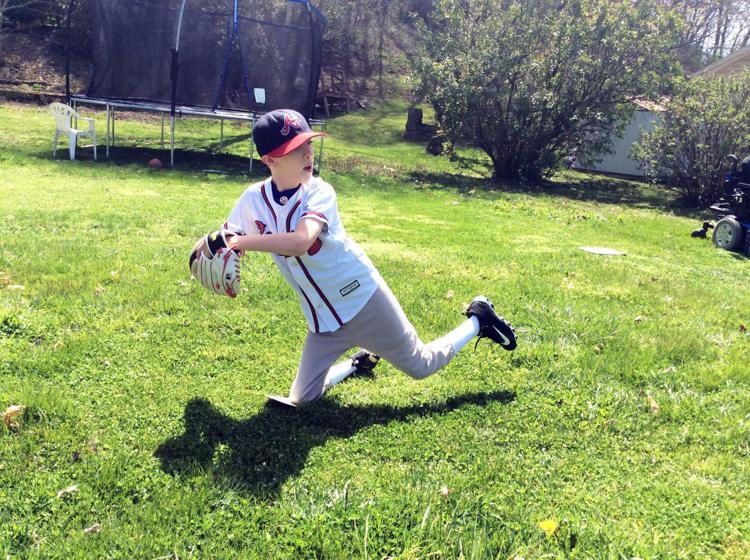 Carter also recently began playing American Ninja Warrior — a game based on an extreme obstacle course TV show of the same name — on his XBox.
Given Carter's fearless pursuit of his athletic muse, Austin is prepared for what may arise in the future.
"Who knows," she said. "We may be setting up an obstacle course in the yard next."