SPARTANBURG, South Carolina — Coming out of Pisgah in 2015, Thomas Tatham seemed destined for greatness with the Wofford baseball program.
Tatham had earned WNCAC Pitcher of the Year honors during his senior season with the Bears, and it was expected that the 6'5" right-handed hurler would significantly bolster the Terriers' pitching staff.
During his freshman year of college, he pitched only one inning — which he expected. Said Tatham: "We had an experienced staff, so I knew I wasn't going to pitch a lot." As he began throwing the fall before his sophomore season, however, he was prepared to become a regular contributor.
Only something wasn't right.
"I had pain from the first throw," he said. "I thought it would go away...but by Friday, I could barely throw the ball 90 feet. I had no idea what caused it."
At first, all signs pointed to a ligament issue, which could have been fixed somewhat easily with Tommy John surgery — a common procedure that pitchers often fully recover from.
As it turned out, Tommy John would have been preferable. Tatham had a bone spur lodged in his arm, and no cartilage remained. So he underwent surgery, then worked hard in rehab with the hope that he'd return to full strength.
By February, he was throwing in the bullpen — despite the fact that he couldn't straighten his arm.
"The doctors told me not to worry about it, because a lot of MLB players arms don't straighten," Tatham said. "I thought I'd be able to bounce back from it, maybe with some delivery or mechanics changes."
He threw into the spring and summer months, but never took the mound in a game. His velocity still wasn't where it needed to be. Tatham's pre-surgery fastball had hit 89 miles per hour. Post-surgery, it never exceeded 80.
Tatham held out hope for a return throughout the summer. But by the end of fall, after his velocity still hadn't returned — despite countless bullpens and appearances in intrasquad scrimmages — reality began to set it.
"I had been throwing for, what, 10 months, and things just weren't looking good," he said. "The velocity wasn't there, and I wasn't able to repeat the same delivery over and over again."
"That was when it set in that this might be something I never get over," he added.
That turned out to be the case. He made two appearances in 2018, walking four and allowing two earned runs over one-and-two-thirds innings. He simply wasn't the dominating pitcher he'd once been.
So from that point forward — with pitching decidedly in his past — Tatham focused on ways in which he could support the team outside the lines.
"I took it upon myself to help the younger guys adjust to our system," he said. "I was also there for the older players, catching flat grounds, bullpens or short boxes...and doing whatever odd jobs needed to be done — like fixing the field and getting it ready."
"I wanted to help out so the other guys could just show up and play," he said.
Injury as blessing
The injury bug bit Tatham again prior to a spring break game in 2018.
He was catching for a fellow pitcher when the ball bounced off the dirt, nipped his glove and slammed into his left eye, breaking his orbital bone.
Tatham's eye quickly filled with blood.
"I was blind for almost 24 hours in that eye," he said. "It clotted, and I was told that, for whatever reason, if an eye fills up with blood once, it can be drained and everything is fine. But if the clot is disturbed and it fills up again, I'd lose vision."
"So they told me to go home, sit on the couch and not move," he added.
So that's what he did, until he was cleared to move around again.
The ordeal turned out to be, perhaps, a blessing in disguise.
Tatham was interested in optometry school before the incident, but suffering a severe eye injury solidified his commitment to that career path.
"Being on the other side of the chair and realizing what it's like not to have your vision was the deciding factor for me," he said. "That really changed my perspective."
Tatham will enroll at the Southern College of Optometry in Memphis, Tennessee, this fall.
An emotional send-off
Though Tatham's baseball career at Wofford never progressed as many expected it to — for reasons beyond anyone's control — he experienced a moving send-off on senior day.
One of Tatham's roommates — fellow senior Austin Higginbotham, who ended his college career with 300-plus innings pitched — was supposed to be the starter that afternoon.
Higginbotham had previously mentioned to Tatham that he wanted Tatham to take the start, and throw to at least one batter — in a ceremonial "thank you," of sorts.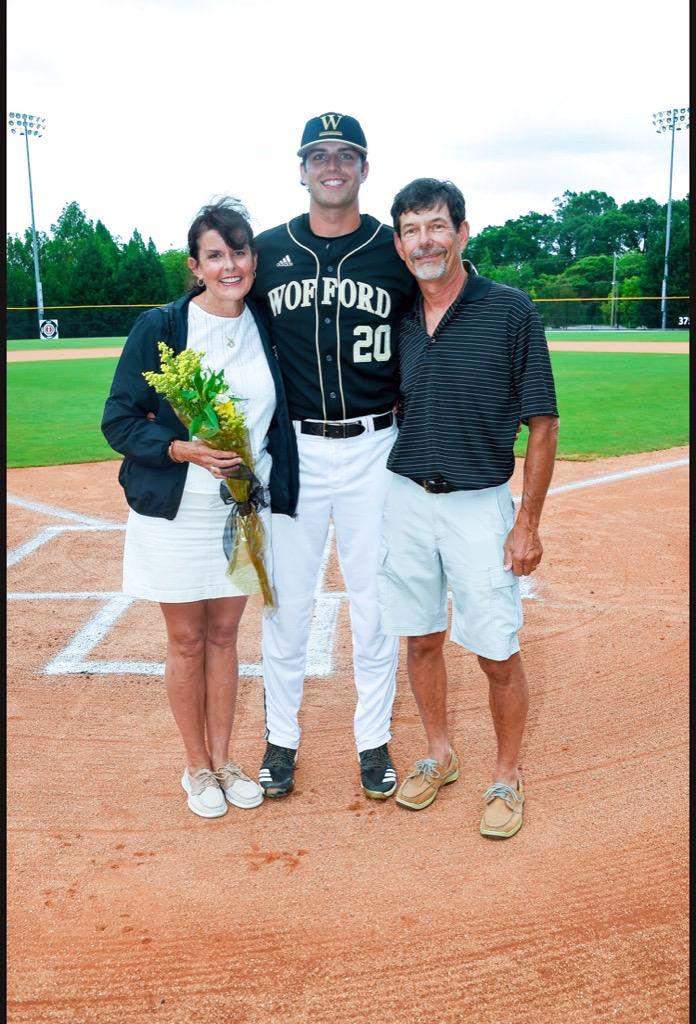 Tatham was against it from the beginning. Wofford, in the midst of one of its best seasons ever, was on the verge of being swept by Furman. It needed a win to right the ship, and Tatham didn't want to interfere with that.
But he didn't have an option.
"Apparently there was some collusion between Austin and my coach [Todd Interdonato], because I got a call from coach saying that I was getting the start — that I was going to throw to one batter," Tatham said. "I fought it, but apparently they'd come to an agreement, and I had no choice in the matter."
So there was Tatham on the hill the afternoon of May 12, facing off against Furman leadoff hitter David Webel.
It was strange being back on the field, Tatham said, considering his last appearance had been a season and a half prior. But he tried to embrace the experience.
"I looked around...and tried to take everything in, knowing that it was my last time," he said.
Tatham said he couldn't have lived with himself if he'd allowed Webel to reach base. That didn't happen — Webel flew out to left field on the second pitch — and thus coach Interdonato strolled to the mound to remove Tatham from the game.
"I was fine when coach came out," Tatham said. "But when Austin arrived, I was emotional. He told me was proud and that he loved me. I told him I was sorry, that it should have been his start."
Tatham's other roommate, Ty Reginelli — a senior outfielder — has been by Tatham's side through the arm issues, the eye injury, and as his buddy left the field for the final time.
Reginelli watched his roommates, Tatham and Higginbotham, embrace on the mound, describing the moment as "very special for everyone."
Reginelli said he admires the way Tatham has handled adversity throughout his college career.
"I've been there, first-hand to see everything he's gone through, and it felt like it all paid off on senior day," Reginelli said. "I can't imagine everything he went through, but he handled it better than anyone...just seeing him out there on the mound in his uniform had me choked up."
"He's a perfect example for every player, moving forward, who has to deal with an injury," he added. "I can't say enough good words about Thomas."
As Tatham walked off the field for the final time, his teammates greeted him.
He'd been a baseball player since he was 3 or 4 years old. He'd developed into an absolute force at Pisgah, and seemed destined to do the same at Wofford.
With the gravity of the situation — what was, and what could have been — hanging in the air, Tatham stopped trying to hold it together.
"I let my emotions get the best of me," he said. "Seeing my teammates faces and smiles really meant a lot to me."
"I know I was grinning from ear-to-ear," he added.