The most recent review for the Nantahala Yellow Mountain Trail on the All Trails website was written by Austin Robinson on June 4.
Part of it went like this:
"Bring water and snacks and be prepared to be completely worn out at the end."
Robinson isn't the only person wary of Yellow Mountain's notorious difficulty. The challenging tramp is featured on a vast array of hiking websites, including Hiking Upward (which awarded it a 5/5 difficulty rating), Roots Rated (with the headline: "The Toughest Hike in Western North Carolina?") and Asheville Trails (which went as far as to call it "one of the most difficult hikes in the South").
Formidable words, indeed. And with an elevation gain of approximately 3,000 feet, those words seem warranted. Online reviews foretell of a historic fire tower at the summit that offers a "360 degree view...one of the best in the [Highland Ranger] District." An enticing promise, for sure, but less so were reviews that warned of an overgrown trail swallowed by poison ivy, and a "burning" hike with "lots of ups of downs...and long." (source: All Trails).
What seemed least clear of all was the actual length of the trail.
Roots Rated has it listed at 9.6 miles round trip, All Trails says 11.7, while Hiking Upward claims 12.5. To further complicate matters, one All Trails reviewer said her FitBit recorded it at a whopping 15 miles.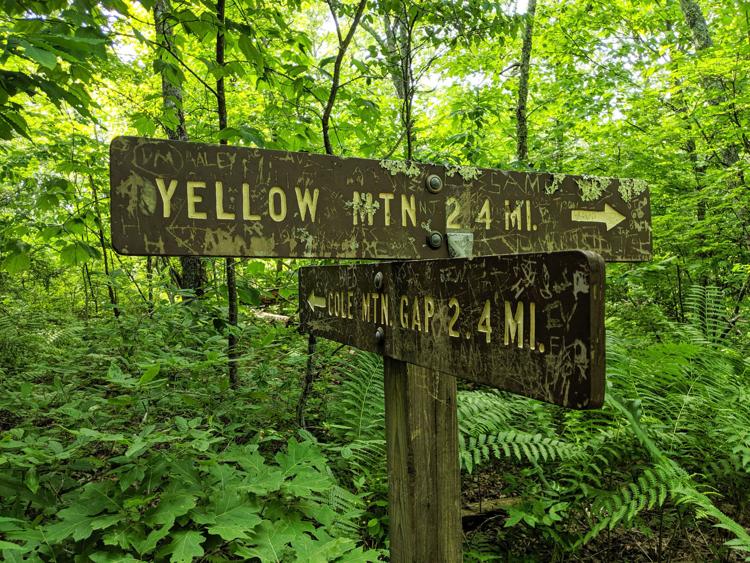 Apparently, some of the confusion about the total mileage stems from the existence of an "old trail" that, at some point, was rerouted.
Mileage disagreements aside, there was only one way to find out if the claims of extreme difficulty were true: tackle the beast, head on.
Preparations
I didn't reach the trail head until 2:10 p.m., which theoretically gave me just enough time to finish the journey before being engulfed by darkness. Expected completion time: six hours.
I had what I thought was everything I needed: two protein bars, a peanut butter and honey sandwich ("PB 'n H," for short), an orange, a 24-ounce water bottle and — most importantly — an adorable hiking partner named Willow, my pitbull-Australian Shepherd mix. She'd been terrorizing my pet cats that morning, so obviously had much energy to burn.
I texted my wife, who was in Nashville for a bachelorette party, to let her know where we'd be — in case I was attacked by an eagle or ended up in a fistfight with a mama bear. Then I strapped on my backpack and got on with the thing.
The Ascent
The hike to the summit occurred entirely in a forest, with only brief glimpses through the trees of the gorgeous surrounding views. The path is, by turns, rooty, rocky, narrow, wide and everything in between. Beautiful rhododendrons are everywhere. Long stretches of flat ground are punctuated by steep inclines and equally steep declines — which, of course, guaranteed that the hike back would be just as arduous.
I past four smatterings of people during my ascent.
The first was a family of three that was obviously collectively smarter than me because they were using hiking poles. I asked the guy who seemed to be the dad how he was doing — you know, friendly trail chit chat.
"Tired," he replied bluntly.
"I'm sure I will be, too, in a few hours," I stuttered.
The second was a lone female hiker who appeared to be in her late 20s. Willow, who'd just frolicked through a mud pit, naturally decided to leap on her. I apologized for my dog's despicable manners, and moved on.
The third was a pair of boys who couldn't have been older than 12. We exchanged trail pleasantries — you know, friendly trail chit chat — then I continued upward, sure that I'd soon pass their parents.
I never did, which was confusing.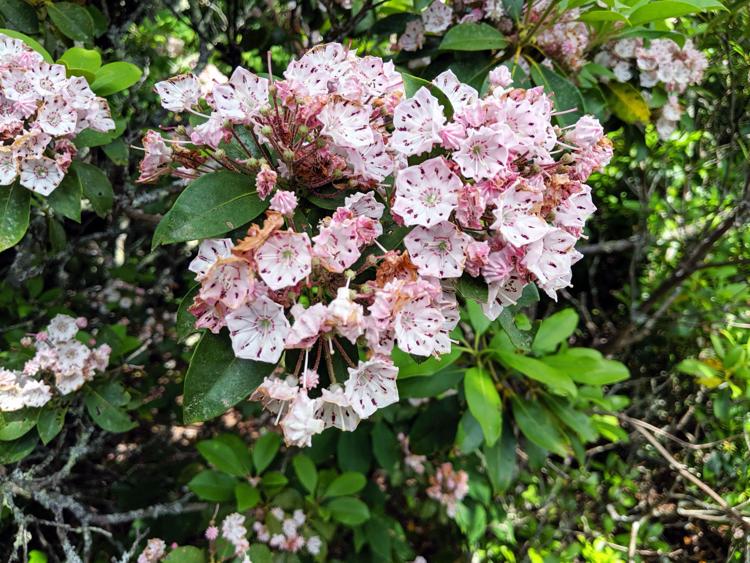 The fourth was a shirtless man and a dreadlocked woman in a sports bra. I encountered them just steps from the summit, thus I was covered in sweat.
"Where'd you start from?" asked the guy, abruptly, in a drawl.
"What?" I responded. "Oh, Buck's Creek Road, or whatever."
"Dang," he said. "That's a heck of a hump, man."
"You mean there's a shorter way to get here?"
"Yeah, of course," he said.
He walked away, without expounding.
The Summit
As I emerged from the nearly opaque forest, two hours and 40 minutes after entering the trail, the fabled historic fire tower appeared before me. It's a white, aesthetically unremarkable building. But it was a welcomed sight.
The summit was as rewarding as promised. In front of the fire tower were large rocks, perfect for sitting on and gazing out at surely one of the best views in Western North Carolina. Determined to enjoy an even more elevated perspective, I climbed the ladder to the fire tower.
Once on top, I looked down and saw Willow staring up as if to say: "Help me, please."
I climbed back down, cradled her in my arms like a human baby, and reascended. Back on top, I hung my legs over the edge and broke out the much-anticipated PB 'n H. I fixed Willow dinner, but she didn't eat it, because sometimes she's a sassy little thing. So I pulled off a hunk of PB 'n H and threw it her way. She chewed on it for a while, hacked it back up, then ate it again.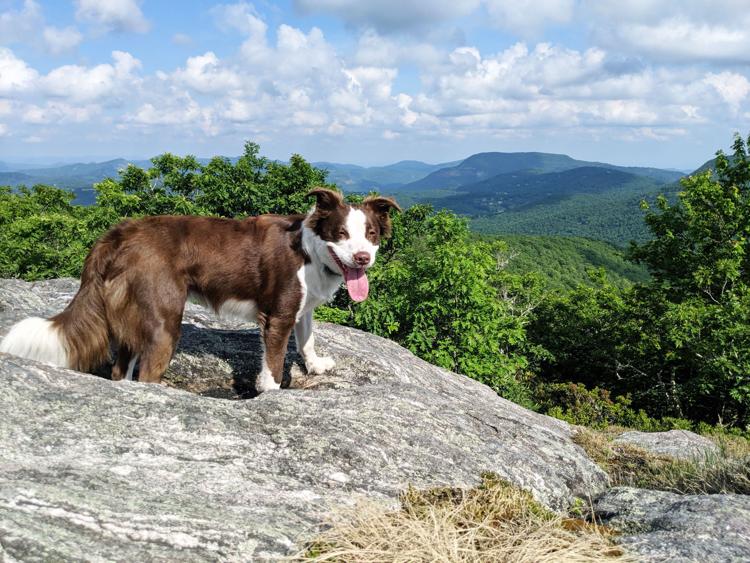 I spent a few more minutes soaking in the awe-inspiring scenery and idly inspecting the carvings in the fire tower.
Most of them were run-of-the-mill engravings ("FRITZ & SARAH 10/17"-type stuff), but there were several standouts in the bunch, including a drawing of a one-eyed dog with the words "BIRTHDAY VIEWS" inscribed below it, and another one that simply read "VLOGGIN' BOYS '99."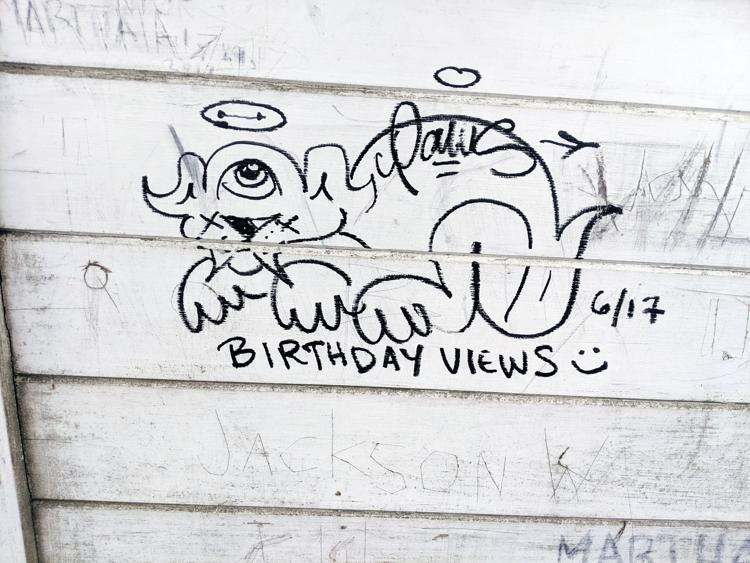 After 20 minutes, I carried Willow down the ladder and prepared to descend the mountain.
It was around this time that I took my final gulp of water, which didn't bode well for the return journey.
The Descent
There's no need to sugarcoat it: the trip back to the parking lot was one of the roughest outdoors experiences of my life.
It was the first time in my amateur hiking career that I was legitimately concerned that I may not have enough energy to make it to the end.
There was no such thing as painless walking. Everything hurt. Downward grades made my right knee ache something terrible, and a blister began to form on my left foot. Upward grades made my already-drained thighs tremble like frightened piggies. Flat surfaces made the balls of my feet shriek for mercy.
Willow, meanwhile, had never been better. She'd seemed gassed on the way to the summit, but now she was jumping in creeks and dangling her tongue every which way. Perhaps the PB gave her an energy boost.
Things were not looking good for me at all. I stubbed my toe at least six times, and cursed a similar amount. At one point, we flushed what sounded like an extraordinarily large creature from a dense rhododendron bush. It may have simply been a sizable bird taking flight, but I wasn't going to stick around to find out. This is bear country, after all.
At some point my sweat began tasting like seawater. I formed a mantra, repeating it ad nauseum, at first in my head, and then out loud: "One foot in front of the other." I turned it into a little ditty to take my mind off the pain.
Eventually I stopped to eat my last protein bar and the orange — the latter of which was a lifesaver, on account of the lack of water. Citrus has never been so hydrating.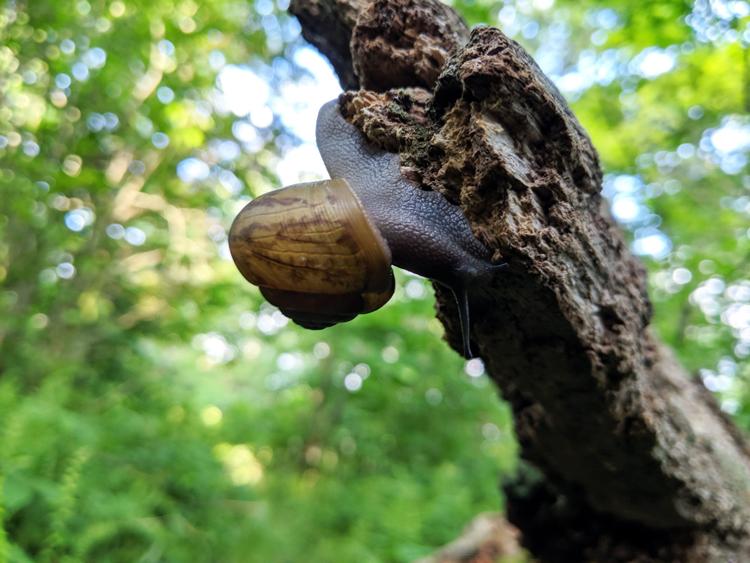 I plugged on, knowing that I was close to salvation, but unsure how close. The last person I passed was a guy camping about a quarter mile from the entrance. There was a fire going, and he was sitting around it with a woman.
"Cute dog," he shouted through the trees. "I need to get me one of those."
"Yeah, she's..." But I couldn't muster enough energy to finish the sentence.
About five minutes later, at 7:52 p.m., I finally reached the trailhead. It was the most relieved I've felt in perhaps years. I kept thinking about Austin Robinson's prescient warning: "be prepared to be completely worn out at the end." Those words — so true.
Feeling accomplished, I jumped in the car and gunned it to the nearest gas station, where I chugged a 32-ounce Gatorade in what felt like milliseconds.
At first, I told myself I'd never brave Yellow Mountain again. It was a good bucket list hike, sure, but why put myself through that pain a second time?
Yet the more I thought about it, the more I realized how pleasant the feeling of near-complete exhaustion can be. It makes one appreciate the basic joys in life — like an orange, or a cold Gatorade, or simply lounging on a couch.
So yeah, maybe I'll walk those 9.8 miles again. Or 11.7, or 15 — however long it actually is.