Sarah Jane Hatfield, a graphic designer at The Mountaineer, has embarked on a thru-hike of the Appalachian Trail. During her journey, she'll be sending dispatches from the forest, which we'll publish each Wednesday.
This week, we join Hatfield as she partially repels the norovirus, says goodbye to her trail kids — possibly for the last time — and pens her first submission from the trail proper.
"Endings are beginnings, if we allow them to be." — Laura Day
"You never get sick," I kept telling myself as I nervously observed a norovirus outbreak taking hold off the hiker community.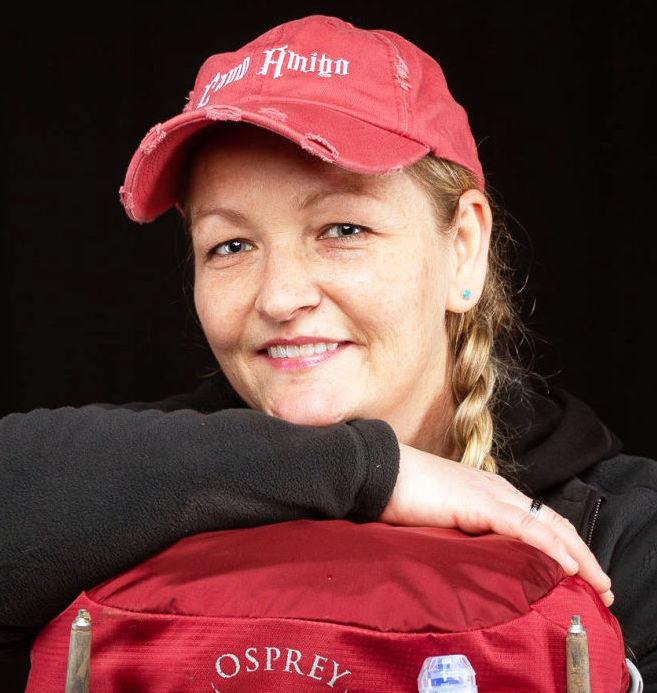 Watching Patterns and Disco battle it last week made me believe I may not outrun this one. I'd heard of at least 30 cases directly around me, so I refreshed myself on what I could do to help prevent contracting it, and started pounding water and Emergen-C to help the efforts.
As I hiked into Erwin, Tennessee, one lovely afternoon, I was wondering why I was feeling a little car sick. Oh no — was it the norovirus knocking at my front door? Or was it all in my head? I knew I had two boxes waiting for me at Uncle Johnny's Hostel in Erwin, and I quickly made the decision to at least get a bunk for the night to assess my health situation.
Patterns and Disco were a day behind me, and already had plans to take a zero when they arrived, because Disco's girlfriend, Adrena, was coming to visit from Massachusetts. I hadn't planned on zeroing. However, given the looming possibility of sickness, and Disco's excitement for me to meet his girlfriend, I decided to stay in town.
My first night in Erwin, I lodged at the hostel, where I retrieved my two boxes. My sister, Jennifer, sent me a resupply box packed full with some super fancy — and super healthy — foods. My other sister, Rebecca, sent an Easter box stuffed with individual bags of candy for any hiker who was there when I opened it. It was basically a bunch of mini Easter baskets, and the hikers really loved it.
Most people who stayed at the hostel that night tented, since it was nice out. There was only one other girl in the bunkhouse with me. We exchanged stories, and made our way to bed with our gear taking up the empty bunks around us.
I later learned that she, too, had just recovered from the norovirus. I kept my hands clean and remained cautious. The next morning, I was feeling okay — but just okay. The norovirus comes with vomiting and diarrhea. I was not vomiting, and was hoping I wouldn't start anytime soon.
When the boys hit Erwin, we decided to relocate to a Super 8 in town. The rooms there provided more privacy for someone who wanted to lounge and rest all day. Hiding in a hotel room seemed like the perfect plan. I got settled into my half of the room, and felt a tense energy between Patterns and Disco. I hadn't hiked with them for a few days, and I was wondering if something had happened. I minded my own business, though, and started into my hiker chores — laundry, shower, real food, etc.
Then I received a text from Disco asking if we could talk later. I wondered if he and Patterns were fighting. I later learned that Disco wants to "hike his own hike" after reaching Damascus, Virginia. He told me that they have completely different hiking styles, and that it was time for him to continue on his own. Disco was worried how Patterns would take the news, since they've been planning this trip together for two years.
Then he asked me to mediate their conversation.
I was pretty hesitant. After all, I'm trying to avoid drama out here. Ironically enough, while Disco and his girlfriend were out to dinner later that night, Patterns came to me with a few frustrations he had with Disco. I kept both conversations confidential, because these were sensitive topics both were expressing.
I assured each of them, separately, that our journeys will change while we're out here. What we wanted before we started will change into something you never planned for. I honestly believe they'll be just fine, but I agreed to come along as "support," if it was needed.
Both boys were able to express their concerns like adults. Disco delivered his news, and Patterns took it well. These guys have been best friends since third-grade, so I doubt this will break them. However, I do believe it would have done so if they were to keep hiking together.
After the mediation, it was actually sort of pointless for me to be there. Disco spent a lot of time with his girlfriend, and I stayed locked up in the room resting, editing my YouTube videos and hiding from all of the ailing people. Thankfully, I never got as sick as everyone else. I was truly grateful for that. I knew my body needed the extra rest to fight it off.
When we returned to the trail, it had been raining for almost 24 hours, with no end in sight. We even had some snow in the forecast. I was mostly fine with the rain, because I knew it was washing off the sickness from the trail. Unfortunately, due to the massive downpour, we could safely hike only four miles to the first shelter, where I saw Patterns and Disco spread out on the shelter floor.
I could tell by the looks on their faces that they had different mileage suggestions for the day. Sloshing in the rain and mud, approaching the shelter, I knew I'd be easily convinced to stay. Besides, our travel plans were starting to look a little different, and I knew we'd be going our separate ways soon. One last night together on the trail seemed fitting.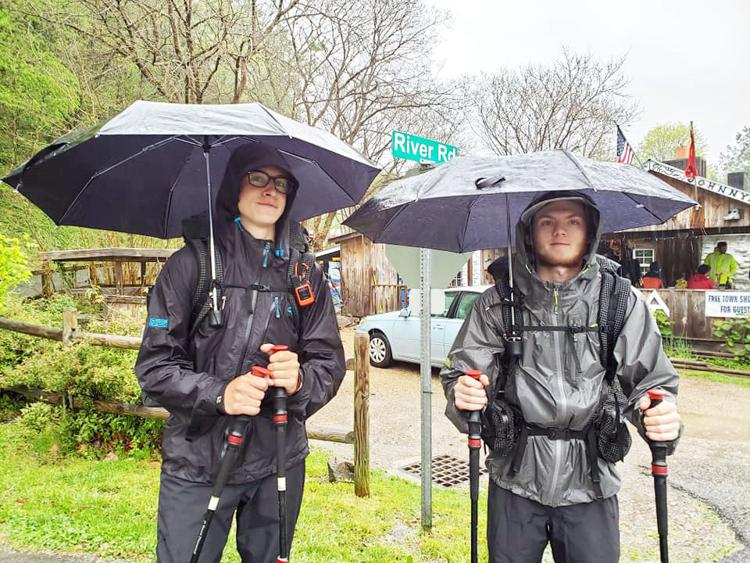 It was their first shelter stay, and my second. The rain didn't stop for three days after that. At higher elevations, we had snow — it was so cold.
Waking up on Easter was one of my toughest mornings to date. Everything was wet and cold, from my tent down to my socks. Pulling on wet, muddy hiking clothes put a damper on my mood. But I filled myself with Easter cheer and packed up camp as fast as I could.
The faster you start hiking, the faster you warm up. I slid some chocolate Easter treats into both Patterns' and Disco's shoes as I pulled out of camp.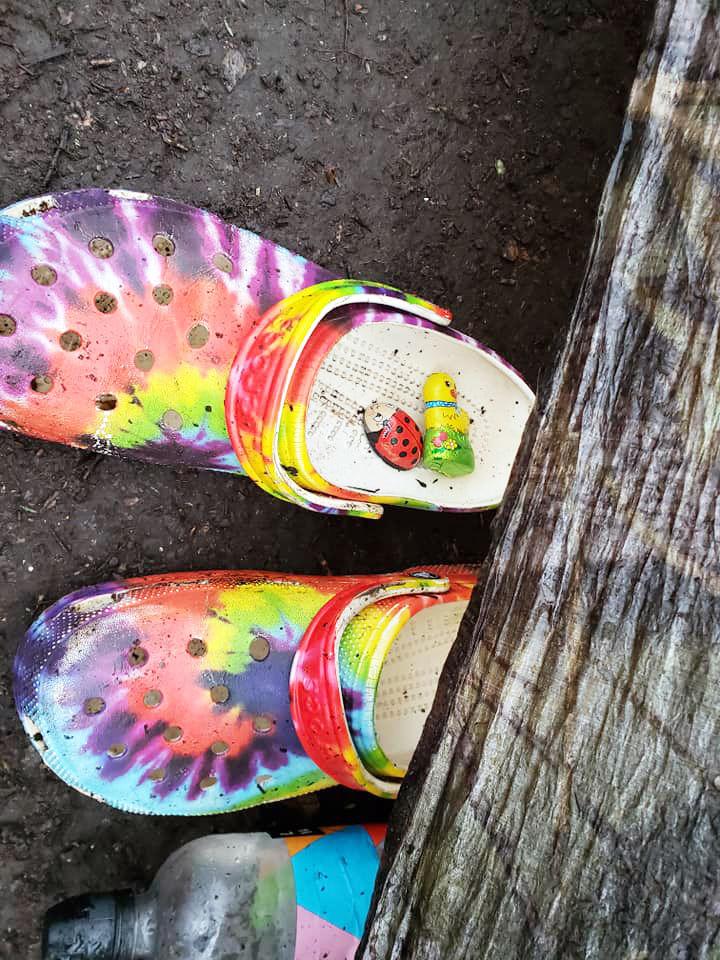 This was most likely the end of the road for our little trio. I said goodbye through the tent, and set off to hike my biggest day yet — 15.7 miles. I tightened my pack straps, checked that every zipper was zipped and that everything was secure. Then I stepped off.
It was a beautiful hike. Once I learned of good weather from a passing day hiker, things started looking up. He said there was supposed to be an improvement in conditions starting after lunch, and that was exactly what I needed to hear. I was determined to shake off the dull energy from the previous week, and get back at it.
I giggle internally, as I write this, because it's the first article I've penned on the actual Appalachian Trail. Mostly, I've been in a hotel, or someplace really comfortable. I've re-evaluated my zero days, and have decided to save them for rest.
This was pretty fun, I'll admit — lying in my tent writing about my past week.
As dreary as it was, it ended great!
Follow along on YouTube: Katahdin or Bust.
Total miles: 376.8 (384.9 with the Approach Trail).