Sarah Jane Hatfield, a graphic designer at The Mountaineer, has embarked on a thru-hike of the Appalachian Trail. During her journey, she'll be sending dispatches from the forest, which we'll publish each Wednesday.
This week, we join Hatfield as she enters the Smokies.
"Slow down and enjoy life. It's not only the scenery you miss by going too fast, you also miss the sense of where you are going and why." — Eddie Cantor
Great Smoky Mountains National Park is my new favorite place on Earth.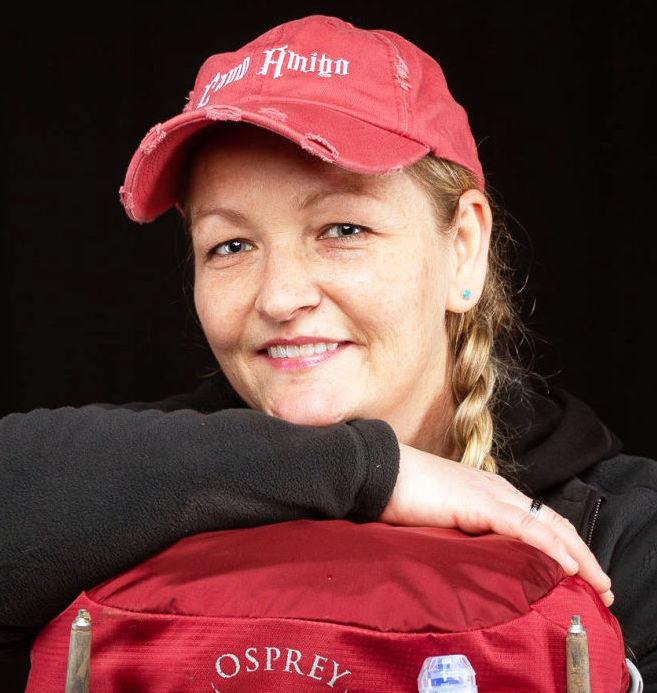 As we rested at the base of the park, in the comfort of the Fontana Village Resort, watching the thunderstorms pass over the high ridges, excitement built up within me.
I unpacked and repacked my food canister for the upcoming trek through a section of the trail I was anticipating the most: the Great Smoky Mountains National Park, which I consider to be part of my backyard, since Waynesville is nearby. I was prepared to hike the peaks, and I was ready for the sunshine the forecast had predicted starting the next day.
As I opened my eyes in the early-morning hours, it felt like Christmas — I wanted to run downstairs in my pajamas and see all the gifts Santa had delivered. I quickly gathered my things and said goodbye to my trail kids, Patterns and Disco, both of whom were sleeping in. I caught a shuttle back to the trail, a honey bun in one hand and a hot coffee in the other. Once back at the Fontana Dam Welcome Center — where the A.T. crosses over into the park — I met up with another one of my trail buddies, Gatorade, and we started across the dam.
I felt as if we were walking through a grand entrance, because once you cross over the dam, you're officially in the Smokies. My heart was full. I was aware of the challenges that lay ahead of me, and I knew I was capable of accomplishing them all — especially since I've already hiked this far.
It felt like the world was moving in slow motion as we crossed the dam. I snapped several photos at the entrance sign, took a few deep breaths, tightened the hipbelt on my backpack and stepped into the park. I dropped my permit in the box, then dug my poles into the dirt and started my journey up to the ridgeline — which I'd be hiking on for the next four to five days, into Gatlinburg.
The plan was to amp up my daily mileage. After all, this is week five, and my conditioning period was over. My body and mind felt ready to push some serious miles. The five or so hikers, including Gatorade, who started at the dam with me, hiked onward, and I was alone — just the way I like it. The weather for the first mile or so was acceptable. However, once at the ridgeline elevation, we hit the unpredictable winds and cold temperatures that the Smoky Mountains are famous for. The woods filled with an eerie fog, and I felt like I was in an creepy movie scene. I shook off that spooky feeling, however, and turned my mind to other things.
Like my daughter, Allyson, in Florida. You see, today I find out if she'll be giving birth to a boy or girl in August. I wondered if I'd get cell service on those mountain tops so I could receive the call. As her appointment time approached, I found the perfect spot to stop, and waited for the call.
When my cell phone rang, I nearly dropped it down the mountainside as I fumbled to answer it. On the other line was Allyson's childhood best friend, Christina, who was in charge of Allyson's upcoming gender reveal party.
I heard the words: "It's a boy!"
My eyes filled with tears, and they're doing so again as I write this. I was ecstatic, and wished dearly that I could be with my daughter. For a moment, I dwelled on not being there, but that feeling subsided and I was overcome with excitement about soon having a grandson. That thought kept me warm inside throughout the rest of the cold, windy day.
About six miles into the Smokies, I saw Gatorade hiking back toward me.
He looked pale and famished, which was concerning. He informed me that he's been unable to keep food down — an ongoing problem for him. He also told me that he was heading to the resort to assess his predicament. In the days to come, I learned that he terminated his thru-hike attempt.
I thought about him a lot that afternoon. I was thankful to have met him, and was happy for his friendship.
The next few days brought picturesque views and soul-ripening weather. I was feeling on top of the world, and confident with my new mileage challenges. The hike up and over Clingman's Dome — the highest point on the A.T at 6,611-feet — took my breath away, as the forest turned into a magical, mossy pine retreat. Indeed, this was my new favorite place on the planet. I stood in awe of an amazing pine plantation, branding it into my memory.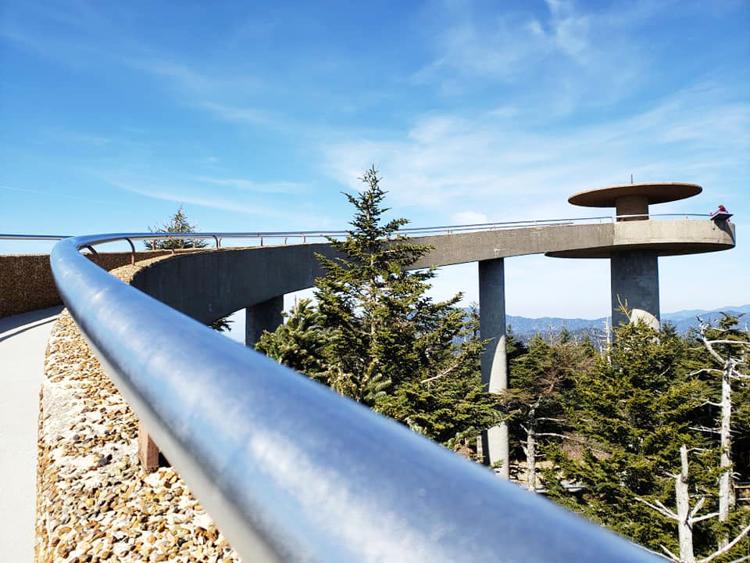 You know when you experience a curtain smell that takes you back to an old memory? Like the scent of water coming out of a garden hose reminds me of childhood summers, that deep forest pine scent will now stand alongside the memory of Christmas for me. The 360-degree views from atop Clingman's Dome will also forever live in my memory — and through my photos and videos, as well.
I don't know how else to describe the moving panoramas I witnessed, other than they made me feel utterly overcome with emotion, and a sense of accomplishment. Once again, I felt on top of the world.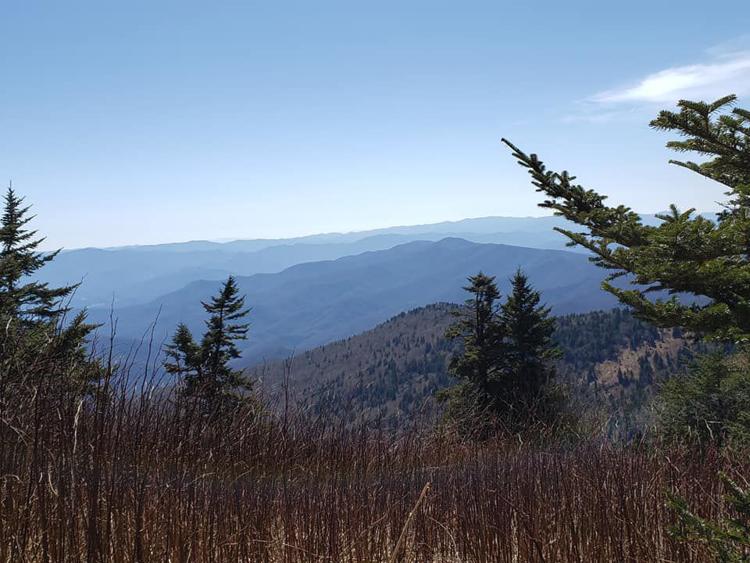 Knowing I'd be getting to Gatlinburg soon, and that my deadline to share week five with you all was approaching, I decided to hop off the trail to write all this down and send it out with the help of a reliable connection.
I arranged for a shuttle, and sent a text to my trail kids — who I hadn't seen since Fontana Village — letting them know my plans. Surprisingly, they weren't too far behind me, and informed me that they'd also be in town that evening. We made concrete plans to lodge together — they're good kids, and great company. We were close to Newfound Gap — another place that I've previously been — and I was excited to have walked there, all the way from Georgia.
It was a shock to have been in the quiet national park for days, surrounded by peace and tranquility, only to walj into one of the busiest locations in the park. It was packed with cars and people.
I stood at a crosswalk, waiting for what seemed like forever to stroll across the street, and there it was: the North Carolina/Tennessee state line. Even though I'll cross back and forth between the states many times in the coming days, it was an invigorating sight.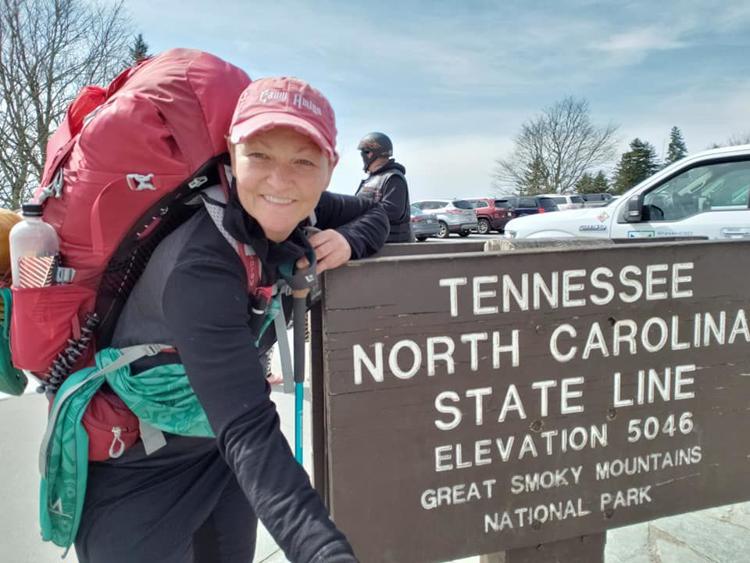 As I waited for the shuttle at Newfound Gap, I quietly ate some dehydrated apples that I had prepared from a peck I'd bought from Barber Orchard. I thought of how busy all the people seemed: Everyone was hurrying around, snapping quick family photos in front of this sign or that view, only to pile back into their vehicles and rush off to the next one.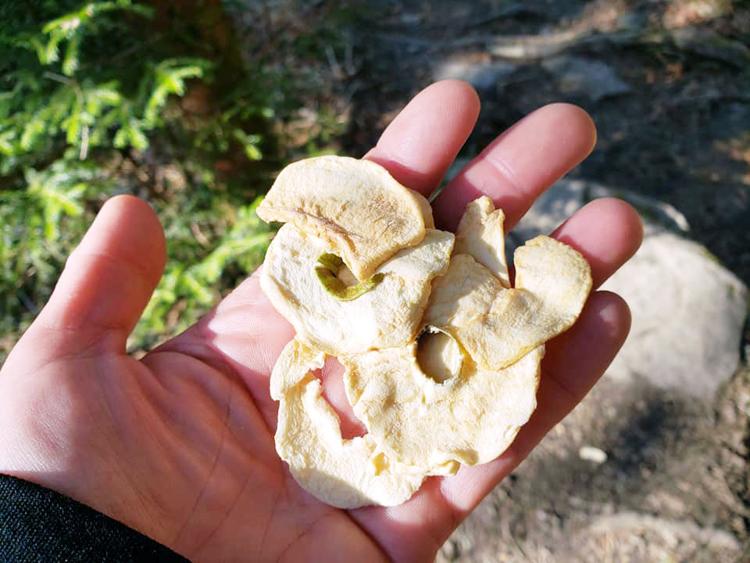 I felt fortunate to have reached this level of awareness, to be conscious of how quickly I used to move through day-to-day life.
I found myself relishing in the slowness.
Follow along on YouTube, Katahdin or Bust.
Total miles: 218.2 (226.3 with the Approach Trail).