Last Thursday, the Pisgah JV football team captured a Mountain Six championship.
Four nights later, it completed a perfect season in perhaps the most fulfilling way possible: by defeating its old rival Tuscola, 36-6, in a JV game that featured the grit and intensity of a varsity playoff bout.
The hits were bigger. The cheers – and jeers – were louder. Emotions boiled up, and over, at some points. A small tiff broke out between the players late in the fourth quarter, but it was quickly extinguished by the coaches and referees.
In other words, it was exactly what one would expect from perhaps the most heated high school football rivalry in North Carolina – even if it was just a JV game.
"It's a huge rivalry," said Pisgah JV head coach Jacob Hannah. "Anytime you can play these guys and beat them, it's special."
The contest was originally scheduled for Aug. 30, but inclement weather forced it to be moved to the end of the season, after both teams had wrapped up conference play. Pisgah, as previously mentioned, won the Mountain Six title last week by beating Brevard. Tuscola, meanwhile, earned a share of the WMAC title after losing to Erwin.
After conference play wrapped up, a showdown for Haywood County bragging rights loomed Monday evening. Pisgah entered 9-0, having outscored its opponents 288-52. Tuscola was equally formidable, coming at 8-1 with a 234-69 point differential.
Hannah and the Pisgah coaching staff kept the rescheduled Tuscola game a secret from the team until after it won the Mountain Six crown. When the players were informed that they'd have a chance to face their cross county rivals, they became "excited and jacked up about it," as Hannah put it.
"We kept it quiet," he said. "[The players] had heard speculation, but after they beat Brevard, we told them 'You went undefeated, you won a conference championship and now you get to go play the Super Bowl.'"
The freshmen and sophomores that comprised both Pisgah and Tuscola had only four nights to rest between their conference finales and Monday's game – an unusually short spell for a sport as physically and schematically demanding as football. Even so, there were few signs of lethargy.
"For 14 and 15-year olds, the turnaround wasn't difficult," said Hannah. "It's Week 12 now, so I feel like our kids have seen all there is to see. They were ready to line up and defend against whatever was thrown at them."
It was an unseasonably warm night at C.E. Weatherby Stadium in Waynesville – no long sleeves necessary – and Tuscola kept it close in the early goings. However, two huge plays by Pisgah in the second quarter ultimately laid the groundwork for a Bears' victory.
The first play came just moments after Tuscola scored on a dazzling 37-yard touchdown pass from Nick Rich to Clay Burgess to cut the Pisgah lead to 8-6 10 minutes before halftime. Levi Cagle fielded the ensuing kickoff and dashed through the Mountaineers' coverage team for a touchdown. It was a bold answer to Tuscola's lone score of the night.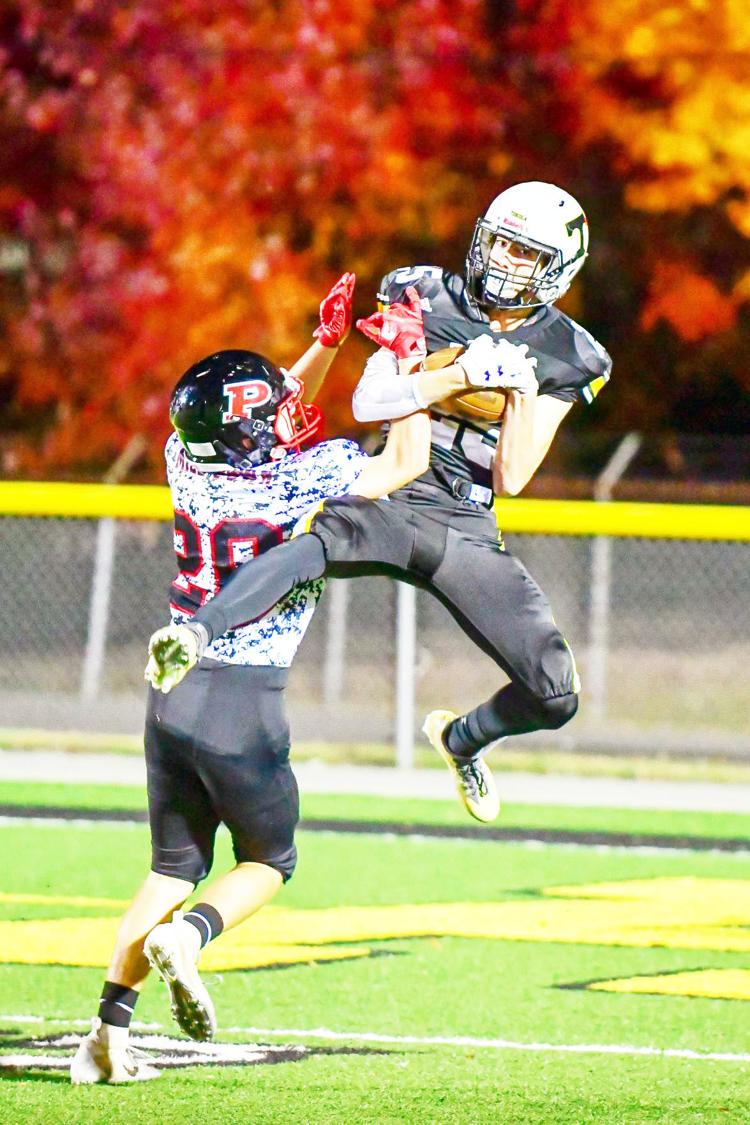 "It was a great feeling," said Cagle. "It was a big momentum swing and it really got our offense into a groove."
The second game-changing play was of the razzle dazzle variety – a dagger, of sorts, that occurred a minute before halftime.
Pisgah quarterback Kain Fortney took a shotgun snap and lateraled the ball to Louis Mehaffey, who instead of turning upfield like he normally would in such a situation, planted his feet and heaved a remarkably accurate pass down the sideline. Jaxon Jarrell caught the ball at the goal line between two defenders, then dove in for a score.
That put Pisgah up 22-6 at the break.
The Bears' defense, which entered the night allowing an average of six points per game, sealed the victory with three turnovers in the second half. Mehaffey grabbed a fumble recovery and an interception, while Jarrell added a pick of his own for good measure. Fortney scored both of the Bears' second half touchdowns – one on a 1-yard run, the other on a 12-yard scamper off what appeared to be a broken play.
All in all, it was a near perfect ending for Pisgah's perfect season. The Bears have now won 16 in a row, with their last loss coming Aug. 31, 2017, to – you guessed it – Tuscola.
"It starts with these kids buying into the tradition starting in August," said Hannah. "We get them as freshman and teach them how we do things at Pisgah. It just sort of builds from there."
In the shadow of the loss, it was perhaps easy to overlook all Tuscola that accomplished this season – which, in no small terms, was a lot. The Mountaineers handled a tough WMAC schedule with grace and skill. All of their wins came by at least two touchdowns and they allowed double-digit points just twice. They were also WMAC co-champions.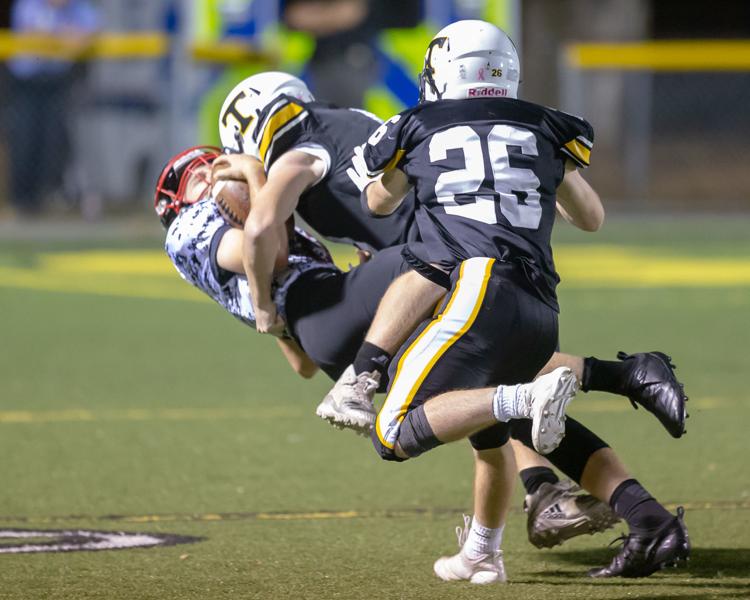 Back-to-back losses is never an easy way to end a year – especially for a team that had been so good throughout its schedule. That being said, the tough ending hardly diminishes the success the Mountaineers enjoyed over the first nine weeks of the season.
Tuscola JV head coach Justin Rhinehart made sure that truth wasn't lost on his kids when he spoke to them in the post-game huddle.
"I wanted to remind them of their accomplishments this season and lift them up a bit," he said. "We talked about the hurt they're feeling and how to change that hurt – by working hard in the weight room during the off-season and that sort of thing. [We talked about] being committed to the program...and I let them know they are a part of our family and we'll always be here for them."
Correction: The print edition of this article claimed Pisgah entered the County Clash at 8-0 and that beating Tuscola gave it 15 consecutive victories. This is incorrect. Pisgah finished the season 10-0 and has won 16 consecutive games.