CANTON — It's been a memorable couple of weeks for the Pisgah girls tennis program.
Since the end January, two seniors — Carli Stiles and Brooke Garland — have signed letters of intent to continue their tennis careers at the college level. Stiles will play for Division II Mars Hill, while Garland will suit up for Division III Brevard.
For a small town high school tennis program that, in recent years, has been built from the ground up by head coach Harold Shepard and his athletes, sending two athletes from this year's graduating class to the next level is a notable achievement.
It's also special because Garland and Stiles are good friends.
"Signing around the same time as Carli is a really special feeling because of our shared past," Garland said. "We have been friends for a long time, and accomplishing this together is a big deal."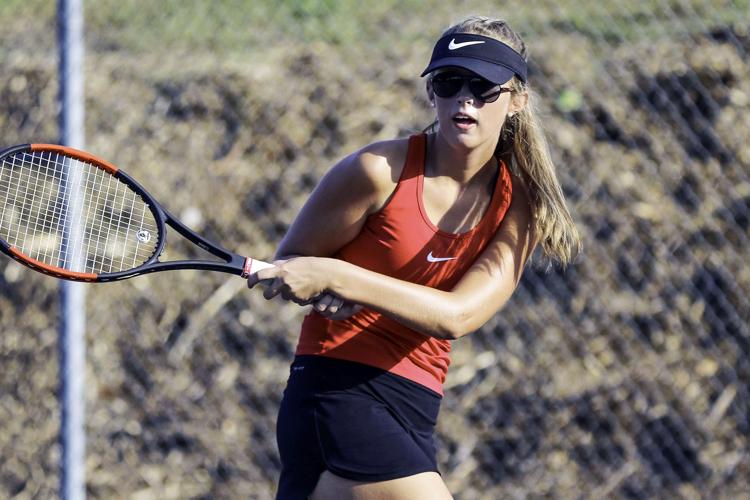 Stiles and Garland have a history together, indeed, as they spent time as doubles partners. The duo's final high school match came in the first round of the state playoffs against Fred T. Foard in October of last year.
Garland remembers it well.
"We were ahead, but then it started getting dark and we couldn't see the ball," she said. "We knew we were losing, but we both refused to get down. After the final point, we dropped our rackets and hugged each other."
"It was one of the most bittersweet moments," she added. "Carli is one of my best friends and I wouldn't be where I am without her."
Garland and Stiles are part of a senior class that has taken the program to new heights after an inauspicious start.
That group went 2-12 as freshmen in 2015, leading many to wonder what sort of legacy they would leave by the time they graduated. But the girls won a conference title in 2016, and in 2017 became the first squad in program history to advance to the second round of the state tournament. They rounded out their high school careers with another trip to state this past season.
"There have been many history-making moments," Garland said. "But putting all that aside, it was just great getting to go and represent my school and my team in the individual conference tournament for singles with Carli all four years."
Neither Garland nor Stiles played competitive tennis before high school. But under Shepard's tutelage, both have developed a keen passion for the sport that has taken them to places perhaps they never expected to go. Stiles, for instance, served as a ballgirl at the Fed Cup — the largest annual women's team sports competition in the world — when it came to Asheville last February.
Stiles said she's indebted to Shepard for all he's done for her athletic career.
"I would like to thank coach Shepard for always supporting us and being the best coach there is," Stiles said. "Without his hard work and dedication, I would not be where I am today — going to pursue tennis at Mars Hill."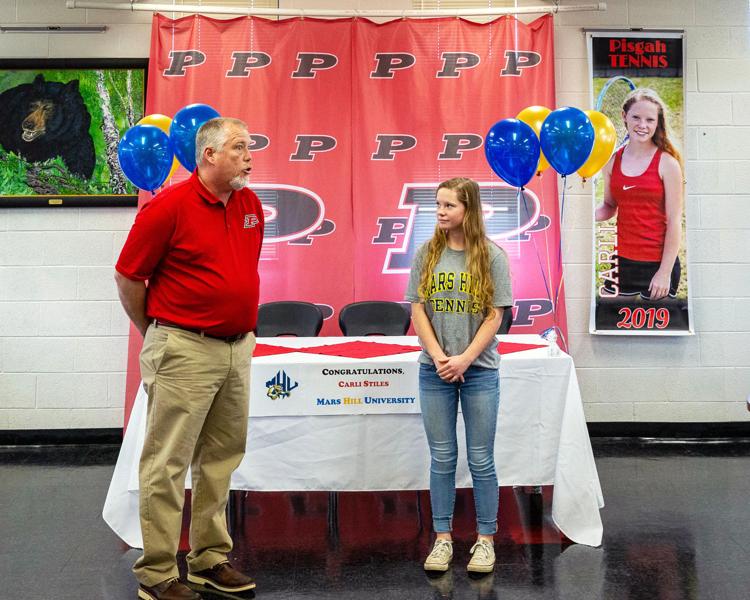 Stiles said she ultimately chose Mars Hill because she wanted to attend a "small college close to home." Garland, meanwhile, never thought she'd end up at Brevard. But after traveling there for a match in 2015, she said the "atmosphere wasn't what I was expecting — but in a good way." When the coach reached out to her, she figured it'd be a good fit, partially because of the small town feel that, in some ways, reminded her of Canton.
Putting pen to paper was a big moment for both girls, and they're proud of the legacy they're leaving at Pisgah.
"Pursuing tennis in college means so much to me because it makes it seem like all the hard work has paid off," Garland said. "We started out as nothing and really turned it into something to be proud of."
"I hope I can contribute that to Brevard as well," she added.