"Normality is a paved road. It's comfortable to walk, but no flowers grow on it." — Vincent Van Gogh
The Appalachian Trail is marked by 2.5x6-inch vertical white blazes along its entirety, from Georgia to Maine. If you follow them, you'll make it to Mt. Katahdin. This week, I'm going to talk about the other "blazes" affiliated with the A.T.
Broccoli Rob and I filled our week with a few different blazes, for the experience and to fix a logistical jigsaw puzzle. Not only has this added intrigue to this adventurous journey, it's reminded me to walk through an open door when I'm standing in front of it.
Blue blazing
Our blue blaze experience is one such example.
Blue blazes are alternate A.T. routes marked, fittingly, with blue blazes. There are many blue blazes along the Appalachian Trail, most of which lead a short distance off the path to water sources, shelters, camping or a view. Some take you down a much more adventurous route.
On the morning of our surprise blue blaze experience, Broccoli Rob and I were talking through our tents about the day's hiking agenda as we packed up our stuff. We had a good stretch of trail ahead of us, with a couple of steep climbs to conquer, and we were looking at a doable 18-plus mile day.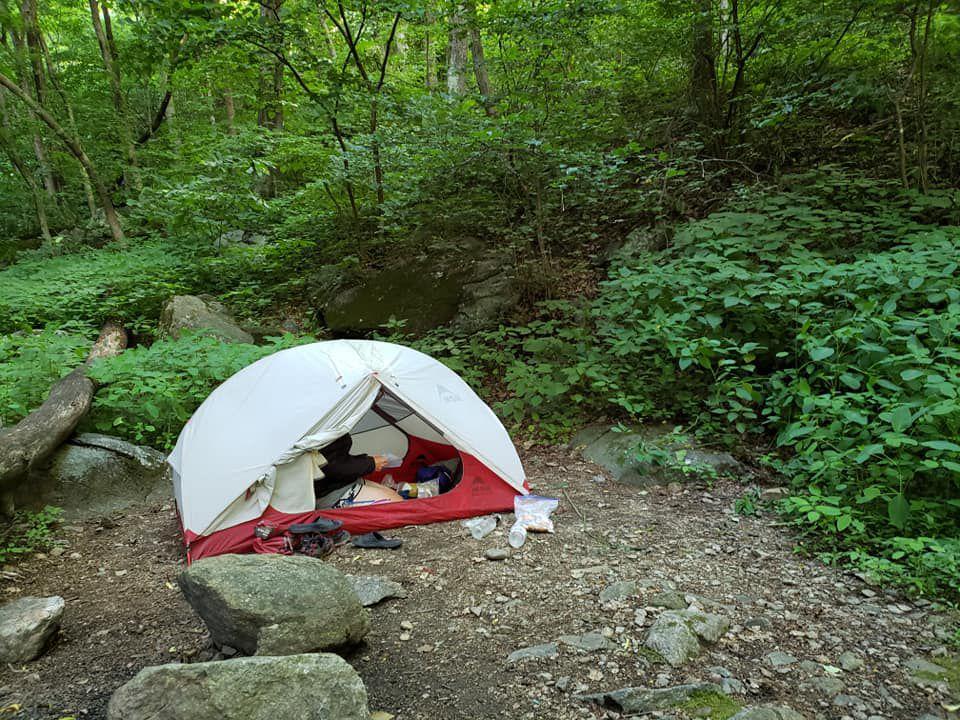 Later in the afternoon, during our lunch break, Broccoli Rob threw out the idea of taking the Mau-Har Trail: a three-mile blue blaze path that would rejoin with the official white blazes of the A.T. farther along. This would mean that we would miss a seven-mile stretch of the official trail, cutting out four miles in total.
Even so, the Mau-Har Trail shouldn't be confused as an easier alternative. It was described as a tough and rugged three-mile trek with steep ups and downs over rocks and boulders. Shaving off four miles wasn't the only thing appealing about the trail: it was also said to follow a beautiful mountain creek filled with waterfalls and an abundance of swimming holes.
Broccoli Rob told me to "just think about it."
"Man," I thought. "A dunk in a cool mountain swimming hole may be a perfect addition to this day. And we'd get to our destination campsite a lot quicker, too."
The idea of missing seven miles of the official A.T. wasn't a huge deal when I took everything into consideration. Getting to Maine was the end goal, after all, and I wanted to soak it all in.
As we hiked closer to this alternate route, I made a last-minute decision to follow Broccoli Rob down the blue blaze, instead of the familiar white blaze.
The warnings of stiff difficulty delivered. I had to pull myself up and over huge boulder scrambles multiple times. Then, as we rounded a turn, there it was: a beacon of light cutting through the forest canopy as the sun's rays fell upon the most beautiful mountain swimming hole I've ever seen. It was something out of a dream. I almost tripped over rocks on the path below, my jaw hanging open and my eyes taking in the beauty before me.
Broccoli Rob cut down to the spot — which also had amazing campsites — via a small rock scramble. It was only 2:30 p.m. and we knew we'd have to keep moving after our cool down. But an hour later, we were pitching our tents right there next to heaven on Earth. Wouldn't you do the same?
The blue blaze delivered an experience we wouldn't have had if we didn't take the path less traveled. I was happy with the decision.
Later that evening, we started discussing the time we had left to complete our thru-hikes before Mt. Katahdin closed in early to mid-October. I think about this time-frame everyday as I slowly push north. We pulled out our guidebooks and cranked out some math.
It didn't look as bad as I'd thought. We could still get there by the end of September, as long as we cleared a 15 mile a day average. Piece of cake, right?
At first, it sounded as if Broccoli Rob was fine with attempting his thru-hike again next year. I was far from that. After hours of talking it out, we had a plan together.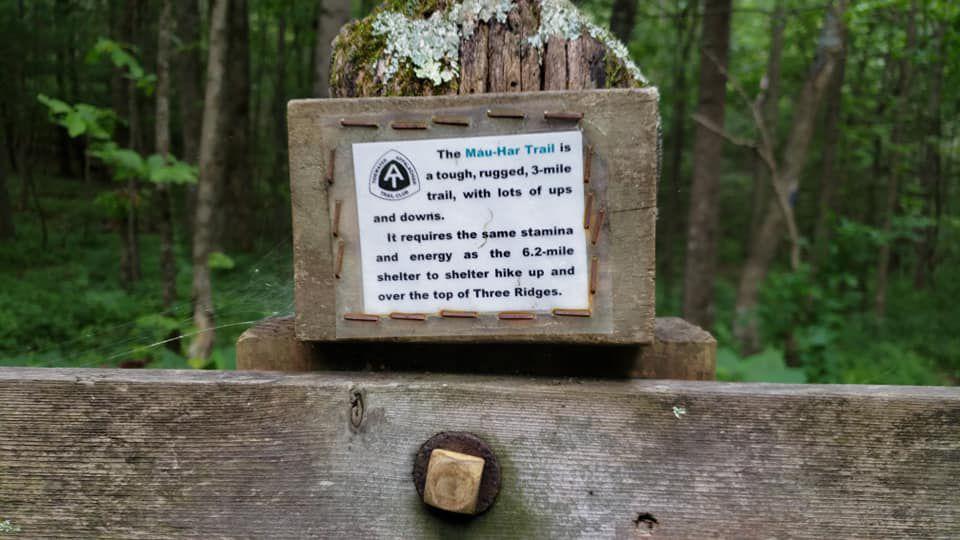 Aqua blazing
Aqua blazing is when Appalachian Trail thru-hikers canoe or kayak a portion of the trail's length.
Broccoli Rob and I had been toying with the idea of canoeing the Shenandoah River from the Port Republic boat ramp (near Waynesboro, Virginia) to Harper's Ferry, West Virginia. This is a popular aqua blaze section for thru-hikers that would push us up the trail 161.3 miles. And guess what: we decided to do it. We sailed out Monday morning!
Our aqua blaze is expected to take us 7-10 days. The Shenandoah River Adventure Company is making the process pretty easy and we were excited to get underway. We've even arranged to have them shuttle us back about 54 miles on trail when we get to Harper's Ferry — the unofficial halfway point of the trail — so we can hike to the 1,000-mile marker, the Virginia-West Virginia state line and the Rollercoaster (a 13.5-mile stretch of tightly packed ascents and descents). We'll only bypass about 108 miles of the A.T. by aqua blazing. We will be missing the iconic Shenandoah National Park part of the trail, however, which is kind of a bummer.
Our food resupply this week will look a whole lot different since we're not packing the weight on our backs. I've been craving fire-charred hot dogs this past week and may need to satisfy those cravings. We also grabbed a foam cooler and a pool float for the upcoming adventure on the Shenandoah River.
Aqua blazing is going to be adventurous. The coming weather is exactly what you'd like for a canoe trip down the Shenandoah river. Bon voyage!
Yellow blazing
Yellow blazing is when Appalachian trail thru-hikers take a vehicle to progress further up the trail.
In order to pull off the aqua blaze timing, we had to shave off a day's worth of hiking and arrive in Waynesboro 24 hours early to make it all work logistically. The post office closed at noon on Saturdays, and we arrived at 10 a.m. on the dot. I had a box from a friend filled with trail treats at a post office in Waynesboro, 12 miles away, and I needed it before we set sail. We stuck out our thumbs and held up the new hitchhiking sign I'd made, reading "town" on one side and "trail" on the other.
A Subaru owner never fails a hiker. The first Subaru that drove by stopped and the guy inside offered us a ride into Waynesboro. His name was Hank, and he told us his wife keeps urging him to refrain from picking up hitchhikers (a common trend I'm noticing). He knows we're just harmless hikers — stinky, sure, but harmless.
I'll confess right now: I've skipped 19.1 official miles of the A.T. via yellow blazing, from Reeds Gap to Waynesboro. I've already come to peace with the decision and have accepted it as part of my journey.
That brings me to mention another important aspect of my thru-hike attempt. Upon reaching Harper's Ferry, Broccoli Rob and I will go our separate ways as hiking partners.The decision to part was tough, but it's for the best. We have lots of fun and, in some ways, have become distracted by each other's company. As we did the math that night by the swimming hole, we realized that Mt. Katahdin was still within a reasonable time-frame for us, but that each of us would have to get back to personal motivations for hiking north.