This week, we join Hatfield as she begins her aqua blaze journey on the Shenandoah River.
"What makes a river so restful to people is that it doesn't have any doubt. It's sure to get where it's going, and it doesn't want to go anywhere else." — Hal Boyle
The Shenandoah River flows northwest from Waynesboro, Virginia, to Harpers Ferry, West Virginia, where it feeds into the Potomac River. The projected paddle distance for our aqua blaze adventure (a thru-hiking term for furthering one's journey up the trail via a waterway) is about 155 miles — 100 miles on the South Fork and 55 on the Shenandoah River. In total, the trip should take us 7-10 days.
Broccoli Rob and I became a Viking rowing team, of sorts, this past week while on our river journey to Harpers Ferry. The trip is on schedule, as we're expected to finish on our 10th day. We'll paddle into Harpers Ferry just in time for the Fourth of July.
Last Monday morning, the first day of our aqua blaze trip, we woke up extremely early to break down camp at the town pavilion and grab a hot cup of coffee from the local convenience store. We had a 7:15 a.m. shuttle that would dump us at the local boat launch site, and we'd purchased a random assortment of river float goodies in town (i.e. an inflatable raft, a couple of styrofoam coolers filled with ice and cold beverages, two tubes of SPF 50 sunblock, bread, lunch meats, a few packages of hot dogs, etc.) to enhance our journey. We were ready for an adventure — our last one together.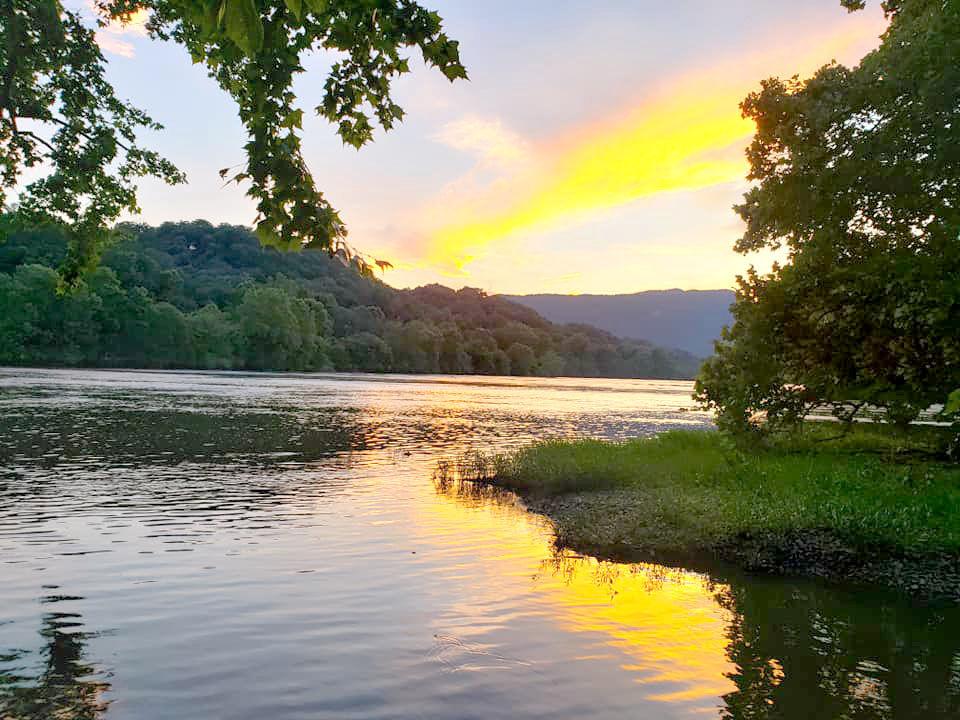 We were determined to soak up all of the experiences this trip had to offer. Once at the Port Republic boat ramp at the South Fork launch site near Waynesboro, Broccoli Rob and I tipped our shuttle driver and unloaded all of our river adventure items. I quickly noticed a white pickup truck down near the banks with a canoe strapped to the bed — I'd spotted our vessel. She's 16-feet long, with an avocado green color and bright red tips.
Pre-planning this 7-10 day canoe trip with Shenandoah River Adventure has been nice. Because our goal is to paddle all the way to Harpers Ferry, the company does a "buy back" program. I was purchasing a fairly used, or conditioned, canoe from them, and they'll buy it back once we reach Harpers Ferry.
Once on the water, we needed to name our vessel. It is, after all, bad luck to have a water voyage in a craft with no name. Out of nowhere, Broccoli Rob proclaimed our canoe "The Rusty Trombone." It seemed fitting, so that's what we're calling her.
If you've ever been on a canoeing trip, or even just in a canoe, you know that balance and center of gravity are important, along with the ability to steer and maneuver around rocks and rapids. Blindly going into a huge multi-day adventure like this with someone I've never canoed with before was a bit unsettling to me. However, within our first few paddles, I knew Broccoli Rob and I would be in sync in no time. Once we worked out a command system, we were soaring down the rapids with the wind at our backs, gripping our paddles tight.
At some point during the second day, Broccoli Rob's captain commands started to take on a medieval/Viking tone as he shouted them with gusto from the back of the ship — er, I mean, the back of the canoe.
From then on, we had accents. From then on, we were Vikings on a river adventure.
The Shenandoah River has been what the locals call "low." All we could do was paddle around rocks, and scoot across the shallow parts. We were able to see where water levels had previously been. Deeper waters would have been better, of course, but we did just fine, dunking our feet in the cool water when we were stuck. The water was always refreshing on my skin.
Learning what breaking waters look like from the Skipper's seat started becoming second nature to me, and I was able to skillfully assist in maneuvering through rocky waters. There were plenty of shallow parts where we had to pull the canoe along.
As the days got hotter, a neon green inflatable raft was calling my name. It was a cheap, $10 blow-up lounger, and I didn't expect it to last too long — especially with all the rocks.
It officially lasted two days: two glorious days of lazy floating on the Shenandoah River.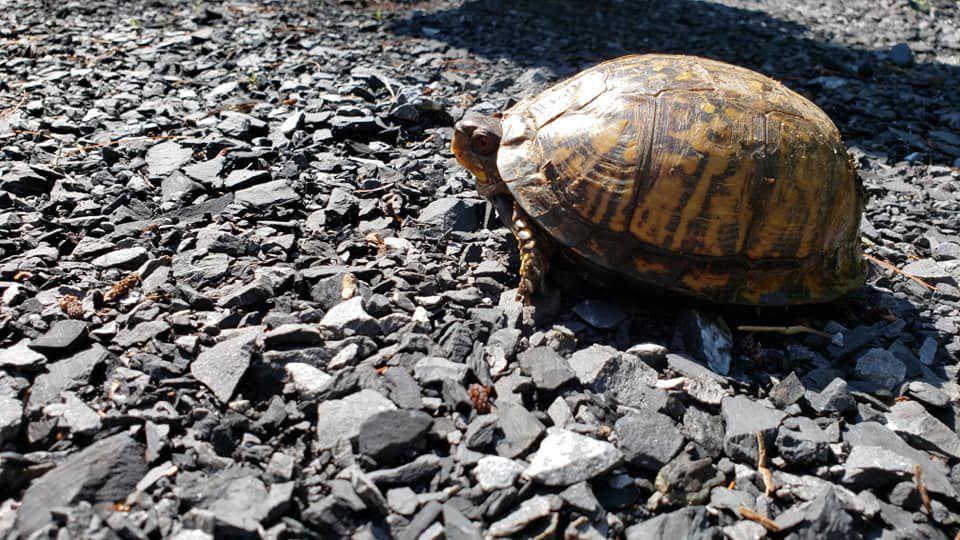 I normally don't swim in unfamiliar waterways — or any waterways, for that matter. But on the Shenandoah, I couldn't help but hop in to cool down. The water was refreshing. I was able to wash off the sweat and dirt from my skin. I'd float alongside the boat, holding onto its side. Many times, I had to let go and float down a small rapid here and there while Broccoli Rob navigated alone.
I couldn't convince him to get in, but maybe he will before we finish.
As the days passed, we grew more confident in our roles. New muscle groups were working overtime, while old ones took advantage of the downtime. It was nice to prop up my achy feet at times on the rim of the canoe while paddling down the river. The journey also brought a lot of new wildlife into our world. What we saw was so different from the mountain creatures we normally encounter on the trail. It's almost like we've stepped into the National Geographic channel.
Although it's not a river animal, per se, a bald eagle soared above us for four days in a row, as if he was keeping an eye on us. Every morning we'd see him overhead around the same time — he's so large and magnificent. You could hear his wings cut through the breeze while we sat still, watching him. It was relaxing, the way he effortlessly glided along. We must have traveled out of his area on day five, because there's been no sign of our feathered friend since. We've also been spotting river otters, trout, duck, geese, deer, snakes, cows and raccoons, to name a few. It's nice seeing them all, especially the babies.
With the Fourth of July coming up this week, we knew we'd see more people on the water. The weather was expected to be perfect, and the lazy feeling emanating from the river tends to attract tons of people. Between Saturday and Sunday, we passed four public launch sites, which are popular drop spots for local tubing companies. I kid you not: at one launch site, while I waited for Broccoli Rob to run to the store, I counted 138 tubes entering the river. Later on, we paddled past the enormous mass of tubes.
As I reflect on the adventures of this past week, my heart is warm. I've made so many memories and experienced so many new things. I've thoroughly enjoyed my journey on the river with my new lifelong friend, Broccoli Rob. He has such a funny personality, from his medieval/Viking accent, to his carefree demeanor. I know I'll miss his companionship when we part ways in Harpers Ferry.
Ah, Harpers Ferry: the unofficial halfway point on the Appalachian Trail. It's almost unbelievable.