Sarah Jane Hatfield, a graphic designer at The Mountaineer, has embarked on a thru-hike of the Appalachian Trail. During her journey, she'll be sending dispatches from the forest, which we'll publish each Wednesday.
This week, we join Hatfield as she battles freezing temperatures, and experiences perhaps her scariest moment yet on the trail.
"Every new friend is a new adventure...the start of more memories." - Patrick Lindsay
Week two was interesting, to say the least.
We had frigid air roll through the area, with wind chills pushing temperatures as low as 10 degrees at elevation. Waking up in my tent at 4:30 a.m. on day eight, atop of Tray Mountain (elevation 4,216-feet) with pretty much everything frozen and a 22-degree reading on my travel thermometer inspired me to get off the trail and into town — at least until the freeze passed. Weather reports were showing freezing temperatures for the next two days.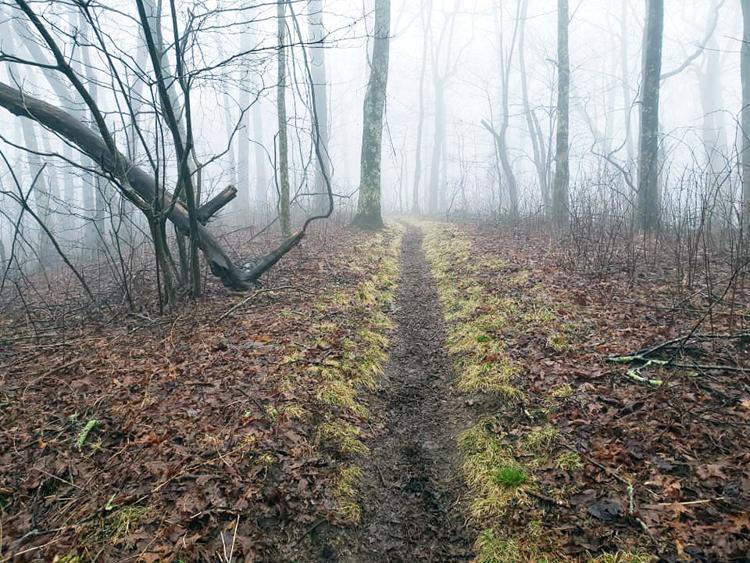 No way, that wasn't for me.
Hustling down — straight down, as it were — the trail into Unico Gap to catch a daily shuttle that picks hikers up and brings them into Hiawassee, Georgia, I found myself daydreaming about resupplying my Pringles stash, a hot shower and a place to get a load of laundry done. After all, eight days was long enough to wear stinky hiking clothes.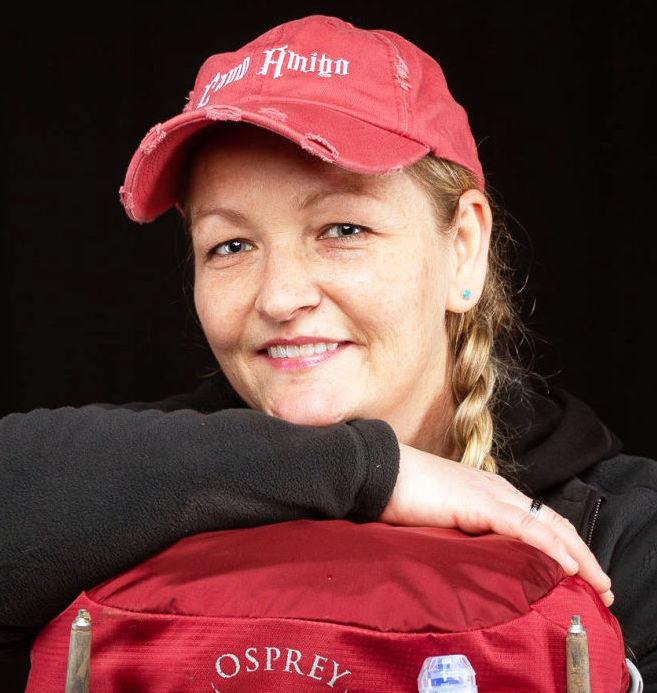 The entire trail community had a certain energy about it, one that enticed me to stay. All of the popular $35 per night hiker hotels were booked by the time we reached civilization, so we got "stuck" at the fancy Holiday Inn Express suites — the most expensive choice in town.
How do you solve a $100 per night hotel stay? Split it with a few other hikers, of course. We had a nice, clean room that had two queen beds and a pull out couch. We put four hikers in there, for two days and three nights ,until the freezing temperatures rolled on.
I loved the feeling of dropping my things on a cozy hotel bed. Then I flopped down right next to my belongings and contemplated what I should do next. Shower? Laundry? Eat? First, I had to find the energy to do any of those things.
The days spent in town seemed to blend together, and losing track of what day it was happened to me on the second day. The thing to do on a zero day — a day when no hiking takes place —was to go to the hotel breakfast buffet. That's where you find all of your hiking buddies, and discover who's seen who, and when someone will be there, or what hotel they're staying at in town.
The communication on the trail works like magic, and I witnessed it operating like a well-oiled machine. Every hiker talks to each other out here: Where are you heading? Where'd you come from? What day did you start? Do you have a trail name yet? All of those are common hiker questions. The people I've met on the trail thus far, have been some of the most spirited and ambitious people I've ever met. I'm drawn to their energy and their free spirits, perhaps because they remind me of myself.
As we packed up our gear that had been scattered about the hotel room for the past couple of days, I was eager to return to my journey. I felt anxious the entire stay, as if there was something else I should be doing.
The night we returned to the trail was cold, sure, but not as cold as that night on Tray Mountain. Then the rain returned. Hiking with my umbrella made it bearable, but did nothing for the slipping and sliding that occurred on downhill grades. The mud was almost untraversable, and it significantly slowed my pace, which I'd steadily been trying to improve. I didn't want to slip and injure myself, so I hiked slowly and made sure every step was deliberate.
Arriving at the next shelter, my spirit was crushed — I was muddy from head to toe. I was searching for any kind of morale boost, and I found it in a group of energetic 20-somethings. They seemed to fill the shelter with positive energy, despite also being covered in mud. As everyone shuffled around and found their spots in the shelter — which was built for 12 people — I was excited to be surrounded by so much positivity during my first shelter stay.
Thunderstorms rolled in as evening approached. We were all relieved to have a dry place to sleep for the night. Just as everyone was getting comfortable, two more hikers showed up — a husband and wife. We packed in tighter to make room for the wet and weary couple. We learned that they were weekend hikers, and that they were worried about the husband's brother, who they'd lost somewhere along the way. The pair was soaked to the bone, and temperatures were dropping fast. We suggested dry clothes and food, but they weren't prepared — they hadn't brought any extra clothing whatsoever.
The husband, who we later found out had called fire rescue, made sure his wife was safe, then set out to find his brother. His wife, shivering and slightly delirious, filled us in. As she explained what had happened, other hikers gathered clothing for her to change into. Their compassion was moving. One of the gentlemen in the shelter started to change back into his wet hiking clothes, and informed the everyone that he was going to help locate the missing person. He and I exchanged numbers, so he could keep us up-to-date during the search.
The entire shelter viewed him as a hero, and he later earned his trail name — Braveheart. By this time, the weather had taken a turn for the worst. About 30 minutes later, the husband returned, on the insistence of Braveheart, who told him to do so for his own safety. We helped him out of his drenched clothes, and got him into a sleeping bag. The energy in the shelter was really intense — an awkward silence filled the air.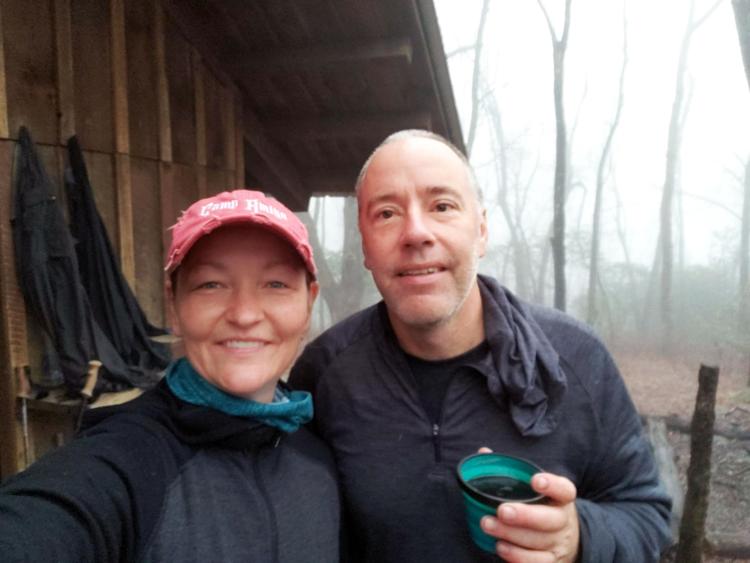 About an hour later, Braveheart reported via text that he'd located the missing man, who'd set up camp about a mile back as protection from the elements. He was warm and safe. The shelter erupted with cheers and claps, and everyone seemed genuinely happy and concerned for his well-being. My hiking friend, Needles, and I stayed awake, waiting to greet the selfless man who had set off into an intense thunderstorm, in the dark, through terrible mud, to help someone who's life was in danger. Everyone else had the same idea, because Braveheart — otherwise known as Dennis, from Florida — was given a true hero's welcome.
We were received a shock just after midnight, as a member of the search and rescue team from Towns County, Georgia, burst into the shelter — with the rain and lightning behind him — and, in a booming voice, asked if everyone was safe and accounted for. I thought it was awesome that they'd trekked three miles in terrible conditions to follow-up on the call, and make sure all was well.
The next morning, new friendships were formed, and bonds were sealed. It was an intense, but pleasant, shelter stay. Wet and exhausted from the rollercoaster ride from the night before, we made our way down the mountain. Some continued on, while others stopped for the night at Top of Georgia Hostel. I picked up a resupply box I had sent myself, and continued on to my next journey.
The hostel was full and exciting. I got virtually no sleep due to the ubiquitous snoring. I popped up on the last day of week two ready to push 11.5 miles. During that stretch, I crossed a huge milestone: the state line into North Carolina.
One state down, thirteen to go.
Week two: 30.1 miles (weather delays)
Total mileage: 89.1 (including 8.1 miles on the Approach Trail)