HENDERSONVILLE — Once again, Tuscola's Sam Messer has broken the school record in the 400m.
Two weeks ago, at the WMAC Championships, he ran a 50.7, besting the previous record of 51.4 seconds set by Roman Jenkins in 2016.
Then last weekend, at the Class 3A West Regional, Messer one-upped himself with a time of 50.6 seconds.
To Tuscola track head coach Joey Robinson, Messer's recent history-making runs come as no surprise.
"Sam has tremendous work ethic," the coach said. "He does the little things right and pays attention to detail. He's the type of athlete you look forward to coaching."
"Sam breaking...the record has been fun to watch," he added. "He told me he was going to do it at the beginning of the season."
Messer placed fourth at the regional meet, qualifying him for the Class 3A State Championships at North Carolina A&T in Greensboro this weekend. His teammate, Izzy Hendershot, also qualified for state with a fourth place finish in the girls high jump.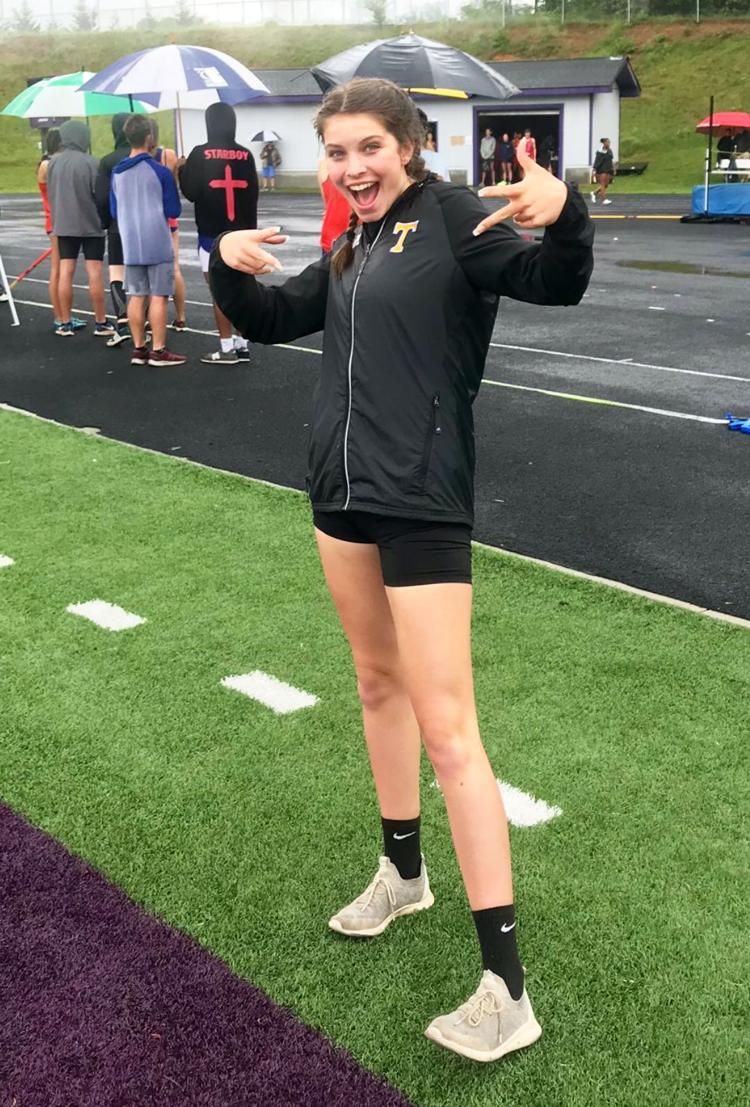 Sending two athletes to the state level is a notable accomplishment for Tuscola, which famously has a significantly smaller enrollment than many Class 3A schools.
That fact wasn't lost on Robinson.
"Our numbers were down a little bit this year in track, so having two state qualifiers is a big deal," he said. "[Class] 3A competition is stiff, but we look forward to competing against the best."
"I couldn't have asked for better student-athletes to represent Tuscola at state," he added.
While Messer and Hendershot stole the show at the regional meet, Hunter Murphy — a sophomore — turned in a memorable performance in discus.
He obliterated his previous personal best of 115, ripping a 124 early in the event. For much of the day, he was in line to move on to state. But he was bested near the end of the competition.
The top four finishers moved on. Murphy placed fifth.
"His outlook over the next two years is good," Robinson said.
With the regional meet in the rear view, Messer and Hendershot are now totally honed in on a strong showing at state.
Robinson has high expectations for both athletes. He's hoping Messer can break the 50-second mark, which the senior has a chance to do, because "North Carolina A&T has a great running surface," Robinson said. The coach is also confident that Hendershot can turn in one of the best performances of her career.
"Two personal records would make a great end to the season," the coach said.
To help make that happen, Robinson is taking a savvy approach to training this week.
Messer's practice sessions will focus on "strategy and maintaining endurance," Robinson said, with the senior's workload decreasing by the day so his legs are fresh on Friday. Hendershot's regimen, meanwhile, will center on improving mental toughness.
"She has a lot of talent, but high jump can play mind games with its competitors," Robinson said. "I just want her to jump with confidence — and with the same belief in herself that I have in her."
Whatever happens, though, Robinson will be satisfied. To him, it's not the final result that's most important, but the journey itself.
"I simply love working with amazing young people," he said. "It's the bus rides, long meets, jokes and watching these guys grow up that makes it all worthwhile."