Barbara Vaughn has had two knee replacements. She has the scars to prove it.
Vaughn is a former PE teacher and coach who spent 40 years at Waynesville Junior High and Middle schools. She "used to play a little tennis," as she put it, but after her surgeries, the sport no longer seemed like a smart option.
Then, about six years ago, pickleball appeared in her life.
She's been hooked ever since.
"It's very similar to tennis, but you don't have to run as much," she said. "It's much easier on the joints and anyone can do it."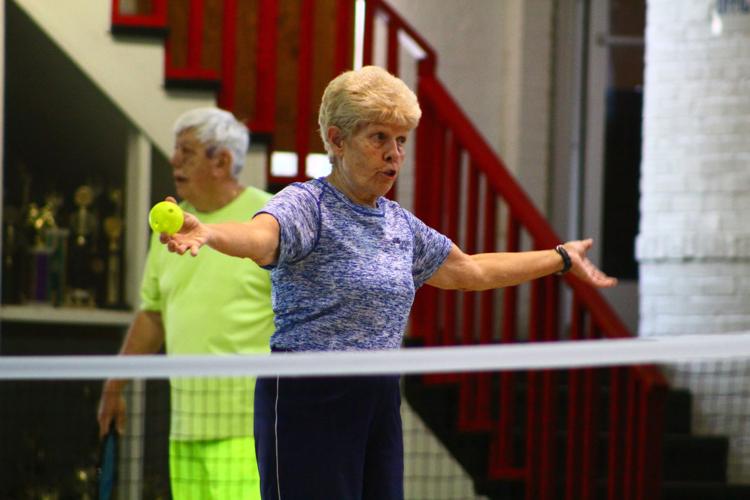 Vaughn is now a staple in the Waynesville pickleball community, which is more robust than one might think. She coaches beginner matches Mondays and Wednesdays, then competes in more competitive matches Tuesdays, Thursdays, Fridays and Saturdays – all at the Old Armory at 44 Boundary Street.
"It's a great way to stay in shape," she said.
Indeed, but what exactly is pickleball?
In short, it's tennis, but with a Wiffle ball, a smaller court and graphite or wooden paddles. It was invented in 1965 by former state representative Joel Pritchard and two of his friends, Bill Bell and Barney McCallum, as a way to cure boredom in their families.
As the story goes, they set out to play badminton, but couldn't find the shuttlecock, so they improvised by subbing in a Wiffle ball, lowering the net and – reportedly – either using ping pong paddles or fashioning paddles out of plywood from a nearby shed, depending on which story you believe.
"News of the fun game spread by word of mouth...and in 1972, Pickle-ball Inc. was officially incorporated to give the game a proper hub and keep up with the demand of paddles, balls, nets and gear," according to pickleball.com.
The origin of the game itself is fairly cut and dry. The genesis of the name, however, is anything but.
"Pickleball has a very interesting name, especially since no pickles are used," reads the United States of America Pickleball Association website.
This is clearly true, and it was McCallum who claimed it was named after the Pritchard family dog, Pickles, who would chase the ball and run off with it. Said McCallum in a quote on the USAPA website: "The Prichards had a dog named Pickles, and you're having fun at a party, right? So anyways, what the hell, let's call it pickleball."
Pritchard's wife, Joan, however, claims she deemed it pickleball because "the combination of different sports reminded me of the pickle boat in crew where oarsmen were chosen from the leftovers of other boats."
Whatever the authentic origin story may be, pickleball has grown exponentially since its beginnings in the Pacific Northwest.
The first tournament was held in 1976. In 1984, the USAPA was established to "perpetuate the growth and advancement of pickleball on a national level." That initiative clearly worked, because by 1990 pickleball had spread to all 50 states.
In 2008, there were 420 places to play listed on the USAPA map. By 2018, that number had swelled to more than 4,000.
"The spread of the sport is attributed to its popularity within community centers, P.E. classes, YMCA facilities and retirement communities," reads the USAPA website.
That growth has been apparent in Waynesville, too.
On March 12, the Waynesville Recreation Center expanded its pickleball offerings to five days per week, from 7 a.m. until noon. That's in addition to the Old Armory, which offers the sport Monday through Saturday.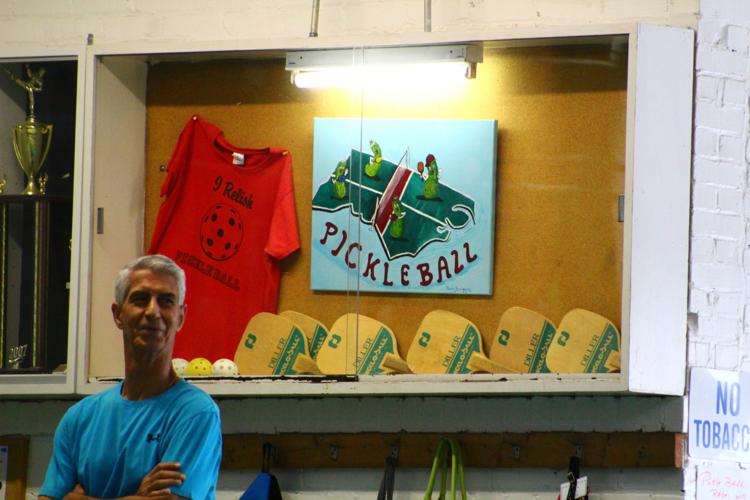 Pickleball is, first and foremost, a means for satisfying competitive urges and staying in shape. It goes well beyond that, though.
"Socialization is also a big thing," said Vaughn. "It's a great way to meet people and pick up something you've never tried before. Most people who come out really tend to enjoy it."
Take Kathryn Nichols, for example.
Nichols lives in Fort Lauderdale, Florida, but also has a house in Maggie Valley. Her husband has been interested in giving pickleball a try, so Nichols figured she'd attend Monday's session at the Old Armory to "see if this is something we'd like to do."
Her experience was a positive one.
"It's a lot of fun," she said. "I didn't really know what to expect, but it's a good way to exercise, and the people are very nice."
Nichols was one of approximately 15 people in attendance. Throughout the day, she picked up pointers from her fellow players – and Vaughn, too, who roamed the building's three courts, giving tips whenever it felt appropriate.
In addition to working as a P.E. teacher for 40 years, Vaughn also started and coached the girls basketball, volleyball and softball programs at Waynesville Junior High, which eventually became Waynesville Middle.
Nowadays, in her golden years, Vaughn is all about pickleball. She's recovering from a stress fracture, yes, but her knees are feeling good, and nothing is going to keep her off the court for long.
"I'm still in process of coming back [from the stress fracture] a little bit," she said. "But it won't be much longer. I'm always going to be active, don't you worry about that."
For a full schedule of pickleball offerings, contact the Waynesville Recreation Center at 828-456-2030.
Pickleball fun at the Old Armory