Sarah Jane Hatfield, a graphic designer at The Mountaineer, is in the midst of a thru-hike attempt of the Appalachian Trail. One of her main motivations for undertaking the journey — and, indeed, a likely motivation of many thru-hikers — was the desire for a simpler way of life.
So imagine Hatfield's surprise when she found herself caught up in one of to the most devastating tragedies in the history of the A.T.
James L. Jordan, a 30-year old from Massachusetts, stabbed two hikers in Wythe, Virginia, on May 12, killing one — Ronald S. Sanchez, Jr., of Oklahoma — and wounding another, a woman whose name has yet to be released. It was only the 13th murder on the A.T. over the past 45 years, according to the Appalachian Trail History website.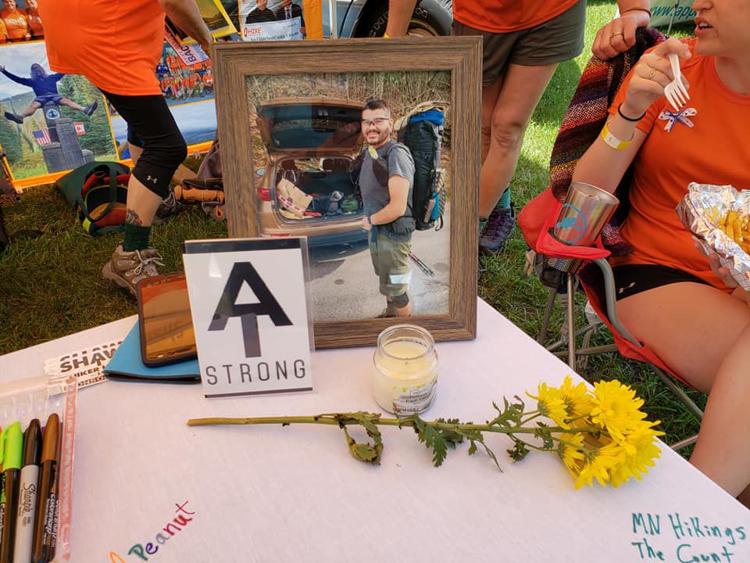 Hatfield was about 50 miles ahead of the incident, which caused a 24-mile portion of the trail to be shut down for investigation. One of her "trail kids," an 18-year old who goes by the trail name Disco, was only a mile-and-a-half away from the scene of the crime.
Stunningly, Hatfield had to camp by herself just days after the attack. She was equipped with a pocket knife, hiking poles and mace, and spent much of the night mentally running through drills about how she'd react if she found herself in danger.
"I had to force myself to fall asleep," she said. "Because if it fell asleep, it would shut off [the anxiety]."
The violence hit a little too close to home for Hatfield, so soon thereafter, she took a zero — a day without hiking — at Angels Rest Hiker's Haven in Pearisburg, Virginia.
"The energy had been rocked," she said. "The trail was empty — for the Trail Days festival, yes, but also because of the murder — and I've heard of a few people even quitting their hikes because they're afraid. So a zero seemed necessary."
Hatfield wasn't planning on attending Trail Days — the world's largest Appalachian Trail festival — held annually in Damascus, Virginia. But her plans changed after an eerie night around a campfire at Angels Rest with another potentially dangerous man
As Hatfield tells it, an inebriated individual began professing his schizophrenia, and talking about how the two stab victims "probably had it coming." Hatfield, feeling uneasy, nearly urged the guy to stop. But she thought better of it.
"I told myself 'For once in your life, shut your face,'" she said. "I think I even pulled my hair over my face, or something like that, to make myself less recognizable."
Three employees kept watch on the troublemaker throughout the night.
The next morning, one of those employees — Dylan Clark (trail name: Tramp) — invited Hatfield to Trail Days. Hatfield, sensing a need to "reset around people who are doing the same thing," said yes, even though it meant backtracking 170 or so miles. So they loaded up in a camper van and went.
On the way, they stopped in several "hiker towns," as Hatfield called them, to see if any fellow hikers wanted a ride to the festival. Said Hatfield: "It was a 'hop on in,' gypsy-type attitude." In the parking lot of a bar and restaurant, Hatfield and her crew spotted a group of eight hikers standing around a car.
In that group was the female survivor of the attack, wearing a tank top and shorts. Her stitched up wounds were evident.
"There were at least 10 [stitched wounds] that I could see," Hatfield said. "Her strength was so bright, I feel like it burned me. She had three or four on each arm, on her face, her legs — and that was only what I could see."
"For her to be out of the hospital and back out here is amazing," she added. "It was beautiful. I loved her strength."
Hatfield continued on to Trail Days, and is thoroughly glad that she did. On Thursday night, a candlelight vigil was held for Sanchez — a U.S. Army combat veteran whose trail name was "Stronghold" — at Backer Park. Hatfield estimated the turnout at around 100 people. A large picture of Sanchez was on display, "This Little Light of Mine" was sung and kind words were spoken about his life.
Hatfield's experiences throughout the weekend made her feel "A.T. Strong," a hashtag and rallying cry created by the trail community in the wake of the tragedy.
"It feels good," she said. "I made the right decision coming here. Hanging out with people in this community who are making a difference...makes me feel connected to it."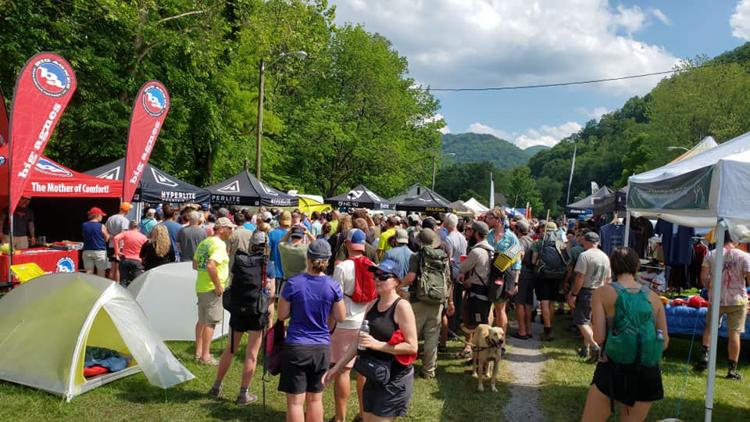 Hatfield admits that the attack has made her rethink her thru-hike approach. Going forward, she plans to camp with others whenever it's feasible, and avoid sleeping within a mile or two of a road. Said Hatfield: "No one will mess with you if you're eight miles in, but they might if you're just a mile or two off the beaten path."
One thing she's not going to do? Stop.
"It's scary, because I'm hanging out in the woods by myself," she said. "I'll admit, I'm really scared. But I'm not going to quit."