Sarah Jane Hatfield, a graphic designer at The Mountaineer, has embarked on a thru-hike of the Appalachian Trail. During her journey, she'll be sending dispatches from the forest, which we'll publish each Wednesday.
This week, we join Hatfield as she exits the Smokies, enjoys some warmer weather and encounters her first bear.
"Spring will come and so will happiness. Hold on. Life will get warmer." — Anita Krizzan
The second half of my journey through Great Smoky Mountains National Park delivered winter weather with a vengeance.
As you may have read, I got off-trail in the middle of the Smokies and headed Gatlinburg, Tennessee, via Newfound Gap, to write last week's article. After a lovely stay at the Lodge of Legends, we re-entered the Smokies. By the time we left the trail for our day in Gatlinburg, the sun was shining and it truly felt like spring.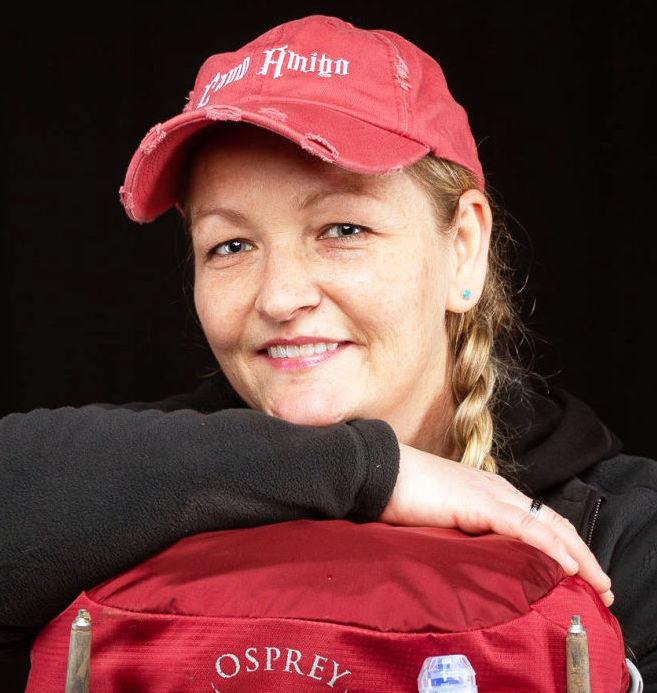 The further we drove into the mountains on our re-entry day, however, the more the snow and wind picked up. It was clear that we were in for some wintry hiking weather conditions for the second half of the Smokies. By then, I was thankful to have dialed in my cold weather layering system.
As we climbed out of the comfort of the warm minivan with coffee and donuts in our bellies, I quickly layered up and began digging into the day's hike with the aim of warming up.
We had a few more days left in the Smokies, and then we'd be finished with one of the sections of the A.T. that I had most anticipated. The next two days brought some serious winter weather conditions. The Smokies sit around 5,000-6,000 feet above sea level, and if you know anything about living at that elevation, then you know that the weather can turn on you at any moment. Just last week, I was skipping up the path to Clingman's Dome in ideal hiking weather. This week was an entirely different story.
I thought I was "packing my fears," as it were, when I decided to include Yacktrac microspikes. The two days I wore them, I gave praises of gratitude to my past self, because I was happy to have had them on my feet. I kept them on my shoes for two straight days, and found that they were well worth the extra weight.
It was extremely cold, and the only time I found warmth was when I was in my quilt or hiking uphill. That Sunday, I was blessed with cell service at one of the highest peaks. I forged on, trying to ascend in elevation by 2:30 p.m. to have the best chance possible with cell phone reception.
My daughter, who's pregnant, was having her gender reveal party, and I wanted nothing more than to at least be on the phone. I hated not being there, but we were all excited that I had good enough service to watch the reveal via Facetime. I cried tears of joy as I witnessed her and Chase announcing that they were having a boy.
As they pulled the string on a cannon that filled the air with baby blue chalk dust, I was able to look on as they happily embraced one another, while friends and family cheered with glee.
It was a happy moment for me — even though I was all by myself, on top of a mountain, far away.
I had to say goodbye right after that, because after all, I was freezing, standing there in the wind and snow.
As I descended from higher elevations, the snow and ice melted away before my feet, and I was able to get my footing without the microspikes. Better yet, I found enough cell service to secure our ride from I-40 to Knoxville.
I wanted to head home to Waynesville, however, I had some things shipped to my friends, Shannon and Greg Amditis, whose house is in Knoxville. Additionally, I had plans to handle some personal things while I was there.
My two trail kids, Patterns and Disco, were in tow, and I knew the couches in Shannon and Greg's game room would serve as a perfect spot for a couple of 19-year olds to rest during a zero day. We exited the Smokies on a gorgeous afternoon, plopping down on a cool patch of grass near the Waterville Road exit off of I-40. I whipped up a cup of trail coffee with whatever was available in my beverage Ziploc baggie.
No more than thirty minutes later, The Mountaineer's own Mike Schoeffel arrived in his Prius, scooped up the three of us, and drove an hour to my friends' house in Knoxville. Mike was eager to hear about my adventures, and even more interested in the stories I couldn't fit into my weekly articles. I was happy to see a familiar face from home, and proceeded to talk his ear off about all of my trail adventures.
The two-and-a-half days spent in Knoxville were extremely productive. I treated all of my gear and clothes with Sawyer Permethrin — a defense against bugs — off-loaded some winter gear weight, got a full weeks worth of videos uploaded to my YouTube channel and had plenty of time to visit with my friends in the middle of their work week.
I'm pretty sure Patterns and Disco played pool and ate pizza the whole time.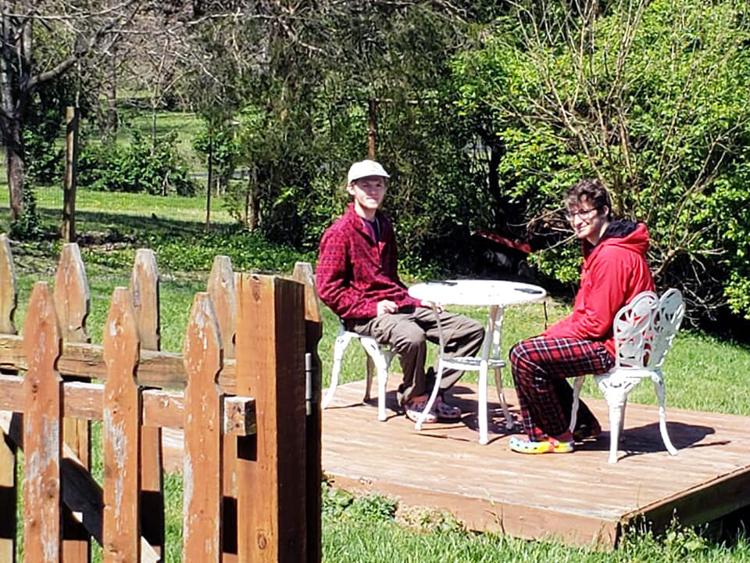 Due to logistics and work schedules, we got a ride back to the trail Friday evening, and were hiking by 7 p.m. It was only three miles to the campsite that the boys had their eyes on. It was my first night hike, and even though it was for only 30 minutes, I had to use a headlamp. It was nice knowing that the boys were never too far ahead or behind me. I think they sensed my discomfort with hiking at night for the first time, and I was grateful for their care.
We made it to one of the best camping sites I've experienced thus far. The creek outside of my tent was babbling peacefully, and I quickly fell asleep — probably because it was the first night I wasn't freezing. I loved waking up to warmer temperatures the following morning. Then it hit me: we were going to hike to Max Patch today. I was overcome with excitement. I popped up, collected my things and got on my way, while the boys slept in — like normal.
It was going to be a long day, but the thought of reaching Max Patch had me fired up. About two miles into my hike, I noticed a few hikers stopped on the trail.
"Really?" I thought. "My first bear sightly already?"
I was both excited and frightened, and I wasn't sure where to draw the line between the two emotions. I quickly whipped out my phone to take photos and videos, like any normal person would do.
It was a mama bear with her adorable young cub. They were up a tree right on the trail, so the only thing to do was bushwack our way around them. I looked at my navigation app and made the decision to lead the way. We quickly found a safe route around the furry behemoths and continued onward.
As hikers passed throughout the day, there would be mention of this bear sighting, and I was happy to give my story.
To me, Max Patch is one of the most beautiful places on Earth. I had an extra pep in my step the last 2.5 miles before the summit, due to the enticing sign I had happened upon, which read: "Keep hiking! Trail magic awaits you at Max Patch." As I approached the trail magic, I was welcomed by the sound of cowbells and offerings of fresh fruit, grilled cheese and cold beers.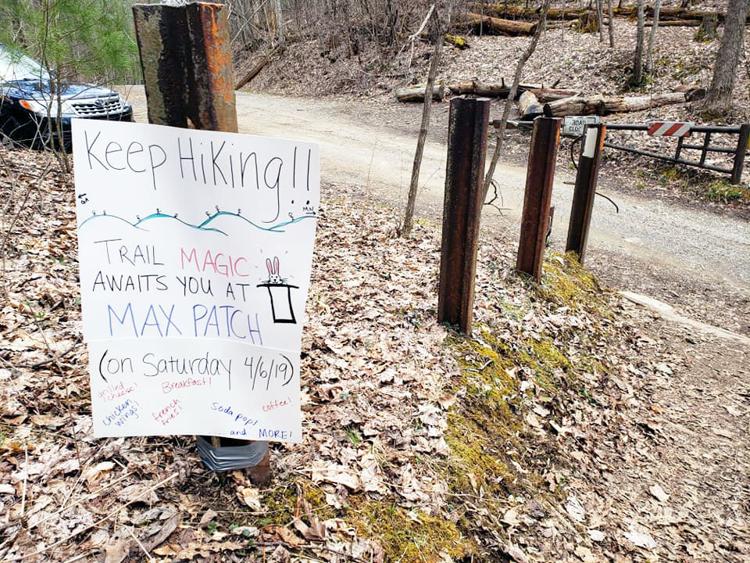 The energy at this trail magic was absolutely amazing. I stayed there for three hours before hiking the final seven-tenths of a mile up to the Max Patch summit, where we planned to watch the sunset and camp for the night. The weather was perfect. I couldn't stop smiling.
As I watched the sun sink below the horizon, I felt that I could claim that I'd hiked every mountain I was looking at.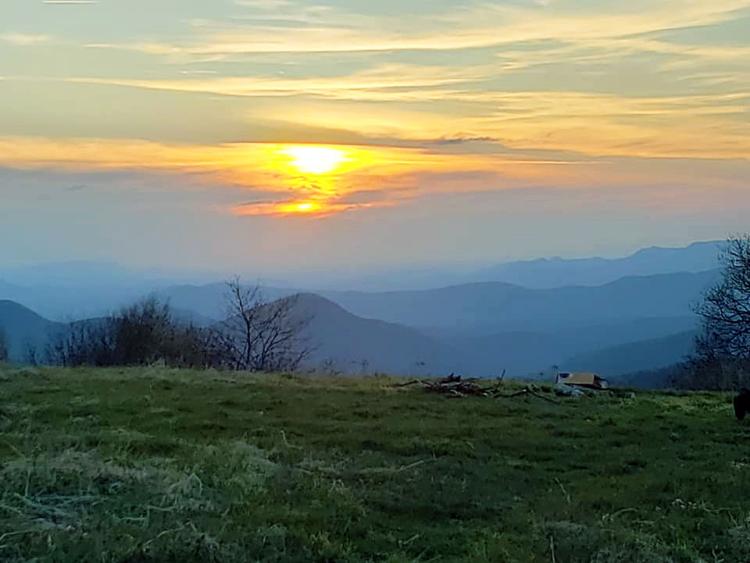 The following days brought rain. The rain brought mud, which made me slip and fall. The rain dampened my spirits for one afternoon.
The rain was following us to Hot Springs, so I hiked on.
Total miles: 274.9 (283 with the Approach Trail).