Sarah Jane Hatfield, a graphic designer at The Mountaineer, has embarked on a thru-hike of the Appalachian Trail. During her journey, she'll be sending dispatches from the forest, which we'll publish each Wednesday.
This week, we join Hatfield as she increases her strength and reaches an iconic landmark on the A.T.
"Strength and growth come only through continuous effort and struggle." — Napoleon Hill
Waiting out the weather for McAfee's Knob was one of the best decisions I've made on the trail thus far.
The weather this week was perfect. I was excited waking up on the morning we were scheduled to hike to McAfee's Knob, knowing that we'd soon be at the top. Broccoli Rob was taking his time, and told me to get a head start. I think he sensed my excitement.
Surprisingly, the vertical hike that the guidebook showed wasn't nearly as hard as expected. I almost ran up the mountain because I was so excited. The sun was cresting the ridge, I could see it rising over the trail as I made the final push up to the top. I already had my camera out — I didn't want to miss a thing. I could feel the sun on my face and anticipation in my heart as I emerged from the forest.
I was graced with a rushing breeze, then a breathtaking view.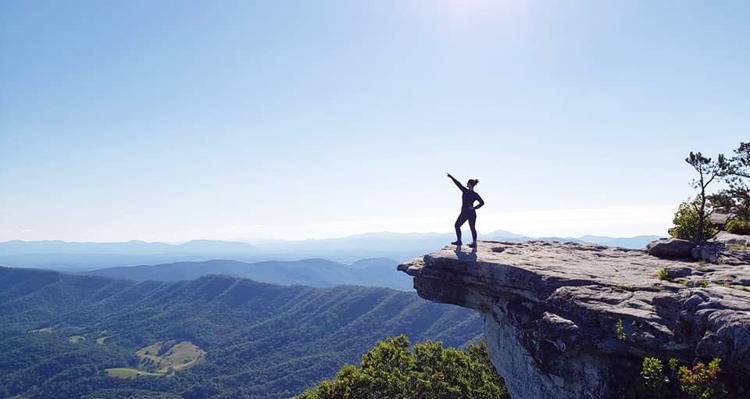 There I stood, on top of the world. I was in complete peace and utter amazement as I reveled in the landscape stretched out before me. Normally, I wouldn't want anything to do with getting too close to a cliffside. But these days I'm finding myself completely fearless. I was standing on the edge of the cliff, completely relaxed and 100 percent in control.
I felt like I was on top of the world — and for that moment, I was.
McAfee Knob is a popular destination and it can become rather busy. It's easily accessible by car and a moderate hike up. That morning, however, it was just me and two other hikers, both of whom were also feeling the peace that this place provides.
Moments later, Broccoli Rob popped out of the bushes, trying to scare me. He had taken a side trail so he wouldn't be detected. His attempt to startle me failed, however. He stood there for a second, then asked, "So, where's this knob?"
I laughed, thinking he was being silly. Then I said, "You're standing on it, Broccoli Rob!"
We hung out up there for a little over an hour, taking a ton of photos. I sat on the cliffside in total silence, soaking up the picturesque views and enjoying the cool breeze. I didn't want to leave, but I knew we had some miles to crush. So we pushed on.
It was the best morning I've had out on trail. I'll forever remember that feeling of standing at the top of the world.
The term "trail legs" refers to when you're able to walk all day, everyday, and recover enough overnight to do it again the next day — without a major injury. My newfound physical stamina felt invigorating, and I pushed myself harder than ever before.
I knew that I was physically capable of doing this trip when I passed the 500-mile marker. This week, I proved to myself that I could hike harder and further, day-after-day, with complete ease.
With some new uphill techniques taught to me by Broccoli Rob, I was able to improve my uphill speed without major physical fatigue I've previously experienced. As we both worked together to find that perfect balance between our hiking abilities, I found myself routinely keeping up with his pace. I could tell each day that he'd adjust his speed to help me pace my average miles per hour.
He was my "white rabbit," of sorts: as long as I could see him out front, I knew I was staying steady.
By day three of this pace training, I was watching my legs dance with speed and efficiency down the trail. I smiled as I was able to average 2.5-miles per hour, and even pushed it to 3.2-miles per hour a few times as I passed my white rabbit. I was able to hold a 3-miles per hour pace multiple times throughout the day. I was feeling confident that I was consistently able to hike in time with Broccoli Rob.
The two of us have been enjoying morning breaks, lunch breaks and even that last afternoon break together. If I've learned anything from Broccoli Rob, it's to enjoy the breaks and the camping aspect of this journey. After all, he is "camping in a thru-hiker fashion," as he so often says. I believe relishing the breaks has helped me on my journey.
I've even learned to chase more calories for the energy boost I need these days. I'm a calorie-burning machine now, and I needed to adjust my diet as I've progressed down the trail. I'm burning through more snacks daily, as I'm hiking harder and further. I can feel a difference in my energy levels when I devour a Snickers, and I'm finding myself eating something every hour. I'm definitely benefiting from this new adjustment.
It's not always easy to eat when you're hot and out of breath. Either way, I know I need it to achieve the successful hiking days I desire.
I was able to push out a 20-mile day with my trail legs and diet adjustments. I physically felt great. I look forward to perfecting those adjustments and improving my hiking abilities.
We walked into the tiny town of Glasgow, Virginia, on Sunday to resupply. Town was 6.5 miles down a stretch of road that's not recommended to walk down, so we tried our hand at hitchhiking again.
After two cars drove by, a third picked us up. We grabbed our packs and climbed in, full of thanks.
The lady was really nice, jokingly telling us not to inform her husband that she'd picked up hikers yet again. You could tell she had a good trail soul. She dropped us off in town, and we made our way to the free shelter that the town of Glasgow has erected for hikers.
It had free hot showers, power outlets, trash cans, port a potties and plenty of shaded tent spots.
Would you believe it if I told you that Patterns and his new hiking group were there, too? I was so excited to see him again. I'm always running into him on-trail, and it's like seeing an old friend every time.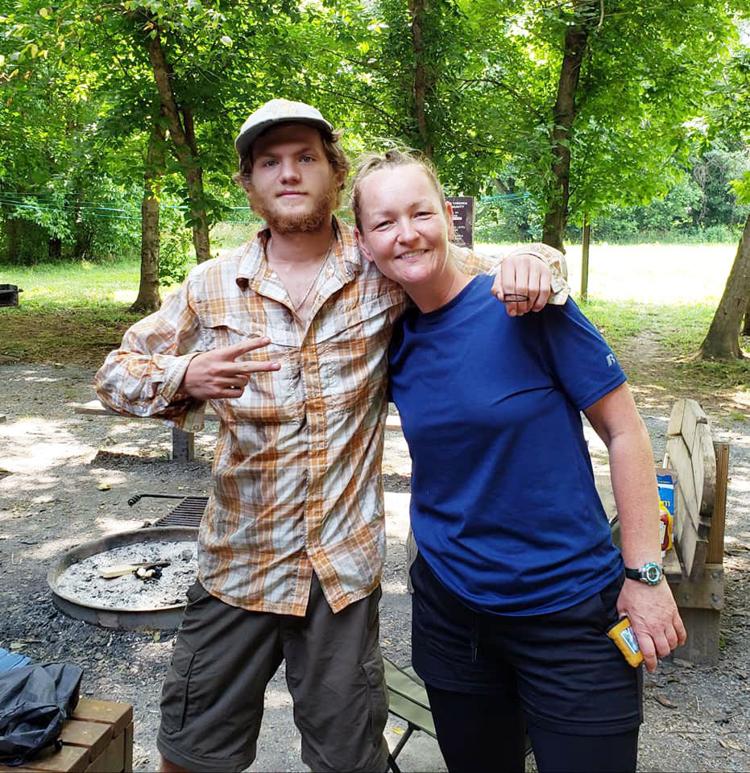 Broccoli Rob and I made our way down to pick up a food resupply box that my lovely co-workers at The Mountaineer put together for me. How exciting it was to open a box filled with food, candy and words of encouragement from everyone back home.
Thanks guys. I appreciated it more than you can imagine.
As the evening neared its end, I secluded myself in my tent to write my article. I looked through the tent door, and saw two familiar people making their way through the field toward camp. They were my friends, Yard Sale and Sidewinder, from Hike for Mental Health at Trail Days. I knew they were out for a 10-day mother/daughter hike, and that we may be running into each other.
I post daily in a private group they're in, and they'd read my latest update and realized we were in the same town. I ran to them, yelling with excitement, arms opened wide.
It was wonderful to see them again. They took me out to dinner, and we laughed and enjoyed ourselves. It was a perfect ending to my week.
As I returned to camp with a full soul and a bulging belly, I watched all of my trail friends sitting together around the fire, laughing about something silly Broccoli Rob had said.
I smiled deep down inside, and right then and there I knew I was exactly where I should be.
Follow along on YouTube at Katahdin or Bust.
Total miles: 786.7 (794.8 miles including the Approach Trail).