Sarah Jane Hatfield, a graphic designer at The Mountaineer, has embarked on a thru-hike of the Appalachian Trail. During her journey, she'll be sending dispatches from the forest, which we'll publish each Wednesday.
This week, we join Hatfield as she reunites with Broccoli Rob and heads into one of the most iconic stretches of the A.T.
"So it's like starting over again, but I look forward to the challenge." — Lee Majors.
The week I spent at Angels Rest Hiker's Haven waiting for my new hiking buddy — Broccoli Rob — to return from a trip to Florida wasn't as bad as I thought it would be.
Odie, of the Hiker Yearbook, parked his short school bus at the hostel all week. He's converted the bus to a living space for six months out of the year, using it to promote the Hiker Yearbook and shuttle people around during hiking season. It's an iconic vehicle in the trail community, and Odie himself is an iconic figure.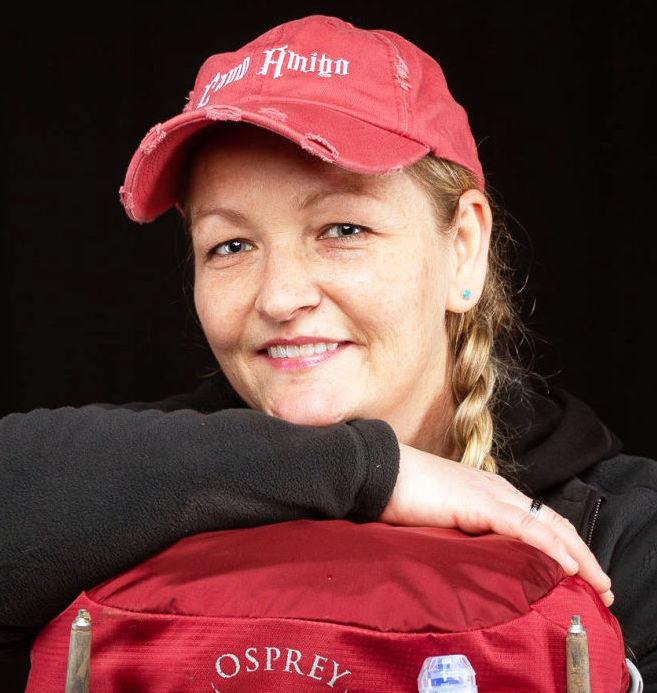 You never know what you're going to get when he's around. He kept my week at the hostel interesting, including the time he loaded up the bus with 16 hikers — all armed with water guns — to pick up a fellow stinky hiker at the local trailhead.
Luckily, she was part of a group of nine hikers, and eight were on the bus with us, ready to rush her. It was a full-on water gun ambush complete with an air horn. She loved it.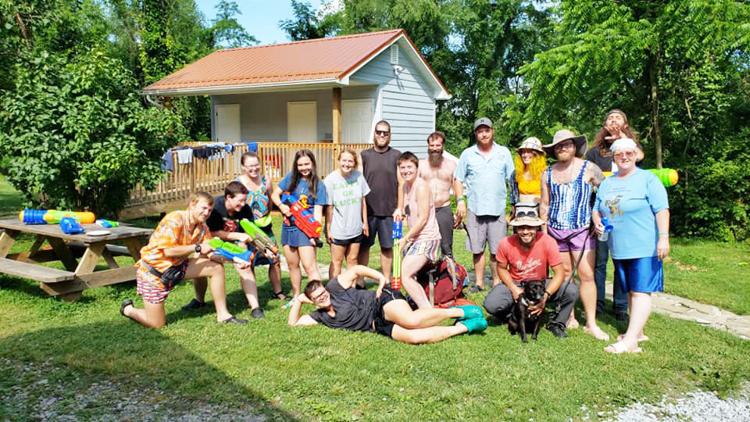 The Return of Broccoli Rob
On Saturday evening, I rode with Acadicus (the shuttle driver, who is also a friend) during the one-hour drive to pick up Broccoli Rob from the bus station. It was nice to see my hiking buddy again.
As we woke Sunday morning, there was something in the air. I was ready to return to the trail, and so was Broccoli Rob.
I helped with the local trailhead shuttles that morning — something I've been doing all week. By the time we were ready to head back to the trailhead, the owner of the hostel, Doc Peppa, gave us an offer we couldn't refuse. She said she'd drive us 22 miles to the trailhead, then we'd hike south for two days to regain our trail legs, and spend one last night at the hostel. We liked that idea.
The weather was beautiful, and our spirits were filled with an eagerness to return to the woods. Broccoli Rob and I split the 22 mile southbound trek into two days, reaching to the hostel one last time feeling confident in our decision to hike together. We secluded ourselves to the private campsite at the back of the property in an attempt to stay in the thru-hike mindset.
As we were studying our guidebooks and calculating when we'd be hiking over the iconic 18-mile stretch of trail that lay about 60 miles ahead of us, we were also keeping an eye on incoming weather. The forecast was showing disturbing predictions in the coming days, including heavy rainfall. These potentially inclement conditions played a huge factor in our pre-planned mileage. We were desperate for decent weather at McAfee Knob, a famous rock outcropping where many hikers stops to pose on a ledge that overlooks a breathtaking view.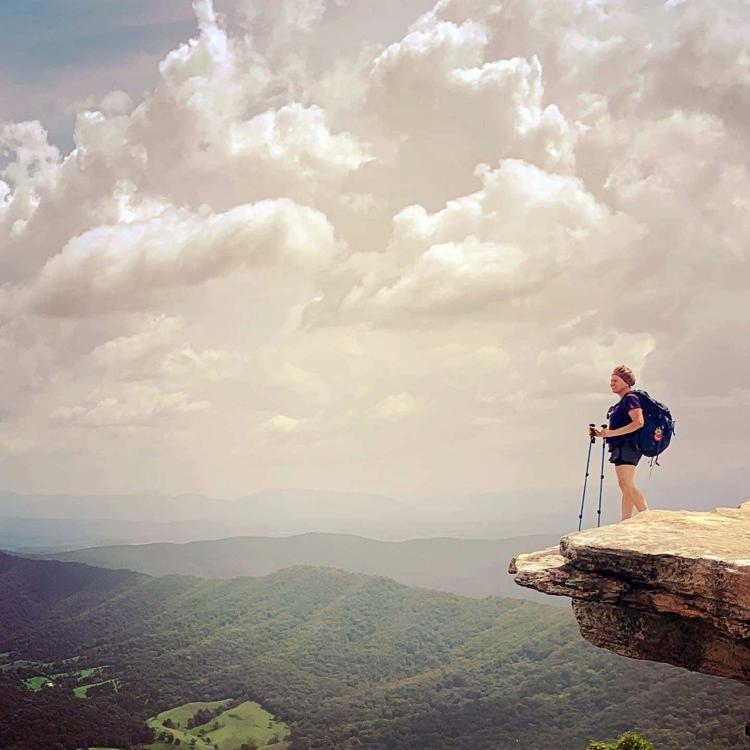 With McAfee Knob 76 miles north, we started to wonder if we'd be able to take our iconic photo. Was it worth shortening our days to time it just right? It was to us. We trekked through some pretty nasty rain for over 48 hours, which soaked us to the soul. Pretty much everything in my pack was wet.
As we pushed on, we noticed this system sitting heavy on the area, so we decided to wait it out just before McAfee Knob. Somewhere in there, we also passed the 700-mile plateau.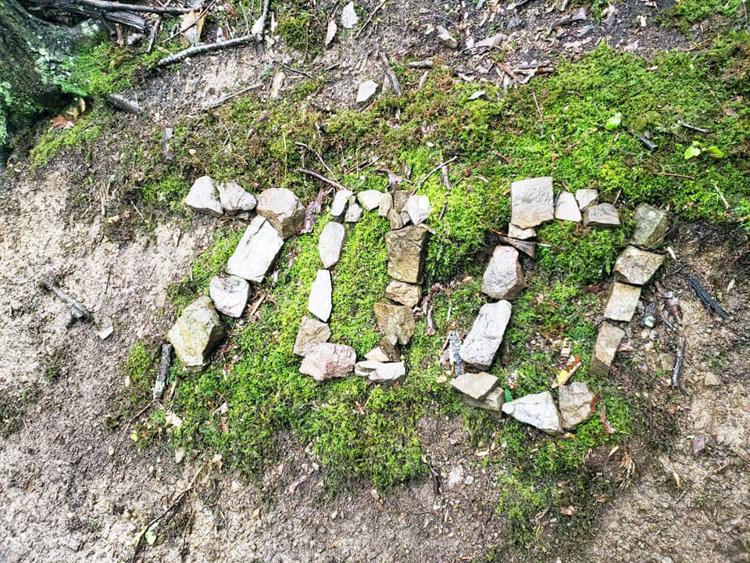 Coming down the mountain in a torrential downpour just nine miles short of McAfee Knob — at the start of an iconic 18-mile stretch of trail, nonetheless — made me feel somewhat defeated. This area is filled with technical rock climbing, and we were caught in some heavy downpours.
The two-mile rock climb down from Dragon's Tooth was dangerous, but exciting. Broccoli Rob insisted on going first, since he has a rock climbing background. He made sure I was making good foot and hand placement decisions on the slippery rock-faced trail.
Needless to say, there was a lot of butt-scooting down that last mountain into town.
After we made it through that dicey — but invigorating — situation, I felt a sense of accomplishment. I've never hiked in heavyrock-faced terrain before, and that made me even more grateful for the guidance of my new hiking buddy.
Speaking of Broccoli Rob, as the past week has shown, he and I seem to click as hiking partners. We enjoy having deep conversations about sensitive topics, and stay open-minded when our opinions don't match up. We're always laughing about something.
His hiking style is unlike anything I've witnessed. Some days he sleeps in, and then runs straight up the mountain to reach me. We'll hike together for a little bit, then he's off again.
Usually by lunchtime, I'll find him enjoying an hour-long break filled with Snickers, ramen noodles and coffee by a creek bed, or under the protection of his afternoon "fast and light set-up." ("Fast and light" means setting up a tent and using just the rain fly and footprint for quick shelter).
He claims to be "camping in a thru-hiker fashion." The reason our hiking styles seem to mesh, we've pointed out, is that our daily mileage is similar. He hikes fast because he likes to spend more time at camp, and I mostly hike all day, stopping to take photos, videos and catch cell service here and there.
I'm a distracted hiker, and I've accepted that. For now, it all fits perfectly.
McAfee Knob here we come.
Follow along on YouTube at Katahdin or Bust.
Total miles: 704 (712.1 miles including the Approach Trail).