Sarah Jane Hatfield, a graphic designer at The Mountaineer, has embarked on a thru-hike of the Appalachian Trail. During her journey, she'll be sending dispatches from the forest, which we'll publish each Wednesday.
This week, we join Hatfield as she changes her plans due to a potentially dangerous individual on the trail.
"If the plan doesn't work, change the plan, but never the goal." — Anonymous
I'm not even sure where to start with this week's article.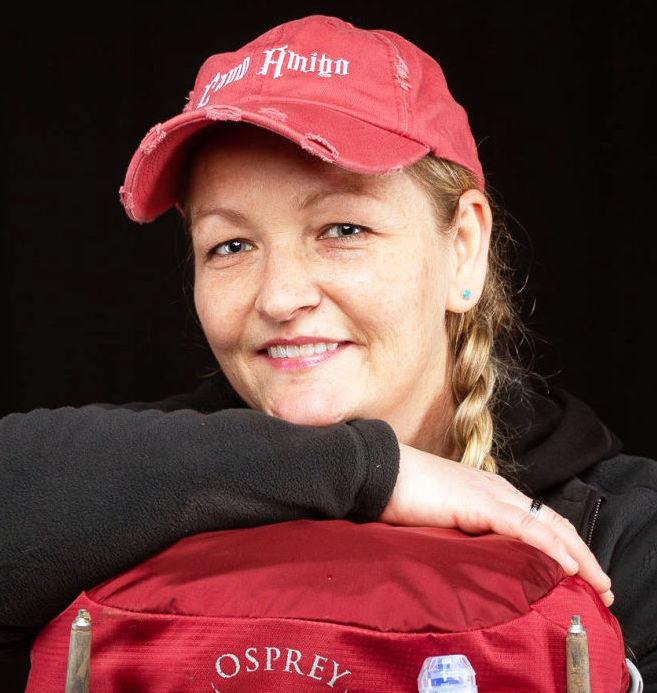 For numerous reasons, I didn't return to the trail until Friday afternoon. The energy at Angels Rest Hiker's Haven is soul enriching, and I've been privately struggling with suppressing my fear after a recent trail attack that left one person dead and another injured.
I've always been a strong, brave and independent woman. But recently I've been in my own head about why this fear is stalling my hike.
Was it paranoia? Maybe my imagination creating potential scenarios? There hadn't been any word about the location of the creepy yellow blazer from last week, and I wondered if I was better off not knowing his whereabouts. I felt as though I'd given him plenty of time to move along, and I was ready to continue my hike. Tramp, from Angels Rest Hiker's Haven, armed me with a large can of bear mace. That made me feel safe as I mentally prepared for my return to the trail.
I've been getting to know so many different hikers as they come through Angels Rest. Most of them stay for just one night, others come for a zero day, and others still — like me — get stuck a little longer than they should. Every person has a story, and I'm eager to hear as many as possible.
I had the pleasure of meeting one hiker in particular whose trail name is Broccoli Rob. We exchanged stories, and soon thereafter we were talking about everything under the sun. Four days later, we made plans to become hiking buddies. However, the downside about our new arrangement was that he had a pre-planned trip to Florida, and was scheduled to leave on a Greyhound Friday. He wouldn't return until the following weekend.
We looked at mileage, discussing when he'd catch up to me. Two weeks didn't seem so bad. The thought of having someone I get along travelling alongside me was comforting — and it doesn't hurt that he's easy on the eyes.
The shuttle dropped off Broccoli Rob at the Greyhound station, and me off at the trailhead. I was excited to begin anew. Armed with a can of bear spray and the thought of soon having a cool hiking partner, I felt invincible. My fear was in check as I strode up the mountain and out of town.
As I walked, the belt from my pack began painfully rubbing my hip. I recalled that I'd had the same issue during the first couple weeks of my journey. "Too many days off the trail," I thought, and decided to ignore the myriad hiking pains I knew I'd feel again.
Since I had set off on a Friday afternoon, I decided to do an easy 8.3 miles to an official campsite, where I knew others would be staying. I wasn't comfortable camping alone just yet. I've struggled with this new insecurity, since I'd mostly been stealth camping by myself every night. I love being alone out here, yet I also feel a need to to be around other hikers.
After setting up camp, I received a text from Tramp. He bore bad news: the creepy yellow blazer had been spotted just 22 miles north of where I was camping.
Was that even possible? How did he only move 30 miles up the trail in eight days? He should be at least 100 miles ahead by now. Instantly, I was engulfed by fear. There was no way I wanted to be out here, alone, knowing I'd soon have to hike past him.
So I laid in my tent, trying to drum up a solution. End my hike because of fear? Not even a chance. I wasn't even close to that. Skip ahead 100 miles to push past him? A possibility. However, if I did that, I'd miss what's known as the Virginia Triple Crown, three well-known spots on the A.T. within an 18-mile stretch that must be experienced: Dragon's Tooth, McAfee Knob and Tinker Cliffs. I started texting with Broccoli Rob and we eventually formed a plan.
It involved me hiking back to Angels Rest and essentially waiting for him to return. At first, that seemed a bit much. However, I didn't want to hike alone or skip ahead, either. So I texted Tramp, who was back at the hostel, and we arranged some work for me to do to earn my stay for the next week.
Before long, I settled into the idea of another off week, deciding to dedicate the downtime to catching up on my YouTube videos, which I've fallen behind on.
The 8.3 miles southbound back to Angels Rest were mentally difficult. I cried. I was angry. I felt defeated by fear. The terrain was fairly easy, so I made a couple phone calls to family. After speaking with my daughter, Allyson, and my sister, Rebecca, my head was on straight again. Shortly thereafter, I passed a female hiker — trail name: Try Try — who I've been yo-yoing with since Erwin, Tennessee.
We spoke for an hour right there on the trail. She shared her concerns with being a solo female hiker and how she'd made plans to skip this section, since she'd hiked a couple hundred miles of this portion last year.
She was struggling because she wasn't sure if she was OK with not doing the entire trail in a calendar year, thus missing out on the "thru-hiker" title. I saw the concern on her face and it felt as though I was looking at myself. She was a regular presence in a women's hiking Facebook group, and told me of others who were making similar adjustments to their journeys.
Knowing that I wasn't the only one brought me comfort.
I was happy to have had that conversation, and I pushed south, confident in decision to stay at Angels Rest. I felt somewhat silly walking back onto the property, since I've already spent so much time there. It was a welcoming atmosphere, though — Tramp respected my decision to play it safe.
I struggled the next day with a feeling of defeat. After video chatting with Rebecca, however, I felt much better. The hostel was receiving so many new hikers, and the energy was warming. Odie, who heads up The Hiker Yearbook, threw a huge Slip 'N Slide in the yard.
Maybe that's just want I was needing — some good old-fashioned fun.
I participated, and was grateful I did. It was a fine way to end the week, and an even better way to start the next one.
Follow along on YouTube at Katahdin or Bust.
Week 12 mileage: 9.4 (17.7 including the 8.3 south).
Total miles: 645.3 (653.4 with the Approach Trail).