Sunday hunting could soon be allowed on the vast majority of public lands in the state, marking the culmination of a gradual rollback of the Sunday hunting ban.
A proposal by the N.C. Wildlife Resources Commission would open the door for Sunday hunting on the Pisgah and Nantahala national forests — plus a slew of state game lands, including Cold Mountain game land near Lake Logan. Sunday hunting would still be banned between the hours of 9:30 a.m. and 12:30 p.m.
The Wildlife Commission is accepting public comment on the proposal through Feb. 1.
Over the past several years, the Wildlife Commission has incrementally lifted bits and pieces of the Sunday hunting ban — initially allowing only bow hunting on private land, and later gun hunting, but still only on private land.
The Wildlife Commission has tread gingerly on whether to go the full mile and allow gun hunting on public lands. North Carolina was among the last bastions clinging to a Sunday hunting ban — one of just four states that doesn't allow hunting on public lands on Sunday.
The issue has twice been the subject of statewide studies and a public input process, with the most recent conducted last year. The N.C. General Assembly had previously changed the state law to allow Sunday hunting, but it was up to the Wildlife Commission whether to exercise the option.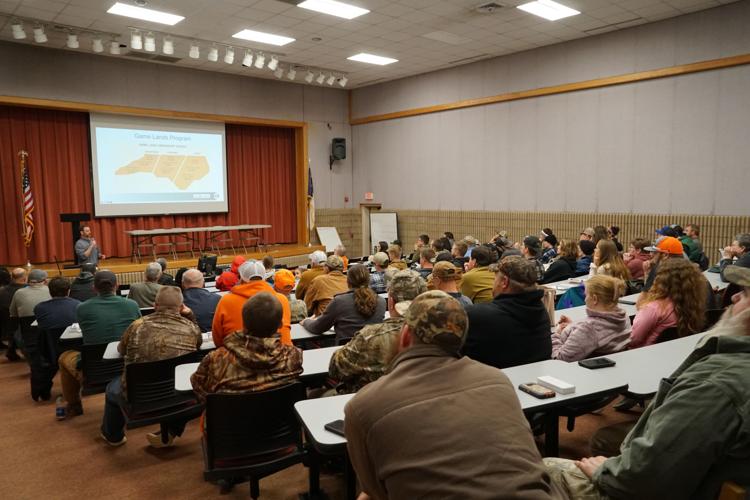 During the public input process, the chief opponents to Sunday hunting on public lands were hikers and outdoor enthusiasts who wanted one day a week where they wouldn't have to worry about crossing paths with hunters.
While the Sunday hunting ban would be lifted for most public lands across the state, there are a few exceptions. Here in WNC, two state game lands that are among the most popular with hikers, mountain bikers and paddlers were left off the list: notably Green River game land in Henderson and Polk counties and Headwaters game land in Transylvania County.
These are small enclaves, however, in comparison to the entire Pisgah and Nantahala national forests, plus the myriad other state game lands, that would be open to Sunday hunting.
Public hearing and public input
An in-person public hearing won't be held due to COVID, but a virtual public hearing will be held at 6:30 p.m. Thursday, Jan. 21.
The public hearing will be held online via Zoom. Click here to register for the meeting link. Make sure you have downloaded Zoom beforehand. 
There is a call in number as well for those without internet. The night of the hearing, call 888-788-0099 and enter code 92856323468.
The virtual public hearing is technically for all the proposed hunting and fishing rule changes for 2021, but the Sunday hunting ban is the big issue on the docket.
To submit comments online prior to Feb. 1, click here. Comments can also be emailed to regulations@ncwildlife.org.