Riley Howell, the 21-year-old hometown hero who was killed when tackling a shooter in his UNC-Charlotte class, received a hero's welcome around noon Thursday when his body was brought home escorted by law enforcement officials from across the county.
"The bravery this young man showed is hard to put into words. There are many people who will be forever grateful for Riley's actions, and it was an honor to be able to participate in this escort for him," said Haywood County Sheriff Greg Christopher.
Waynesville wasn't the only place in North Carolina where citizens paid tribute to a heroic student whose actions likely saved others from dying during the April 30 gunman's attack on the college campus.
Every single overpass and every single entrance ramp from Charlotte to Waynesville had both first responders and civilians carrying American flags, holding up signs and standing with their hands over their hearts, said Waynesville Police Chief Bill Hollingsed, whose officers were part of the motorcade.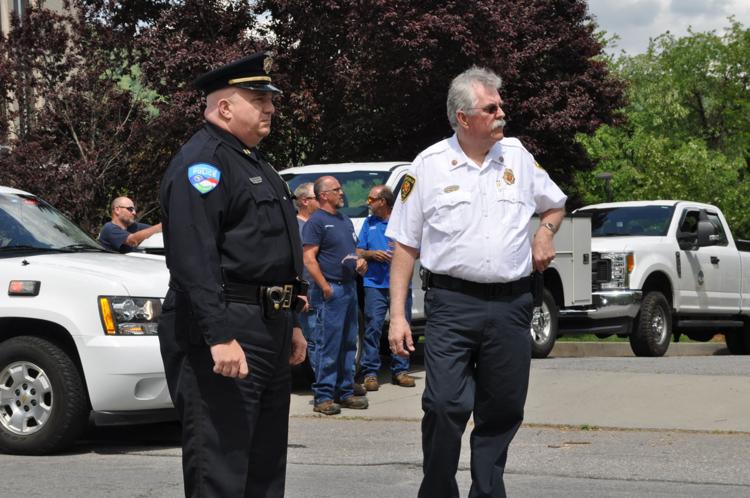 "I was getting messages all yesterday and last night from agencies that wanted to show their respect," Hollingsed said. "Our sole intention was to escort Riley home, but every single jurisdiction along the way was there. People are very caring. When they hear things like this and the story of what Riley did, it touches them. He is truly a hero."
The tribute in Waynesville included hundreds of individuals — both who knew the family and who didn't — who lined the approach to Wells Funeral Home Thursday.
The Mountaineer organized the community outpouring through online and social media avenues after learning of the route and arrival time, and after consulting with the family.
The Mountaineer first posted the call to line the motorcade route at 9 a.m., and by 11 a.m. there was a crowd five- and six-people deep on Waynesville's Main Street near Wells Funeral and Cremations where the motorcade would travel.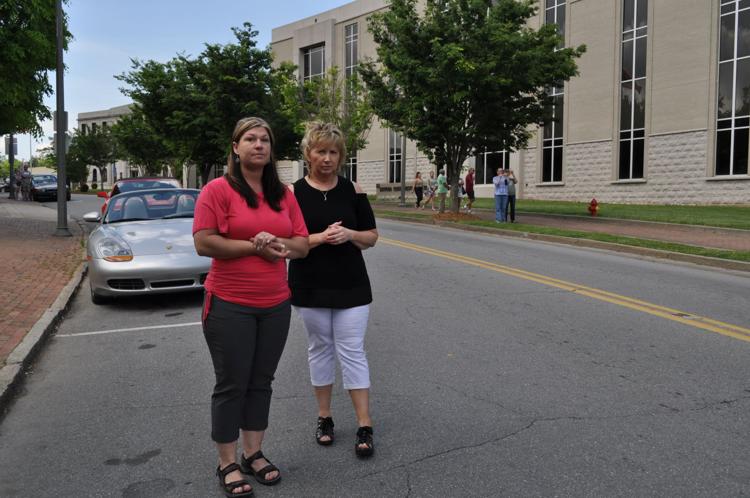 Tami Hunter and her 4-year-old son ran out and bought poster board to make a sign, even though she didn't know Riley. Like many parents, finding a way to explain the tragedy to her little one was difficult.
"I said, 'There are bad people in the world and there are good people in the world, and sometimes the good people get hurt trying to protect you from the bad people,'" Hunter recounted.
George Fieser of Waynesville didn't know Howell or his family either, but said he had to come pay respects after he got a breaking news email from The Mountaineer.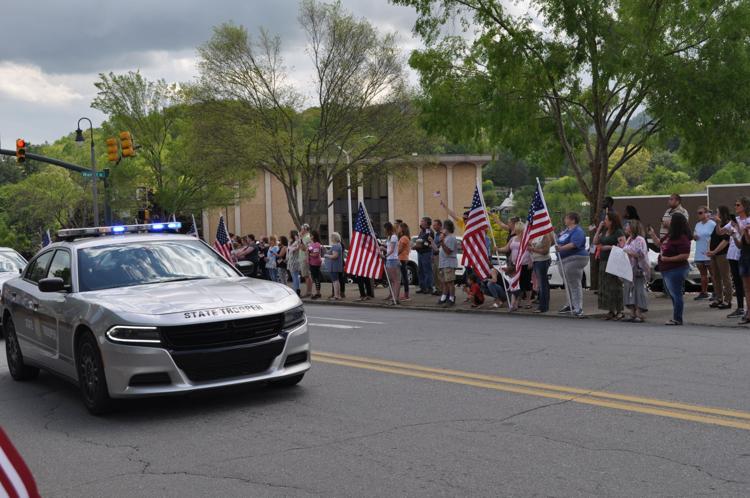 "He was a hero," he said, tearing up. "I felt I had to be here for this kid running towards the gunman. It's unimaginable."
Meanwhile, Janet Presson, mother of a special needs child, walked out of a meeting, picked up a stack of small flags to hand out and headed to the motorcade route downtown.
"I just had to be here," she said, echoing the sentiments of so many moved by Riley's actions.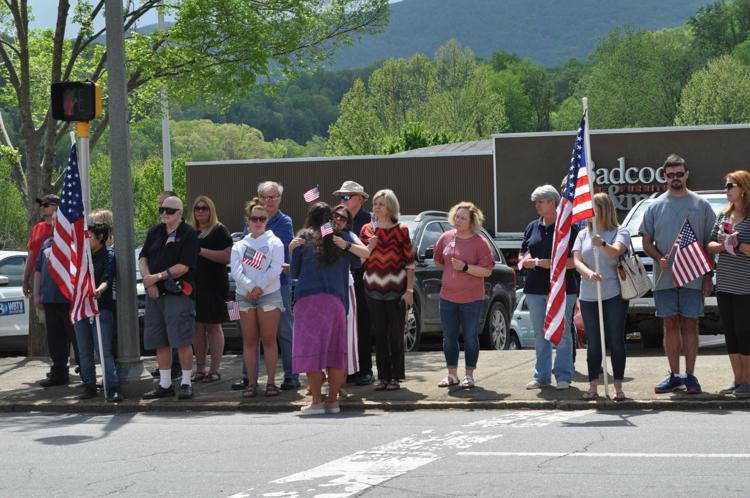 American Legion volunteers were setting up for this weekend's Ramp Festival but quickly changed gears to ensure there were plenty of full-sized flags along the motorcade route and handed out smaller flags for those in the crowd to wave.
"This seems like a wonderful family and this was my way of showing empathy for what they are going through," said Dave Hogan, another stranger moved to show his support.
As the motorcade passed, some saluted, some put their hands on their hearts and nearly all shed tears.
After the motorcade turned in to Wells Funeral Home, Riley's mom, Natalie Henry Howell stepped out and walked along the street, hugging friends and thanking the outpouring of strangers for coming out to support Riley.
"That was hard but she did it," said Sabrina Caldwell, who was fast friends with Natalie growing up, after a long embrace on the sidewalk.
Kim Turpin, a long-time family friend, said the strength Riley's mom showed was indicative of their family.
"That just blew me away. That's what they do they, put others first," Turpin said. "She stepped out and came along to comfort all of us, just like he put himself out there for everyone else."