Alderman Gary Caldwell is the next mayor of Waynesville, edging out his long-time friend and political ally Mayor Gavin Brown.
Caldwell came out in the lead as soon as early voting results were reported shortly after polls closed at 7:30 p.m. As precincts trickled in over the course of the night, Caldwell not only held his ground but pulled further and further ahead. 
The final results with all precincts reporting are:
For Caldwell, the decision to run for mayor was in no way an indictment of Brown's leadership. But after 24 years of serving on the town board, he felt like it was time to take his own leadership to the next level.
"I have these dreams of things I want to do, things I have in my mind I want to make happen," Caldwell said. "I love the citizens of Waynesville. I think of them as family. They are a family to me. I would be a mayor for the people, you can count on that, just like I was for alderman. That won't change a bit."
Caldwell said being the mayor of Waynesville is his dream. When asked how he would feel getting sworn in as mayor in December, Caldwell said it was hard to put into words.
"It is going to be awesome," Caldwell said, admitting he might tear up a little bit. "It will feel really, really great."
Brown said that the community fabric of Waynesville is strong, and no matter who's at the helm, the town will come out on top.
"Nothing is going to change about the town," said Brown, reflecting on the toss-up race. "All the people running have the best interest of the community at heart, not self interest, and that's what drives this community."
The churches, the nonprofits, the business community, the passionate citizens — that's what makes Waynesville the great place it is, Brown said.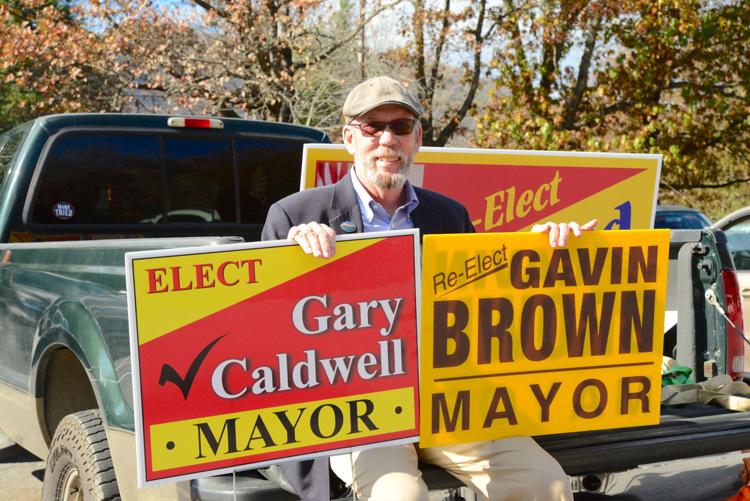 "We put way too much emphasis on the politics part of it rather than the community itself," Brown said. "It would take a massive disaster of the first order to blow this community up."
Brown said he won't give up civic life, and will continue to find ways to contribute in the community.
"It's who I am and what I've always done," Brown said.