The verdict is in following months of uncertainty and speculation over whether Waynesville Mayor Gavin Brown would run for re-election.
Brown announced this week that he will indeed run for mayor, hoping that his track record as a leader will outweigh the baggage of his legal tribulations stemming from a felony forgery case in his former law practice.
Meanwhile, Alderman Gary Caldwell is also running for mayor, setting the stage for a face-off between the two long-time board members, friends and political allies. The two have pledged to each other to keep their friendship intact.
"At the end of this, we are still friends. There is no question about it," Brown said.
Brown said he doesn't look at the election as a race, but rather an interview process with voters.
"We can both interview for this job, and be happy for the other person," Brown said. "Brothers don't get mad at each other if the other one gets the girl."
When Brown was critically ill in the hospital with sepsis two years ago, one of the few things he remembers amid his bouts of unconsciousness was a visit from Caldwell.
"He had asked for privacy but I went to see him anyway, because I really wanted to keep him up on what was going on," Caldwell said.
And when Caldwell's daughter passed away, Brown was one of the first people on Caldwell's doorstep.
"I couldn't get there fast enough," Brown said.
"We've always been there for each other in hard times," Caldwell added. "We have been friends for years and years."
Caldwell has made his intentions to run for mayor known for nearly four years, believing that Brown planned to step down. Over the past year, however, it became apparent that Brown had a change of heart and was contemplating a run after all.
But Caldwell had already made up his mind to run for mayor and wasn't going to back down in deference to Brown.
"I have said that I'm running for mayor for four years, and I haven't changed," said Caldwell, who's been on the board 24 years and feels like his time has come. "It's either go for it or go home."
Caldwell said Brown called him a couple of weeks ago to let him know he had made up his mind.
"He said that him and I are best of friends, and he didn't plan on making any bad comments toward me, and I told him I felt the same way. I have nothing bad at all to say. We aren't going to get into a dog fight," Caldwell said.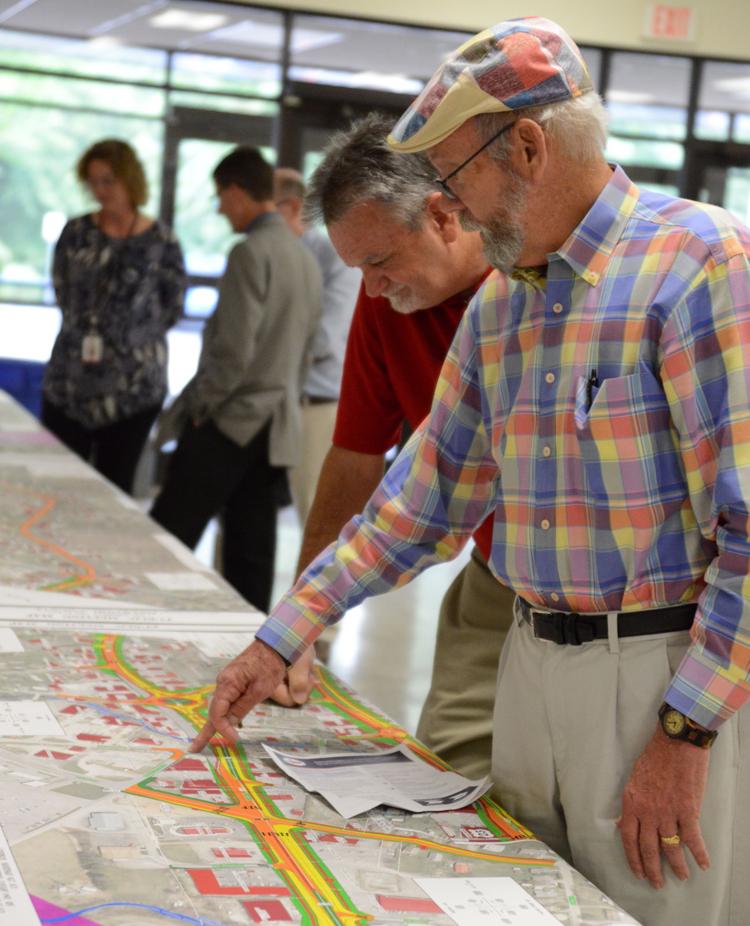 Uncanny continuity
The Waynesville town board has seen incredibly little turn-over over the past two decades. Seats have changed hands only a few times, and only when a board member stepped down and chose not to run again.
The only one who's lost a re-election bid outright in the past 20 years was former Mayor Henry Foy, when Brown jumped rank from being alderman to run for mayor in 2007.
Foy and Brown — much like Caldwell and Brown now — were long-time friends and ran campaigns devoid of animosity. Foy continued to come by town hall daily even after he wasn't the mayor any more, Brown said.
Alderwoman Julia Freeman said the Waynesville town board is close-knit, and she doesn't see that changing despite Brown and Caldwell running against each other.
"We have our differences but we always come together for the common interest of the citizens of Waynesville," Freeman said. "I think the two of them will be respectful of one another and let the people decide who is going to be the next mayor of Waynesville."
Her only regret is that one of them won't be there anymore come December.
"One way or another, we will end up losing that continuity. I hate to lose somebody because we have worked so well together," Freeman said.
Alderman Jon Feichter agreed.
"These two men have given the better part of their lives to making Waynesville a better place and it's been a privilege to serve with them," Feichter said. "It's a shame only one can win, because both are deserving."
There's a chance, of course, that neither of them will win should more challengers emerge. While no one else had signed up to run for mayor as of press time Tuesday afternoon, the candidate filing period runs through July 19.
Should more mayor candidates emerge, Brown and Caldwell run the risk of splitting the incumbent vote, and thus paving the road to victory for a challenger. Caldwell hopes that doesn't happen, citing the importance of institutional knowledge for whoever is mayor.
"You don't just go sit in that hot seat without some background," Caldwell said.
Race dynamics
One challenge for Brown in making his case to voters will be his tarnished legal record stemming from a felony forgery charge in his former capacity as a real estate attorney. When correcting an old typo on a property deed, Brown cut corners by forging the notary signature and seal of a paralegal at his firm.
The charges were expunged since he was a first-time offender.
"I made a mistake and I fessed up to it and moved on. But I have always castigated myself because it was dumb," Brown said.
Brown hopes voters will distinguish between that mistake in his private law practice and his leadership as mayor.
"If you are really looking at who can provide the best leadership, the question is, is he still a good leader?" Brown said. "If people want an excuse not to vote for me, that's a valid reason. But I will keep saying, 'Here's what I've done for the town and here's what I'm going to do.'"
As mayor, Brown solicits feedback from fellow board members whether they voluntarily speak up or not, often calling them out one-by-one to give their thoughts on an issue before voting.
"I make sure everybody is included in a discussion. At the end of the day, I try very hard to make sure that no matter how the vote goes down, we walk out hand-in-hand and say 'We did a good job today,'" Brown said. "I consider myself a statesman."
But the mayor still runs the show and controls what does and doesn't get brought to the table. Caldwell said he would like to play a bigger role in what ideas get advanced and also level the playing field for the whole board to have a more equal role.
"I think it is time for a new leadership style. As mayor, I feel like I could come up with my ideas and express my ideas to the other board members and things like that, than being in the seat I am in now," Caldwell said. "I would like to see the whole board have more input and their goals be brought out and met also."
Who's running for alderman so far
All five seats on the Waynesville town board are up for election this year: the mayor and all four alderman seats.
At least one of those seats will be wide open since Caldwell is giving his up in order to run for mayor. A second seat may also be wide open, with Alderman Leroy Roberson still undecided but leaning more toward a "no" than a "yes."
The two remaining seats are held by Alderman Jon Feichter and Julia Freeman — both of whom are running again.
Only one other alderman candidate had thrown their hat in the ring as of Tuesday afternoon, namely Anthony Sutton, a member of the town planning board and information systems director for Biltmore Farms.
The candidate filing opened Friday and runs through July 19. See Friday's edition of The Mountaineer for more on the candidates who have filed so far.