Glen Wyatt likes to go fast.
He's owned Chevrolet Chevelles and a Dodge Demon, the latter of which he describes as "terrible...and awesome." Years ago, when he was working in Carolina Beach, he remembers driving home to Western North Carolina before I-40 had been built, and tearing up the road between lights.
"The speedometer went up to 150," he said. "It wouldn't do but 110, but it would get it like that." He snaps his fingers.
Wyatt participated in car shows for many years, and he has the first-place plaques and trophies in his Waynesville-area trailer home to prove it. He entered the shows mostly because they raised money for charity — usually a local church or the Make-A-Wish foundation. But he's stopped going because many of his friends have died or can't make it anymore. Said Wyatt: "Without them there, it's just not the same."
Yes, Glen Wyatt likes things that go fast. Always has. But speed is one thing. War, well, that's quite another.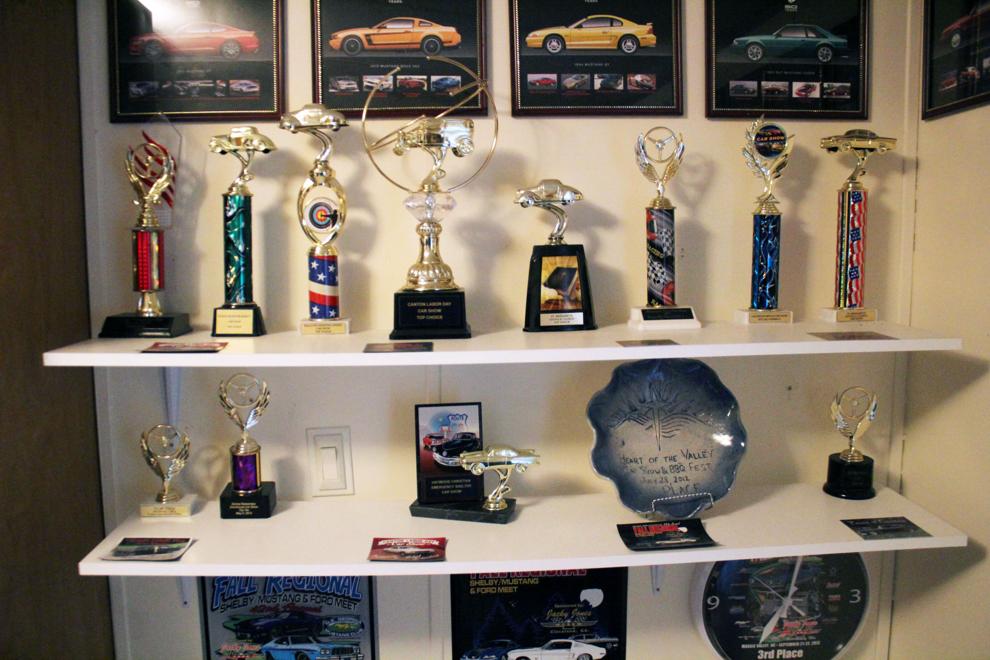 Scared
Wyatt, like many soldiers who fought in the Vietnam War, was a teenager — 19 — when he joined the military. As he remembers it, the preacher at his family's church left a note on his car informing him that he'd been drafted. At the time, he wasn't scared to fight. War was an abstract concept to him. As he put it: "I was young and bulletproof and all that."
Wyatt's devil-may-care attitude didn't last long.
"Once you get right down to it, there's nobody that's been in a war who can say 'I wasn't scared,'" he said. "I was scared a lot of the time."
Perhaps the peak of fear came during the first phase of the Tet Offensive. He was pulling guard duty for the 1st Infantry Division — popularly known as The Big Red One — at Phu Loi Base Camp when a horn sounded. Wyatt knew what that meant. He jumped into a ditch that was about three feet deep, and soon enough rockets and mortars were raining down around him, covering him in rocks and dirt. Before long, two buzzers sounded, signaling that the perimeter was under attack. He put away his .16-cal, grabbed a .60-cal and headed for his place along the perimeter.
He couldn't see much, but what he could make out were women, children and water buffalo mixed in with the enemy soldiers. Wyatt and his cronies had previously handled small groups of enemies at a time, Wyatt said. But never a giant wave of people like this. Said Wyatt: "you just fired at what you saw." American tanks were shooting straight into the bushes, hitting anything and everything, he said. It was chaos, and Wyatt was purely, and unapologetically, scared. Then, all at once, everything got quiet.
"I was exhausted," he said. "All of that adrenaline was gone and I was exhausted. Then I smelled the powder burning, and all of those dead people. It's something that you'll never forget."
"It was scary," admitted Wyatt, now an older, wiser man sitting at his kitchen table. "But we held our own. And that's about all I've got to say about that."
Desert
One war wasn't enough for Wyatt, so he joined the Army National Guard in 1977. Thirteen years later he found himself in Desert Storm, specifically involved with the 24th Infantry, or the military police.
Fighting in the Middle East was a "whole different animal" than Vietnam, Wyatt said. In Vietnam, you never quite knew who the enemy was. The Viet Cong would assimilate seamlessly with the locals, which meant the barber, the shoeshine lady and virtually anyone else could be working for the enemy. In Desert Storm, there was little question who you were supposed to be fighting.
Wyatt spent most of his six months in the Middle East looking after prisoners of war. Coincidentally, during those times in his life when he wasn't at war, Wyatt did road maintenance for the state, and part of his job included looking after prisoners completing community service. But keeping tabs on prisoners of war was a bit different than looking after American jailbirds, with whom the back-and-forth was generally friendly.
"They were there for labor, basically," Wyatt said of the prisoners of war. "You didn't converse. You had an interpreter that told them what to do, and that was pretty much the way things went."
Like in Vietnam, Wyatt witnessed brutality during Desert Storm. He recalls seeing vehicles that had been hit by rounds that "didn't explode, and everything was just melded." He'd see people — or, more accurately, former people — sitting under steering wheels, but there'd be "nothin' left but a skeleton." He recalls another time that a truckload of tomatoes was hit by a round.
"That sucker got so hot that the juice was boiling as it was running out of them," he said. "I'm not saying that's funny, but to me it was at the time."
And it was hot over there, all the time hot, until around Thanksgiving, at least, when it turned brutally cold. Wyatt describes it as a "different kind of cold, a cold cold that would chill you to the bone." And the landscape was wide open, from horizon-to-horizon. In other words, the polar opposite of Vietnam's thick jungles.
"I was over there six months," he said. "But it felt like 10 years."
Residue
Wyatt has PTSD. That's pretty much par for the course for the average Vietnam veteran. Some days he's fine, but he also experiences weeks-long spells where he's "not so good," as he puts it.
"That's when I stay home," he said. "I've learned to cope with it when it comes up."
He tries to avoid big crowds because they give him The Fear. When he was working with a road maintenance crew, he would have to eat lunch in the truck by himself while the others hung around, shooting the bull. Why?
"Sometimes they'd grab each other, just messing around, but that doesn't work with me," he said. "If you touch me, from behind or whatever, I go into a whole different mode."
He takes medication for his PTSD, but from time to time he still has bad dreams that cause him to jolt awake, covered in sweat. The negative residue from his time in the military extends beyond just psychological ailments. While he was in Desert Storm, an MK19, which weighs about 100 pounds, fell on him. He's had hip issues ever since.
For years, Wyatt's chiropractor couldn't figure out why his left leg was shorter than his right. Wyatt eventually visited a spine specialist, who popped his hip back into place. Said Wyatt: "That hurt something terrible." All of those years with his hip out of whack had done marked damage, however, by putting his sciatic nerve under intense pressure. Nowadays, his feet are often numb.
Despite the psychological and physical scars, he's proud of his service.
"I don't regret a minute of it," he said. "I'm glad I did it for my country — both wars."
So what made him want to get out of the military?
"Two wars was enough," he said. "When you're in a war, a lot of the things you have to do, the things that you see, will change you forever. You'll never be yourself again. It changes the way you think, the way you see things."
"But it also gives you more love for your country and the people around you," he added.
Coping
Wyatt copes with his own issues by giving back to the community and to veterans who are worse off than himself. He's a member of the American Legion, the VFW and the DAV. Said Wyatt: "I'm proud to be involved with each one, because they each help in different ways."
The American Legion hosts turkey shoots and other popular events. The DAV, meanwhile, will often pay disabled veterans' utility bills and send members out to visit injured veterans during the holidays. Wyatt enjoys the VFW because it funds veterans' medical needs. Wyatt recalls a Marine friend who "got cancer behind one of his eyes, and they had to take his eye out." The VFW held a benefit to raise money for him. The VFW also arranges the delivery of meals on Christmas Eve, because Meals On Wheels doesn't run on that night, Wyatt said.
"I think that's great," he said. "Because it's the community, not just the veterans, that we're helping out."
One of the biggest personal rewards Wyatt reaps from his volunteer work is camaraderie. He sees eye-to-eye with his fellow veterans, and they see eye-to-eye with him, too.
"I understand where each one is coming from," he said. "I can sit and talk to a veteran, and me and him can relate."
"But a civilian?" he added. "They don't know where I'm coming from."
Speed
Wyatt calls his trailer a "bachelor pad," as he's arranged it precisely to his liking. One room, just off the living space, is filled with black and white pictures of cowboys from old movies and beautiful Native American art. He started the collection, he says, because it gives him something to do — and something to fill this room with.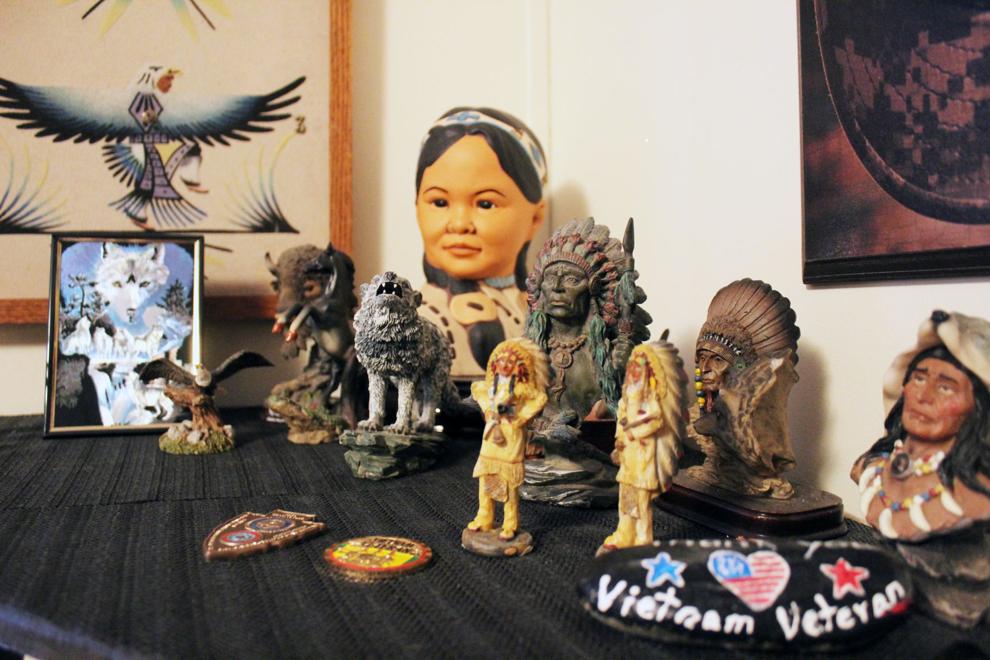 Another room at the opposite end of the trailer is adorned with myriad plaques, trophies and photos of race cars. Each room has its distinct charm. It's hard to tell which one he's more proud of.
Earlier in the day, while in the car room, as it were, Wyatt said he no longer attends car shows. He reiterated that point at the kitchen table later on.
He hasn't left the racing world behind, though.
For a while, he was working on the pit crew for a driver named Jason Leatherwood, who competes in the SESS (Southeast Super Stocks series). Leatherwood went back to school for a while "to better himself and all that," Wyatt said. But Leatherwood is ready to race again, and he wants Wyatt on his crew.
A smile creeps across Wyatt's face. He may no longer jet down the road in a Chevy Chevelle, or a Dodge Demon, but when he watches Leatherwood tear around the track, it almost feels like he is.
"I love it," he said. "That's how I get my fix."