Spirits were soaring as Tuscola High graduates and their cheering families cycled through the school parking lot for a drive-up version of graduation this week.

It was far from the typical graduation ceremony, but the class of 2020 seemed determined to enjoy their moment in the sun for what it was.
"I am glad we are getting a graduation," said Riley Presnell, who was all smiles as he waited in the vehicle queue for his turn to graduate Tuesday. "It may not be the one we wanted, but at least we are getting one. It could be worse, we could be not having one at all."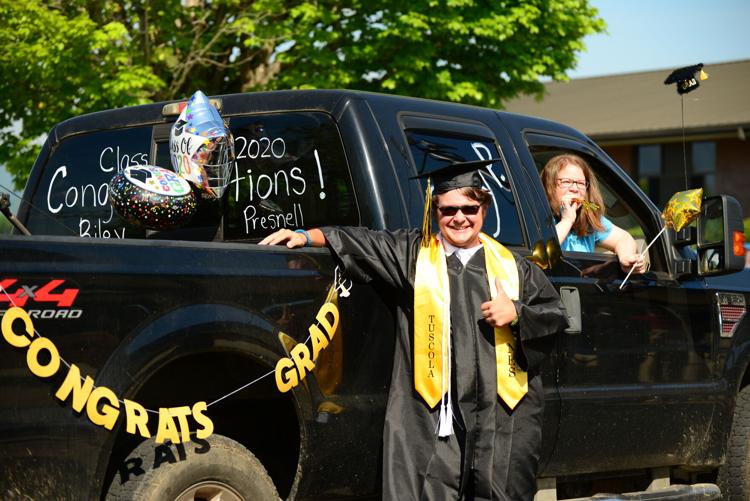 School leaders attempted to mimic the most iconic elements of a graduation ceremony.
Graduates turned their tassel and tossed their caps in the air. Their families cheered and blinked back tears. Pomp and Circumstance played over a loud speaker in the parking lot.
"I'll be honest, it's just kind of surreal," said Jacob Baker, the first of the Tuscola class of 2020 to cross the parking lot stage Tuesday morning.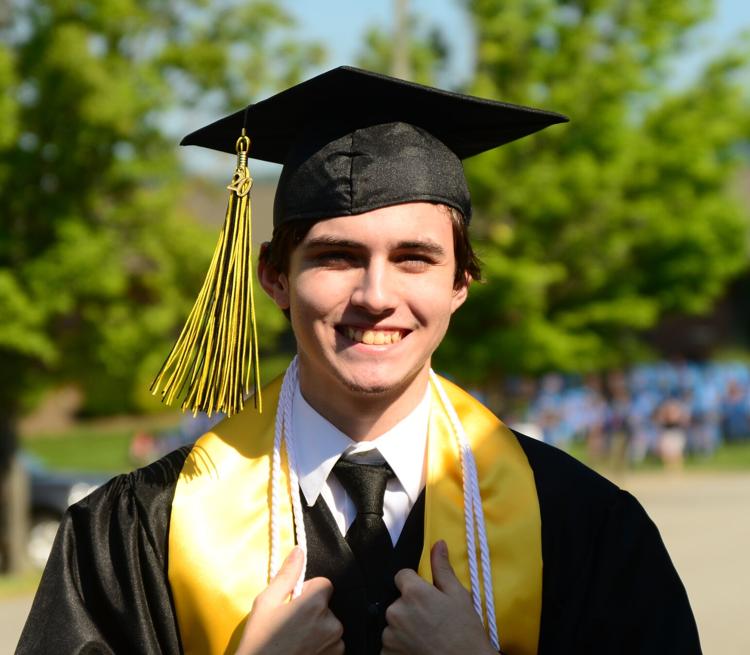 Tuscola's graduation was held over the course of Tuesday and Wednesday, lucking out on the weather, which had been the most nerve-racking part for Tuscola Principal Todd Trantham.
"With an outside graduation, you run the risk of being bound by the weather, but we have had a great day," Trantham said during a break in Tuesday's ceremony.
Each graduate could be accompanied through the line by three vehicles. Ten people were allowed to get out of the vehicles to take pictures when it was their graduate's turn.
There was no limit on the number of people who could watch from their vehicles in the parking lot, however. Akin to a drive-in movie, rows of vehicles parked facing the make-shift stage, honking as their graduate's name was called.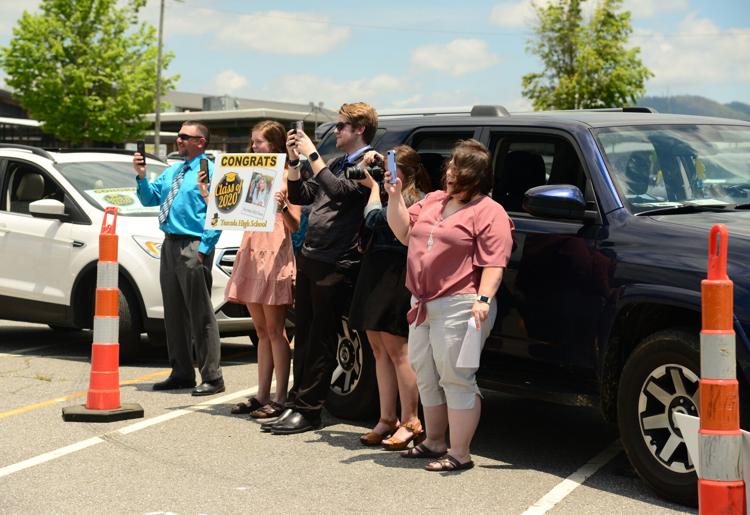 For Shirley Conner, getting to park and watch her great-nephew Hunter Davis graduate through the windshield couldn't have been better. It's doubtful she could have gone had it been in the large Ramsey Center stadium like normal.
"I just can't walk that far," Conner said.
There were indeed some silver linings in the atypical graduation.
"At least it is a lot shorter and you don't have to wait four hours," said Morgan Plemmons, a Tuscola 2020 graduate. Plemmons, like most, was taking it in stride.
"It is definitely different but at least we get something," she said.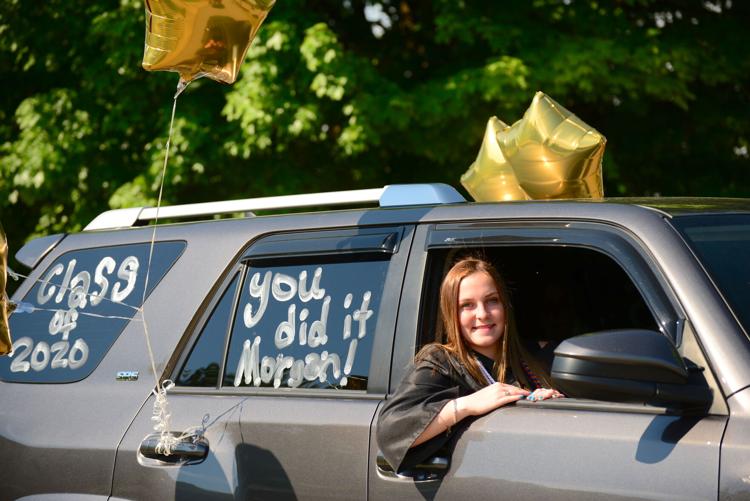 Plemmons' best friend was in line right in front of her, so she was able to watch her graduate through the windshield while waiting her own turn. Students could pick their own time slots, allowing friends to coordinate.
"Of course, we wish we didn't have to do it this way, but woven through the entire thread of this are some positive stories," Trantham said.
Families get an unobstructed front-row view of their senior graduating from just 20 feet away, rather than watching from afar in a giant arena.
"The senior photo they're doing with the mountains as a backdrop may be the best graduation photos we have ever done," Trantham said.
An explainer video of the graduation process was sent to graduates and their families ahead of time — going over the flow of the car line through the parking lot, where graduates should exit their vehicles and where overflow vehicles could park.
Graduates signed up for time slots, with 20 allocated per hour.
It all went so smoothly, however, that it didn't take the full hour for each batch. School leaders had hoped it would work out that way to allow a buffer between each hour's batch.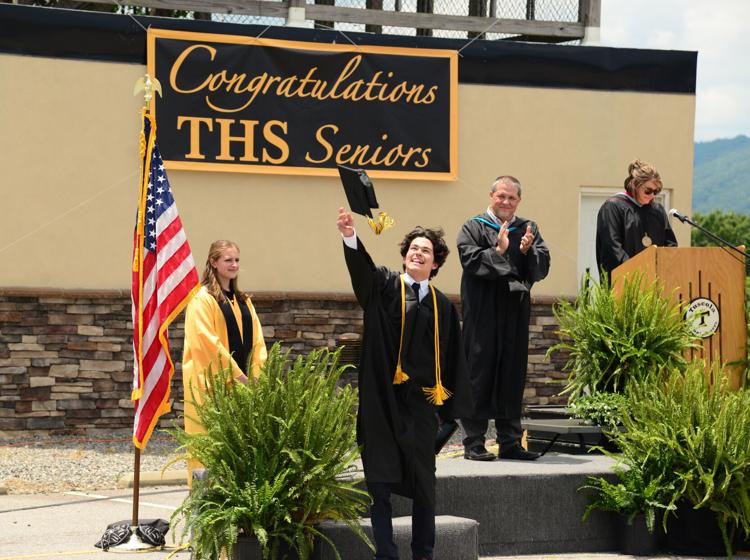 "The biggest thing was understanding timing," Trantham said.
Pisgah Principal Clint Connor will be able to pick up tips from Tuscola
Many families decorated their vehicles with Tuscola-yellow balloons, signs, window writing and banners.
"I am proud of my boy today. He has worked every hard," said mom Laura Presnell. "It is very exciting. It's not what we expected, of course, but it's so good we have this."