Jury trials on drug trafficking cases provide a unique glimpse into the local drug crisis. The recently concluded trial of Casey May and Lauren Young was no different.
May and Young were in court for a November 2018 arrest where they were caught with almost two ounces of methamphetamine. Testimony pegged the street value of the drugs at $5,000. In last week's trial, both were found guilty of multiple felonies severe enough to send them to prison for years.
The case picked up when the Haywood County Sheriff's Office received complaints about drug activity in unit C-4 of the Meadowland Apartments at the corner of Jones Cove Road and Old Clyde Road.
During his testimony, Sgt. Mark Mease, who heads up the criminal suppression unit (CSU), which handles cases involving more serious criminals, said officers had been observing those apartments for months, adding that "there is other drug activity in the area."
Things really took off on Nov. 6, 2018, when Deputy Micah Phillips stopped by the apartment looking to arrest a man for violating probation.
When he went inside apartment C-4, he found not only who he was looking for, but also May and Young — known players in the local drug trade — who appeared to be keeping a residence there.
When he first arrived, May was in the shower, and Young went into the bedroom to get his clothes.
"I assumed they were in a relationship because Casey May asked her to get his clothes out of their bedroom," he said.
The next day, surveillance operations ramped up, with multiple investigators set up in strategic locations, moving around as necessary to better observe who was coming and going from apartment C-4. One deputy, who commonly works undercover, told the jury what he could see from his surveillance location.
"I noticed several individuals coming in and out of C-4 through the breezeway," he said. "I observed Casey May come out … and go back in."
As the surveillance intensified on Nov. 7, narcotics investigators began stopping vehicles occupied by suspicious people who left apartment C-4. One stop yielded something that finally enabled deputies to write up a search warrant — a warrant which was executed that very night.
Investigators spotted someone enter the apartment and leave in their vehicle not long after. From there, deputies ensured the vehicle never left their sight as it headed toward Canton, and once Sgt. Matt Trantham, a uniformed deputy, clocked it speeding, he and Mease conducted a traffic stop.
While the vehicle was stopped, Trantham saw an open alcohol container inside and ordered the occupants to exit. The driver consented to a search, and a K9 was brought to the scene.
"During the course of the search of the vehicle, we found a little over an ounce of methamphetamine," Trantham said.
The sheriff's office finally had the probable cause it needed to search the apartment, and Matthew Rinehardt, a former detective with the sheriff's office who was the case agent over the investigation, wrote up the warrant, that authorized searching for weapons, stolen property, personal items that showed ownership, cell phones, radios or scanning devices, ledgers that could indicate drug sales and proceeds from drug trade.
Next, Det. Janson Hensley, the on-call detective, wrote up an operations plan. Although he typically handles "special victims" crimes, Hensley found himself front and center in a serious narcotics investigation.
On Nov. 8, as Wednesday night turned into Thursday morning and a cool fog settled around the Meadowland apartments, several deputies converged in a nearby parking lot to brief the raid. Not long after, they headed out.
When they arrived at the apartments, one group of deputies formed a perimeter around building C and one group formed an entry team. When no one let the deputies in after they announced their presence, the entry team knocked down the door with a small battering ram.
Once entry was made, everyone inside — which included May, Young, the woman who rented the apartment and two other men — were apprehended. After Rinehardt went through and photographed the scene, deputies searched the two-bedroom apartment. While only some marijuana was found in the living room and nothing was gathered from the kitchen or bathroom, the bedrooms were more interesting.
In the room belonging to the woman leasing the apartment, deputies found a bag containing a small amount of a mixture of meth and heroin, along with fentanyl test strips, two loaded handgun magazines and other paraphernalia.
In the other bedroom were May and Young, who cooperated and were taken into custody without issue. In that room, deputies found an assortment of paraphernalia, including syringes, a rubber tourniquet, spoons, Narcan (which reverses an opioid overdose) and scales.
"Some were in plain view and some were found in drawers," Deputy Nathan Deweese, who aided in the search, said.
Most importantly, they found inside a woman's bag characterized by some deputies as a "makeup bag" and others as a "purse," a large plastic gum container with the words "Lo's change" written on the top. Inside that container was almost an ounce of meth.
Although there was speculation from the defense attorneys as to how prosecutors could connect that to the defendants, several deputies familiar with the local narcotics trade and the individuals involved testified that "Lo" or "Lolo" is well-known to be Young's nickname.
Soon after the entry team gave the all-clear, Mease noticed a black plastic bag sitting not far from the window outside May and Young's bedroom. In that bag was just over an ounce of meth.
While defense attorneys argued the bag may have belonged to someone else, prosecutors relied on testimony and evidence concerning a gap in the window air conditioning unit that was large enough to fit the bag of meth through.
From the outset of the trial, it was clear just how deeply rooted meth is in Haywood County. Two potential jurors admitted to using meth in the past, and a few knew one or both defendants well.
One man who'd admitted to using meth said he'd even seen them not long ago. While he talked around the nature of his relationship with Young and May, he even said he'd spent time in jail with May, something that visibly irritated his defense attorney, David Brown.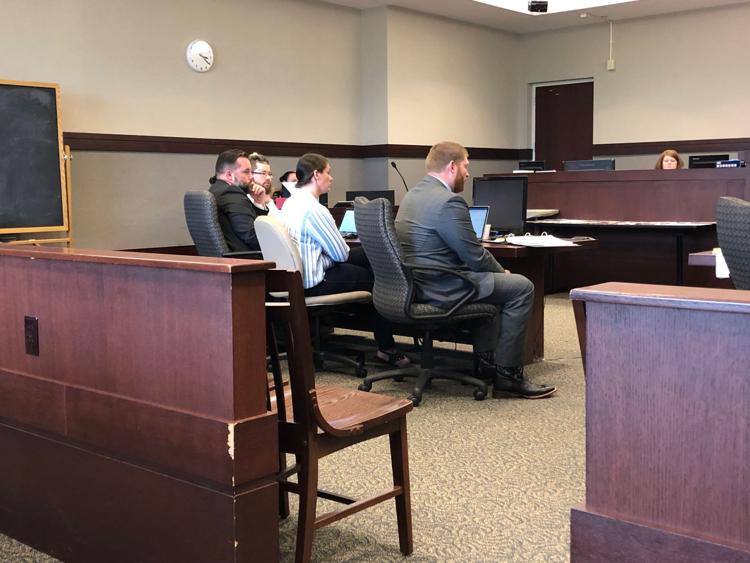 And that wasn't all. Of the potential jurors questioned, one had a sister addicted to meth, one had custody of her grandchildren because one or both parents had drug issues, and one had a son who was murdered over drugs.
Such admissions led to further questioning concerning their views on meth and personal beliefs on drug laws.
While Brown and Robert Gilligan, Young's defense attorney, both wanted to have separate trials for the two defendants, Superior Court Judge Bradley Letts ruled both would be tried together in the name of judicial economy. This also made it easier for prosecutors, who didn't have to contend with the defense attorneys trying to pin the drug charges on the other defendant.
May and Young both faced charges for trafficking methamphetamine, conspiracy to traffic and maintaining a dwelling for the drugs.
The third apartment resident has pending charges from the raid.
Along with laying out the narrative of the events leading up to the raid, the raid itself and what was seized, deputies and other witnesses talked about how the evidence was handled and processed, and defense attorneys tried introduce reasonable doubt during their cross-examinations.
"At any point during that search, did anyone come up with anything that bore Casey May or Lauren Young's name?" Young's defense attorney, Robert Gilligan asked Rinehardt, to which the answer was no.
Brown and Gilligan also used their closing arguments to take every chance to convince jurors the drugs may not have been their clients'. Gilligan's approach was especially creative, as he invoked metaphors that used Gen. George Patton's Ghost Army, baking a cake, Tom and Jerry and even the Trojan War.
At one point, he compared his client to Helen of Troy, saying she is "virtuous and innocent."
"The state has waged war in this courtroom over Lauren," he said.
Although this was Assistant District Attorney Kate Wrenn's case, District Attorney Welch took the closing argument, during which she used this case to frame the greater drug problem that continues to plague Western North Carolina.
Specifically, although Welch didn't absolve them of their responsibility in the case, she talked about how people like Young and May traffic drugs to support their own addictions.
"When you watch TV or movies with drug dealers they often have tons of money, they may drive really fancy cars, they may flash a lot of cash, and certainly in some parts of the country that's true," she said. "But in Haywood County, that's not what you have."
While many in the courtroom expected a fairly short deliberation, the jury took its time, asking for several pieces of evidence and even asking for Judge Letts to read the elements of the charges for both defendants individually an extra time. Then, Friday morning, they reached their verdict: guilty on all counts.
The sentencing was left to Judge Letts' discretion, and he basically had two options. He could have the charges for trafficking (which the maintaining a dwelling charge was lumped into) and conspiracy to traffic, each of which come with a 70-93 months sentence, to run concurrently, or he could have one sentence begin at the expiration of the other.
For May, he determined the sentences would run back-to-back, meaning he will spend 140-186 months (11 to 15 years) in prison. While May was stoic even as the verdict was delivered, when he heard the sentence, he took off his glasses and put his hands over his face as he resigned to his fate.
"I know I'm in a bad place right now," he said to Judge Letts.
"I'm a drug addict," he added. "I've fallen into drugs."
When it came to Young's sentencing, Gilligan argued that her relationship with May is what led her down the path to addiction and ultimately trafficking. Young, whose sentence won't begin until she finishes one she is already serving for an attempted trafficking charge, made a plea to Letts to let her sentences run concurrently for the sake of her children.
"I understand I've gotten mixed in with some bad people," she said.
Although Letts granted her wish to have the sentences consolidated, he wasn't shy about letting her know how he feels.
"You've got three children who need you, and you're not there for them," he said.
"You should have been taking care of your family, and you abandoned them. Then you show up asking for mercy, but you deserve none," he added.
Ultimately, that mercy he so reluctantly provided Young may have indicated he believed she could get out and be a mother for her children, in hopes that they could be spared following the same path to despair their mother took.
Following the sentencing, both Welch and Haywood County Sheriff Greg Christopher expressed their gratitude for all the hard work that went into the case.
"Our agency has the highest level of commitment when it comes to combatting the issue of drug trafficking in Haywood County," Christopher said in an email. "Making our communities safer takes hard work every single day and consistent follow through from law enforcement, as well as dedication from our citizens. Together, we can identify these issues and work toward solutions. We are also thankful for the diligence and professionalism of District Attorney Ashley Welch and her staff."
"It sends a message to the people of Haywood County that law enforcement officers do everything they can to control this trafficking issue," Welch said. "The sheriff has special resources for this, and these convictions are the sign that it's working. Our office is committed to getting these people as much time as we can."