The Haywood County Board of Commissioners met at 5:30 p.m. Monday, Feb. 15. Here is a summary of actions and discussions at the meeting.
Jail expansion
Victoria Castle with Down Home NC suggested an alternative budget to borrowing $16 million to expand the Haywood County Jail. The organization proposes spending propose allocating only $1.8 million to provide mental health and substance abuse treatment and prevention, $1.5 million for housing assistance, and just over $73,000 for law enforcement training to address mental health issues.
The Rev. Peter Constantian addressed the moral cost of incarceration and suggested the price tag would be much higher by the time the the larger jail was fully staffed and medical care is provided to those in the facility.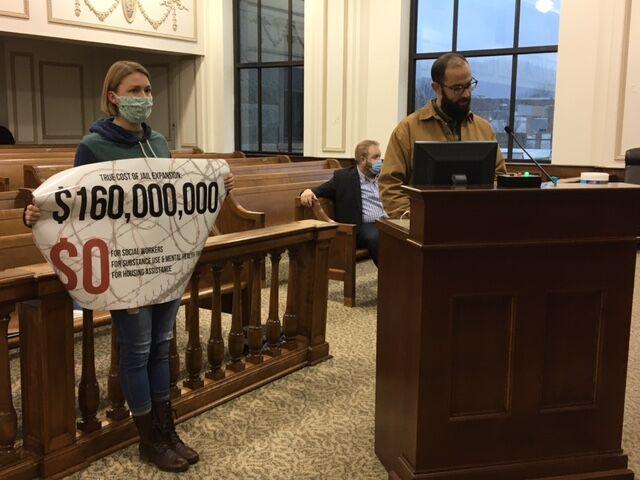 "The decision to triple our jail capacity is not simply a budgetary issue. Rather, it reflects our expectations and goals as a county. I am begging you to consider spending the money differently," he said.
Casey Valentine Steffan praised the local cooperation that making Haywood's mass vaccination clinics a glowing success, and urged the commissioners toward collaboratively with other organizations in the community to solve the mental health crisis that leads to a growing prison population.
2021-22 budget schedule
County Manager Bryant Morehead gave an overview of issues that will impact budget preparation for the coming fiscal year. (See details in a separate story.) The budget preparation schedule includes an April 19 work session with the public schools and community college; a May 3 general work session; a budget presentation on May 17 and a public hearing on June 1, with the final budget proposed to be adopted by June 7.
Contract to finance school offices
The commissioners approved an installment financing contract up to $2 million at an interest rate of .99% whereby the county would make payments to finance the renovation of the school central office building at 1233 N. Main St. in Waynesville.
The Haywood County School system will convey the property back to the county until the contract is paid off. The commissioners originally deeded the office complex, along with $750,000 to the school system for the complex to be used for school office administration. The school system's former offices just across the street became unavailable once the county secured a deal to sell the property so it could be renovated into affordable apartment units.