CANTON — Near the end of a road in the Beaverdam community, a small farm is tucked into a mountain cove that provides enough food for 10 families and restaurants, plus plenty for the winter, too.
Using intensive growing and permaculture practices, Dustin Cornelison, his wife Sara Martin and Lyra, 6, have found a way to make every square foot of their farm into a model of how to grow the healthiest food that can be grown.
There are fish in a small pond, chickens roaming the yard, orchards and berry bushes on the hillsides and almost every type of vegetable or herb known to grow in the region, either wild or cultivated.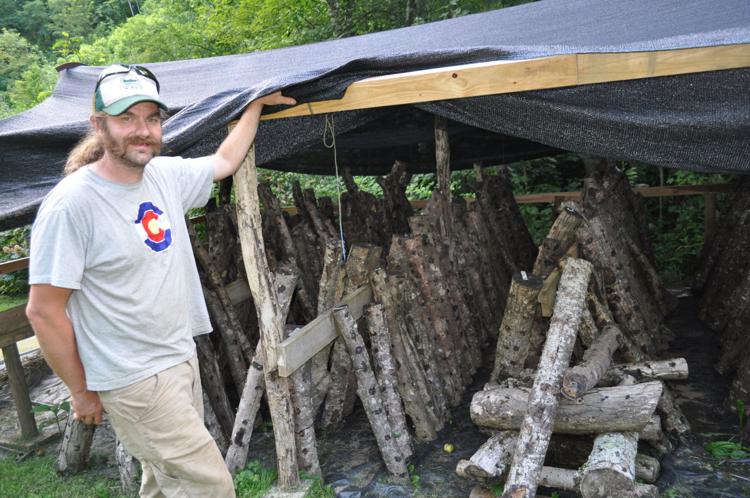 Terraced gardens and raised beds provide ways to use space more efficiently, and the couple composts its own soil using brewer's grains from the Wedge Brewery in Asheville, coffee grains from The Coffee Cup in Clyde and garden waste from the farm.
In the geodesic dome, pomegranates, figs, lemons, avocados and more grow as if they are in a tropical climate, while the nearby greenhouse is a place where many plants and perennials get their start.
All in the family are avid about recycling and not wasting a thing. Martin chuckles about a call she received from Lyra's school last year. The complaint — Lyra was chiding others about how they weren't recycling.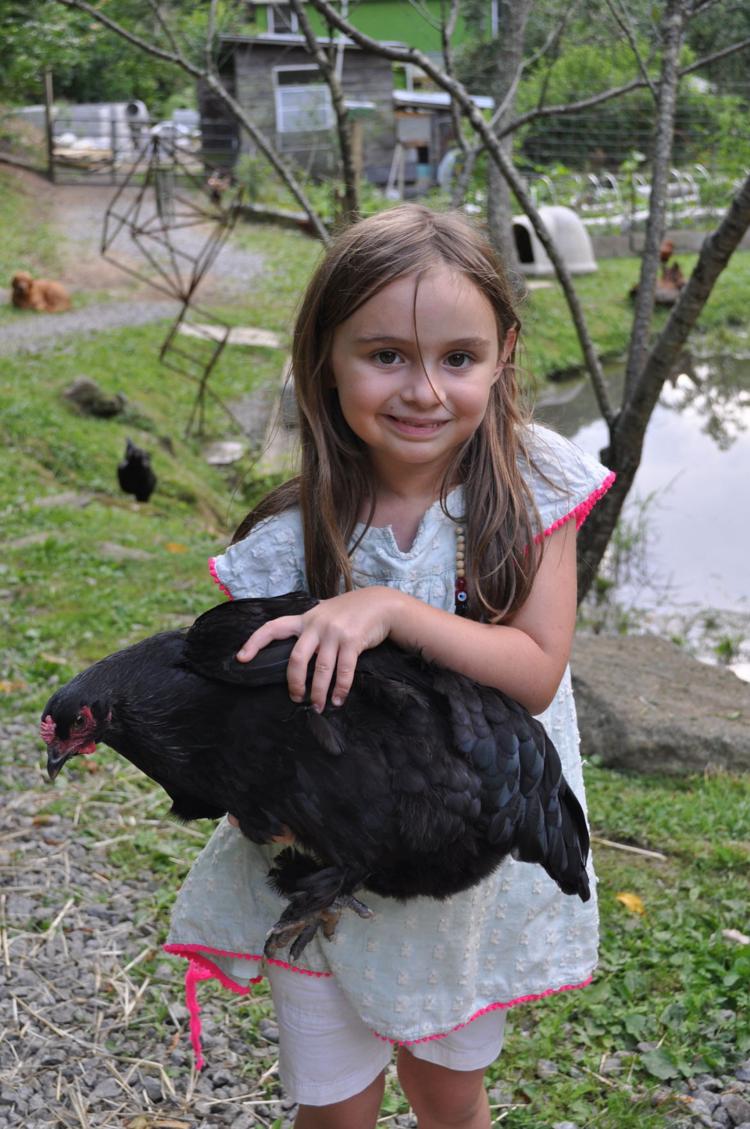 They've dubbed their property Two Trees Farm, and it's the home of Sustainabilities, LLC, a business that teaches others all they have learned as they turned a small piece of property, complete with steep mountains and a run-down 1940s era stone cottage, into a modern-day model of sustainable living.
Chemical-freeVisitors won't find a chemical on the farm. That is not only because the couple firmly believes in promoting a sustainable lifestyle, but because Martin's life literally depends on it.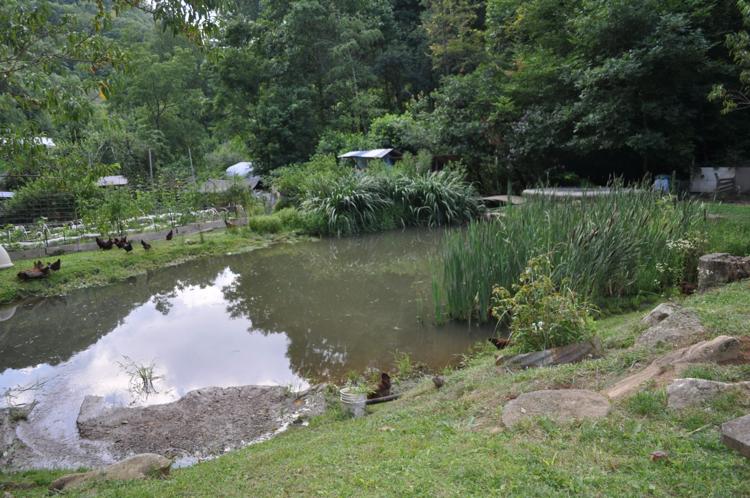 She has a condition called multiple chemical sensitivities disorder, something that makes her deathly ill if she is around any type of chemical, whether it is in processed food items, used for cleaning, controlling weeds or pests or even perfumed toiletry products.
If she is exposed, symptoms can range from a severe headache to a reaction that mimics a heart attack.
But with the wide variety of food grown organically on Two Trees Farm and her natural cooking abilities fostered by a long line of family cooks, Martin barely misses the food items others eat but she cannot.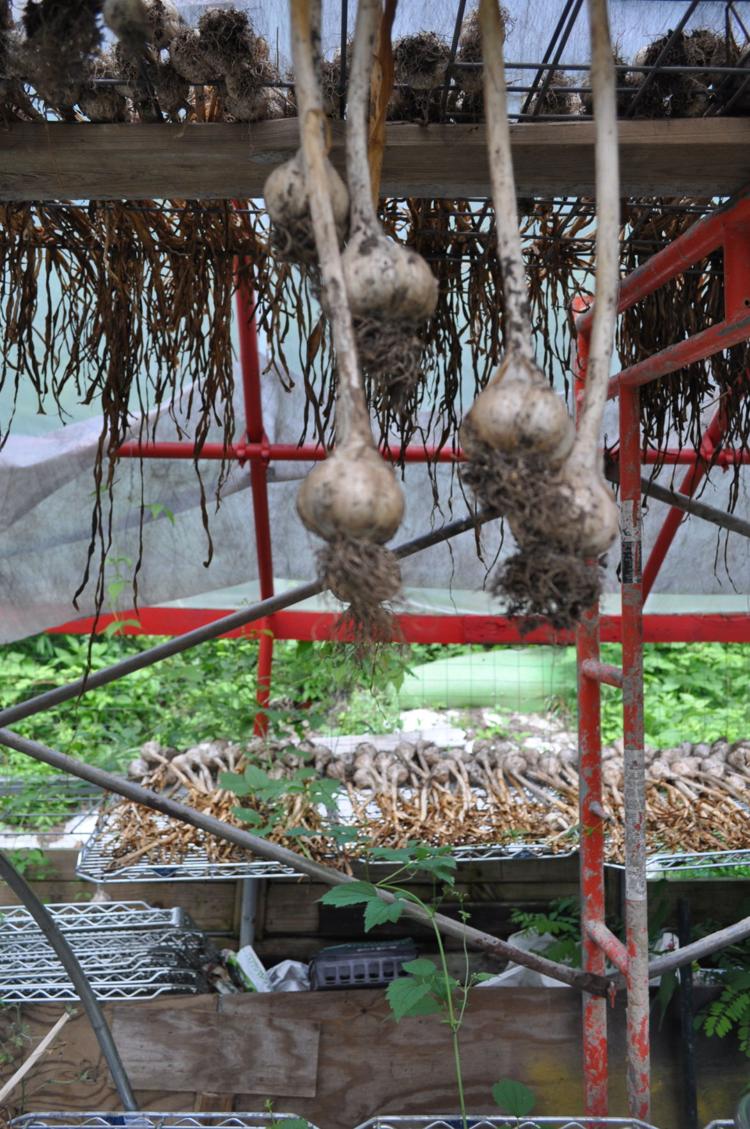 "Sixty percent of what we eat comes off the property. Plus, I can eat at the restaurants where we sell our produce," she said, noting these Asheville eateries are committed to providing a healthy, organic option for diners.
While Martin was initially distressed with her condition, she has come to terms with it.
"I don't see it as a burden," she said. "It's a gift to eat the stuff I should be eating and avoid the things I shouldn't be eating."
Sustainability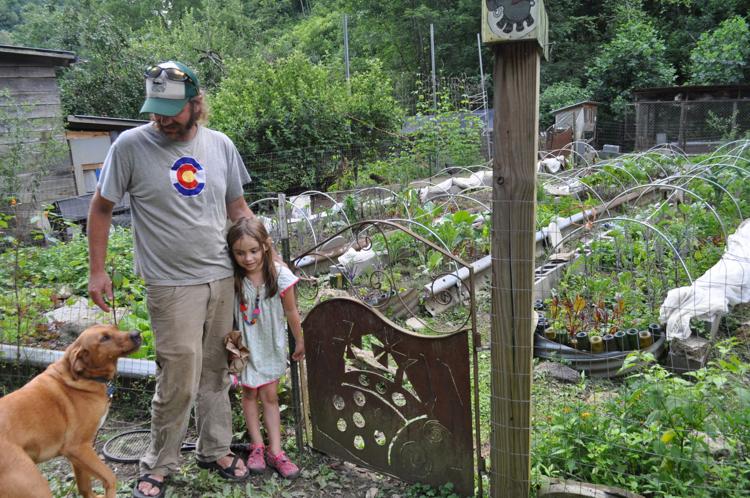 This is the year the Sustainabilities business plan will kick into a higher gear. Martin had to leave her full-time teaching post at Haywood Community College because of her chemical allergies. She will be focusing all her attention on teaching others about a sustainable lifestyle — things like gardening basics, making jams or jellies, canning or drying vegetables and the basics of organic growing.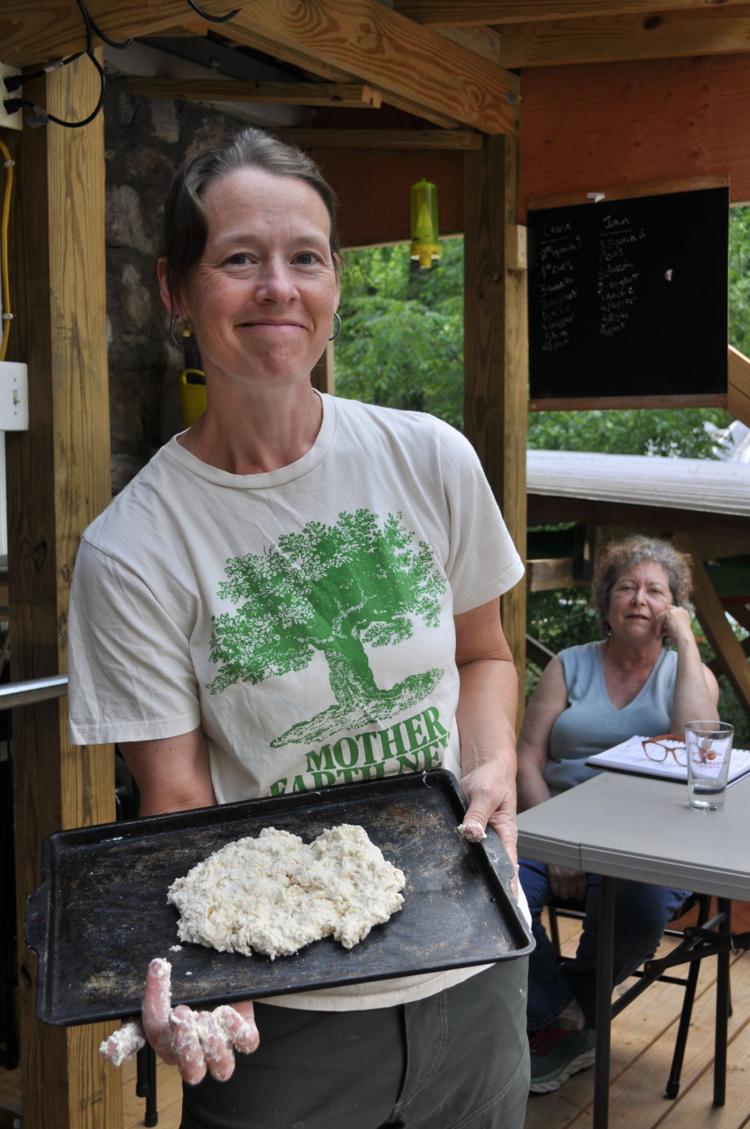 Her creative streak, along with the dozens of plants and herbs on the farm, have helped Martin create dishes her friends rave about.
A botanist by training, Martin admits she came to the sustainability mindset through "super-nerdy book training."
"Dustin fell into this because he fell in love with me," she said. "He was a professional screen printer and kayaker."
The couple actually met kayaking. Their mutual love of the outdoors blossomed into more, and then a dream was hatched.
That dream was owning a small farm with a focus on what grew on the property naturally, as well as other crops they could coax along. That farm could become a place to live a simpler life — and also a place to teach others about the lifestyle, as well.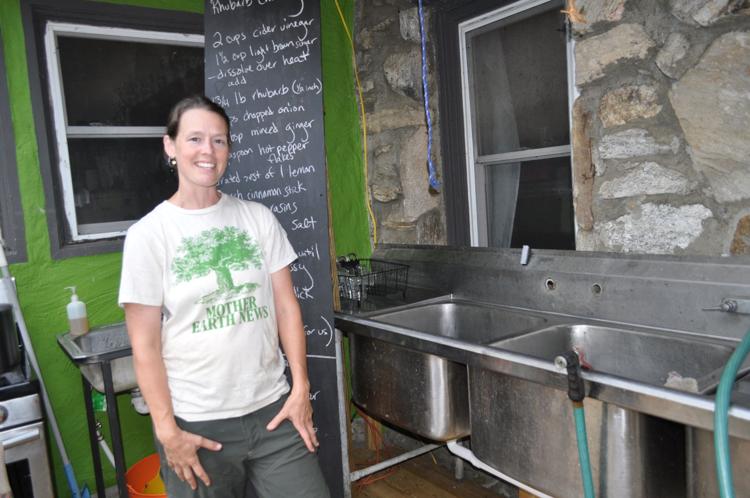 Cornelison built an outdoor kitchen where Martin can offer classes. An added benefit is the triple sink that offers an ideal place to wash the dirt off of vegetables before they are sorted into CSA boxes or taken to the Historic Farmers Market in Waynesville.
Cornelison is partly finished with a cold storage unit he's building into a mountain side. It's basically a root cellar with air conditioning where far more items can be stored on the farm. He is also building a tiny house where guests and would-be modern-day homesteaders can stay as they create their own educational experience on the farm.
Those projects tend to get put on the back burner during the height of the growing season, but will kick into high gear over the winter months.
For those who would like to Martin and Cornelison to visit their property and offer tips on making it more sustainable, well, that's an option, too.
"There is no need to reinvent the wheel," Cornelison said. "We can teach you how to use the tools and knowledge we have in gardening, blacksmithing, food preservation and installation of native habitats."
Still, the family isn't advocating going without electricity or dipping water out of the creek.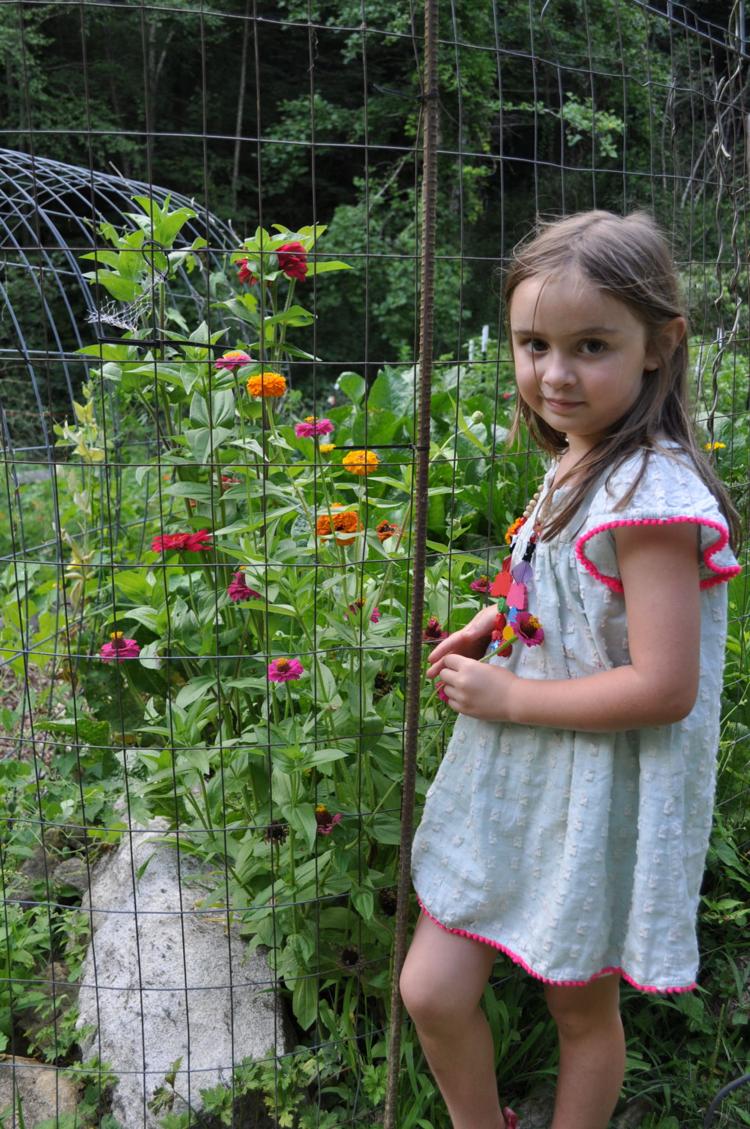 There are plenty of ways to create a beautiful home that functions to support your dreams, they contend.
Making ends meet
The couple has multiple other talents that augment their income. Martin still teaches part-time at the community college and is also a jewelry maker and welder.
Cornelison is certified in sustainable building practices and uses his blacksmithing and welding skills to make hand-crafted farm tools or decorative handrails, gates or fences. Many of the products are fashioned out of recycled materials, yet another aspect of the sustainability philosophy.
Whatever aspect of sustainable living guests or customers want to learn about, Martin and Cornelison will make it happen.
It's all part of their philosophy of life and can be summed up with their favorite motto: Living simply so that others can simply live.