Haywood County commissioners have 2.5 million reasons to hope that a new partnership with Haywood Regional Medical Center will improve the overall health of county employees.
That's because when county leaders were preparing this year's budget, they learned the county health costs increased by 37 percent , or $2.5 million beyond what was budgeted. The past five-year average was a 12-percent increase, said County Manager Bryant Moorehead.
"It seemed like a perfect storm," he said. "We had some really sick people, but there were lifestyle choices impacting healthcare costs, too, particularly with diabetes and related conditions."
Such a large spike in costs provided ample incentive to search for a new approach.
The county has operated a clinic exclusively for those on the county health insurance plan where non-chronic conditions can be treated.
Now, the county is working with Haywood Regional to add a health and wellness component.
If successful, both parties hope the preventive health model that's being made available to all county employees, retirees and their families could be replicated countywide, leading to better health for all in Haywood.
How it works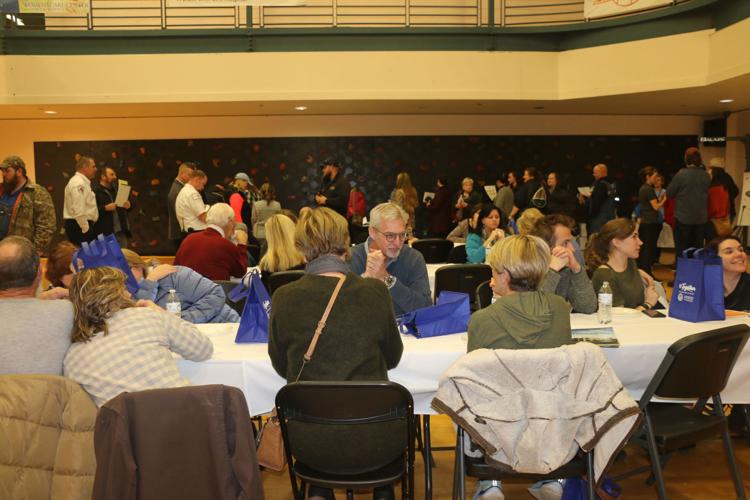 The new county initiative offers those on the county health plan free access to Haywood Regional's fitness center — providing they use it regularly — an opportunity to build a relationship with a nurse navigator assigned specifically to the county group, baseline tests where individuals can learn if they have underlying health problems such as high blood pressure or pre-diabetes. There is a counseling service for diet and mental health, as well.
"It's hard enough to cut regular jobs out when you clock out at 5, but with what those folks see every day, it's no wonder that we need to take care of them as a whole," Moorehead said.
While the mental health component is still a work in progress, an integral component is diet and exercise, finding a work life balance and financial management. "We all know finances make you stressed, so we're open to all sorts of things like that."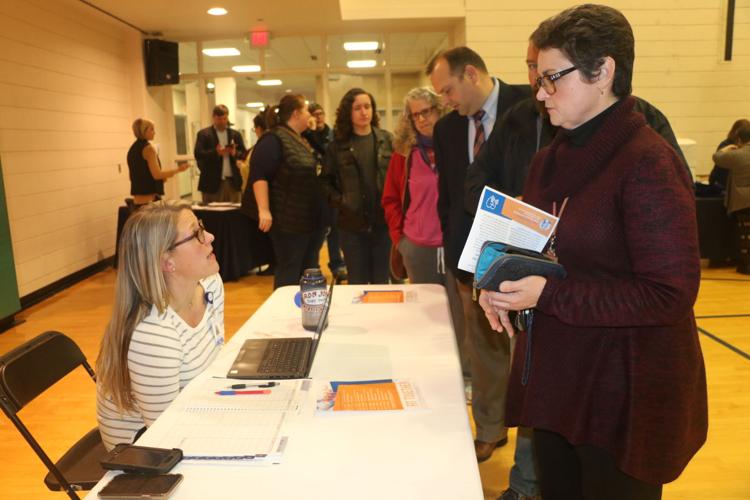 A crucial component will be nurse navigator Jamie Cavacos, who will be working with the 875 individuals on the county's health program to discuss health issues, guide them toward available services and explain the benefits of getting baseline health information to determine whether early lifestyle changes or medication could prevent problems later on.
Fit Together
Haywood Regional has put together a team who will be working with the county on the wellness initiative.
Team members include Grace Yearick, director of urgent care and occupational health; Lauren Teague, business process improvement manager; Cavacos, the nurse navigator and Scotty Setser, director of the health and fitness center.
The initiative is called Fit Together, and a kick-off event was held Monday, Jan. 6 with a healthy meal, a place to sign up for a gym membership or other services that are being introduced.
At the event, 84 signed up for Fitness Center memberships, 75 signed up for their two free personal training sessions, 15 people signed up to meet with a dietitian and 121 signed up for their annual wellness labs with the nurse navigator.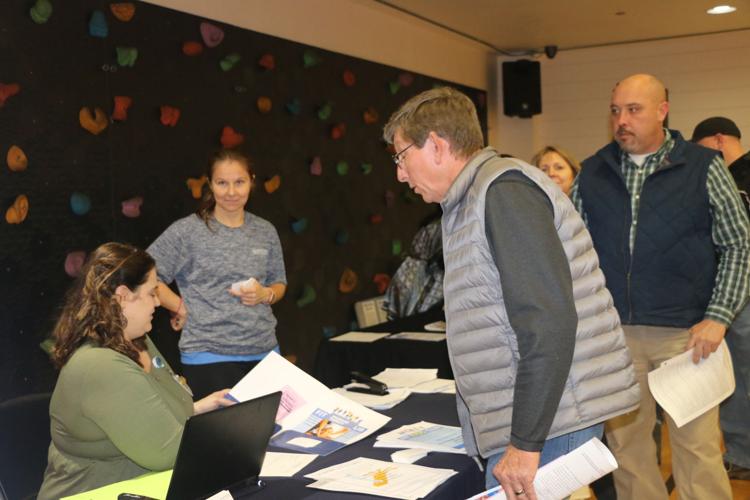 Attitude change
Rod Harkleroad, Haywood Regional's CEO, sees the partnership with a county as a way to change the health care culture in the county in a way that focuses on prevention as opposed to waiting until people become very ill.
"We're saying, 'this is a service we offer and there is true meaning to it,'"Harkleroad said. "Our vision is that we will take all the data we collect and show the commissioners how we've been able to change behaviors and get county staff healthier. We can then use that data to take out into the broader community."
He said the Fit Together progress will be reported on every two months, and is optimistic it will make a difference.
"With diabetes, if we catch it early, there's a $12,000 savings per beneficiary," he said. "It hurts me to think that someone walking around with blood pressure of 150 over 100 and not even know it. Even if they don't want any part of running or eating better, medicine can fix this."
The commissioners will be updated every other month on the program's progress.
Under the program Haywood Regional is providing lab work at cost, and will be reimbursed by the county. Individuals who find they have conditions previously undetected will be referred to their primary care provider where they can receive medication if it is needed. The prevention services through Fit Together can help with lifestyle changes.
The program isn't only aimed at reducing health costs, Moorehead emphasized.
"This board is really committed to our employees, and started talking about a program to treat employee as a whole, not just the physical aspects, but the mental health, too," said Moorehead.
He noted that many county jobs are high-stress, including law enforcement, social and emergency services. Many are also caring for both children and elderly parents.
"We're talking about ways to help our workforce reduce stress and find a work-life balance," Moorehead said. "This program, while new, is one we're hoping will accomplish great things. It represents a culture shift — one where we want Haywood County to be recognized as an employer that really cares about employees. This is about more than hitting a bottom line number."