The long-awaited Smathers Farmers & Public Market is officially open, and the crowd was large at the grand opening and ribbon cutting event Thursday.
Before kicking off the Smathers Market season, Pat Smathers, the former Canton Mayor and driving force behind the creation of the market, gave a heartfelt speech about the Smathers Supermarket legacy that his father and uncle began, and one that his son Zeb and grandson, Stone will carry on through the market.
"I wanted the person to cut the ribbon today to be someone really special," Pat Smathers told the crowd. "I feel it's only fitting that my grandson Stone Henson Smathers be the one to do it."
During the Canton governing board meeting later in the meeting, Alderman Ralph Hamlett said he appreciated all that Pat Smathers said and has done for the town.
"He's done a yeoman's service for generations of his family and the town today in his comments," Hamlett said. "I was impressed by his emotional tone. It says something about a man when he's willing to talk about family and to show his humanity, which he did."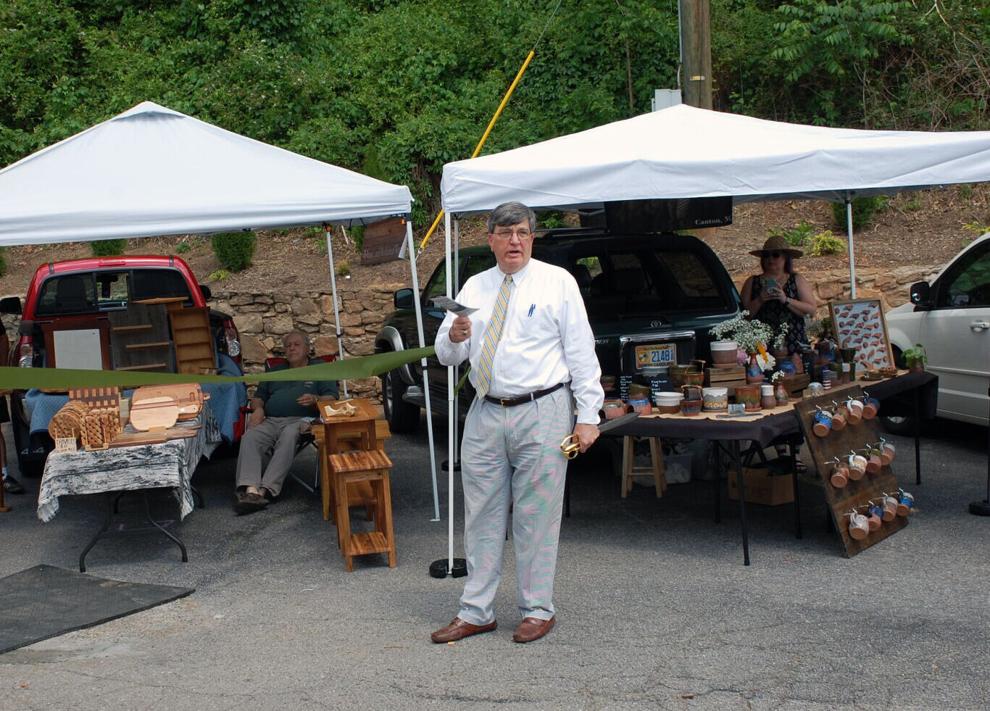 Hamlett told current Canton Mayor Zeb Smathers that his father's tribute to his grandfather and his uncles, as well as to the town was a stark reminder of all that the family has done to serve the community.
He said he appreciated the venue that Pat Smathers has afforded the town.
The mayor said his father worked very hard to bring the market back as a gathering place not just for family, but for the community.
"There was a time when there was no traffic in town," Zeb Smathers said. "Today we had an absolute traffic jam. I've not seen that since the '80s."
Located in the parking lot across from Southern Porch and Papertown Coffee, the Smathers Market is in the perfect location to help attract more visitors to downtown Canton.
The market will be open weekly on Thursdays between 3:30-6:30 p.m. and will feature 20 or more local vendors, including a number of food vendors, arts and crafts and even fun activities for the kids.
Smathers Market features a seating area where patrons can order a soda or local beer from Southern Porch. Musicians also will perform each week for the market, and will be set up on the balcony of Southern Porch.
The space at 118 Main St. is also going to be available to the community to rent the space to host outdoor events whenever the lot is vacant.