Waynesville residents fed up with the negative impacts of a growing transient population living on the streets spoke out about their frustrations during a forum hosted at Frog Level Brewing Tuesday night.
More than 100 people packed the pub to see the forum unfold. It was billed as a Q&A with candidates running for the Waynesville town board, with members of the audience asking what they planned to do about the problem.
But for some speakers, the forum was more of a listening session — a long overdue opportunity to air their grievances on a previously taboo subject.
Jon Lynn McDermott, who lives in the neighborhood behind Frog Level, said the spill-over effects of the homeless who gravitate around the Open Door soup kitchen has become intolerable.
"I pick up needles from my yard, I pick up trash, I have had so many things stolen from my house I have to chain everything to my porch now," she said. "I love my house. But what goes on around my neighborhood is horrific."
The forum wasn't one-sided, however. Several speakers spoke passionately about the moral imperative to help those in need.
"I will stand in the gap wherever I can. I will make sure the people who think they don't have a voice, have a voice," said Kasey Valentine-Steffan, a social worker in Haywood County.
To those deriding the Pathways homeless shelter and Open Door soup kitchen, Valentine-Steffan asked if they knew what it was like for people just trying to stay alive.
"I am sorry that it has decreased your property values," she said. "Do you work in a place where you have to wake up every morning and go ask people what they need just to survive? If the answer is 'no,' then you might want to take a step back."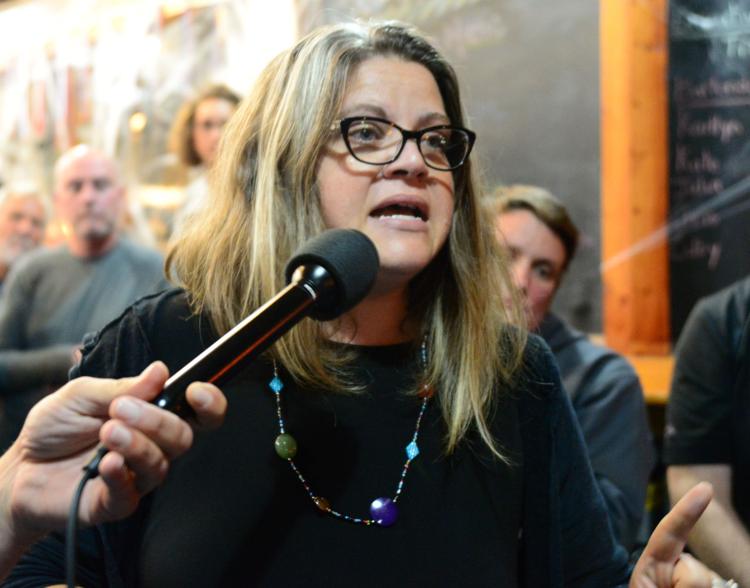 That was little consolation, however, for those who live and work in proximity to Pathways and the Open Door and have become ground zero for the homeless spillover.
"They have broken into my building, they have made drug deals on my property, they have left their needles on my property," said Wanda Brooks, who owns property across from the Pathways Center. "It has affected me terribly."
Supporters of the Pathways Center believe it has been given a black-eye unfairly, however. Every transgression committed by a homeless person is laid on Pathways, but that's a fallacy, according to Mandy Haithcox, executive director of Pathways.
Pathways is not so much a homeless shelter as a rehabilitation center with strict rules — including a no-tolerance policy for drugs and alcohol. Most Pathways residents either work full-time or must be actively seeking work as they move through the six-month life-skills training program, with a focus on becoming productive members of society.
Where does the buck stop?
The Open Door is a different story, however. The "open door" policy provides help to anyone who needs it, no questions asked, from meals, food and clothing to a place to get mail, take showers, do laundry and charge cell phones.
Critics claim it has become a magnet for those who aren't trying to rebuild their lives, but are merely relying on free hand-outs while making the streets their de facto home — to the detriment of Frog Level.
"As residents and taxpayers we deserve to have Frog Level enhance the town of Waynesville rather than accommodating a transient population with no responsibility for the health and safety of the city," said Candice Koch. "One option would be to move the Open Door, preferably outside city limits."
The comment was met with a round of applause from many in the audience. But Pastor Chris Westmoreland with Long's Chapel Methodist Church, which operates the Open Door ministry, said they didn't create the problem. It would be there whether the Open Door existed or not.
"If you want to see this problem get a lot worse, take us out of the equation," Westmoreland said. "We are responding to the needs of the community. The folks we are talking about are the most vulnerable members of our community."
But Frog Level merchants say they are saddled with the spillover effects of chronic vagrancy.
"They are defecating on our doorstep," said Treavor Campbell, who works for his father's business in Frog Level. "It is getting so bad."
Painting all the Open Door patrons with the same brush isn't fair, of course. Clark Williams, the owner of Frog Level Brewery who organized and hosted the forum, acknowledged that fact.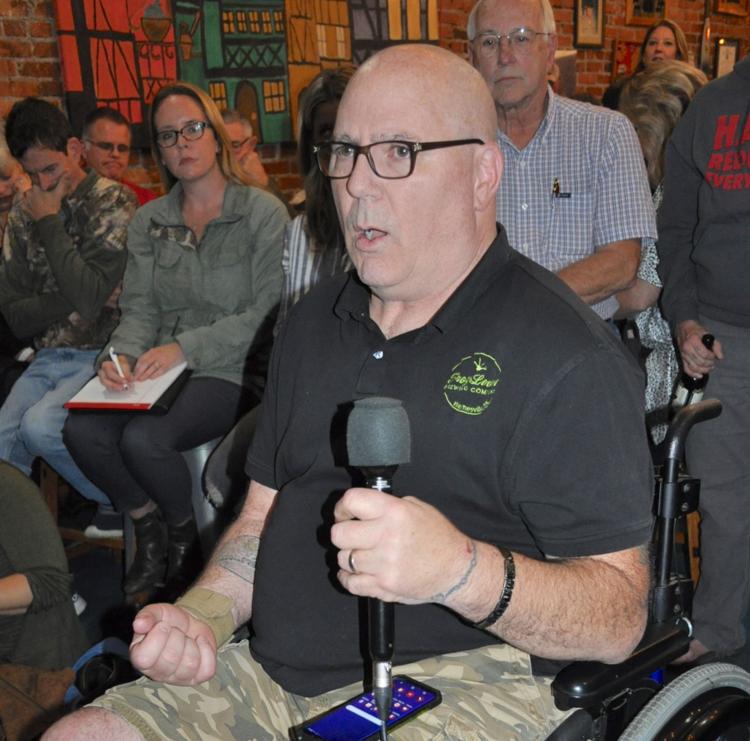 "My beef is not with them," Williams said of the Open Door.
But something must be done about the bad actors, he said. The Open Door has a sign posted in the alley beside the soup kitchen spelling out rules that its patrons are supposed to follow, but those aren't enforced.
"I want to find a way for them to be held accountable for their actions after they get a meal," Williams said. "They aren't being held accountable."
Westmoreland didn't say specifically whether the Open Door would take steps to insist on good behavior by those it helps.
"We want to be part of the solution and not part of the problem," Westmoreland said. "What's not negotiable for us is taking care of vulnerable people in our community. What is negotiable is how we do it."
Koch said he hadn't answered her question about whether the Open Door would consider relocating.
"The question is not about taking care of people," she said. "The question is location."
Westmoreland said the Open Door has been in Frog Level longer than most of the businesses.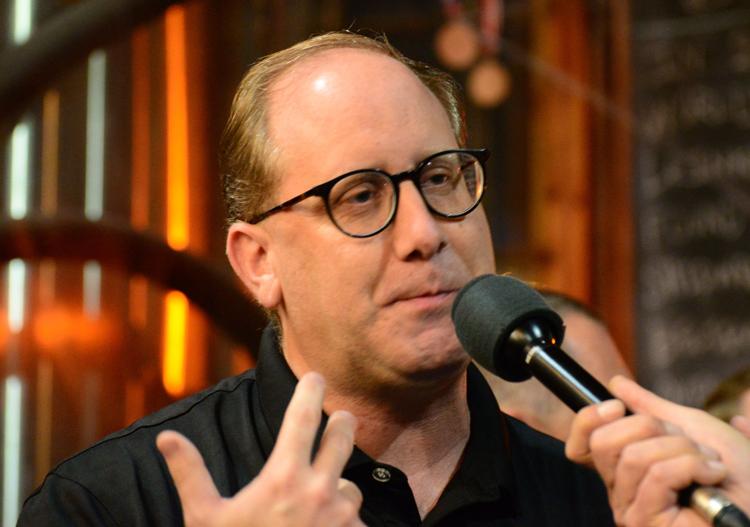 "Not only do we have the legal right to do what we do in Frog Level — and we do — we also have a moral imperative to do what we do in Frog Level," he said. "If ever a time moving was on the table, we would be open to the conversation, but as of right now our ministry is based out of next door."
The moral and Christian imperative to help those in need was cited repeatedly throughout the evening.
"Instead of treating them like criminals and pariahs, remember Issiah — love the stranger, treat them as your own, open your home," said Dr. Stephen Wall, a retired long-time pediatrician. "That's what we should be living by."
That's easy to say for those who don't live near the Open Door, however. Those who do are tired of their yards and homes being in the crosshairs.
"I am not trying to put anybody out or saying I am above anybody because I have been there before. I lost everything," said McDermott, who lives across the creek from the Open Door. "I saved every dime I had after a divorce for seven years to buy this house."
Now, she has to pick up human feces and drug needles from her yard multiple times a week.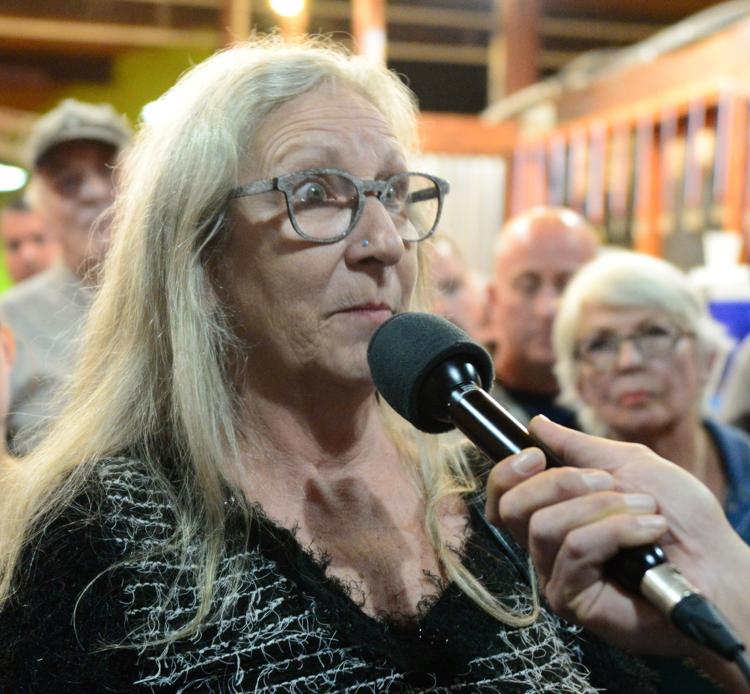 "Everything that happens down here on Frog Level comes right to my door," she said. "And I don't want it any more, at all."