Waynesville is poised to see more than 470 new apartments and homes come on line over the next two years, which begs the question: how many of these families will have kids and where will they go to school?
"Projecting conservatively, if even one-fourth of the tenants for these new apartment buildings have a single school-aged child, we would be looking at an additional 100 students," said Dr. Trevor Putnam, associate superintendent for Haywood County Schools.
The two elementary schools for the greater Waynesville area are nearly at capacity and couldn't absorb that kind of growth. School officials aren't going to be caught flat-footed, however.
"Our job is to make sure we are prepared for an influx if it happens,"Putnam said. "We need to anticipate growth as reasonably as we can and be prepped should our student numbers rise."
Haywood County has become an increasingly attractive place to raise families, thanks to its small-town quality of life yet close proximity to Asheville.
That's what led Josh and Tara Sceviour to move here a year ago when they were ready to start a family.
"We didn't want to raise our son in Charleston," said Tara. The couple looked for somewhere in the mountains, and found Haywood County.
"It's safe, I've heard the schools are good, and the downtown is perfect," Tara said.
Haywood County was the happy medium between Tara's job as a pharmacist in Sylva and the lure of Asheville, where real estate was too high and too hard to find anyway, they said.
With more couples like the Sceviours discovering Waynesville, school officials are setting the wheels in motion to reopen Central Elementary School, which was closed four years ago due to a decline in student body at the time.
Student body trends
Pegging school population can be a fickle exercise. Haywood County Schools lost 400 students in just 18 months between June 2014 to August 2015.
It was a perfect storm. The birth rate had declined during the recession as families put off having children. Others moved away in search of jobs, and new ones weren't moving in to replace them yet. Meanwhile, Shining Rock charter school opened its doors, taking more than 200 students away of the traditional school system.
The loss of students took a huge toll on Haywood County Schools' budget: a $2.5 million toll in fact.
"Money is tied to students, and it was money that just suddenly wasn't there anymore," said Superintendent Dr. Bill Nolte.
Central Elementary became collateral damage as the school system looked for ways to reduce overhead.
"It was the most effective reduction we could do at that moment in time," Nolte said.
Haywood County Schools student body has remained relatively stable since 2015, going up or down by about 50 students a year for the past four years — a fluctuation of less than 1 percent of its 7,100 students.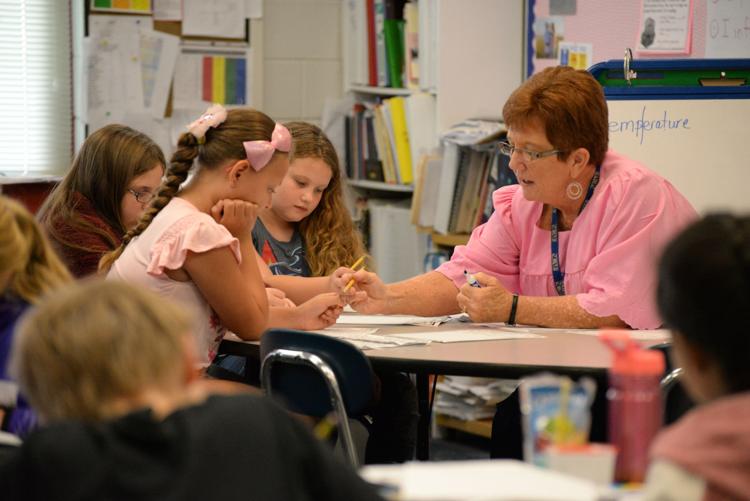 As the first day of school approaches each August, schools may have to add or take away a class in a given grade, but those type of adjustments simply go with the territory.
What happened four years ago, however, with the loss of 400 students in a short span, is an entirely different matter.
"Large shifts that occur quickly make it very tough," Nolte said. "When it happens that quickly, you have revenue issues."
With a huge spike in housing stock in Waynesville coming over the next two years, the reverse is likely to happen.
"What we are hopeful of, but also fearful of, is that number changing that quickly again — but going up," Nolte said.
Charter school factor
Meanwhile, Shining Rock has been somewhat of a wild card in enrollment trends for Haywood County Schools.
When it first opened, Haywood County Schools took an initial hit and braced for the trend to continue, given Shining Rock's plans to grow its student body.
Shining Rock hasn't grown to the extent it first expected, however. Instead, scores of students have left Shining Rock over the past two years and returned to Haywood County Schools.
Since the end of school in May, 79 students left from Shining Rock to attend an elementary or middle school with Haywood County Schools. A similar number had left during the previous school year.
However, Shining Rock picks up its share of students going the other way, which has off-set its losses — for a net loss of only around 100 students since its high-water mark.
"The movement of students between all public schools certainly flows both ways," said Joshua Morgan, Shining Rock head of school. "Even in a year in which we experienced a drop in enrollment, we added nearly 20 students from Haywood County Schools, not including Kindergarten."
While Shining Rock doesn't have a district line that dictates who can go there, most of its students are from the Waynesville side of the county simply due to geography.
That means the biggest ebb-and-flow from Shining Rock at the elementary level has gone to Junaluska and Hazelwood elementaries, which together picked up 28 students from Shining Rock this school year.
Hazelwood and Junaluska are precisely the two elementary schools that absorbed the student body from Central when it closed, and precisely the two that will be impacted by the housing growth in Waynesville.
The Shining Rock factor isn't driving the projected need to reopen Central Elementary, however.
"It is a variable, but it is not as significant a variable as hundreds of places to live opening up in one school district," Nolte said. "At that point in time, we will need additional elementary student space in Waynesville."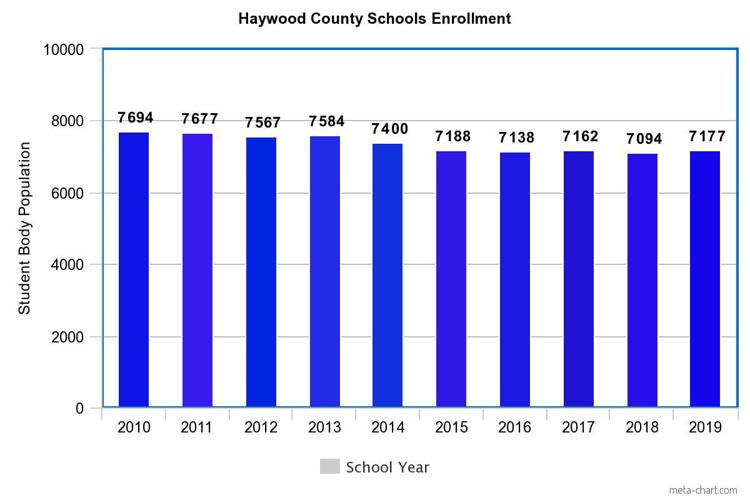 Eventually, the growth at Hazelwood and Junaluska will hit Waynesville Middle School as students move through the system.
Waynesville Middle School isn't at a tipping point the way Hazelwood and Junaluska are, however. Waynesville Middle is back over 800 students again this year — likewise picking up a large number from Shining Rock over the past couple years. But it is still far from its peak of 1,060 students three decades ago and thus could absorb more students than it has now.
"The campus would feel a lot more crowded, but it's doable," Nolte said.