Leaned against the tailgate of a four-wheeler, Mark and Terry Rogers seemed restless as they talked fences and engine parts.
Cattle lowed in the distance, a turkey vulture rode currents in the blue sky, the shadows of stray clouds danced across a curtain of mountain ridges and the rolling pastures below. It was tranquility at its finest.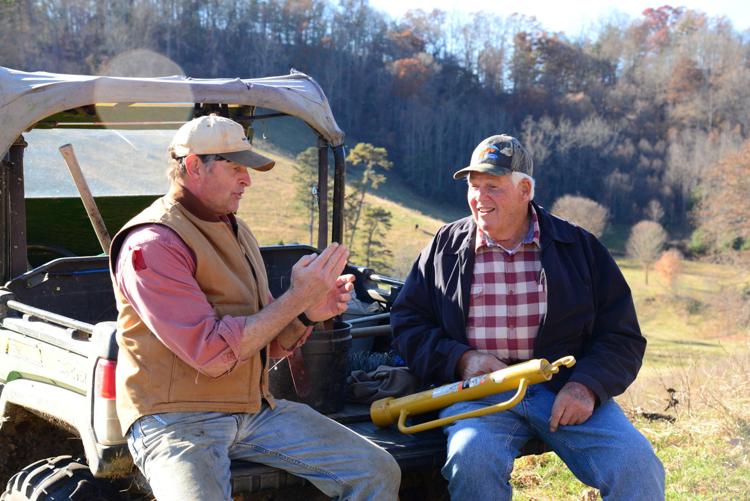 But a warm winter day is not something to waste with talking when you've got 630 acres to tend.
"My daddy believed in working," said Terry, 78. "You might take off a Saturday evening, but otherwise, you worked."
Cousins Mark and Terry Rogers have farmed all their lives, following in the footsteps of a long line of Upper Crabtree farmers. They use tractors now instead of plows. Their wives can ring their cell phone instead of a dinner bell.
But one thing hasn't changed: the land underfoot. As both men get up in years, they'd like to see it stay that way, even once they're gone.
"I didn't want to see houses all over every little hill," Terry said. "I didn't want to see that. I thought if I can protect it, then that's what I'd want."
The two cousins worked with the Southern Appalachians Highlands Conservancy to craft conservation easements for their adjoining farms along Crabtree Mountain Road — 130 acres for Terry and 500 acres for Mark and his wife, Laura.
What it means
The conservation easement ensures the land will be protected from development forever.
Forever is a long time, of course. The land can be farmed and grazed, lie fallow and return to nature, bought and sold, or deeded to heirs. But it can never be built on.
Locking up their land means tying the hands of future generations. But the men see it as a gift, not a burden. One day, that farmland might be needed again, and once it's gone, you can't get it back.
To Mark, it's all about the long view of where agriculture has come, and where it's going. In the old days, a family farm could generate enough extra cash off their surplus to get by. There was no middleman back then.
"A lot of people bought their food from people out in the country. They didn't run down to the store, so you could make quite a bit of money takin a couple dozen eggs to town," Mark said.
A 100-acre family farm could grow and raise their own food, with enough left over to feed one or two more families at best.
"You had a horse and plow and it took a long time to do stuff," Mark said. Today, it takes far less labor to feed the masses.
"That's how things have changed. Mechanization has made food cheap, so farmers have a much smaller margin than they used to," Mark said.
Meanwhile, a farmer's own expenses to stay in the game have grown.
"You used to be able to sell four to five steers and could buy a Ford tractor," Mark said. "Now to buy a tractor, you would have to sell 50 of them."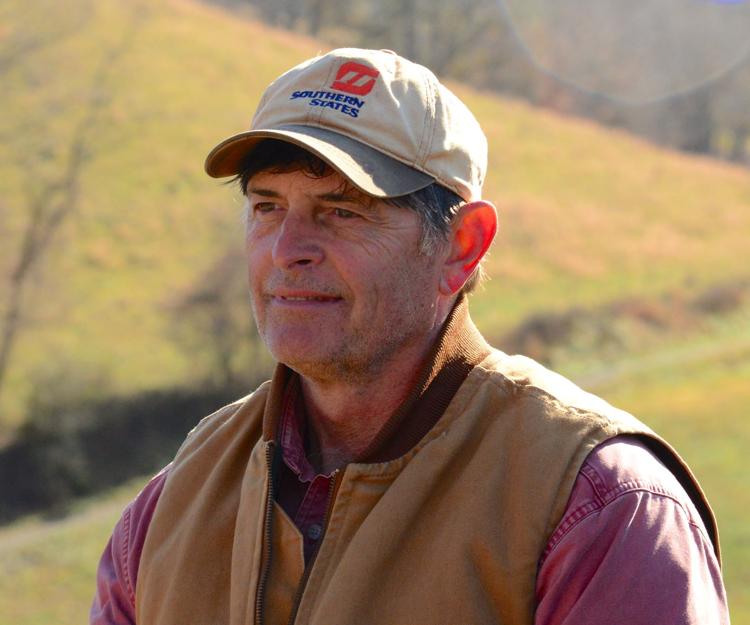 As farming became less profitable, younger generations got out. But Mark wagers the cycle will eventually come full circle.
"There is going to be a pendulum swing at some point. People are going to get hungry and it will be lucrative to go into it," Mark said. "The concern is there will be a knowledge gap of people knowing how to do it."
Having land to farm is the other part of the equation, and that's where the Rogers' farms come in.
"I guess our vision is when the pendulum swings back, if this is a housing development, you couldn't do nothing," Terry said. "If we keep it in farmland, it's a possibility at least it could be a farm someday."
The Rogers accept their farming legacy may skip a couple of generations along the way. Mark and Laura's children are building their own lives in the city, but one day, whether it's the grandchildren or great-children, a Rogers could be working the land once more.
'Born into it'
Saving the family farm isn't only about future generations. It's also a tribute to the hard-working ancestors that nurtured the land before them.
Most of Terry's acreage is traced to his great-grandmother of Noland and Ferguson lineage. She bought 250 acres in Upper Crabtree in 1905 when her husband passed away, leaving her with four children to raise on her own.
Terry's grandfather was just 10 when his lot as a farmer was cast. He began working the fields with his mother and siblings, and later had four kids of his own. They were all girls, but it was no matter.
"He worked them like men. They had to cut corn and put up hay. Whatever they had to do," Terry said.
One of those girls was Terry's mother. She married a boy from a nearby farm, and went from being a farmer's daughter to a farmer's wife.
"She was used to it," he said.
Terry was an only child and, in turn, worked side-by-side with his parents.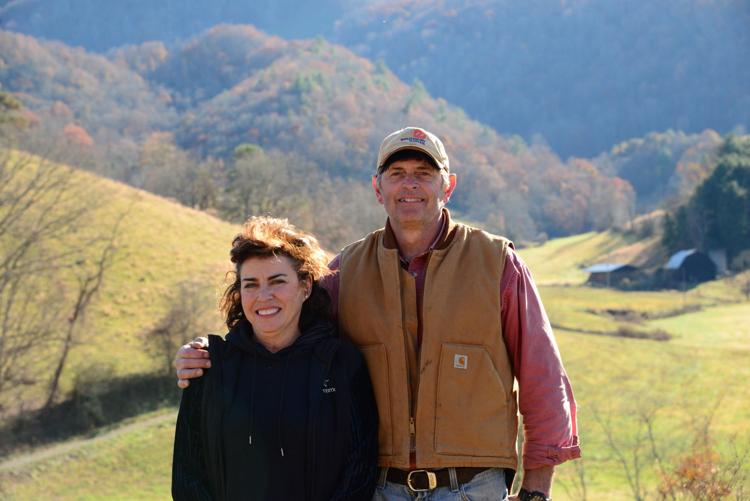 "My mother took me to the barn and put me in the trough while she milked the cow. When I got a little bigger, I wanted to milk. So at 8 or 9 year old, they said 'Alright you've got a cow, now you got to milk that cow,'" Terry recalled. "All our life, since we were old enough to walk, we done something."
Mark's story as a farmer is the same.
"There is no stop or start to it. You're just born into it, and you do it," Mark said.
Milking was the first farm chore Mark can remember, as well.
"My parents always stressed, 'You've got to have a milk cow if you drink milk, you can't afford to buy milk,'" Mark said.
His first year off to college, he offered to pick up the milking when he came home for Thanksgiving.
"I said 'Well, I'll milk for you today,' and my dad said 'Oh, we got rid of the milk cows,'" Mark recalled. "I said 'When did you do that?' And they said, 'The next sale date after you went to college.'"
Saving grace
Things could have turned out differently for the Rogers' farms. Hanging on to the land took both gumption and passion.
Of the 630 acres being conserved, only a portion was inherited outright. As the farms were passed down through the generations, they were carved up among heirs. Siblings and cousins had to be bought out to keep the core acreage together.
In Mark's case, he bought 250 acres from his uncle outright about 10 years ago.
"I bought my uncle out and put my dad's farm and uncle's farm back together," Mark said. "I worked a lifetime just to buy him out."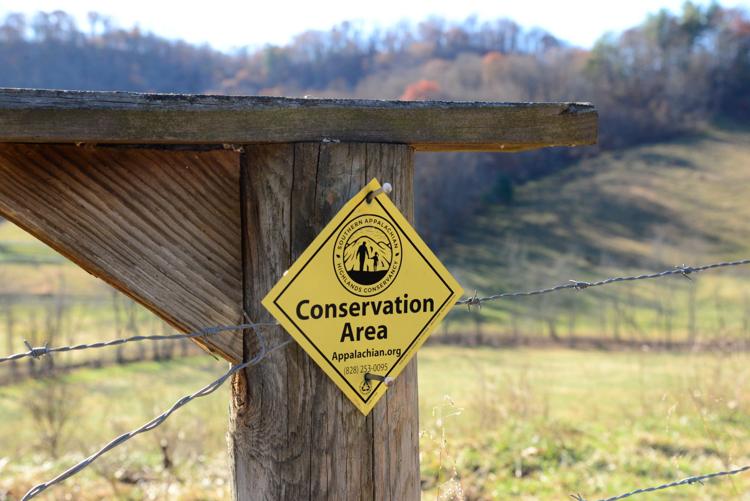 During the development boom of the 2000s, Mark's uncle had plenty of propositions from prospective buyers, but held out to sell it to Mark.
"He was under a lot of pressure," Mark recalled. "They would drive up and down the road and come by wanting his property."
Terry spent three decades working construction for a day-job, giving him a front-row seat to the county's changing landscape.
"I seen what was going on," Terry said.
It's a miracle there's still places like Upper Crabtree left.
"This community here, down in this valley, it has about stayed the same because people won't sell their property," Terry said.
Mark and Terry hope the conservation easement of their adjoining farms will set an example. Nearby landowners have already been asking how it all worked.
"I look at it as an opportunity to be a nucleation site for adjoining properties," Mark said.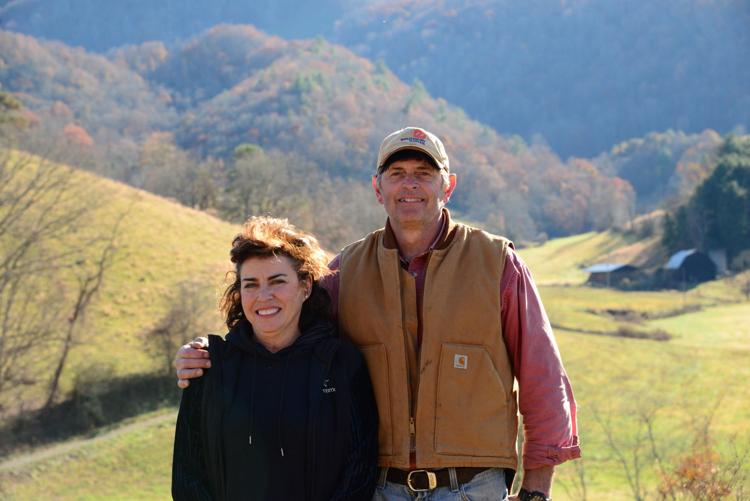 Only time will tell what will eventually become of their 630 acres of farmland. Mark's wife, Laura, admits it is hard to grasp what things will be like 100, 200 or 300 years from now.
"You can't really think about perpetuity. You can think about the next generation and the next. After that…" Laura trailed off.
But one thing is now certain: the land itself will outlast us all.