Years ago, Charlie and Sarah Medford were sending their son, Halston, off to Riverbend Elementary School for the first time. Halston was a somewhat shy kid, which made Charlie a bit nervous about how he'd handle a public school environment.
One of the first friends Halston made in class was Riley Howell, who was shot and killed Tuesday as he tackled a campus shooter at UNC Charlotte. They were a somewhat odd couple — "Riley was the all-American boy, good looks and athletic...Halston, not quite so much," Charlie said — but both kids were bright, and they bonded over a love of Star Wars.
Almost every picture Charlie possesses of Halston and Howell together shows Howell with an arm around his buddy, in a "loving, comforting sort of way," as Charlie put it.
"It was like Riley was saying 'I got you, bud,'" Charlie said. "That's the way he was, and it wasn't just with Halston."
Charlie recalled the way that Howell, who grew up just a couple miles from the Medfords, would instinctively gravitate to kids who "might need a little extra help," as he put it. It was if Howell, though being cut from an All-American cloth, as it were, was a champion of those who perhaps weren't quite as blessed. It happened with Maureen Miller's adopted son, Ian, too (see article on 2B). Said Charlie: "He was such a good kid, and this was such a loss for everybody who knew him."
Halston and Howell lost touch a bit after elementary school, as they went their separate ways at Waynesville Middle School. Halston would eventually graduate from Tuscola, Howell from T.C. Roberson. But once Howell became a friend of the family, he was always that, as the Medfords found out one day a couple years ago.
Charlie and Sarah were out and about — Charlie can't remember exactly where — walking back to their car in a parking lot, when they spotted Howell. It had been several years since they'd seen him, but Howell came right over and chatted them up, as if they'd never even been apart.
That was the last time they'd ever see Howell.
"He was just that kind of nice person," Charlie said. "He was special, that's really all there is to it."
Charlie, like most people who knew Howell, wasn't surprised to find out that Howell acted in such a heroic manner during the shooting at UNC Charlotte. Said Charlie: "I thought 'that's par.' That was just his personality."
Charlie was at Firefly restaurant in Waynesville with some high school friends when an alert came across everyone's phones, informing them of the shooting. One of Charlie's friends (who was not in attendance) has a son who goes to UNC Charlotte, so she was trying to figure out if he was OK. Once she realized he was safe, Charlie didn't think much about the shooting for the rest of the night.
But the next morning, he received a call from a neighbor he knew well. She had terrible news: Howell had been killed in the shooting.
"That just destroyed me," Charlie said. "There I was, out having a good time, while Riley was involved in something so terrible. I felt bad about having all of this fun, while Riley won't ever be able to do that again. It's just a shame all that got snuffed out."
But then Charlie and Sarah began looking through old pictures of their son and Howell, and realized how the latter almost always had an arm around his old buddy. It reminded Charlie of just how much Howell had meant to Halston — that shy, young redhead — during their elementary school years.
Then Charlie started thinking about how Howell had acted in the heat of the moment, how he'd saved all those people. Charlie tried to glean the good from such a horrible tragedy, and what he came up with is this: because someone like Howell — who "wasn't trained [for that situation], but knew what had to be done" — acted in such a courageous manner, maybe, just maybe, potential mass shooters will think twice about going through with their demented plans in the future. Maybe they'll think: "This may not go exactly as I planned."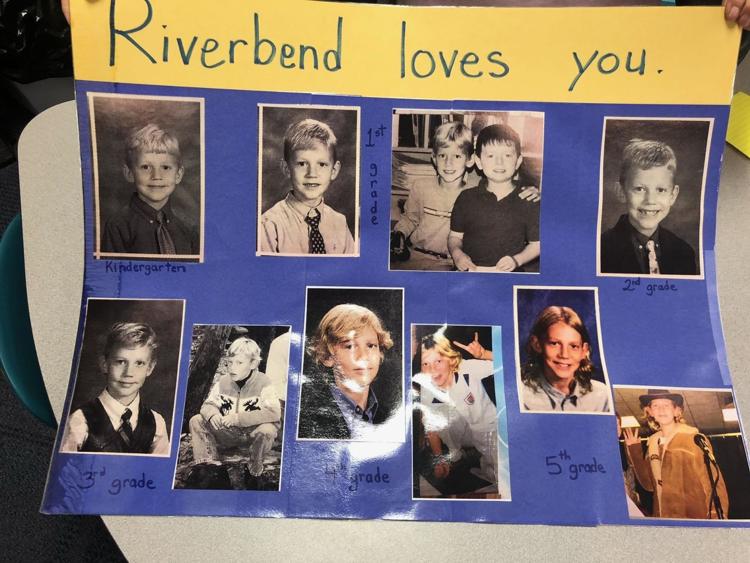 Perhaps that'll turn out to be true. Or maybe it won't. But that's what Charlie hopes Howell's legacy will be when the sting of this awful tragedy subsides.
"Riley is the hero of this," Charlie said. "Nobody cares about the guy who did the crime. Nobody is glorifying him, like they did with Columbine and the other ones. They're glorifying Riley, which is the way it should be."