At age 7, Pharris Sutton has racked up more awards than most do in a lifetime.
Her honors are mostly in the form of sashes and crowns, though at one pageant, she won a chair that's become a favorite spot to do her homework.
Pharris is a second-grader at Bethel Elementary School and has been competing in pageants for the past two years. It all started with a brochure that came in the mail about a state pageant that advertised a free trip to Disney world for the winner.
The possibility of visiting the theme park that's captivated children for decades started Pharris on a journey that has already opened many doors, including one for a modeling contract.
"She wanted that trip," said Pharris' mother, Gina Sutton. "I checked it out, and it was legitimate, so I signed her up."
While she did not win her first pageant, she did place in the top 10 of her category where she competed against 40 others between the ages of 4 and 6.
"She was the youngest girl on stage and made lots of new friends," Sutton said. "That's where we slowly dipped our toe into the pageant world. She competed in a few state pageants and now is in national pageants."
While at a national event, the Suttons learned about fashion week in New York City where young models were needed. Pharris won a photo shoot and was invited to attend the fall fashion show, where she ended up modeling outfits for three different designers.
"I was a little bit nervous," Pharris said, "but after I got on stage, it was like, 'this is so much fun.'"
Pharris modeled a shorts outfit, a white dress and an outfit that almost looked like a Cinderella gown, Sutton said.
She went to the New York show specifically to model for two designers, but was picked up by a third one while there. Each outfit meant a walk down the runway and back, and then a second chance to be in a parade walk.
"The parade was pretty cool," Pharris said. "Each would pick a partner, and then they said I should walk on a different side of the stage than the leader and we walked back in a loop. You get to let everybody see your clothes and your make up. I think it's really fun."
Pharris has been going to Legacy Dance Center in Clyde since she was 3, so was comfortable performing in front of an audience. When she became interested in pageants, Sutton contacted Gina Rhinehart of Canton, who she said knows a lot about pageantry and works with Pharris once or twice a week before an event.
"We work on my routine we're going to do on stage, work on the feet, the smile and your moves and handwork," Pharris said.
In pageants, contestants perform a 60-second routine on stage, so it is helpful to have a coach who understands the ins and outs, said Sutton. It is the coach who puts together the routines and works with the girls on how to make their presentations the best they can be.
Sutton explained that beauty "isn't as much of a factor as you would think."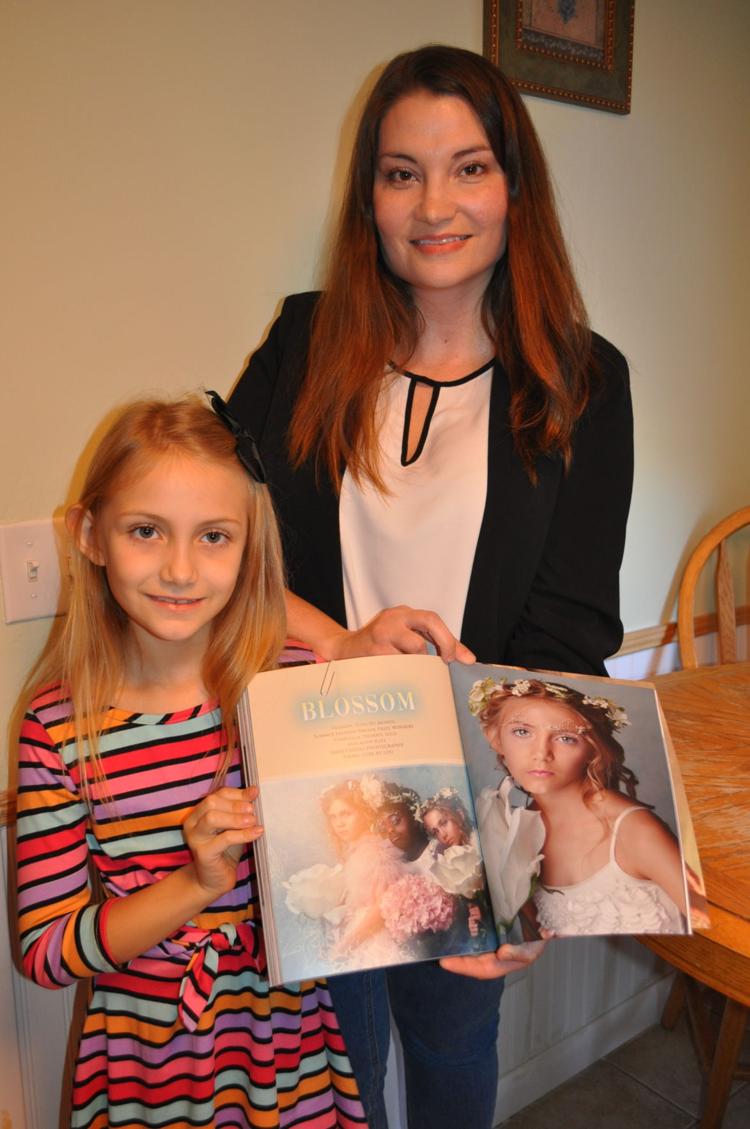 "They want somebody with personality," she said, "somebody who has what they call the 'it' factor. With the modeling agency, I think they liked the fact she was 7, speaks very well, is mature for her age and obviously is someone who enjoys this work."
Her pageant work and the New York experience led to Pharris landing a modeling contract with BMG's Atlanta office. This company represents a variety of models of all ages, and when a customer needs a certain type of model, they recommend one or more of their clients for the job.
"They don't get you the job," Sutton said. "You have to do an audition or submit photos. Then it's still up to you to basically get the work or to accept it to even if you get picked for it."
A new world
Their daughter's new-found passion has provided plenty of opportunities for the Suttons to travel over the past couple years.
Sometimes her father, Travis, gets to go along, but other times it's her mom and maybe her grandmother who accompany her on the trips where the pageants or modeling is one part of the experience, but being immersed in the world of beauty is another part. There are hair and make-up artists at the venue and a chance to mingle with others on a similar interest path.
Pharris said she has made many friends at the pageants, something she talks about occasionally with her friends at school.
"I tell my friends it is really fun to do pageantry, but you do have to practice," Pharris said.
Besides her tumbling or hip-hop classes and pageants, Pharris said she likes to collect rocks.
include modeling for Louis Vuitton and Burberry "because I have a Burberry coat and I love Louis Vuitton purses," she said.
The Suttons, who have Parkway Heating and Air Conditioning in Waynesville, say while pageants and modeling trips and can be expensive, they look at it like many parents do being part of a travel ball team.
"You have the travel and motel costs there, too," she said. "We've had a lot of memories. The way we look at is, as long as she's having fun, we'll do it."
Over the past two years, the Sutton family has been to New York, Memphis, Nashville, Atlanta and other places in the past two years — but not Disneyworld.
It might be Pharris who finances that trip. Her parents are allowing her to keep 20 percent of the money she earns from modeling while the rest goes into a college fund.