CLYDE — Mike Clampitt held his third Haywood County town hall since being elected, and it may have been the most interesting one yet.
Unlike the first two town halls where the crowd was dominated by progressives and liberals, out of the 40 or so people at Friday's town hall, most were Clampitt supporters, and some were particularly vocal. The discussions ranged from a strange discussion about marijuana to a heated debate on abortion during the session held at the Regional High Technology Center.
The town hall opened with Ellen Pitt reading off a list of legislation Clampitt either sponsored or cosponsored. Pitt took ample opportunity to heap on some heavy praise.
"We have to fight to be heard, and we are heard because we have strong people in the legislature," she said of Clampitt.
After Pitt spoke, Clampitt talked about issues vital to Western North Carolina, including the opioid crisis and the newly minted STOP Act, which was cosponsored in the state senate by another local Republican, Jim Davis.
Clampitt gave a shoutout to Haywood County Sheriff Greg Christopher and Waynesville Police Chief Bill Hollingsed, both of whom have played a large role in the state's fight against opioid addiction.
"I call them the dynamic duo," Clampitt said.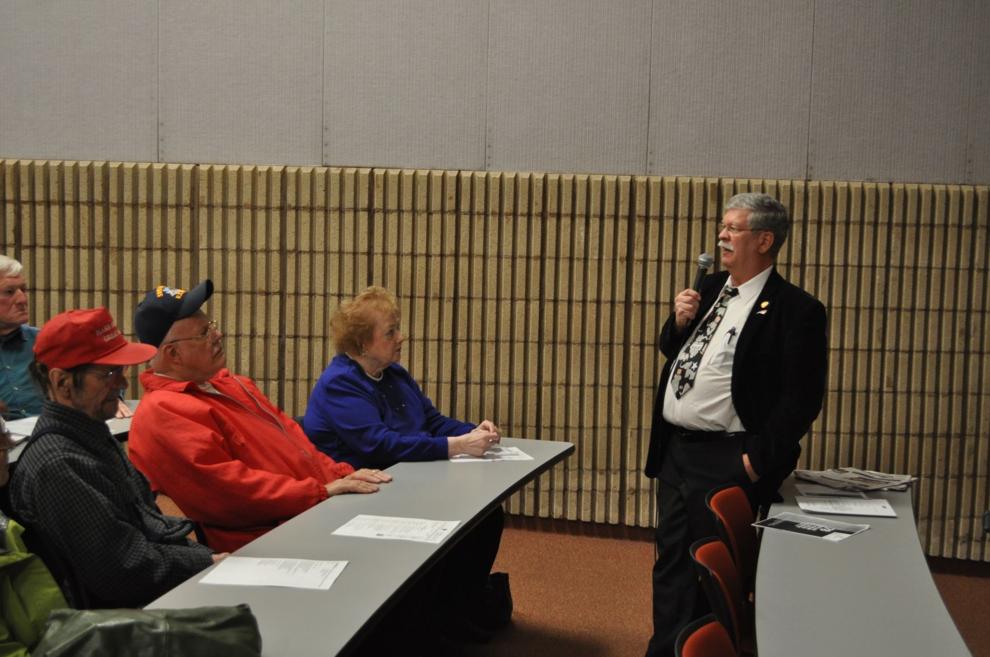 Clampitt shifted the conversation to marijuana, the legal status of which has polarized people around the nation.
"One of the number one emails I get has to do with marijuana as an alternative type drug," he said, noting that many think it could be a better, safer pain killer than opioids.
"When I say I'm not for recreational marijuana, I mean I'm not for recreational marijuana," he said."But I am for medicinal marijuana that doesn't have the hallucinogens."
However, those in attendance quickly learned that Clampitt's opinions on medicinal marijuana are a bit murkier than his stance on recreational pot. Although he couldn't provide a concrete answer on when medicinal marijuana should be prescribed, he did admit that it benefitted someone close to him — at least initially.
He told an anecdote about how his father, who had both a kidney and his gall bladder removed and was living in Portland, Oregon. He was prescribed marijuana in the form of edible chocolate bars.
"What I'm envisioning is taking an elderly gentleman sitting in a recliner with a cat on his lap taking a big draw, going, 'oh this is some good stuff. I feel great,'" Clampitt said.
Initially, he loved it. Clampitt even joked about trying to get his own hands on some pot.
"You get these little squares and they're 30 bucks or whatever. And I say, I know what I want for Christmas," he said as the crowd collectively chuckled, "She said, 'no we're not sending it to you.' So I said, 'fine, I'm flying out there for New Years.'"
However, when his father received his second batch, he had an adverse reaction and developed a rapid heartbeat.
"When we solve that problem, we can create another problem," Clampitt said.
Despite his vague feelings on medicinal marijuana, Clampitt was in favor of growing hemp, which contains negligible amounts of THC — the psychoactive chemical in marijuana.
"It's being looked at as North Carolina's next cash crop," he said of hemp.
After about 40 minutes of banter, Clampitt opened the floor for questions. First up to the mic was Lynda Bennett, who, along with criticizing a decision by a recent three-judge panel stating that North Carolina must redraw its congressional districts, took some time to voice her displeasure with a new ice skating rink that Haywood County's Tourism and Development Authority is putting in Maggie Valley.
"What happens when the government-run skate rink loses money?" she asked.
"Maybe they need to be a little more frugal with their money," she added.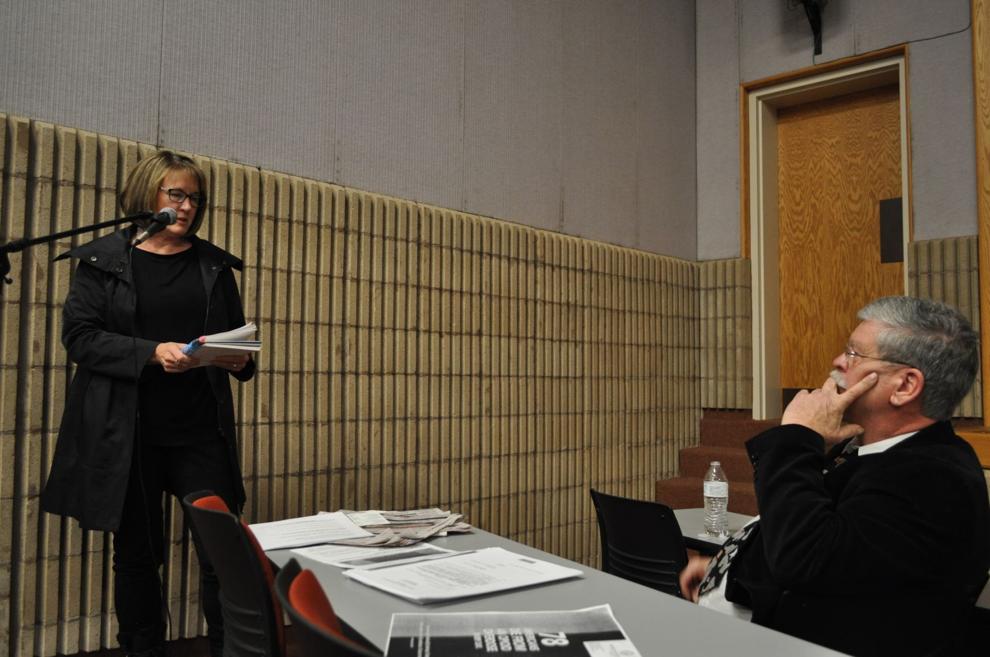 Clampitt spent more time addressing the matter of redistricting, a task that currently lies in the hands of the General Assembly. He was adamant that he didn't want federal judges telling North Carolina's legislature how to handle the drawing of the state's districts.
"When that happens, we might as well give up our sovereignty in North Carolina," he said.
"We've had a problem with the fourth circuit court doing some legislative law making from the bench," he added.
One man, after voicing his support for local media, asked Clampitt where he stands on his mission to "fight for the truth."
"Can you comment on how you're going to help fighting for the truth, clarifying some of this ambiguity that we're dealing with in our society today," he asked.
Clampitt voiced his frustration with the media, and he urged people to consider his email newsletter — which goes out to about 1,000 people around his district — to be a better source of what he's doing for his constituents.
"They only pick up 1 percent of what we put out," he said of the media.
Chuck Zimmerman — who was wearing a pink, fuzzy hat — was next up. He was quick to bring up his beliefs regarding abortion.
"I'm pro-life," Clampitt pointed out, garnering a round of applause from most in attendance.
"You're wasting money on abortion bills," Zimmerman said.
"You know the Bible has nothing to do with the Constitution, right?" he added, drawing the ire of many in the crowd.
Through the shouts of opposition, one woman supported Zimmerman, yelling, "Policy based on religion is oppression."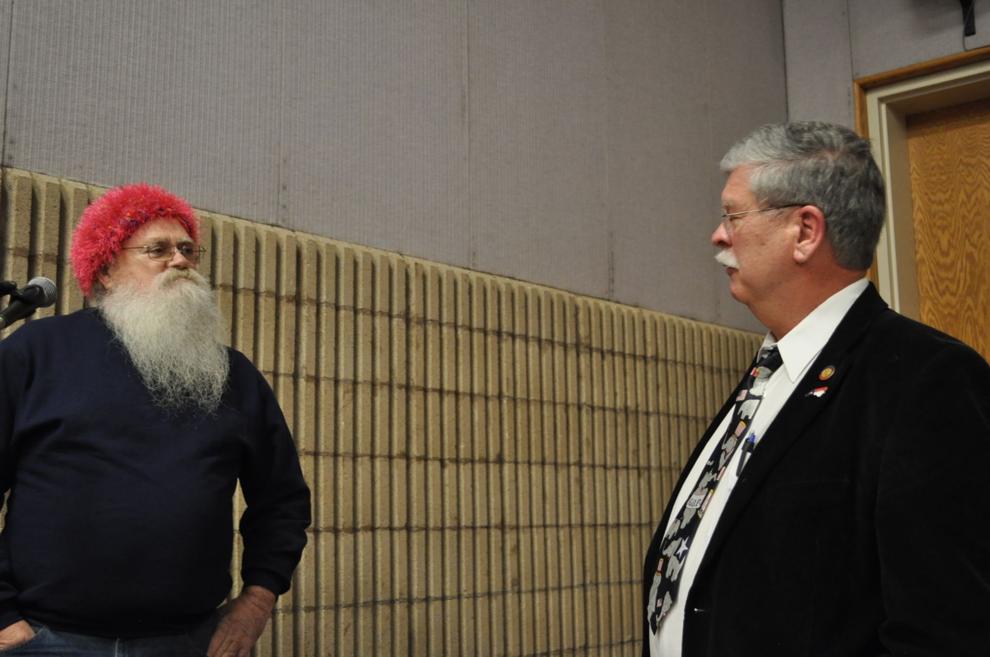 Last up was David McCracken, who after the contentious discussion on abortion, brought up something that brought people back on the same page — Asheville's Veterans Treatment Court, which provides veterans who commit low-level offenses a chance to get their charges expunged if they undergo a course of treatment.
"It seems that perhaps it might be a good thing to advocate for the 30th Judicial District," he said.
Clampitt agreed the veterans court sounded like something the areas west of Asheville could benefit from, and he said he'd discuss the idea with folks in Raleigh.
Following the town hall, which was attended by over twice as many people as his last in Haywood County, he told The Mountaineer that the event was one of the best attended, but that the questions he's been fielding lately have been a lot of the same no matter where he goes.
"This event did have a good turnout," he said. "But still, I see some of the same constituents and address the same issues over and over."