Riley Howell will long be remembered for sacrificing his own life to save others when a shooter stormed his class at UNC-Charlotte.
As stories of Riley Howell's selfless bravery swept the nation last year, those moved by his actions have offered up countless tributes — a memorial tree in downtown Waynesville, a corn maze design in Bethel, a CrossFit workout regimen named for him, and the many generous donations to the Riley Howell Foundation Fund.
The latest honor came last week, when Riley was immortalized as a Jedi Master in the Star Wars universe.
The Howells got a letter from Lucas Films earlier in the year hinting that Riley would be anointed into the Star Wars canon in a forthcoming book, a fitting tribute for Riley who was an avid, life-long Star Wars fan.
"Riley's courage and selflessness brings out the Jedi in all of us," the letter said. "As a small tribute, our Story Group has incorporated a re-imagining of Riley's name as a character in the 'Star Wars' galaxy. The force will be with Riley, and all of you, always."
The details remained a mystery until last week when a companion guide book to the new Star Wars movie came out. A Jedi Master named "Ri-Lee Howell" is chronicling the encyclopedia of Star Wars lore.
"Thank you for giving my love the best Christmas gift ever, and making him part of the Star Wars universe forever," Riley's long-time girlfriend Lauren Westmoreland posted in an online video. "Long Live Ri-Lee."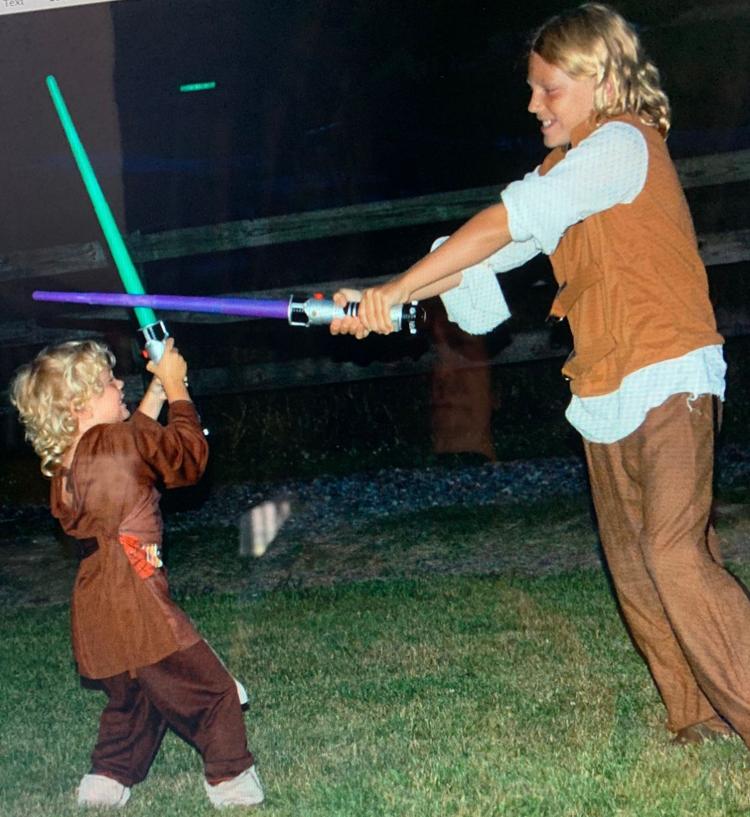 The framed letter from Lucas Films was given a home among a memorial display for Riley in the family's home, but how it came to pass had been a source of curiosity to his dad, Thomas.
"Riley was a huge Star Wars fan, but I have no idea how Lucas Films got to hear about that," Thomas said.
The dots were finally connected when the book came out last week. A stranger who heard about Riley's sacrifice and his passion for Star Wars had written to Lucas Films unbeknownst to the Howells.
The story is a common one: people who never met Riley carrying his legacy forward.
Such was the case with $1 million endowment creating two full-ride scholarships at UNC-C in perpetuity — one in Riley's name and one for Reed Parlier, who was also killed in the shooting. The Howell family had never met the anonymous donor prior to the gift.
It is one of the three scholarships created in Riley's name. As monetary donations rolled in to UNC-C after the tragedy, a smaller partial scholarship was set up in both Riley and Reed's names, geared to their respective interest areas.
"We have a role in selecting criteria for the scholarship, and if we would like to help select recipients the door is always open," said Riley's mom, Natalie. "It's nice to know there is lots of support in the Charlotte area and that the boys will be remembered in perpetuity by the scholarships set up in their names."
The third one is a $1,000 scholarship for a T.C. Roberson High graduate going on to AB-Tech — both schools Riley had attended — established by an Asheville businessman.
Honoring Riley's light
Each of the many tributes for Riley has had its own special spirit, reflecting a part of his character.
• A memorial tree planting was held on Main Street in downtown Waynesville in December. The tree, marked by a plaque set in stone, is located near the Music Men statutes. It was a gift from RE/MAX Executive real estate group.
• In April, runners will take to the streets of Waynesville for the inaugural Mighty Four Miler, with the tag line "Fear Less, Do More." The four-mile race planned for April 4 will benefit the Riley Howell Foundation.
• Riley was a loyal CrossFit gym member, so his local gym created and hosted a Memorial 'Workout of the Day' named the Riley 21 in his honor, incorporating his favorite routines. As a tribute, the workout is available as part of Crossfit's national workout series.
• Riley played soccer and ran cross-country in high school, leading to the Riley Carl Howell Courage Award presented during the annual banquet of the Mountain Amateur Athletic Club.
• A cross-country meet in Asheville that draws hundreds of runners from across the region and beyond created the Riley Howell Service Award to recognize a runner each year who displayed the heart and generosity Riley was known for.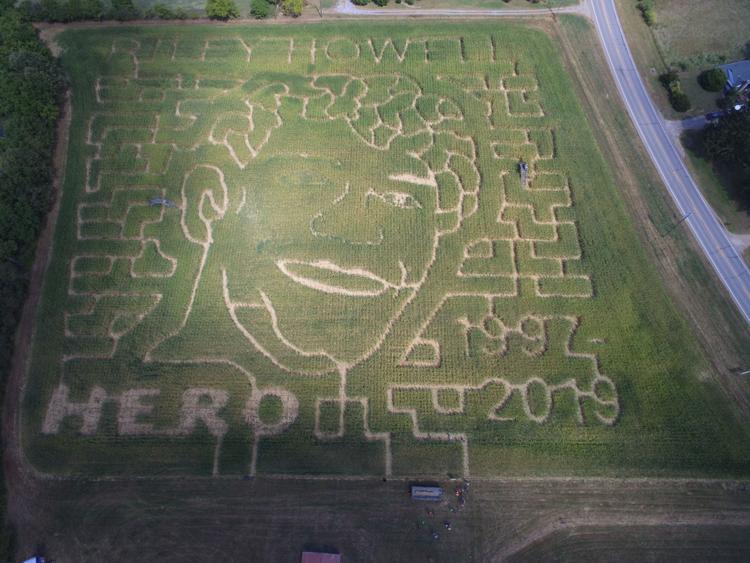 • This summer, Bethel farmer Skipper Russell designed his Cold Mountain Corn Maize in honor of Riley. Thousands traipsed through the maze of Riley's smiling face and curly locks, with a portion of the proceeds dedicated to the Riley Howell Foundation Fund.
• Creekwood Farm RV Park on Jonathan Creek dedicated their summer season to Riley, who as a B. B. Barns Garden Center worker helped with the plantings around their campsites. They also hosted a fundraiser for his foundation in July featuring country singer Shellem Cline who wrote and performed a song in Riley's honor.
• Riley was even posthumously bestowed with a Bronze Star and Purple Heart from a Vietnam veteran living in Florida. Thomas Matteo earned six Purple Hearts of his own as a Marine in Vietnam and wanted to gift one to Riley for his sacrifice.
Riley has been bestowed with a host of official honors and titles as well.
• A Civilian Medal of Honor from the Charlotte-Mecklenburg Police Department.
• A posthumous degree from AB-Tech.
• An in-memoriam degree from UNC-Charlotte.
• ROTC Medal of Heroism, the highest honor in the ROTC.
• Induction as a permanent member into the US Veterans Hall of Fame.
With the flood of memorials that came in the wake of Riley's death now slowing, Riley's mother, Natalie Henry-Howell, is focusing her energy on sustaining the Riley Howell Foundation Fund. She has embraced each of the tributes honoring her son with gratitude for what they are, but also for bringing attention to the foundations' work that lies ahead.
The foundation's mission is to support programs that help victims of gun violence with a focus on traumatic grief therapy. The mass shootings that play out all too often in America leave a wake of shattered lives, not only those grieving for lost loved ones but also the survivors struggling with the emotional scars.