There's a secret to Mama Moody's fried pies. Just ask the loyal customers who line up in the parking lot of Duckett's Produce Stand in Crabtree when her fried pie tent goes up every other Saturday.
All winter long, Deborah Anderson toils over batches of dough, kneading and rolling and freezing the tidy the little circles to keep the fried pies coming during summer and fall. The trick to her trade isn't the recipe or ingredients, however. It's the soundtrack.
"Classical music," Anderson said. "It really pumps you up."
The fried pie was once ubiquitous in Appalachian culture, when cooking was an all-day endeavor. But the quest for an authentic fried pie was a fruitless endeavor until Mama Moody came on the scene.
"It is something you can't walk into a grocery store and buy anymore, and because it's so labor intensive, you don't find many fried pie stands," she said.
All too often, turn-overs are passed off with a fried pie label. But true aficionados know the difference. The lineage of Anderson's fried pies follow in the old-school tradition of her grandmother Moody from Jonathan Creek.
"She of course made three full meals every day, and always at breakfast there were biscuits and cooked apples," Anderson said. "The left-over dough and left-over apples got rolled up into these delicious little pies she would fry in a cast iron skillet and leave on the wood stove for people to enjoy throughout the day."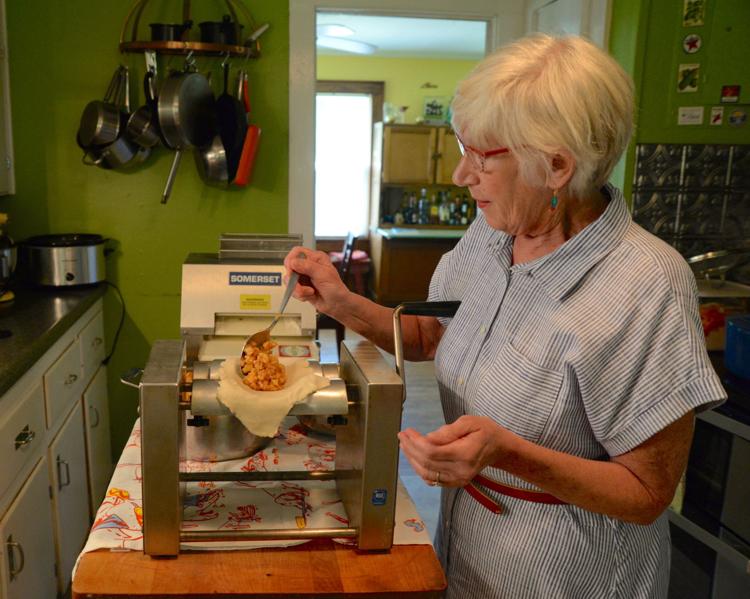 One bite of Mama Moody's pies has a way of bringing out the nostalgia. So much so, in fact, that Mama Moody can get slowed down by too much reminiscing with customers.
"Everybody has a fried pie story," Anderson said.
When Anderson stumbled into the fried pie business 10 years ago, she never imagined how popular they'd be. She and her daughter began making pies as a cottage enterprise with nothing but a rolling pin, mixing bowl and electric skillet.
"We would wrap each one individually, and I was out of here at 6 o'clock every morning delivering to convenience stores," she recalled.
They sold like hotcakes. People couldn't seem to get enough.
"Before I could get back home, they were already calling me saying they were out," Anderson said. "I was working around the clock."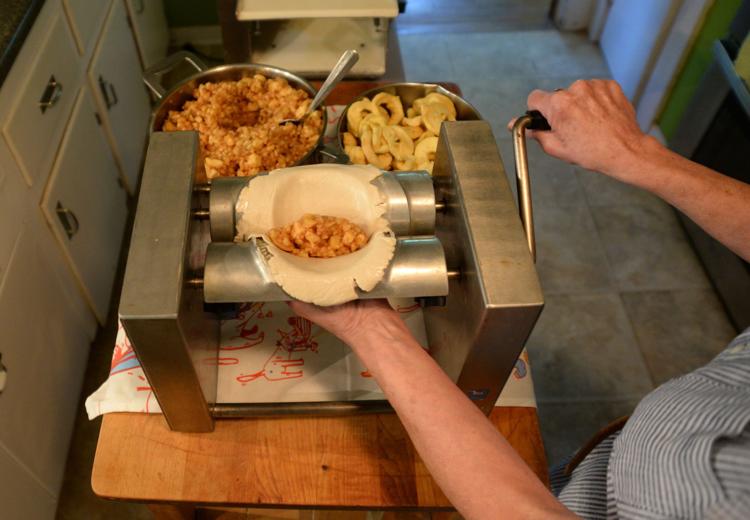 Unable to keep up with demand, Anderson and her daughter began seeking out better equipment to speed production. She retired the electric skillet for a fish frier. She bought a sheeter to roll out the dough. Then a crimper to fold the dough around the pockets of filling.
As word of the fried pies spread, Anderson got a call from the Duckett's Produce owners.
"They bought a pie in a convenience store and searched me out," she said.
The inordinate time it took to pre-make, package and deliver the pies was still causing a bottleneck, however, despite her growing equipment arsenal. So she got an idea.
"One day I asked Duckett's 'Would you mind if I set up out here and just cooked them?'" she said.
It was an instant hit. Some customers religiously make the pilgrimage to Duckett's every other Saturday, calling ahead to confirm which week she'll be there.
"I have one little lady who comes with her caregiver and she will always say 'Are these dried apples?' and she'll buy a dozen and put them in a freezer. The next time she comes back she says 'Now are these dried apples?'" Anderson said.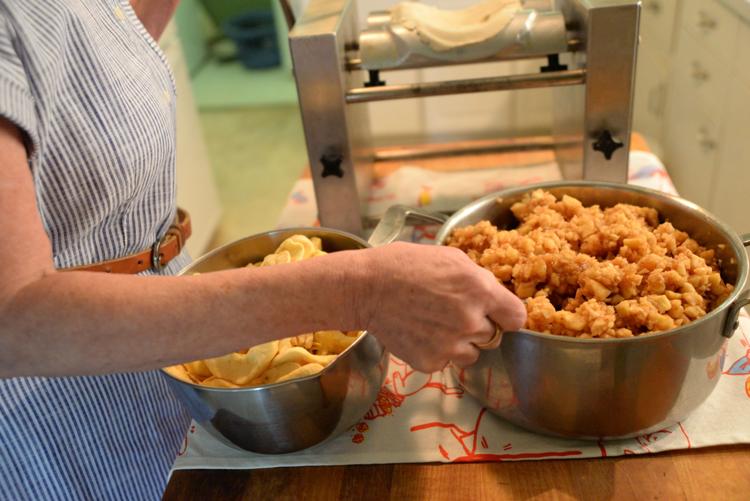 She can guess the answer, of course, but asks anyway, because as any mountaineer worth their salt knows, dried apples are the crème de la crème for fried pies. Starting with dried apples and reconstituting them gives the filling that authentic hint of chewiness.
"I don't think anybody anymore goes to the trouble of using the dried apples," Anderson said.
For a few years, Mama Moody's fried pie tent could be found on the local festival scene, including the Apple Harvest Festival in downtown Waynesville where she did 800 pies a day.
"You couldn't even look up because it would scare you to see how many people were in line," she recalled. "So we turned around and worked with our backs to people."
The dough itself is a three day process. One day she incorporates the flour and Crisco in her Kitchen Aid mixer, four cups at a time. The next day, she adds water, kneads it and refrigerates it overnight. Day three, she breaks off small balls, measuring each one on a scale, before putting them through the sheeter.
All the while, she's simmering and prepping fillings. Apple, peach, cherry, blueberry, lemon, chocolate, pumpkin, sweet potato and even coconut cream. It's no wonder Anderson needed shoulder replacement last year.
When Anderson's daughter moved away, her husband began pitching in.
"My husband always said I didn't know whether I wanted a business or a hobby," Anderson said. "He thought I was crazy, but when I started bringing money home, he got interested and started helping me."
Her husband passed away, and now her son, Britt Ahrens, helps out by setting up and taking down her equipment at Duckett's on pie days.
"I couldn't do it without him," she said.
Mama Moody churns out other baked goods as well — pound cake, danishes and turn-overs. But the fried pies are still her signature.
When she started selling pies in convenience stores a decade ago, they were $2.50. Now they go for $4.
"Most people don't blink an eye," Anderson said.
It's an ironic storyline to be sure: what was once an Appalachian staple is now a rare delicacy, a long way from the humble origin as a means to use up scraps.
"People back then didn't waste anything," she said. "If there was left-over dough, you did something with it."