A coalition of conservation groups has taken the next step in an ambitious wildlife project to connect habitat on both sides of I-40 through the Pigeon River Gorge corridor with the Southern Appalachian Highlands Conservancy's purchase of a 187-acre tract of land in Haywood County.
The property, purchased from a private landowner, is located adjacent to the North Carolina Welcome Center on I-40 near Wilkins Creek. The property was identified by multiple conservation organizations as having major potential for wildlife conservation in line with the goals of the connectivity project.
"This Wilkins Creek property has a unique role in connecting wildlife habitats across the landscape," said Michelle Pugliese, SAHC's land protection director. "The property falls within an important wildlife corridor in the Pigeon River Gorge and contains open areas that may provide grazing habitat for elk coming off the adjoining Hurricane Mountain."
The I-40 wildlife connectivity project is a conservation initiative with many moving parts, enlisting members of conservation groups, the U.S. Forest Service, national parks representatives, state Department of Transportation staff and many more stakeholders to help improve wildlife's ability to safely cross the interstate and reduce the number of collisions with motor vehicles through the Pigeon River Gorge.
So far, the project has focused primarily on researching the movement patterns of animals in the region, identifying existing crossing points and analyzing where the most improvements need to be done, whether it be by creating better crossing opportunities or discouraging wildlife from using particularly unsafe crossings.
This land acquisition arose from communications between several of the partner agencies involved with the project indicating it might make a positive impact on the group's efforts.
"When we learned about the Wilkins Creek property, we actually learned it was on the market from some of our conservation partners that are involved in that wildlife study," Pugliese said. "They indicated to SAHC that it was potentially valuable for wildlife habitat. When we evaluate property for protection and acquisition, we try to get as much feedback from our partners as possible. If something is a priority for them, it's a priority for us."
The property is particularly impactful for the elk population, which requires young forest — known as early successional habitat — for foraging. Kim Delozier, the Eastern U.S. conservation program manager for the Rocky Mountain Elk Foundation, said the acquisition of the Wilkins Creek property is a big step for the connectivity program.
"Our NC elk need a place to live and appropriate food to eat to meet their basic needs," Delozier said. "The Wilkins Creek tract specifically will provide habitat to young forest and forest openings — habitats that are lacking in our NC mountains."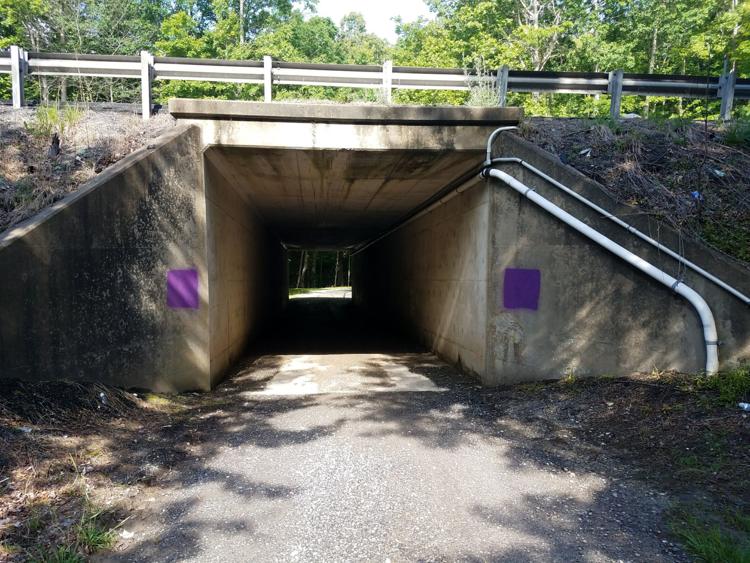 Access to an existing road crossing via a box culvert under I-40 also makes the property appealing to the conservation groups aiming to improve safe wildlife mobility.
"We have a responsibility to help elk, deer, bear and other wildlife cross the interstate and other roads, which create barriers to safe movement," Delozier said. "SAHC's purchase of the Wilkins Creek tract is a major step to accomplishing this goal now and in the future."
For a variety of reasons, the Wilkins Creek tract is already fairly well-trafficked by wildlife. Jeff Hunter, Senior Program Manager with the National Parks Conservation Association, said there are a wide variety of species that pass through the property, making conservation that much more critical.
"Ongoing wildlife monitoring by National Parks Conservation Association and Wildlands Network indicate that black bear, bobcat, white-tailed deer and migrating bird species including a variety of wood warblers frequently use this property," Hunter said.
The box culvert could potentially serve as a critical gateway from one side of the interstate to the other for many of these species, although Pugliese said it would take some time to determine which species are using it and how frequently. Some species are more comfortable traversing a dark, enclosed space like a culvert than others, so it isn't necessarily a one-size-fits-all solution. There are also improvements that could be made in the Department of Transportation right-of-way that would likely encourage some species to make use of the culvert.
"We don't know yet if they're using this particular culvert, but part of the study involves tracking the elk and their movements in various ways," Pugliese said. "There are very few structures like this that allow crossing in the corridor, and we want to take advantage of it. If they aren't using it, I think there are some things the DOT can do to make it more appealing."
The land currently belongs to SAHC, but Pugliese said that isn't the long-term plan. Ultimately, she said, the group would like to see the land become part of the national forest system and be managed by the U.S. Forest Service, although there are some smaller management tasks that can be done right away if deemed necessary.
"We would like to transfer it to the U.S. Forest Service to become part of Pisgah National Forest, and the Forest Service is evaluating if they want to accept it," she said. "As of now, I don't know if they're willing to accept it, but until then there are some management things we can do. There's really no urgent need to actively manage it right now, though, except for some measures to reduce trespassing."
With the completion of this acquisition, SAHC doesn't have any additional parcels it's actively pursuing in the Pigeon River Gorge to improve connectivity over I-40, but Pugliese said the group is always keeping an eye out for potential land acquisitions to further SAHC's goals and the goals of its conservation partners.
"If National Parks Conservation Association or the wilderness society say there's a piece of land that's critical to the wildlife crossings, then we'll definitely be proactive about that," she said. "If it isn't for sale, then maybe the property owner is open to a conservation easement. I think landowners are also starting to look at alternatives for selling their land, and they're becoming aware SAHC is a possibility, especially when they hear about some of the successes we've had."