They felt like strangers in a strange land, even the ones from Haywood County, and yet, for the Black Lives Matter protesters in Maggie Valley on July 18, the threats and harassment served as bitter confirmation of their message's validity.
As The Mountaineer reporter covering Maggie Valley, I anticipated some counter-protesters, but the sheer volume and outward aggression of the group was astonishing.
While most interviewed prior to the march expected the whole thing to be done within two hours, the crowd and its tensions lingered for twice that long.
The Communities for Change protest — one that has been uneventful in Waynesville and Canton — was approved by the town, which issued a statement advising residents and visitors they may see increased pedestrian usage along the sidewalks.
Once word of the protest circulated on social media, those who oppose the Black Lives Matter movement were able to organize a show of force. While there were about 30 protesters, I estimated the number of counter-protesters — between those lining the streets and those driving by repeatedly — at 200.
It quickly became clear that we were all in a situation that could have turned violent with just a small spark. With national media frequently depicting violent protests in urban areas, some of those counter-protesters seemed so convinced the marchers were there to destroy the town that they ended up being the ones holding the match to the powder keg.
Before the protest
I showed up at the town hall early and walked down to Elevated Mountain Distillery and back twice. The second time, I noticed some bikers sitting outside of Ryan's Automotive Repair drinking beers. They said they just wanted to keep protesters off the property. Aside from that, I saw no sign of any kind of counter-protesters.
By the time I got back, two protesters had arrived. Tersely, they gave me fake names and said they didn't feel comfortable talking. I went back to my car, and within a few minutes, one of them approached and apologized for being standoffish.
As more protesters arrived, dark clouds gathered overhead. Weather reports showed a diminishing chance of rain, but by the time more folks showed up, it began sprinkling, and it wasn't long before the sky opened up and drenched the gathering crowd.
I tracked down organizer Dylan Davis, who planned and led similar marches in Waynesville and Canton. He lived in Haywood County until recently, but now lives in Asheville.
"There are a lot more people who look at Maggie differently," Davis said. "Some people think there's a lot more racism out here, and there's a lot of difference of opinion."
When another reporter asked whether Davis thought footage and reports of explosive protests that went viral made people more skeptical over demonstrations in Western North Carolina, he said he didn't condone the acts of violence and vandalism committed by others.
"We've done this every time now, and it's been peaceful," Davis said. "We've never had anything happen on our end. There's always been other people … I think if people are here to do that, it's not with our group."
Another protester declined an interview, recommending I speak to a person of color, since those are the voices the march was meant to lift up. I found Karley Simmons, who happened to be another organizer. However, just seconds after I turned my recorder on, a man in a blue polo bearing the Cavalry Road Baptist Church logo approached. His name was Gary Byram.
"What's your purpose of being here today?" he asked Simmons.
"To get the word out that there is systematic racism, that there is a systematic problem," she replied.
Byram questioned the validity of that statement.
"I've read so much about your movement, and I've read a lot about Blacks, conservative Blacks, who totally disagree with what you're doing," he said.
Simmons and others by her side said Byram's language was marginalizing.
"Oh, I see, so you've got to be careful with your words," Byram said before accusing Simmons and her friends as being the true racists.
Another protester tried to interject.
"I'm not talking to you, I'm talking to her," he said.
One woman stepped between Byram and Simmons.
"Oh you're protecting her. I'm scared," Byram said. "You're the racist. You're bigoted."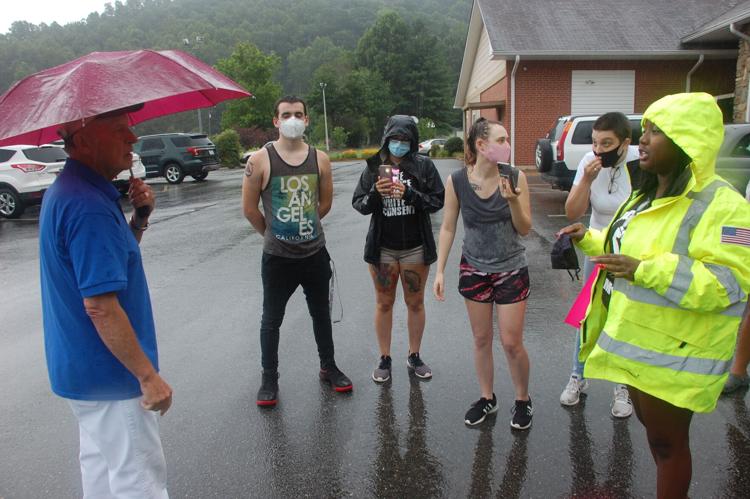 I informed Byram I'd had the recorder on throughout their conversation. I asked him if there was anything he'd want to say in The Mountaineer.
"I am so opposed to what Black Lives Matter is doing to our country," he said.
Simmons regained his attention.
"Have you ever been attacked for the color of your skin?" she asked. "I can tell you right now, I have. I'm a graduate of Pisgah High School, and all of Pisgah High School started a chant specifically about me. There were only three other Black kids at Pisgah, and they started chanting 'we hate n-----s.'"
"If I feel like I can't walk down the road just because of the color of my skin, there's a problem," she added.
Byram became angry and walked off, leaving me to interview Simmons as intended. She said people typically pick her out of a group of protesters to challenge because she is African American. Indeed, Simmons was one of the three Black individuals in the group.
"They always are the aggressors," she said. "They always antagonize a person of color before they will anybody else."
Simmons said the aim of the march was simply to raise awareness.
"There is a systematic problem, and not only is there a systematic problem, there's a problem in this community," she said. "Anybody of color, whether it's Black, Hispanic, Asian, whatever the case may be, they should be able to feel comfortable in their communities without being attacked."
As I finished my interview with Simmons, a parade of vehicles moved through the parking lot with Confederate flags prominently displayed. The occupants of one car were threatening enough that an officer became involved. A shouting match developed. When asked, the officer just said that "they had some words."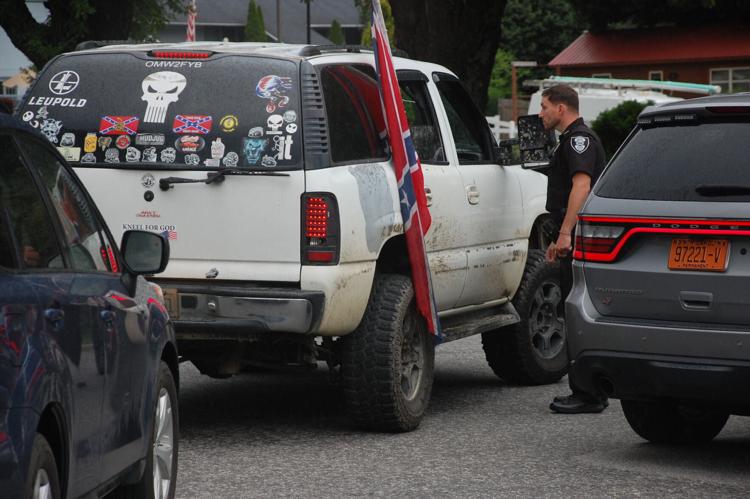 The march
As the rain picked up and thunder echoed off the high walls of the valley, I set off with the protesters toward their intended destination of The Stompin' Grounds. The group's continuous chants referenced the Black Lives Matter movement, as well as the deaths of George Floyd and Breonna Taylor at the hands of police officers.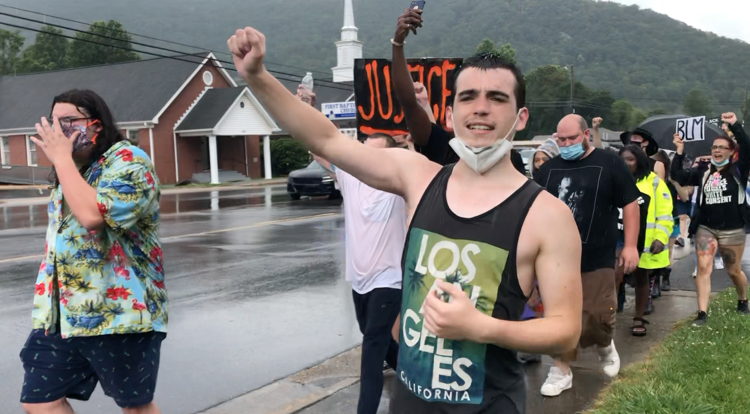 Initially, those lining sidewalks were just observing, but it didn't take long before confrontation developed. A man in full camouflage standing in front of Maggie Valley Biker Wear told protesters to join the military if they want to do something worthwhile.
"That's what keeps you safe," he yelled.
After that, I started recording video with my phone.
Protesters met the first big crowd of counter-protesters in front of the festival grounds. Like others they'd meet later on, those individuals waved American, Confederate, Trump and thin blue line flags — as well as middle fingers — as they chanted "U.S.A." and heckled protesters.
"Go the hell back where you came from," one man exclaimed from behind an orange "all lives matter" sign.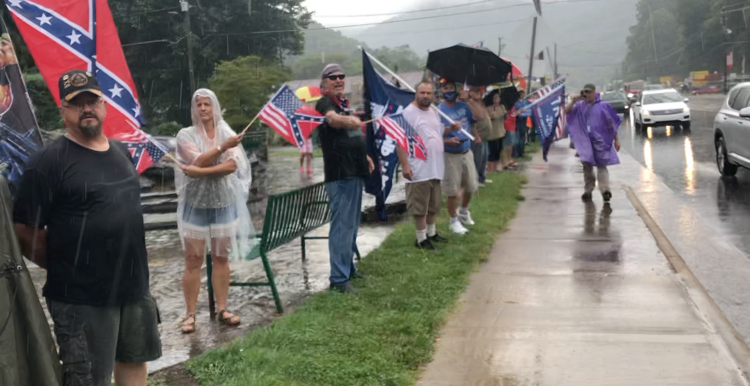 Protesters were informed by Maggie Valley Police Chief Russ Gilliland that they weren't going to be allowed onto The Stompin' Grounds property. They agreed to cross in front of Pop's, after which they headed back up toward town hall. The sign at Pop's read "One love for all people. Humanity!" while at the neighboring Holiday Motel — where numerous counter-protesters congregated — the sign read "BLM incites violence. All lives matter. One love — all humanity."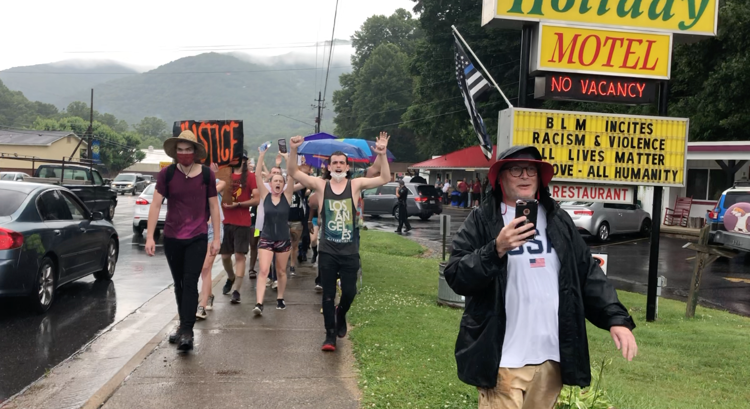 The marchers encountered another throng of counter-protesters across from the festival grounds. This group was more hostile. Alongside plenty who looked on quietly and a man with a microphone enthusiastically speaking about how Black Lives Matter is a Marxist movement, many were belligerent.
"Get your [expletive] off the property," one man said to me before calling me a name we can't print in this publication.
Another man became angry that I was taking pictures and approached me. I lowered the camera. He told me that if I were a real man, I would have served my country. When I pointed to my ball cap indicating my service in the Navy, he told me I was violating my oath. I moved on. It can be seen in another reporter's Facebook Live feed that the same man approached him with the same issue and can be heard saying "Post it, you [expletive] scum."
As more altercations occurred and the threats from the counter-protesters escalated, it became clear Maggie Valley police officers, who were trying to keep the two groups apart, couldn't handle the unrest. More officers from the Waynesville Police Department and the Haywood County Sheriff's Office were called in.
As traffic crawled past the demonstrators, some showed support for the "All Lives Matter" crowd, but even more focused negative energy toward the protesters with a series of expletives and middle fingers.
As protesters chanted "Black Lives Matter," one driver yelled back "no they don't," while another shouted "no one cares."
One man hurled an expletive followed by a racial slur at one of the Black protesters.
"You're in the wrong neighborhood, boy," another man said as he passed by.
I counted three drivers who showed support for the march.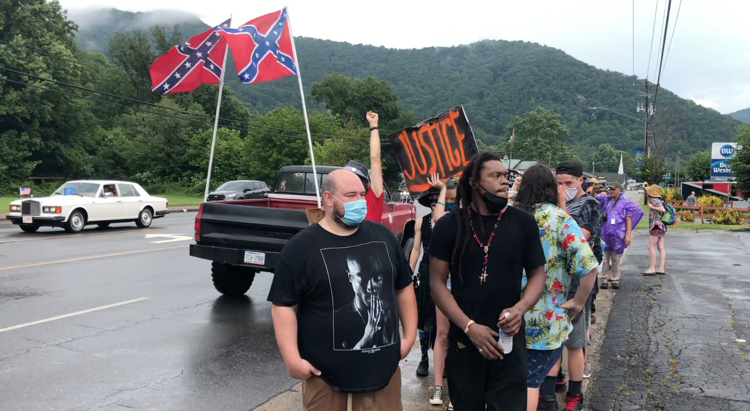 The demonstrators stopped in front of Legends for about 10 minutes as the chants continued. At one point, a car drove into the lot, right behind the protesters, and blasted its horn for several seconds until one of the protesters activated his megaphone's siren right into their window.
Eventually a man approached from the group that earlier said they were guarding Ryan's Automotive and attempted to debate a few people.
"All bad cops should be prosecuted," he told the crowd before telling them their movement is phony.
As the conversation devolved, the protesters chanted at him, and he started cursing. Before long, they were broken up by police and the man was led off by a friend.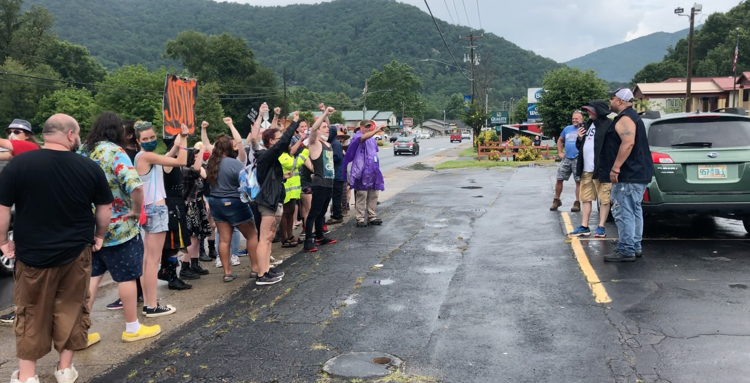 The final group of counter-protesters was comprised of the bikers I'd talked to earlier who were stationed on the edge of the sidewalk in front of Ryan's Automotive with a few additional men. One man tried to lure a protester into further confrontation.
"Come on over here and bump into me again," he said to that protester, despite the fact no one had even come within a few feet of him.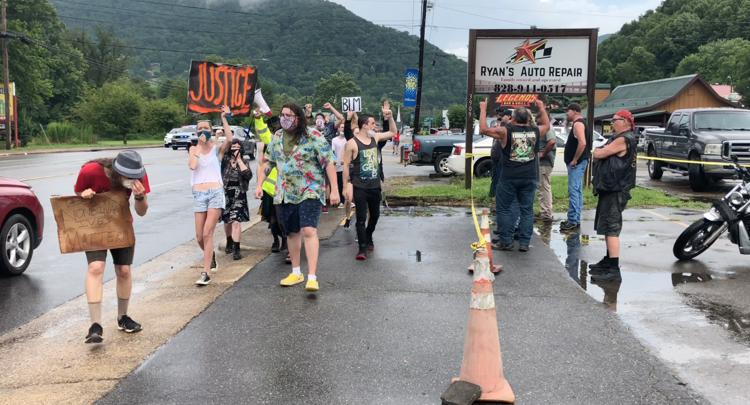 Protest at the park
Many of the same enraged faces in the march were already waiting for the protesters when they got back to town hall. One man, who identified himself as Todd Berrong, of Waynesville, had to be restrained by officers a few times within minutes of the protesters' return. He mentioned his own military service frequently.
"I've taken lives," he said.
A few minutes later, as the rain subsided and protestors settled into the grassy area between the basketball court and the parking lot, Berrong re-emerged.
"I've got black brothers, I've got Hispanic brothers that died in Afghanistan and Iraq because of pieces of junk like you," he told the crowd.
"All of you live with mommy and daddy playing video games so you can protest any time you want … This is a peaceful town, and y'all come to start [expletive]," he added.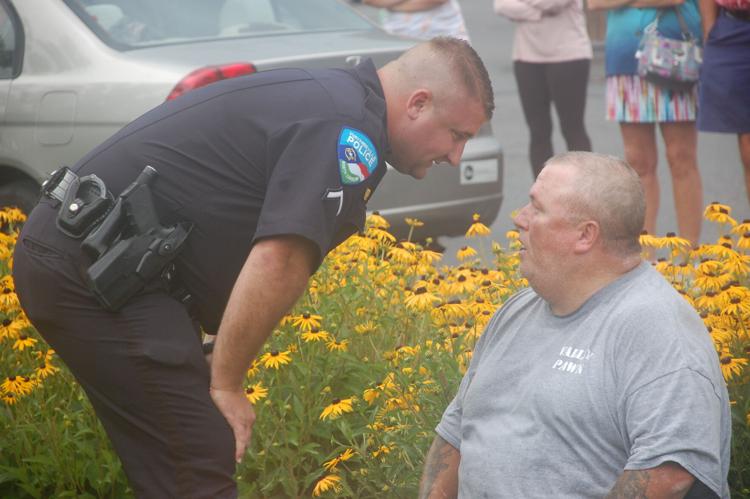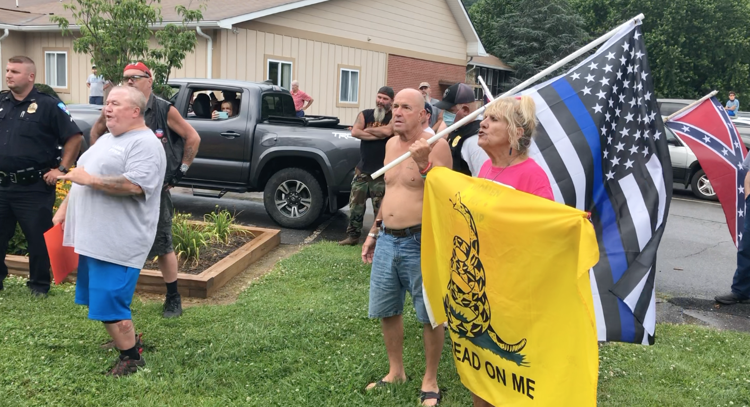 The counter-protesters formed a line at the edge of the parking lot as more officers, and even some EMS personnel in an ambulance, descended on the scene.
"You need Jesus," one woman yelled at the protesters. "You need the Lord … there's no hope for you. You're going to Hell."
"How much are you getting paid? Who's paying you?" another woman asked.
Several people told the protesters that if law enforcement wasn't present, they wouldn't have had the courage to march, and if they had still protested, things would have turned out differently.
"You're bad when these cops are here," Berrong said to one protester. "Son, I'll hurt you bad."
"Why don't you come down to the American Legion in Waynesville?" Dan Reid, who said he is a retired Naval officer, asked the group on the grass.
One of the counter-protesters was David Hughes, of Candler. Although things became heated between him and a few on the other side, he seemed more open to debate than many of the others in the parking lot.
"You brought this here. We didn't bring it to you. You brought it to us," he told the protestors.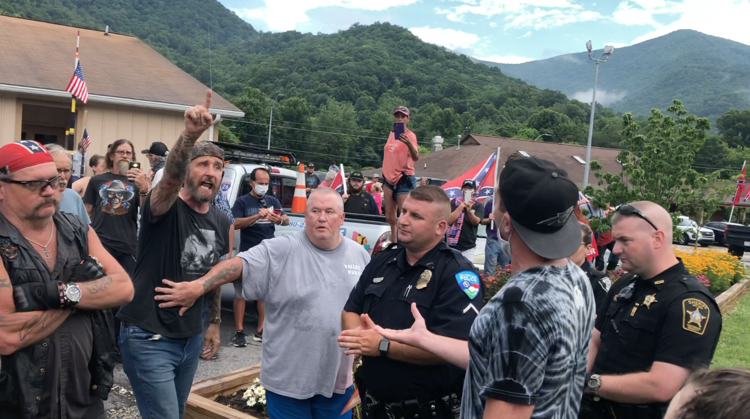 After trying to interview several counter-protesters and getting turned down, Hughes was willing to talk. Like almost every other counter-protester, he mentioned two things as a point of frustration and fear: Asheville's recent resolution to provide reparations to its Black residents and how the Black Lives Matter movement is violent, dangerous and unwelcome in rural Western North Carolina.
However, like earlier with Simmons, we didn't talk long before we were interrupted. This time, it was music blaring from a nearby truck. The song was "Redneck Piece of White Trash" by Rebel Son. We agreed to talk later.
The music shifted to "Free Bird" by Lynyrd Skynyrd and eventually "Enter Sandman" by Metallica, and for a few minutes, a tailgating vibe developed in the parking lot as counter-protesters sang and danced.
"At least the music is improving," one protester joked.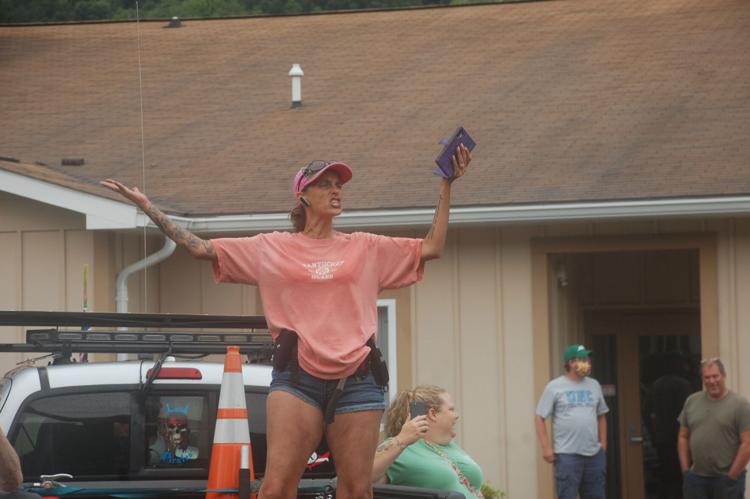 Once the music stopped, I found Hughes again. He said he felt compelled to come to Haywood from Buncombe County because he has friends and family here. He also believes Asheville is a city in decline but that Haywood's culture could still be preserved.
"They have pretty much made it loud and clear that they're willing to let their city go," he said of Asheville.
Hughes said he heard about the counter-protesters via Facebook, and specifically the "Blue Ridge Coalition" page.
"We got the word on Facebook that it was going down in Haywood County," he said. "That's the portal to the real world right there. It's not your local news station, which is scripted."
Hughes reiterated that he and the other counter-protesters didn't come to incite anything and that the protesters "brought this here to this county."
"They've already had their marches," he said. "The whole country knows, the whole world knows, knows what they're out there marching for. All this is bringing on trouble."
While there was some civil discourse, things still became heated from time to time over the next couple of hours. One man materialized who told the protesters all they do is "burn, loot and murder."
"All God's children on this Earth matter, but you can't see that," that same man later said.
"What about the poor?" retorted one protester.
Eventually, Simmons and Berrong debated about a number of things, from the Barack Obama presidency to white privilege.
"Y'all think white people are superior," Simmons said. "I hate to burst your bubble, but white people aren't superior."
Berrong and a few of his friends advanced further toward Simmons, and the police intervened.
"I'm sitting here letting y'all know that I feel threatened," Simmons told the officers. She later said she was disappointed because she believed the officers allowed hate speech and threats from counter-protesters.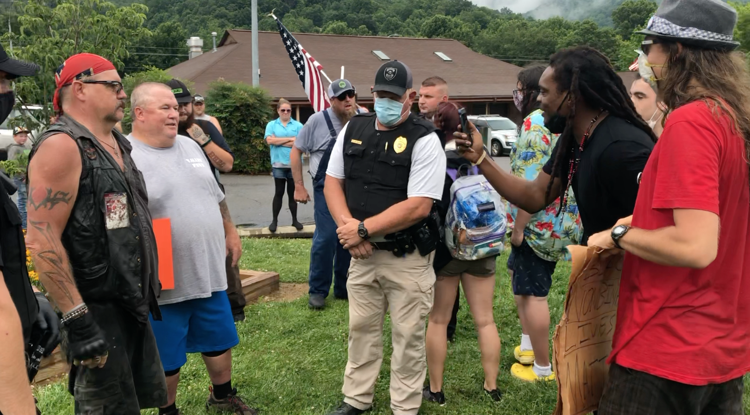 Winding down
As the clock passed 5 p.m., I became more disenchanted and exhausted by the whole situation, and decided to head home. But on the way to my car, I passed Brian Figueroa, the man who had argued with protesters in front of Legends. He agreed to be interviewed on the record.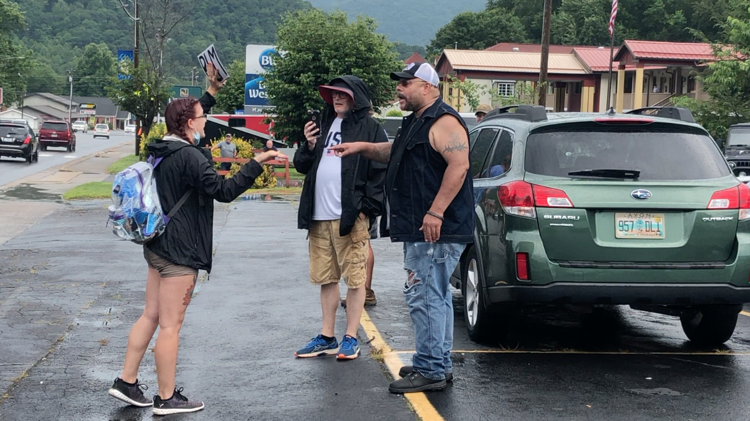 Before we started talking, a few protesters walked by and some verbal jabs went back and forth.
"Hey sweetheart, remember me?" he asked one of the female protesters.
Figueroa said he acknowledged and appreciated the demonstrators' First Amendment right to peaceably assemble.
"The problem is they don't understand what they're protesting about," he said. "They're lost little children."
Figueroa is originally from Long Island but said he lived in Maggie Valley for eight years before recently moving to Waynesville. When I asked what he would say to people who may see him as the aggressor in the video I recorded, he said he felt like he was speaking in a way that got his point across.
"I'm an American, and this nonsense has got to stop," he said. "I told them what I needed to tell them, and they were listening for a while, and then the little girl with the group started chanting again. That's all they got is the chanting."
I asked Figueroa if he thought it was possible to bridge the widening cultural divide in this country, a question I posed to a few people on each side of the protest. Like most others on both sides, he said it depends on if the other side can approach the debate with a more open mind.
"They're just following hearsay and bull[expletive]," he said. "They're led in a direction and told, 'you'll turn around and get everything done for you.'"
"I'm from Long Island," he added, also noting he's Puerto Rican and Spanish. "You want to talk about racial [expletive]. I'm from the epicenter of racial [expletive]. These kids got no idea what the hell's going on. None whatsoever. I wish I could educate them on doing what they should be doing, but they won't listen."
Finally, Figueroa said that while he recognizes others' right to protest, he believes they need to understand what he considered inevitable repercussions.
"Let them walk, but they're going to hear stuff," he said. "The problem is that these little youngins over here, they're not used to people confronting them, and they think that they can walk all over everybody and not have consequences … Fight for what you fight for, but remember, there's going to be a reciprocal thing going on here. You're going to get called out, especially by guys like me."
After talking to Figueroa, I again talked to the protest organizers to bounce some of his thoughts off of them.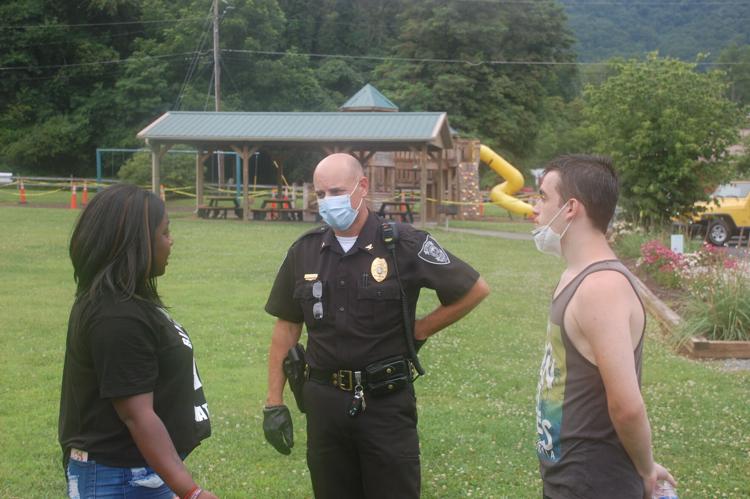 "This is exactly why we wanted to come to Maggie," Davis said. "We saw, like I said earlier, that this was a problem … They care about themselves and their pride."
Simmons said she knew the counter-protesters were probably going to show up based on her experience calling local business owners to let them know a protest was in the works. She said most either told her she was wrong or that the movement she embraced wasn't the solution to anything.
"I knew coming into it that it was going to be bad. I didn't expect them to have such a big turnout though," she said.
Simmons admitted that it was a bit frightening going through the waves of counter-protesters, even with the protection of her fellow protesters, who agreed to shield people of color should there be any trouble.
Simmons said she was shocked to see so many familiar faces out in the crowd of counter-protesters.
"I've been in their homes, I went to school with their kids, I went on vacation with them," she said. "I've always had the feeling I'm never going to belong in Haywood County, but just knowing there were people who claimed they accepted me as family, and now they're out here protesting."
Simmons said she was aware that plenty of people saw her face as she marched in the protest and that some of them may have ill will.
"I'm scared coming out of this," she said. "I don't know what their intentions are after this … But either way, I know after this, we are going to continue, we are going to force change, and this movement's not going away until we achieve change."