It was a humid afternoon at 72 Virginia Ave. in Waynesville Thursday, but that didn't stop 18 Haywood Community Learning Center graduates from cheering, crying and celebrating with their diplomas in-hand.
Haywood Community Learning Center offers an alternative learning option for students who have to support families, experience homelessness or face other difficulties in completing their high school diploma.
Unsure of gathering restrictions due to the pandemic, HCLC staff planned a special graduation unlike any before.
Graduates and their families were seated in outdoor pod areas and were invited to bring their own blankets and chairs. But there was still a stage to walk across so students received the full diploma experience.
The pods were each decorated with glittering posters bearing the graduates names and a fern, which was a gift to each graduate.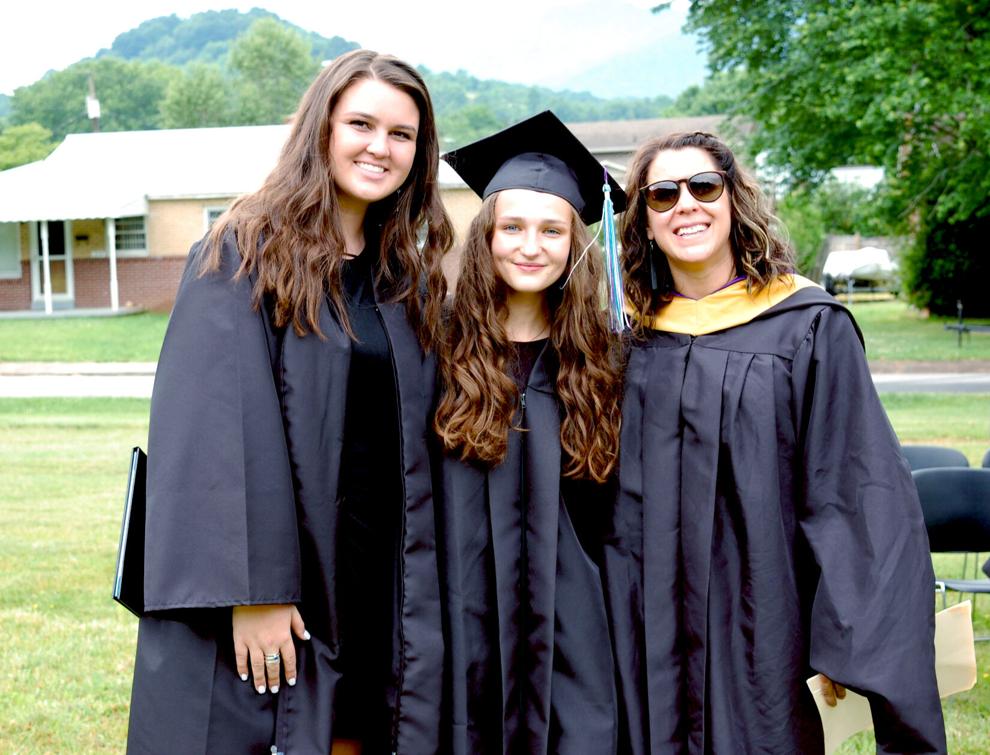 During the ceremony, HCLC Lead Teacher Mark Etheridge explained that in many cultures, the fern represents new beginnings and hope for future generations. He reminded the graduates to follow their dreams and encouraged them to "think big."
"It was probably the toughest year for anyone and everyone everywhere," Etheridge said. "These ferns represent you, the class of 2021. When you look at them, remember the determination and resilience each one of you have shown this year."
After CHHS principal Wendy Rogers confirmed graduation, the new graduates turned their tassels and cheered for their big accomplishment with their families in tow.
Surrounded by her family, Allyson Elliott broke into tears the moment she was asked how it felt to be a graduate.
"It was very hard," she said. "I'm just thankful I made it. It was very hard not to have our senior year but it's more important to graduate and have a diploma."
Elliott said she was hoping to take the summer to enjoy life, and then enroll in the veterinary technical course at AB-Tech in Asheville.
Viktor Caldwell said he was thrilled to finally have graduated. As a transgender male, he said being at Tuscola High School was a lot harder for him.
"I was worried I wouldn't be able to graduate," he said. "The learning center is much more flexible and it helps everyone."
Caldwell is planning to intern with a local funeral home this summer, as he's interested in becoming a mortician.
Caldwell's mom, Kathy Cotton, was ecstatic after the graduation.
"I can't believe these kids did it under the circumstances of the pandemic," she said.
Caleb Clampitt, 17, was able to graduate a year early after transferring from Pisgah as a sophomore and enrolling in online programs offered by HCLC.
"I'm pretty excited," Clampitt said, noting that he was signed up to attend Haywood Community College in the fall. "I think I want to get a degree in art, but mostly I want to work with people."