In Carroll C. Jones's latest book, Thomson's Pulp Mill, noted author and architectural historian Camille Wells had high praise for the historic work.
In her foreword contribution, "The gift Carroll C. Jones—engineer, writer, historian, and Canton native — has bestowed in his Thomson's Pulp Mill is the wondrous story of a mammoth pulp mill's construction at Canton. He has recovered from astonishing obscurity a crucial series of events in Canton's past. Through his exceptional talents and relentless pursuit of the actual story behind Thomson's pulp mill, Carroll has turned this past into a history."

Jones, who grew up in the shadow of the vast Canton paper mill, has endeavored to uncover the true details of Champion Fibre Company's original mill. His transformation of the past into a history includes the real reasons why Ohioan Peter Gibson Thomson decided to build a pulp mill in the little town of Canton, more than a century ago.
Workmen from all across the eastern United States and far-away countries such as Bulgaria, Italy, and Ireland rode the train into remote western North Carolina to help construct Thomson's pulp factory.
But the soggy bottom along the Pigeon River where the enormous brick buildings were being erected presented extreme challenges for the foreign and local workers.
Jones exposes the cultural and construction difficulties they faced and discusses at length how the builders of the mill—including the architect and contractor, both of whom were from New York City—overcame them.
Not only that, the vast timberlands upon the Pigeon River headwaters that Peter Thomson purchased in 1905 proved to be practically inaccessible.
He and his son-in-law, Reuben Buck Robertson, struggled to find a way to "get out" this immense bounty of pulpwood and timber and use it at their Canton pulp mill.
Improving the bad road along the West Fork of the Pigeon River, constructing an improbable 16-mile-long log flume, and building a railroad were different alternatives considered. Jones's book reveals the surprising final solution the Champion bosses were forced to accept.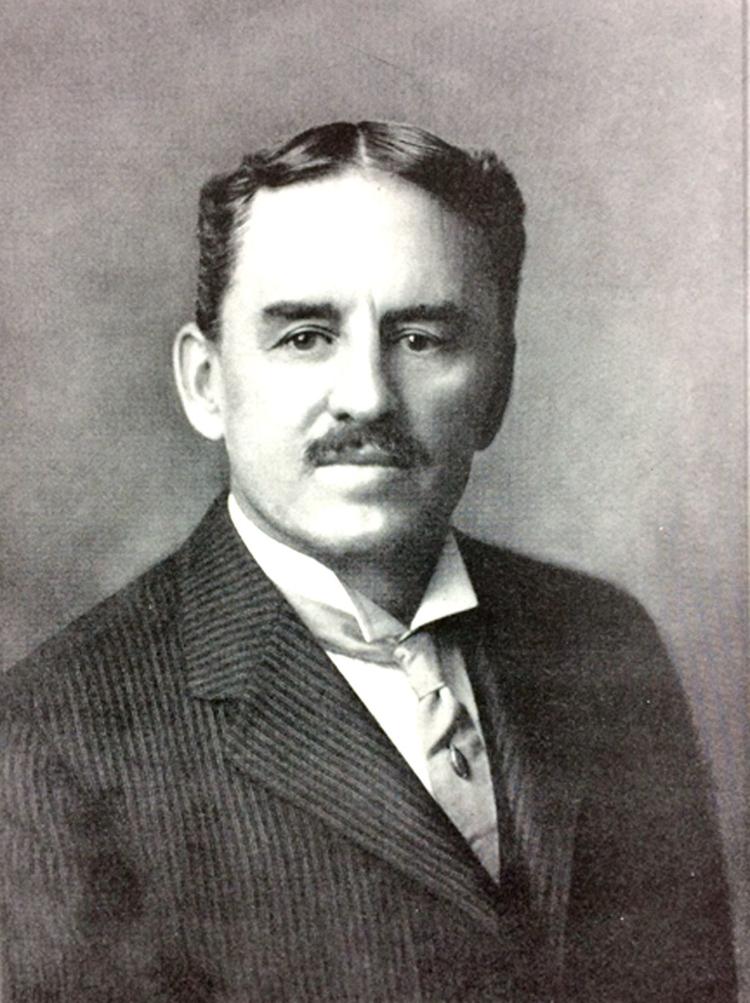 When asked about his inspiration to write the book, Carroll offered this explanation: "Most readers will be unaware that my professional career began as a young engineer at Champion International's paper mill in Canton. I certainly knew that the plant had been there for a long time. After all, I was born and raised in Canton, and my great-grandfather, a Civil War veteran, helped build the mill in the early 1900's.
"Still, I was surprised to discover original brick construction, timber post and beam framing, and a huge steam engine while prowling the darkest corners of the 70-year-old mill during those first years of my employment. Being a history lover, I was simply enthralled with these leftover elements of the early Champion Fibre Company factory.
"A year of so ago, I stumbled upon a rare trove of old photographs made during the period when the original pulp mill was under construction — between 1905 and 1908. While studying them, old memories were stoked, and it was then that I decided to use the wonderful images to tell the story of Canton's original pulp factory."  
About 100 pictures illustrating the construction work and the personalities associated with the project are included in Thomson's Pulp Mill. Readers will be able to discern for themselves the towering brick buildings sprouting out of the "sea of bottomless mud," as the mill site on the bank of the Pigeon River was described in one contemporaneous account.
Turning the book's pages will shed light once again on scenes revealing pile drivers and a concrete manufacturing facility driven by portable steam engines, immense wooden scaffold works, brick masons and iron workers plying their trades at dizzying heights, tall timber masts—or "gin" poles—being used to hoist massive steel structures, and much more.
Thomson's Pulp Mill: Building the Champion Fibre Company at Canton, North Carolina – 1905 to 1908 is scheduled for release at the end of August, 2018.
Hardback and paperback versions will be available, along with a special coffee-table edition as well. Books can be purchased at the Canton Area Historical Museum, Blue Ridge Books in Hazelwood, or online at Barnes and Noble and Amazon.
A book-signing event in Canton is being planned to coincide with the first shipment of books.