The makeup of the Haywood County Board of Commissioners is shifting to the Republican Party for the first time ever.
On Election Day, Tommy Long secured a decisive victory as the top vote-getter in the county and Mark Pless eked out a come-from-behind win as the final precinct totals trickled in late Tuesday evening.
With 20 of 29 precincts reported by about 10 p.m., incumbent Mike Sorrells was in third place behind incumbent board chairman Kirk Kirkpatrick and Long, who maintained a comfortable lead after the first round of ballots were returned on Tuesday.
Pless performed extremely well in the final nine precincts, though, securing his seat on the board by a margin of only 55 votes over Sorrells. Kirkpatrick also retained his seat, cementing himself as the sole remaining Democrat on the board come January.
Long's performance was perhaps the story of the evening, as he secured 1,000 more votes than his next-closest competitor as a Republican, despite Haywood County's longstanding Democrat majority in terms of voter registrations.
Long led the field in 16 of 29 precincts, and was one of the top three choices in 20 precincts. Long even performed well in districts that leaned primarily Democratic. In six districts, voters chose Long alongside two Democrat candidates.
Long said he attributed his bipartisan support to his campaign message that focused on all voters, not one subsection or another.
"I ran a clean campaign, and I've tried to put my message out there that I'll do what's right," Long said. "I've been quoting John F. Kennedy a lot, and I believe he had it right when he said 'we don't need the Republican answer or the Democrat answer, we need the right answer.'"
In fact, Long's inspiration to run for a seat on the board came in part from longtime Commissioner Bill Upton, a Democrat.
"Bill Upton was retiring, so that seat was open, and I started with the goal in mind to replace him. He was my high school principal years ago, and he's been a model of public service through his life. His service is to be commended," Long said. "I called Bill before I filed for office and conferred with him, and he gave me some advice and encouraged me."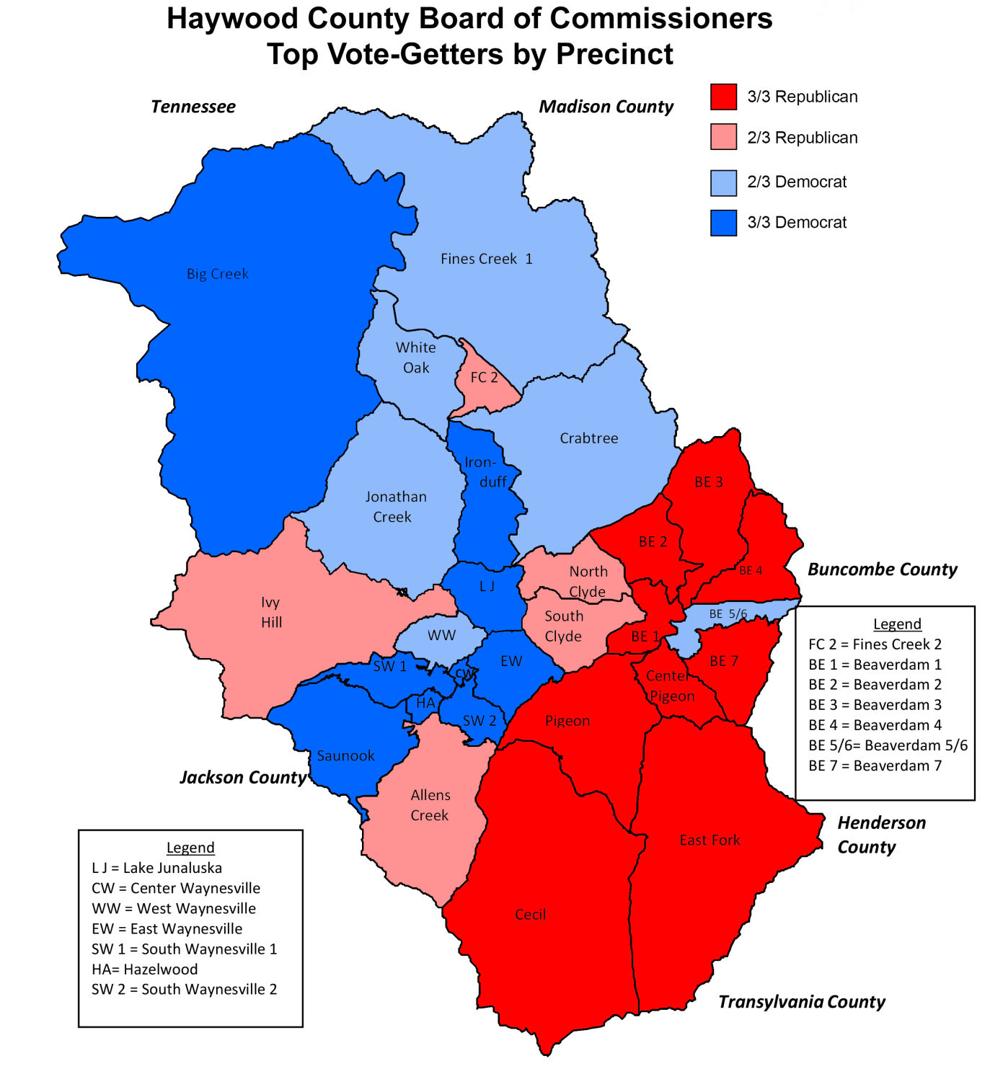 As soon as Long decided to run, he began doing his homework on the issues facing the county and the monthly operations of the board. He began attending meetings and catching himself up to speed so he would be prepared if he won this November.
"In my life of work, there's something we call a bumpless transfer. In the electronics field, it's where you can swap from auto to manual and back without a shock. And I've learned throughout my career that that's best, a bumpless transfer," he said. "I didn't know if I'd be elected, but I wanted it to be seamless if I was so I prepared, and I want to hit the ground running."
Strong Republican turnout in Canton, Bethel and other precincts in the eastern part of the county played a major role in landing Pless on the board. Pless finished in one of the bottom three spots in all of Waynesville and, aside from one of the Fines Creek precincts, he didn't finish in the top three in any precincts north of Clyde. The story was entirely different in Canton, Clyde and the surrounding areas. Pless and other Republicans dominated those districts, securing voting percentages in the low-to-mid twenties across the board.
"I've lived on that end of the county my entire life, and through my time with EMS and fire I've encountered a lot of families and helped in a lot of situations," Pless said.
He said the overall Republican showing in the county is likely reflective of the nation's political climate in general, as recent elections have shown a drift to the right.
"I think the general atmosphere of the nation has shifted more toward conservatism, and I think Haywood County has experienced this in waves over the last few years," Pless said. "When Brandon Rogers got his position on the board, I think that was just kind of the start of people looking at something different, and the enthusiasm of what can happen based on the national level drives the people here to want a part of that."
Kirkpatrick pointed to the differences between Democrats in Haywood County and the leftward trend in the national Democratic Party as another possible explanation for the strong showing for Long and other Republicans locally.
"The Democratic Party has changed nationally, and you've always had a certain type of Democrats here in Haywood County. People here think a certain way," he said. "I think the Democratic Party at a national level has left that line of thinking a bit, and the Republicans have come a little closer to that."
Until the 2016 election, the Haywood County Board of Commissioners was comprised of a solid Democrat majority, with four Democrats and one Republican on the board for many years. In 2016 the balance shifted slightly, with Brandon Rogers' win bringing the board to a 3-2 Democrat majority. This year's midterm has caused a complete polarity shift on the board though, with Kirkpatrick left as the only remaining Democrat.
When the new board members are sworn in in December, they will vote on a new chairman, appointing a Republican to the seat for the first time. Despite the shift, Kirkpatrick said he's confident his voice will still be heard by his fellow commissioners.
"Although this is the first time the Republicans have been the majority, I really have never seen our board function in a capacity based on political affiliations. Our board, pretty much, has made decisions for what's best in Haywood County, not what's best for one party or another," Kirkpatrick said. "In local government you don't really deal with the issues that cause a divide between parties."
Kirkpatrick said his longtime involvement in the community and service on the board likely played a large part in his reelection amid a groundswell in Republican support locally.
"I've been involved with the board for the past 16 years, and I've been involved in this community for my entire life and a practicing attorney here for 23 years," he said. "My involvement on boards, with the schools, I get to see and talk to a lot of people every day and that includes Democrats, Republicans and independents as well."