A fence on Eagle's Nest Road in Waynesville has prompted complaints from neighbors and a move from town leaders to consider town-wide rules on what type of fences are allowed.
Town board members unanimously agreed last week to explore some sort of appearance standards for fences after fielding complaints from upscale homeowners who don't like driving by David Acosta's fence on their way home.
But to Acosta, the 5-foot privacy fence around his front yard seemed like the only way to get judgmental passersby to stop picking on him.
Area residents complained his grass was too tall. They didn't like the dog house in his front yard, the car he was rebuilding in his driveway or the bags of trash piled at the street during a home renovation project.
"We have people driving down the road, pausing, watching my kids playing in the front yard," Acosta said. "It's the same people every single day. They stop turn around and drive back by."
So three weeks ago, Acosta drove stakes around the perimeter of his yard and wrapped it in mesh privacy fabric, hoping to put an end to the rubbernecking.
Case in point, Acosta got a call during his daughter's softball game Monday night that someone was walking around his yard with a flashlight while he wasn't home, snooping about the fence.
Acosta admits his grass got taller than the 10 inches allowed under town rules, which ultimately led to a violation notice from the town code enforcers.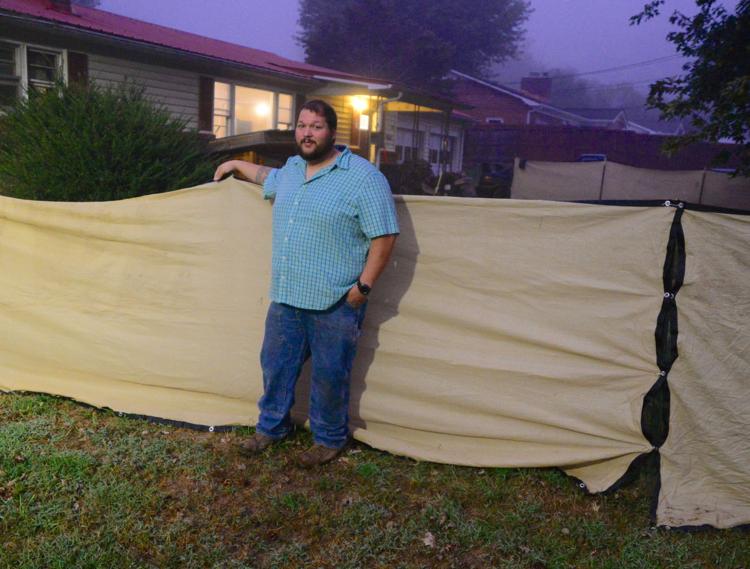 What neighbors don't know, however, is that Acosta — a single dad with two daughters and the sole caretaker for his orphaned little sister — suffered a debilitating injury on the job this spring when a tree fell on him, breaking his legs and tailbone.
"Not one single person has ever stopped and said, 'Hey, why haven't you mowed your grass? Can we help you mow your grass?' Everyone wants to be part of the problem, not part of the solution," Acosta said.
For Acosta, the final straw was an anonymous letter left at his house a few weeks ago, calling his property "disgraceful."
"I drive past your house several times a day and am deeply saddened by the condition you have allowed it to become," the handwritten letter said. "Please start giving thanks for your blessing of a home by taking care of it — mow your grass, clean up the yard, get rid of the dog house and trash bags you leave out front. You should be ashamed."
The house has been in Acosta's family for three generations, passing from his grandfather to his mom to him.
It isn't much different than many of the houses in Haywood County, Acosta notes. Yes, the grass is spotty, bare in places with tall tufts in others. Yes, there's a dog house in the front yard — but it's a well-built dog house with cedar siding, a deck-board floor and a tin roof.
Yes, he has a car he's fixing in the driveway, but it's a work in progress.
"I started doing improvements on my car a month before I got injured. I still can't work on the car because I can't get on my knees," Acosta said.
As for the black trash bags at the curb — which are knotted and tied — Acosta is renovating his house before getting married this fall, but given his injuries, the going is slow.
The real beef
Acosta suspects the appearance of his yard isn't the real reason for the complaints. The fence flak is the latest salvo in a long-running wrath Acosta has been subjected to by animal rights activists. Acosta has been the target of a group called Chain Free Waynesville, which didn't like seeing his great dane, Thor, chained in his yard.
Thor, nearly 200-pounds, lived outside tethered to a stake. The dog hated being inside, and begged to be let out whenever he was brought in, Acousta said. The chain's long berth gave the dog nearly full run of the front yard.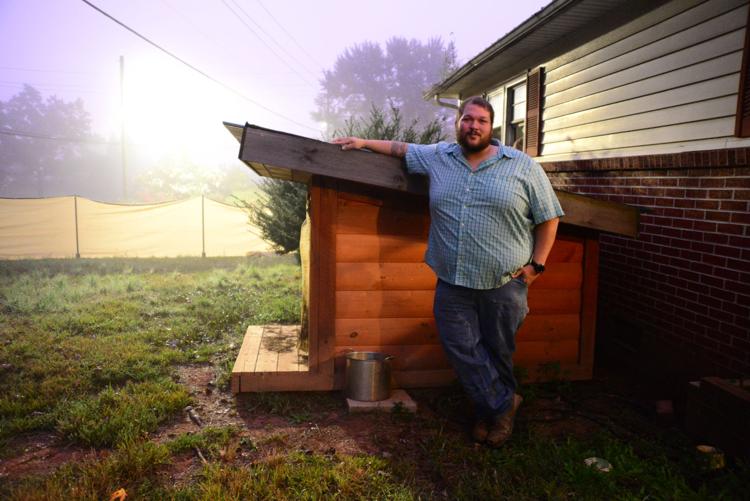 But it offended animal lovers and Acosta became a poster-child for Chain Free Waynesville, a group that has lobbied for a local ordinance to outlaw the chaining of dogs. Acosta experienced vehement social media ire over the past two years, including defamatory accusations posted online that he abused his dog, with no evidence other than it lived on a chain outdoors.
Chaining his dog was a last resort for Acosta.
"He would lay at the door and whine and pant to be out, even if it was 20 degrees outside," Acosta said. "We tried him on an electric fence, but he went right through it."
While Thor was a friendly dog, he was incredibly protective of his house.
"He was a great dog. He loved people. I walked him around the lake, I took him hiking, and he would lick everyone if we were out," Acosta said. "But he was protective of his home. If people came into his yard, there would be scraps left."
So chaining Thor seemed like the only way to keep walkers who passed by his home safe.
The fuss over his dog came at a difficult time in Acosta's life. Acosta had moved in with his mother after she was diagnosed with breast cancer, and spent two years caring for her before she passed away. That left him as the sole caretaker for his little sister, who was 16 at the time, along with his two daughters.
The vitriol over Thor made his life so miserable, he quit caring what people thought.
"Idealistically, I want my grass to look like a golf course. Not because I care what other people think, but just because I think it looks nice," Acosta said. "But people have made my life so hard in my hardest times, I wanted them to have something to be mad about. So I let it grow."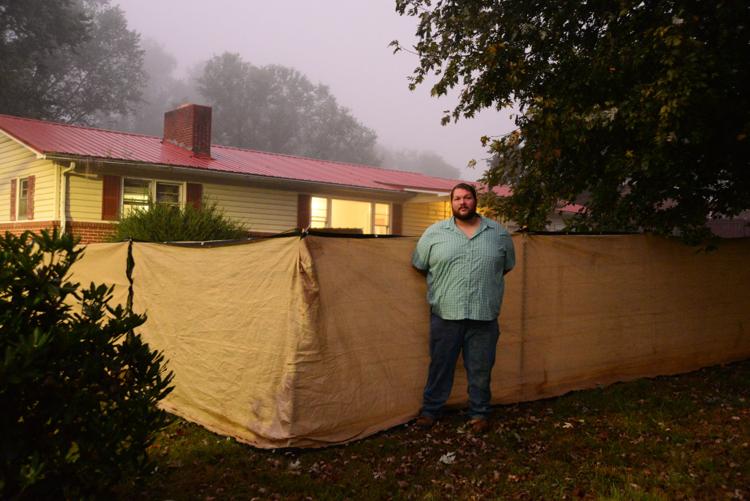 That only led to more complaints, however, thus the fence. It wasn't long after Acosta put the fence up, social media attacks began flying on the Chain Free Waynesville Facebook page.
"So they can hang up tarps so no one can see their dog being abused? Why aren't the neighbors complaining about this eyesore?" one person posted. "It's crazy that they think as long as you can't see the dog being abused, it's okay."
Another poster lamented the beautiful views of the mountains being "interspersed with trashy yards."
The commentary about Acosta's yard online is laced with references to his dog.
"I hate to ask, but what happened to Thor?" another wrote.
For the record, Thor died earlier this year at 9-years-old — the average life expectancy for a great dane.
As for accusations of abuse, they stem entirely from the fact Thor lived outside on a chain. Also for the record, Acosta has two other dogs that live inside — one of which had a surprise litter of puppies this month — plus an indoor-outdoor cat.
Acosta said he regrets that he wasn't around to train Thor when he was a puppy. As a welder for nuclear power plants at the time, he traveled extensively. During Thor's formative puppy period, Acosta was called away to a plant on an emergency shut down and had to leave the dog with his mom.
Partially in response to complaints about Thor, Acosta had doghouse built in his front yard for shelter. And that very dog house is now the source of complaints from some of the same people who wanted him to build it in the first place, he said.
"First they complained I didn't have a dog house, and now they are complaining I have a dog house but no dog living it," Acosta said. "This is the kind of stuff you can't make up."
Coming Friday: Waynesville aldermen discuss whether appearance standards for fences are needed.
Town rules in the works?The Waynesville town board unanimously decided this month to look into rules to govern the appearance of fences, stemming from complaints over Acosta's fence.
"I immediately went to our ordinance book and found we didn't have any regulations on fencing whatsoever," Town Manager Rob Hites said. "Some cities don't permit front yard fences at all. Others say you may have one, but it can be no taller than four feet. Most require front yard fencing to be transparent so you can see through it."
Hites asked the town board whether it was something they wanted to explore, and they all agreed.
"We have to have some sort of regulations on these," said Alderwoman Julia Freeman.
"I would definitely agree," said Alderman Gary Caldwell.
Mayor Gavin Brown said so-called "spite fences" erected due to a dispute with neighbors would occasionally come across his plate as an attorney.
"Spite fences are something we have all dealt with in the legal profession," Brown said.
But Acosta said his fence isn't a spit fence.
"I put up the fence because of that anonymous letter," Acosta said.
Acosta's neighbor, meanwhile, has an 8-foot-high solid wooden fence that's cock-eyed in places.
At the town board's direction, town planner Jesse Fowler has begun researching examples of fence ordinances to share with the town board and seek further direction.
"Right now, we don't have anything regulating fences so this is a process to figure out how we can fill that gap," Fowler said. "We'll go back to the board with a white paper so to speak on best practices for fence ordinances." From there, it could be refered to the planning board to craft a local ordinance if the town board still wants to pursue it.
Along with taking up fence regulations, the town board also decided to look into rules governing dog houses in front yards and tightening up junk car regulations.
"I've had a number of different complaints since I've been here where there's accessory structures in the front yard that are for all intents and purposes eye sores," Hites said.
Ironically, if the town ends up adopting fence appearance standards, existing fences may be grandfathered, and Acosta could get to keep his fence.