Thanks to a new breed of tourist in Haywood County, spending on overnight stays posted an all-time record in July and August — a wave that tourism leaders hope to keep riding with a fresh, new marketing slogan aimed at the COVID-era traveler.
"People are nervous to travel right now, but the ones that are traveling are traveling to places like this. We know what we have here is what people want," said Andy Windham, the president of Crawford Strategy, a marketing firm for Haywood County tourism.
Thousands of tourists have escaped to Haywood County this summer and fall, but their stays here are far from the typical vacation. With kids doing virtual school and parents working remotely, families are booking vacation homes online and arriving with laptops in tow simply for the chance to hole up somewhere new for a while.
"We have visitors come into the visitor center all the time saying 'I am here working remotely for the week.' Why not invite more people to do that?" said Ashley Rice, marketing director for the Haywood Tourism Development Authority.
The trend has given rise to a new term in the tourism lexicon: a "workcation."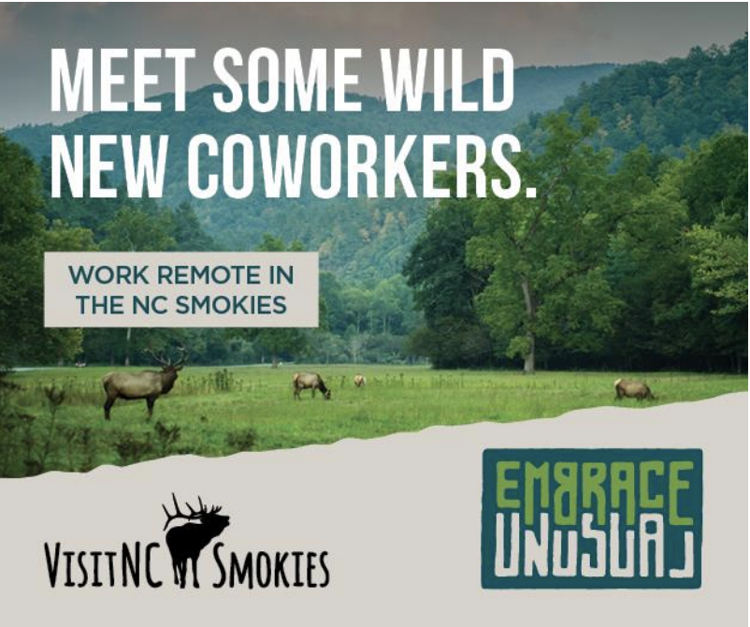 To capitalize on the momentum and keep it rolling into winter and spring, the TDA has unveiled a new marketing campaign around the slogan "Embrace Unusual."
"We use the phrase 'take life by the antlers,'" Crawford said, referring to a play on the elk. "You don't have to sit back and wallow in this. You can 'do' life here in an uncrowded and unusual place."
The American workforce will likely never look like it did before COVID, with 20 percent of workers expected to stay remote permanently.
"It fits the moment we have going on right now, but it is not limited to this moment," Crawford said. "The world is weird right now, and it's going to be weird. Even when the pendulum swings back toward normal, there will be a lot more of this."
With online vacation rentals carrying Haywood County's tourism industry, TDA board members agree it's a niche that doesn't have to end with COVID.
"I think it's a great opportunity to position ourselves moving forward. It could be a rebranding for a new audience," said Katy Gould, the Clyde representative on the TDA board.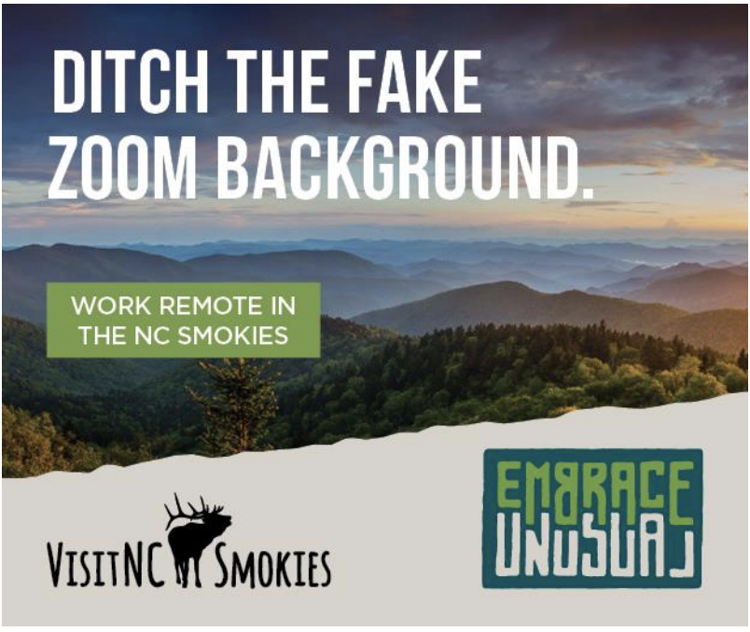 Crawford worked in concert with the TDA's in-house marketing staff to develop a series of ads around the new slogan. The concept appeals to those looking to get away somewhere with wide open spaces and few crowds, while still maintaining contact with their bosses on the other end of a Zoom call.
"It's important for those who are working from home to know this is somewhere they can come for that," said Lyndon Lowe, the TDA board chairman and owner of Twinbrook Resorts in Maggie Valley.
Ski season ahead
July is historically the second biggest tourism month in Haywood County, narrowly edged out by the October leaf season. Whether October will follow in July and August's footsteps and set another record won't be known with certainty for another couple of months, but anecdotal reports indicate the trend is holding.
The challenge now is to sustain the momentum into winter.
"The question is: are we seeing pent up demand of people just wanting to come somewhere right now, or will that continue into next year?" asked Ben Wilder, tourism development manager with the TDA.
The winter tourism industry in Haywood lives and dies with the success of Cataloochee Ski Area. And with ski trips out West a non-starter for most families during COVID, Cataloochee is expecting a banner year.
"They firmly believe they are going to be slammed because people don't want to get on airplanes," said Mike Eveland, Maggie Valley mayor and a TDA board member.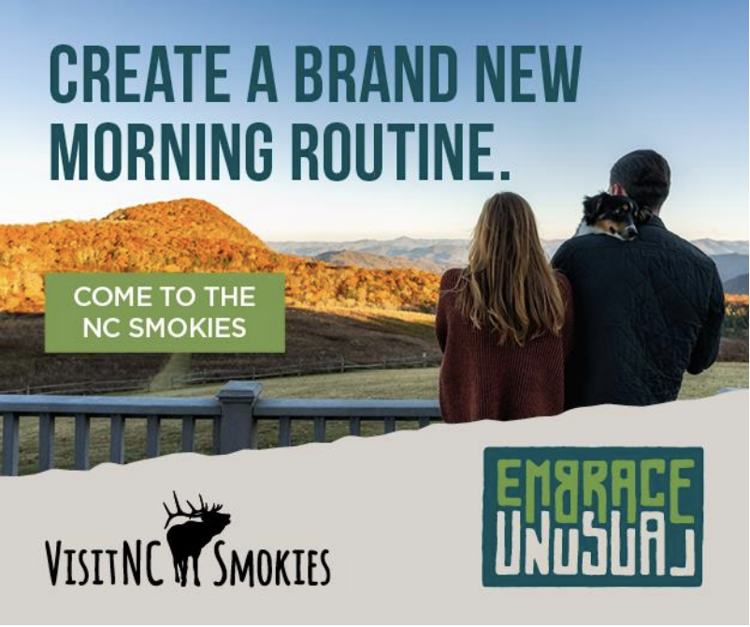 The Embrace Unusual slogan has unlimited potential for spinning into the winter season, from winter hiking to hitting the slopes of the southernmost ski area in the U.S.
The creativity of Embrace Unusual caught the attention of Visit N.C., the state's travel and tourism bureau. Haywood County landed a $100,000 grant through a state initiative for tourism destinations impacted by COVID.
Haywood got the highest amount possible under the grant program.
"We got more than some of the largest TDA's in the state, and that's because of our TDA staff," Lowe said, crediting staff for putting together a pitch that resonated so well.
The $100,000 in grant funding will be spent on marketing between October and December, ranging from ads in Southern Living and Outside Magazine to Instagram and AccuWeather.com.
The Haywood TDA acted swiftly to cut its budget when COVID sent travel into a tail spin in April. With room tax collections surging back, the TDA has restored more than $200,000 to its budget — with the lion's share earmarked for marketing — and opened up a round of grant funding for local tourism initiatives after initially curtailing it.