When a couple is anticipating the birth of a child, months and months go into preparing for an addition to the family.
There's searching for the perfect name, trips to the doctor, seeing the tiny sonogram image, buying and putting together furniture, finding an infant seat, preparing the room, buying clothing and so much more.
James and Aimee Judge went through none of this, however, because they hadn't the slightest clue Aimee was going to have a baby. The first they learned of the surprise pregnancy was at a 3 p.m. doctor's appointment on Aug. 5.
"I went in there crying because I was in so much pain," Aimee said.
James wanted to go the emergency department the night before, but Aimee insisted on waiting for the scheduled appointment at Blue Ridge Health where she was intending to become an established patient.
It made no sense to pay for another urgent care visit when she was seeing a doctor the following day, she reasoned. The Judges strived to limit doctor visits since they don't have health insurance.
"She went in there thinking she had a kidney stone," James said, of the Monday appointment. Instead, the couple learned Amy was in labor. Emelia Lee Judge was born at 4:26 a.m. the following day.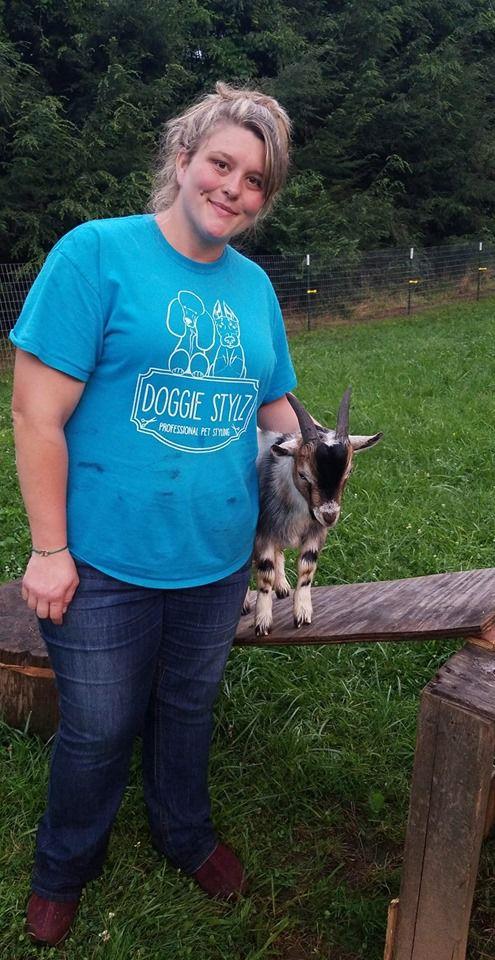 "All I kept thinking until she was born was how I hoped she would be healthy," Aimee said. "She had no prenatal care, I had no pregnancy care, and I'd taken all this medicine. But she's healthy and wonderful. We are seriously the luckiest people and are so blessed by this little baby."
Why the surprise?
Aimee is a 2009 Tuscola High School graduate. James is from Cherryville, but fell in love with Haywood when attending Haywood Community College to get a degree in forest management.
He planned to head out west, and after studying a number of career paths at HCC, Aimee decided she wanted to be a dog groomer as opposed to the person who just washed the dogs as she has done during one of her favorite jobs.
"I wanted to be the one that made them look pretty," she said.
The couple owns Doggie Stylz, a pet grooming business on Dellwood Road in Waynesville. They were putting in long days to keep up with their growing business.
While Aimee does the grooming, James does all the prep work such as clipping nails and washing the pets before they are groomed.
As James and Aimee recall the 41 weeks leading up to the birth of their 9-pound baby, it is easy to understand why they hadn't a clue Aimee may be pregnant.
First off, their laser-focus on the business led to high stress days coupled with extremely long hours, a situation doctors recommended handling to address some of the symptoms Aimee spoke of during doctor visits.
Then there was the fact that Aimee simply didn't look pregnant.
"I'm not a little, dainty person, that's for sure," said Aimee, 29. "James and I were both trying to live healthier, and we each lost 25 pounds in January and February. We were working 12-hour days and had started eating fast food again. I thought that was why I gaining weight. I was wearing the same jeans and the same shirts I had always worn."
Missed connectionTrips to the doctor yielded treatments for acid reflux and stomach ulcers, but never once did a healthcare provider seem to consider a pregnancy could be the issue.
Aimee said her monthly cycles had always been irregular, noting she had received treatment in the past to get back on track. The lack of health insurance, along with the pressure to handle all the grooming appointments, prompted her to put off a doctor's visit, though the couple wanted to find out of there were infertility problems.
Aimee did take home pregnancy tests in November and December, but said nothing showed up.
In March, she was struck with a horrible pain in her right side and feared her gallbladder had ruptured.
She went to urgent care and described her symptoms, including a brief bout of nausea and an uncharacteristic reaction to odors when animals threw up or defecated.
While a urine test was given, nobody ever said anything about a pregnancy, she said. Aimee was prescribed Prilosec, Zantac and a medicine for stomach ulcers and referred to a gastroenterologist. The soonest she could get an appointment was July 9.
Meanwhile, her symptoms immediately went away with the medication, and she resumed her rigorous work with animals, including the hard, physical labor that comes with grooming 90-pound dogs.
"The medicine cured everything," Aimee said. "I felt great."
In May, she went back to urgent care where she was diagnosed with a sinus infection, given antibiotics, steroids, cough syrup and an inhaler. She was also told to rest, a suggestion the busy self-employed business owner couldn't follow.
At both this visit and the previous visit in March, when responding to questions about her menstrual cycle, she said it was in October.
She kept her appointment with the gastroenterologist as she was told the prescribed medications were not a long-term answer to her problems.
"I told him about my stomach kind of hurting and rumbling when I would take my medicine morning and night," Aimee said of her conversation with the gastroenterologist. "He told me the muscles in the stomach contract and release, and it was completely normal. He took me off all my stomach medicine except Prilosec and proceeded to give me a stomach exam to make sure all my organs were in the right place. He felt nothing wrong with my stomach."
She was also told diagnostic tests such as an endoscopy or ultrasound would be extremely expensive without insurance, and was advised to make an appointment at Blue Ridge Health, which provides care on a sliding scale fee.
In laborAs her scheduled appointment at Blue Ridge Health approached, Aimee worked a long day on Saturday and began feeling terrible the next day. She just toughed it out until her 3 p.m. Aug. 5 appointment, where another urine test was taken.
That was the first she learned not only of her pregnancy but that she was 4 centimeters dilated and that the baby would arrive soon.
The Judges had no time to get any of the things new parents would need as they waited for the baby to arrive, but family members and friends sprang into action. Aimee often grooms dogs up for adoption at the Haywood County Animal Services, and folks there rallied to help someone who had been there for them so often.
Hindsight is 20-20
In retrospect, the Judges can see where some of the symptoms were indicative of a pregnancy — the early nausea, the prolonged span without a menstrual cycle and regaining lost weight.
Yet, never needing different clothing, never feeling abdominal shifting that wasn't paired with taking medicine and never having experienced labor before all made it easier to think the symptoms could be a kidney stone or ruptured gall bladder.
"Looking back on it, there were definitely signs of her being pregnant," James said, "but not at the time."
"That made it easy to go on," Aimee added.
Still, the Judges wonder how the medical experts seen during three separate doctor's visits could have missed the signs.
"I'd definitely like a nice conversation (with healthcare providers) about how it got missed and why," James said.
"I think a lot of the problem was that I didn't have health insurance, and they just wanted to push me along to the next person," Aimee added.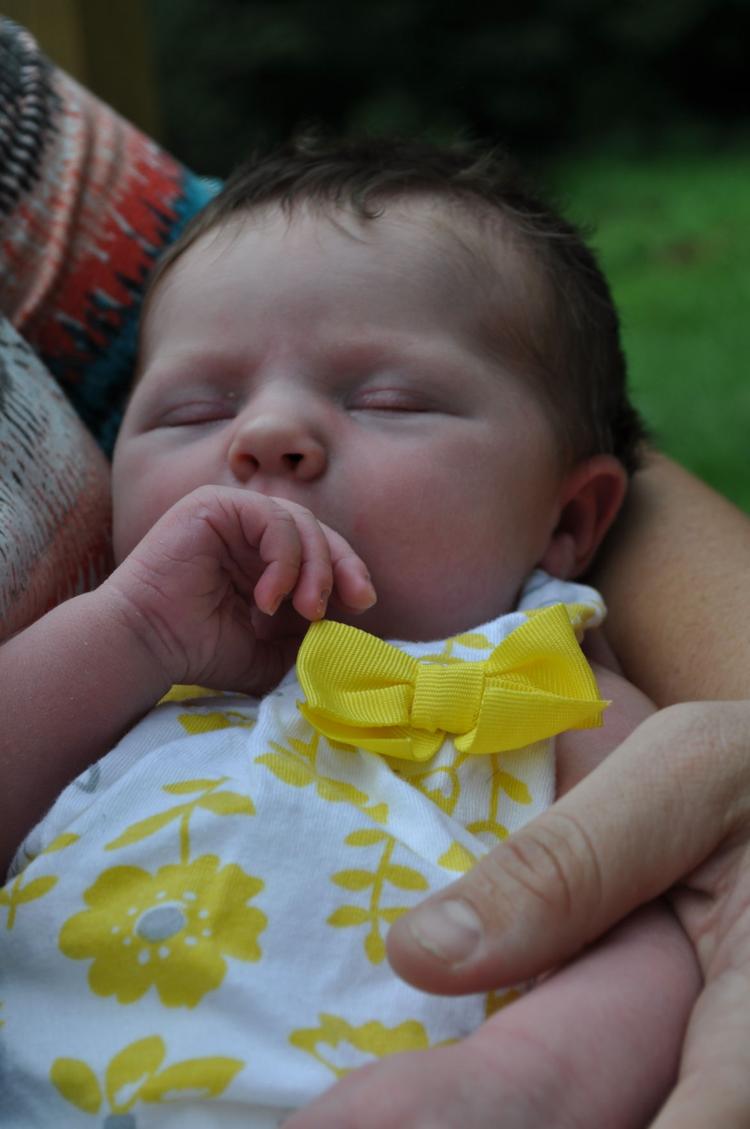 Despite questions, the couple could not be happier with their new life and new baby. They are already trying to find ways to reduce their work schedule, and will initially be taking Emelia to work with them where she will have a small room with an air purifier where she can do what she does most of the time — sleep. That gives a bit of time to figure out a more permanent childcare plan.
They also know it's time to cut back on the number of hours they work. Hiring part-time help can be difficult, said James.
"Safety is such a big issue," he said, explaining squirmy dogs, scissors, a raised working space, small nearby objects and so many other ways things can go wrong if a person isn't paying careful attention.
The second alternative would be to see fewer clients.
The self-driven zeal to make sure all clients were satisfied and that new clients could be accommodated is now taking a back seat to a new "first love," baby Emelia.
"We were too focused on work and getting things done for everyone else," James said. "This has opened our eyes."
"She is such a miracle," Aimee added. "We need to slow down and make time for her. There's no way I can go back to working 12-hour days. I love my job very, very much so it was easy for me to work such long hours. But now I have another love."