With a total of seven pizza restaurant joints already in Waynesville, Benji Boessel and Alex Tinsley knew that if they wanted to open an eighth pizza location in the same town, it needed to be something special.
Last spring, while the two were in quarantine, they decided to experiment with making homemade pizza, the kind with traditional New York-style thin crust.
"For 3 months we just made pizza," Boessel said.
Boessel is the president of White Fox Studios in Frog Level, and Tinsley is the co-owner of Clean Sweep: The Fireplace Shop in Waynesville. But Tinsley has a culinary background, serving as the executive chef at the former Gateway Club, and at Balsam Mountain Preserve.
Eventually, the pizzas that came out of Tinsley's oven got better and better to the point that it became the "best pizza we've ever had," Boessel said. And it all came down to the crust.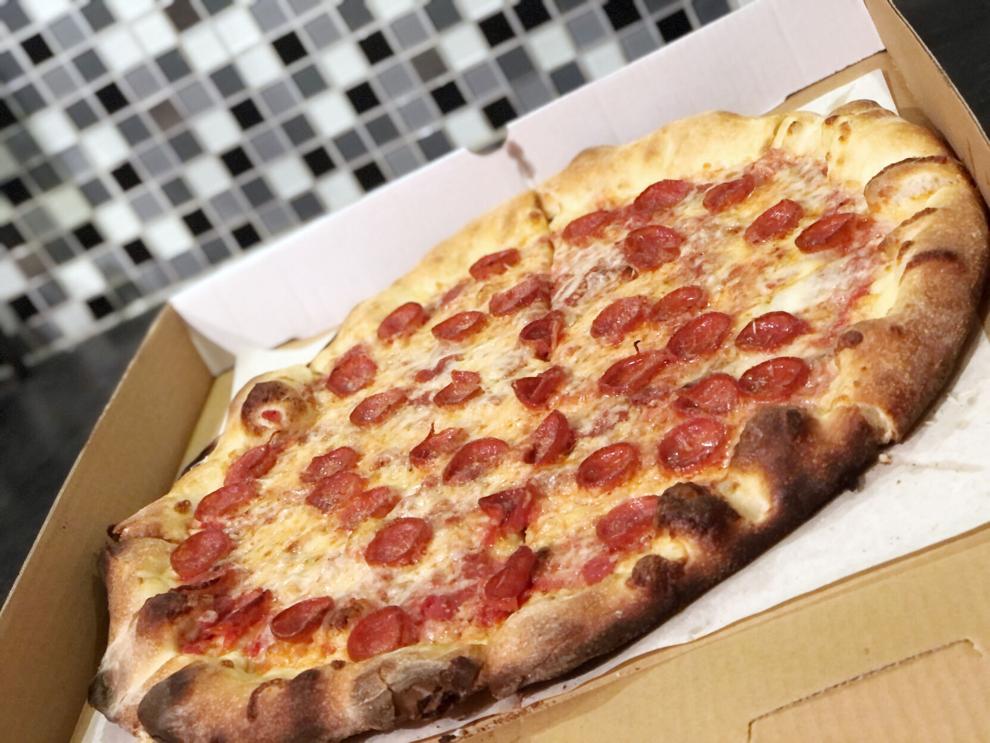 According to Boessel, there is hand-tossed pizza crust and then there's artisanal crust that takes more patience. The traditional New York-style crust is usually well done with leopard spots on the bottom.
"This is the kind of pizza we like," Boessel said. "There's a fine line between burning it and getting it to that perfect crust."
To perfect their crust, the staff at Dough Boys has to achieve a perfect dough. That means achieving a perfect temperature between 80-80.5 degrees. The right temperature ensures the development of just the right gluten structure. The dough then proofs, or rises, for two to three days before it's ready.
Once Tinsley perfected his crust recipe, the two decided it would be worthwhile to try and find a restaurant space. But with other careers in place, neither of them wanted to run their own restaurant.
Enter David Young, owner of Mad Anthony's.
"I remember David telling us that he didn't want to have to run a kitchen and a bar, and have to work as a cook," Boessel said. "He threw us the keys and we started making dough and pizza in a commercial setting."
Boessel and Tinsley bought an industrial pizza oven in Tennessee and it was game on for Waynesville's brand new pizza team.
A passion for pizza
Dough Boys Pizza and Wings officially launched in the kitchen inside Mad Anthony's in December 2020, and the two owners haven't slowed down on making delectable "Za" — which is slang for "Pizza" — since opening.
"We're a lot more artisanal than other places. There is no other pizza place who does the specials we do," he said.
In addition to their signature artisanal crust — which is unlike any other pizza crust in Waynesville — Dough Boys also only uses top-quality ingredients in their pizzas.
"We use the most expensive, high-end ingredients we can find, rather than just getting frozen and throwing it on a pizza," Boessel said. "We end up spending about 40% more than what everyone else in the area pays."
But the high quality pays off in the creation of a memorable pizza that's worth the price.
Aside from the creatively spotted crust, Dough Boys' pies feature an inventive use of gourmet-style toppings, along with a desire to think outside the pizza box.
Dough Boys offers a unique specialty pizza every week, which ranges from anything like buffalo chicken pizza with a buttermilk ranch base to pizza with homemade chorizo, caramelized onions, goat cheese, queso fresco, arugula and a cilantro scallion crema.
"Alex can turn anything into a culinary masterpiece — I don't know how he does it, he's just so creative," Boessel said. "Every week I am just as excited as everyone else to see what the special will be."
And their name is starting to circulate in the area, bringing in steady business over the last few months, particularly on the weekends.
"We have people from all walks of life who come in, and we have a lot of regulars," Boessel said. "The word got out quickly. Overall, it's been really consistently and overwhelmingly successful. We've been a lot busier than we thought we would be."
Dough Boys Pizza & Wings is located at 180 Legion Drive in Waynesville (inside Mad Anthony's). Operating hours are 4 to 9 p.m. Monday through Friday; noon to 9 p.m. Saturday; and noon to 8 p.m. Sunday.