The impending closure of BI-LO grocery store in Waynesville could pave the way for a 200-unit apartment complex in its place.
Plans to raze the shopping plaza at the foot of Russ Avenue and redevelop it as apartments have been percolating for months due to suspicions that BI-LO would pull out of the Waynesville grocery market.
"Good for Waynesville, but there is a plethora of grocery stores," said Ron Linsky, owner of the BI-LO plaza.
What Waynesville lacks, however, is housing.
"We feel strongly the supply and demand is out of whack. The demand is there, but the supply isn't," said Linsky, a partner in his family's real estate investment firm based in Tampa. "There is absolutely no housing."
Linsky isn't kicking BI-LO out so he can build apartments. It's the other way around. Linsky came up with the idea of apartments as a plan B after learning BI-LO would be leaving.
"We wish that weren't the case," Linsky said. "I would have loved to continue running it as a shopping center."
However, Linsky began speculating last year that BI-LO's departure was just a matter of time. Its parent company filed for bankruptcy, and Publix had meanwhile broken ground up the street.
"So we were very nervous that our store would be on the chopping block, so to speak," Linsky said.
When BI-LO's corporate office asked Linsky to move up the end date for its lease — from 2021 to the end of 2019 — Linsky's suspicions were confirmed.
"We realized they were going to be leaving some time soon, and that gave us time to plan the next chapter of life for this shopping center," he said.
Linsky thought BI-LO would stay until its newly negotiated lease ran out at the end of the year, but the accelerated timeline doesn't necessarily come as a surprise.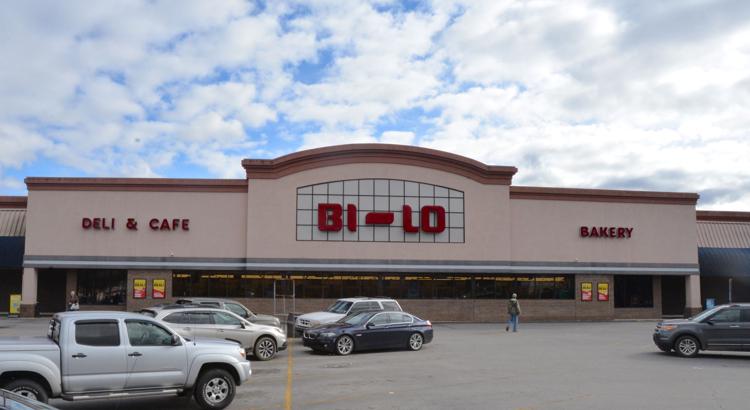 "It is probably cheaper for them to pay dark rent for 10 months than to pay everyone's salary and utilities and overhead for the entire year," Linsky said. "A lot of it is just big-boy math."
Linsky surmised that replacing an anchor tenant like BI-LO would be tough. And without an anchor, the shopping plaza would spiral into decline as it struggled to keep its other tenants.
"To run a real shopping center properly, there has to be an equilibrium," Linsky said.
Linsky leveled with his other tenants last year, giving them ample warning that they should start looking for other locations.
"He was straight up about it with all of us," said Shannon Rogers, owner of Silver Treasures. "He point blank said 'You can stay for another year or so without a lease but I'm tearing it down.'"
Rogers was the first to leave, taking a vacant spot on Main Street in Waynesville when one came open last year.
Linsky could have strung tenants along to get as much rent as possible until he was ready to pull the trigger, but he didn't.
"He was very upfront and gave me plenty of time to find somewhere," said Kim Ferguson, owner of Kim's Pharmacy. Kim's Pharmacy is moving to a new stand-alone location along Dellwood Road between Russ Avenue and Frog Level.
Meanwhile, Los Amigos Mexican Restaurant signed a deal to move into a brand-new commercial building under construction between the Waynesville Fire Station and old hospital, getting in early enough to get a custom-built space.
Next steps
While the demise of the BI-LO plaza is the end of an era, apartments would provide a missing element in Waynesville's evolving urban landscape.
"We think Haywood is underserved in housing," Linsky said. "Our basic takeaway was that the town was over-the-moon enthusiastic about new housing options."
The project would not be classified as affordable housing, but would instead have market-rate rents.
Linsky believes his project is a different bird than the 200-unit Plott Creek apartment complex in the pipeline, which faced public backlash last year. It was lambasted by opponents for being out of character with the idyllic, pastoral landscape of Plott Valley.
However, the BI-LO plaza is smack dab in the middle of town, in an already high-density commercial district. It's a perfect location for apartments, Linsky said.
"You can walk to the bars downtown, you can walk to the park, you can walk to restaurants — and you can walk to grocery stores," Linsky said.
The town has been in preliminary discussions with Linsky about extending the Waynesville greenway along Richland Creek that runs past the plaza should the project advance.
With the closure of BI-LO coming sooner than expected, Linsky isn't ready to pull the trigger on his apartment project yet, however.
"It is obviously a large symphony to build something like that. A million things have to fall into place," Linsky said. "It has been much harder than anticipated."
Linsky is still squarely in the due diligence phase — primarily trying to work out the numbers to ensure the project is financially viable.
The national economic and political climate has been the biggest hurdle. Tariffs on steel and lumber, a labor shortage and rising interest rates have driven up costs.
"You add them all up, and there are legitimate headwinds we face," Linsky said.
Second-home owners turned developers
Linsky is a partner in his family's real estate investment firm, RFLP based in Tampa. It has a vast portfolio of commercial developments, including apartment complexes Atlanta, Nashville, Philadelphia and Raleigh.
Waynesville got on the firm's radar after his grandfather — the patriarch of the family-run business — bought a second-home in the upscale Balsam Mountain Preserve development in 2007 for a family retreat. His grandfather had been briefly stationed at a military hospital in Swannanoa during WWII, and never forgot his love of the mountains.
While his grandfather passed away at the age of 95, Linsky and his brother Sam are now the operating partners in the family firm.
"We are truly a multigenerational family business," Linsky said.
It was during their vacations to Balsam Mountain Preserve that the family started keeping an eye out for investment property in the area to add to their portfolio. They bought the BI-LO plaza in 2012 for $3.375 million, according to land records.
"We identified a hidden gem of a shopping center," Linsky said.
Linsky isn't the first out-of-town developer who discovered Waynesville's business potential after vacationing in the region.
The developer behind the new Publix had been coming to Lake Junaluska for 30 years. And the property scout who landed the developers for the Walmart complex in the mid-2000s had been a second-home owner here.
Linsky said Waynesville's charm is a huge selling point.
"We have always felt really good about Waynesville. Waynesville is a sophisticated little mountain town with everything you would want," Linksy said.