A packed house turned out this week to hear Waynesville's town board work through the mechanics of creating a homeless task force.
Naming the task force had gotten complicated after 32 applicants came forward, a testament to widespread concerns over a growing homeless population and its impacts on the community. Aldermen decided to deal with the sticky wicket of picking a task force in a special meeting held on Tuesday.
A large showing of about 40 people came to the meeting, with about half being people who had applied to the task force.
"I would like to say thank you to all of the applicants," Alderman Jon Feichter told the audience. "When we sent out the call for help on this issue, you guys stepped up. I would like to commend each and every one of you for your interest in helping solve this difficult problem."
The audience who came to witness the discussion last Tuesday was not only curious to see who would get picked, but also what it might reveal about where the task force is headed.
Some want the task force to focus on getting rid of homeless people. Others want it to focus on helping homeless people with more resources and support, even if it means attracting an influx of homeless people from elsewhere. Most are somewhere in between.
Ultimately, however, the aldermen chose not to name names yet and instead largely turned the meeting over to the audience. A free-wheeling discussion ensued — one that was passionate without being heated, where counter views were shared but always respectfully.
The audience was allowed to freely chime in. They brought up points of concern and asked questions about the process, often without even raising their hand to be recognized.
The welcoming atmosphere seemed indicative of the inclusive, grassroots tone the aldermen want the task force to take. While not everyone can be an official member of the task force, all its meetings will be open to the public and anyone is welcome to come, board members said.
That was welcome news to audience member Kasey Valentine-Steffen.
"If somebody shows up to a meeting, I want all the people in the room. I just don't want anybody to leave here and feel turned away," Valentine-Steffen said.
Absolutely, Alderwoman Julia Freeman said.
"This is a very, very important subject, so please participate whether you are officially chosen," Freeman said.
Mayor Gary Caldwell agreed.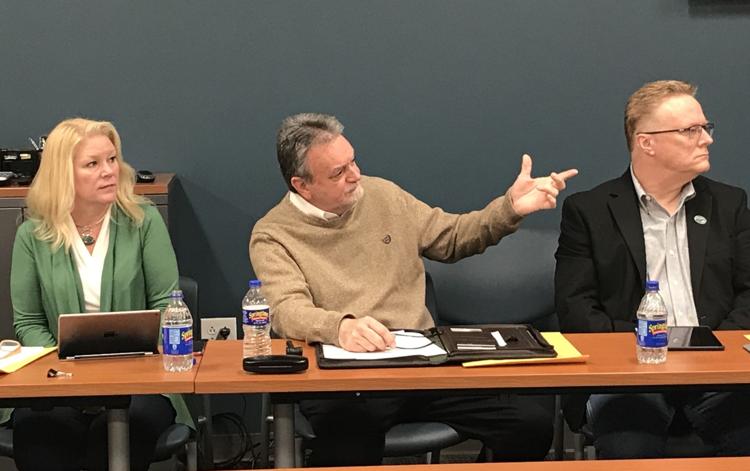 "Y'all have already touched my heart. I want you to be part of the committee one way or another, if you want to come to the meeting and speak up," Caldwell said.
A seat at the table
That begged the question: should the task force err on the side of being bigger rather than arbitrarily limiting its number?
Caldwell, who kicked off the task force idea in December, had proposed a list of nine key members considered core stakeholders — such as the Open Door, Haywood Pathways Center, the police department, sheriff's office and Mountain Projects. That list would be rounded out with two additional appointments by each of the four alderman.
The eight members chosen by aldermen, along with Caldwell's core nine, would be a grand total of 17.
But given the deep bench of qualified applicants and the desire to be as inclusive as possible, Alderman Anthony Sutton asked whether the number should be expanded.
"Would it be appropriate if we increased it so each alderman would actually get to name three instead of just two?" Sutton asked.
The rest of the town board agreed that made sense, which would mean 12 of the 32 applicants would make the cut, for a grand total of 21 members including Caldwell's nine core stakeholders.
Aldermen also said they liked the idea of working groups to tackle specific elements of homelessness, like affordable housing or substance abuse. Those working groups could include additional stakeholders.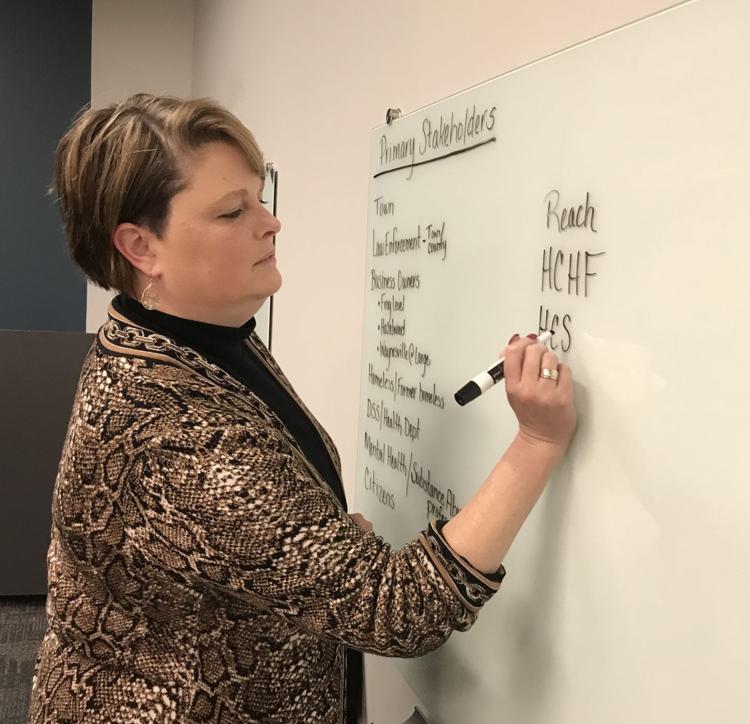 Assistant Town Manager Amie Owens said the task force can also rope in experts in particular fields to help with specific issues as they arise.
Freeman agreed the task force should cast a wide net. While the homeless may congregate in Frog Level or Waynesville, that doesn't mean it should be Frog Level's or Waynesville's problem alone to solve.
"It has come to a crisis here within our town limits, but we have to look past just our town and bring people on board that can address this issue and try to get us some solid resolution," she said.
Who will be on it?
Those who came to the meeting expecting to find out who would be named to the task force learned they would have to wait another week, however.
"We aren't going to vote on anybody tonight," Caldwell said. "This isn't one of those slam-dunk things. We are going to research this really, really good because we want to do this right."
The board decided they would each come up with their lists independently over the next few days and email them to the town clerk. She would vet the lists to see if there was an overlap, allowing aldermen to swap out their choice if they had chosen the same person as someone else.
Each alderman has sole discretion over their three picks. The final list of 12 task force members will be announced at the town board's meeting at 6:30 p.m. Tuesday, Feb. 11.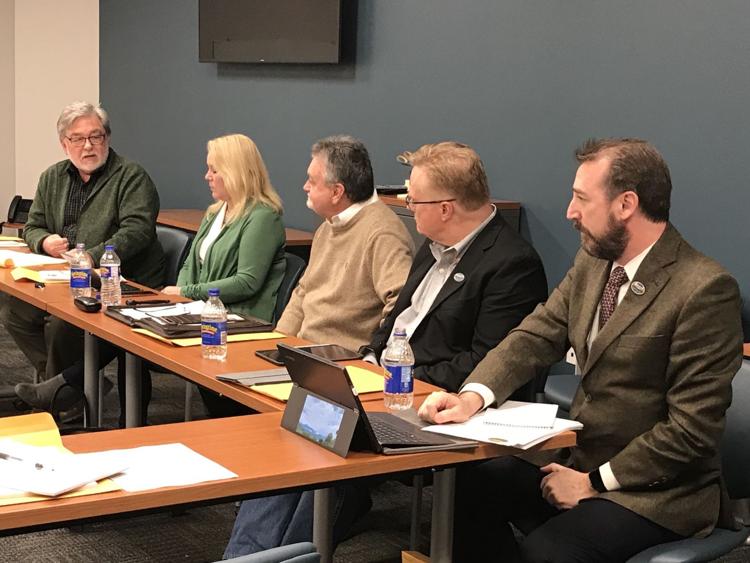 In the meantime, however, Caldwell asked the board whether they wanted to share some preliminary thoughts about who they wanted.
It seemed awkward, however, to talk about specific applicants with so many of them sitting in the audience.
So instead, Caldwell suggested turning the meeting over to the audience. An open dialog then ensued as applicants took the opportunity to introduce themselves and to share their views and philosophy on the homeless problem.
Task force mission
As the discussion unfolded, it became clear there were differing views on what the task force's core mission should be.
"What is the purpose of the task force? Have we decided on that?" Alderman Chuck Dickson asked.
The town board realized it had not specifically discussed the task force's specific purpose other than addressing homelessness.
While all agreed the goal is to reduce the homeless population, some want to focus on providing more support and more resources to help the homeless population.
"All they really want is love, understanding and a safe place to be at night. Really honestly someplace they know they won't be judged," said Barbara Stuteville, former coordinator for the Open Door soup kitchen.
Others feared that would only encourage more homeless people to come to Waynesville and enable those who choose to be homeless to live off the system.
"Sometimes it becomes a lifestyle," said Miranda Shuler. "I know one person who is homeless who can go home and she chooses not to. They are more comfortable on the streets. I think before offering help, we need to find out what they want before you start forcing things on them, because they don't want help."
Valentine-Steffan sees it differently, however. It's not that they don't want help, she said.
"The constructs of society suffocate them. But Waynesville is going to break down those constructs, and we are going to be awesome," she said.
Joey Reece, who ran for the town board on a platform of addressing the homeless problem, said there has to be a balance between helping the homeless and the overall well-being of the community.
"We cannot lose our compassion, we cannot. But we can't let our compassion overrule our good judgement to where it adversely impacts the rest of our citizens," Reece said. "We can do this. Let's work together."
Steffan-Valentine said the community has a deep reservoir of people willing to help the homeless and the goal should be tapping that reservoir.
"Yes, more of them are going to come in, they are going to come in. But you know what? We are going to fix the ones that are here, we are going to help them and give them the love that they need. And then they are going to go on and do their lives and we'll have space for other ones," she said.
To Wanda Brooks, who owns property across the street from the Haywood Pathways Center, a revolving door of more homeless people is not what the community needs. The neighborhoods adjacent to the Pathways Center and Open Door have suffered as a result of homeless people congregating there.
"Private citizens are being affected," Brooks said. "You can't just be a totally feel-good person. We have to care about the people who live near these facilities."
Policing the issue
Ultimately, the task force will have to find a balance between helping those who can be helped without allowing the bad apples to undermine its work, said Waynesville Police Lt. Tyler Trantham.
"There are some people who need resources, and there are some who take advantage of the resources. If we don't identify those who are taking advantage of the resources and are repeat criminal offenders in our community, it will hurt whatever we are trying to do," Trantham said.
Trantham said the Waynesville Police Department is on the front lines of the homeless crisis.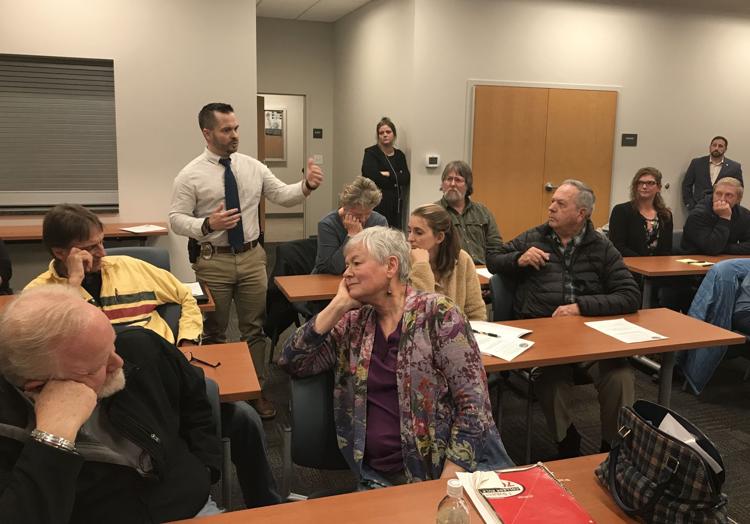 "We deal with these people every day, and some of these people we have really, really close relationships with. We know their stories, we know where they are from, why they are in the situations they are in," Trantham said. "Believe it or not, they do like the police. We can throw all this money and resources at it, but it comes down to relationships, and one by one, you start chipping away at this problem."
Trantham shared a story from a trip to Los Angeles where he saw skid row. It will break your heart, he said. He doesn't want to that happen in Waynesville. So many cities across the country have tried to fix their the homeless problem, but too often get mired down in bureaucracy.
"If that's the case we aren't going to make any difference in this room. We are just going to be spinning our wheels and we'll be back here in a year from now wondering what we did," Trantham said. "If we don't find solutions, we will be wasting our time. I trust we will find solutions."
Despite differing views one theme seemed to unify the room: a desire to roll up their sleeves and get to work.
"There have been untold amounts of time and energy put into solving this problem by communities large and small. Yet across the nation this problem still continues," Feichter said. "I don't know if there is a solution. What I do know is if there is a solution to be found, Waynesville and its citizens will be the one to find it."