Beer chili, coffee chili, chocolate chili, white chili, kitchen-sink chili and even elk chili are just a few of the many recipes chili tasters can indulge in during the Waynesville Chili Cook-Off next Saturday, Jan. 18.
From tried-and-true heirlooms to the avant-garde being piloted for the first time, rest assured each of the 51 chilis appearing in the cook-off will be one-of-a-kind.
"Everybody makes it different, everybody has their different tastes and everybody's got an opinion," said Karen Sheppard, an artist with Depot Village who will be cooking up a big batch of her mother-in-law's chili recipe for the cook-off.
The only rule when it comes to chili, it seems, is that there are none.
"It can go anywhere," said Stacy Downs with Jeweler's Workbench. "Chilis are all over the board."
When recruiting merchants and restaurants for the cook-off, Downs stopped into The Cuban Guy sandwich joint and wasn't taking no for an answer.
"I told him 'Just think about whatever you put in a Cuban sandwich, and put it in a bowl of chili,'" Downs recounted. A light bulb went off, and he was in.
Downs will be sticking with same chili recipe as past competitions, for fear of mutiny if she deviates from her crowd-pleaser. With hand-cut sirloin chunks as the meat and a mole made from slow-roasted vegetables as a flavor base, Downs has been perfecting her go-to chili recipe for over 15 years.
But for Nicolas Peek, owner of Birchwood Southern Kitchen, he experiments with a different chili recipe each cook-off. He did bison one year, incorporated duck sausage another, and this year is trying elk. His chili has won before, but he's not in it to win it.
"We can be as playful as we want to be. It's more about what ingredients can I use to take people on a journey," Peek said. "And elk is probably not something you get to try every day."
As for the exact recipe, he'll see what comes to him when it's go time.
"I'll make it that morning and wing it," said Peek.
Down at Panacea Coffee House and Cafe, however, the staff has been sampling batches of test chili for a couple of weeks now.
"We will probably be over chili by the time it gets here," said Teresa Pierce, co-owner of Panacea.
As a coffee roaster, incorporating coffee seemed like a must. But how to do it has been trial and error.
"Ours will be a sweeter chili using our double-brewed coffee concentrate and porter," Pierce said. "It's been a fun process."
Around the corner at Depot Village, more than two dozen vendors who sell their wares at the co-op are pitching in for the event. Sheppard is one of three making a chili — her mother-in-law's white chili recipe.
The rest are pitching in with go-withs: cornbread, desserts and various dipping agents. Sheppard for one can't eat a bowl of chili without Fritos.
The mention of chili accoutrements are fighting words, however.
"Personally, I am a sour cream and cheddar guy," said Peek.
But to Downs, no bowl is complete without chives.
"Always chives," said Downs, who ups the ante with chili-infused sour cream as well.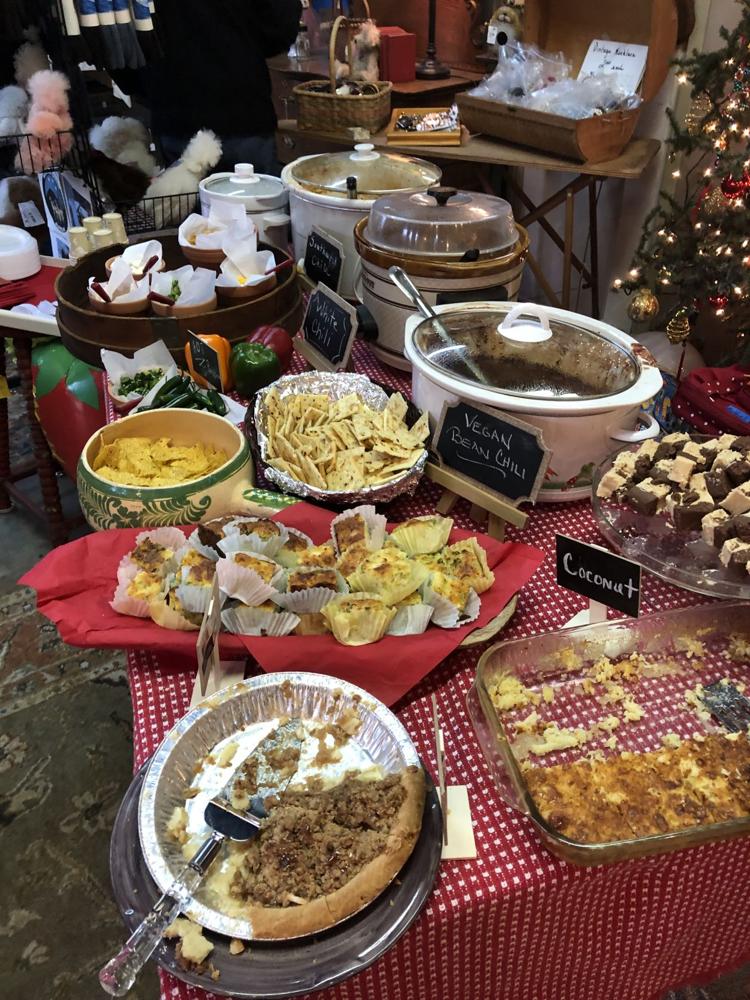 The debate over heat can be equally dangerous territory.
"You can have a hot chili or a mild chili, but I like a nice clean heat. I don't want it to melt your mouth," Downs said.
There's one thing people seem to universally agree on when it comes to chili: the feeling it imbibes.
"It's cozy and homey," said Pierce. "It reminds you of snuggling up in the winter and hunkering down."
When the going gets tough, chili can make you feel like all is right with the world, even if just for a moment.
"As a child, whenever we had chili nights, we were all snuggled together with a warm bowl in our hands, and it was a sense of peace and comfort," Downs said.